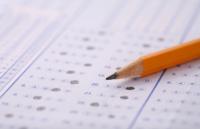 State lawmakers want to make it easier for students to skip the PARCC test.
As it stands now, there's no formal way for parents to opt their children out of the new, Common Core-aligned standardized test. Instead, students must refuse to participate themselves.
A new bill pushed by Illinois lawmakers would allow parents to prevent their kids from taking the test. The bill's sponsor, State Rep. Will Guzzardi, says it's not just about PARCC, but about standardized testing in general.
"So many parents have spoken to me and many of my colleagues, some of whom are here today, telling us how they feel that their students are being deprived of quality instructional time, of important academic opportunities in the classroom, for the sake of preparing for tests and sitting for tests," Guzzardi said.
Students around Chicagoland were scheduled to start taking the PARCC test today.