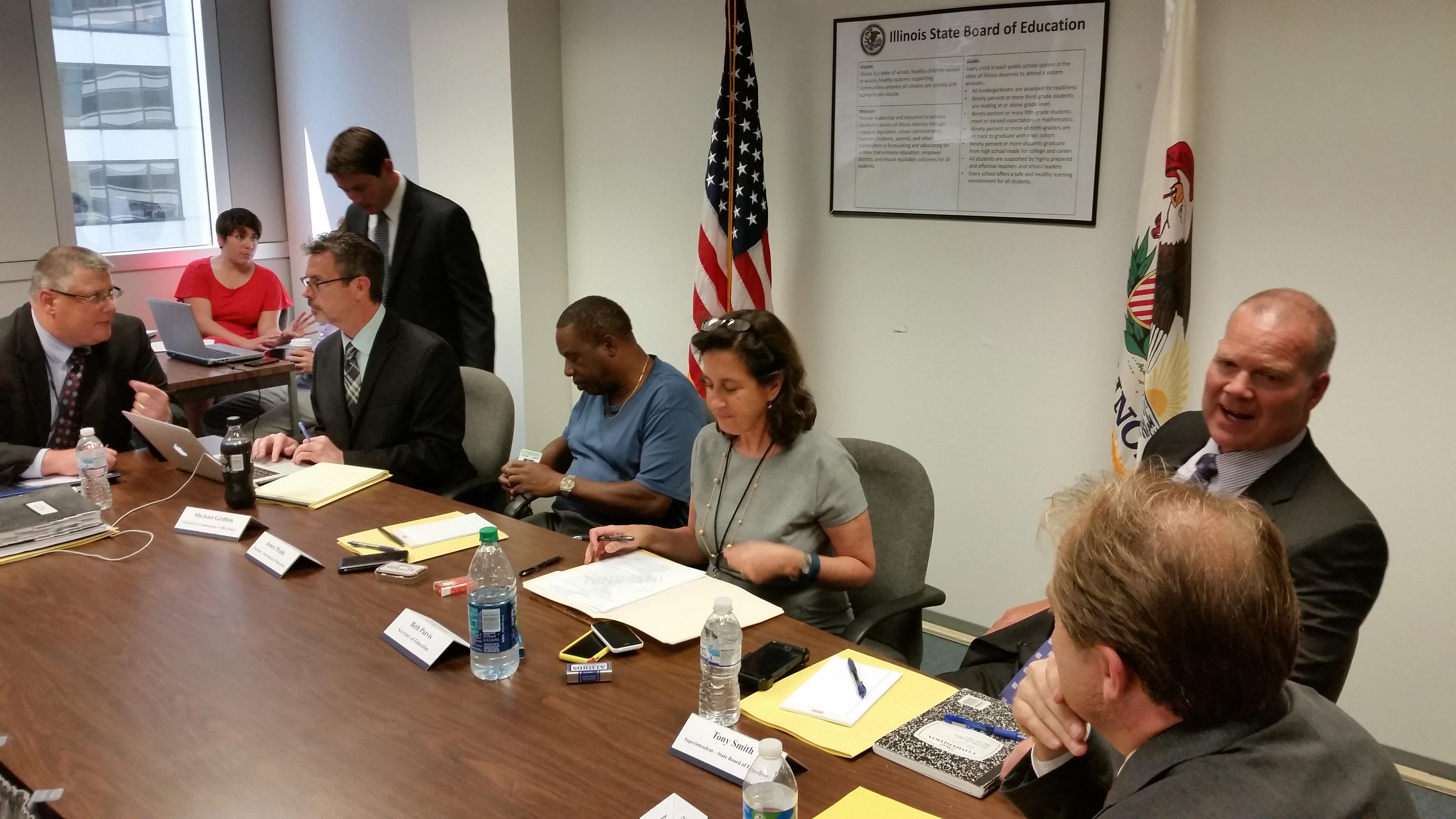 Illinois Education Secretary Beth Purvis, center, serves as chairperson for the state's newly formed School Funding Reform Commission. (Matt Masterson / Chicago Tonight)
Illinois may become the ninth state since 2000 to adopt a new education funding system, and state leaders are hoping a new reform commission can figure out how its current formula can be fixed.
The state's School Funding Reform Commission took the first steps toward that end Wednesday at its inaugural meeting in downtown Chicago, but it's not yet clear when a new formula could be put into place.
Created last month, the commission's 25 appointees were chosen by Gov. Bruce Rauner and each of the four leaders of the Democratic and Republican parties in the House and Senate.
The reform commission has a self-imposed deadline of Feb. 1, 2017 to produce its report in order to allow the General Assembly time to pass legislation during its spring session. But to meet that deadline, Mike Griffith, senior school finance analyst for the Education Commission of the States, told the commission he believes they must settle on a solution by the new year.
"The issues we see – it's not going to be a surprise to anyone – it's a lack of time to implement a new system," said Griffith, whose work focuses on researching state budgets and education funding. "That is probably the biggest issue we can face … if you want to have a new formula in place by February 1, you really need to have it done by January 1."
That would allow time for the Illinois State Board of Education to "run the numbers" on a new formula and work out any issues that could arise, but it also puts pressure on the reform commission to move quickly. Rather than working toward implementation by next spring, they may instead seek to draft a framework for a new funding model by February and take additional time to make sure it's implemented correctly.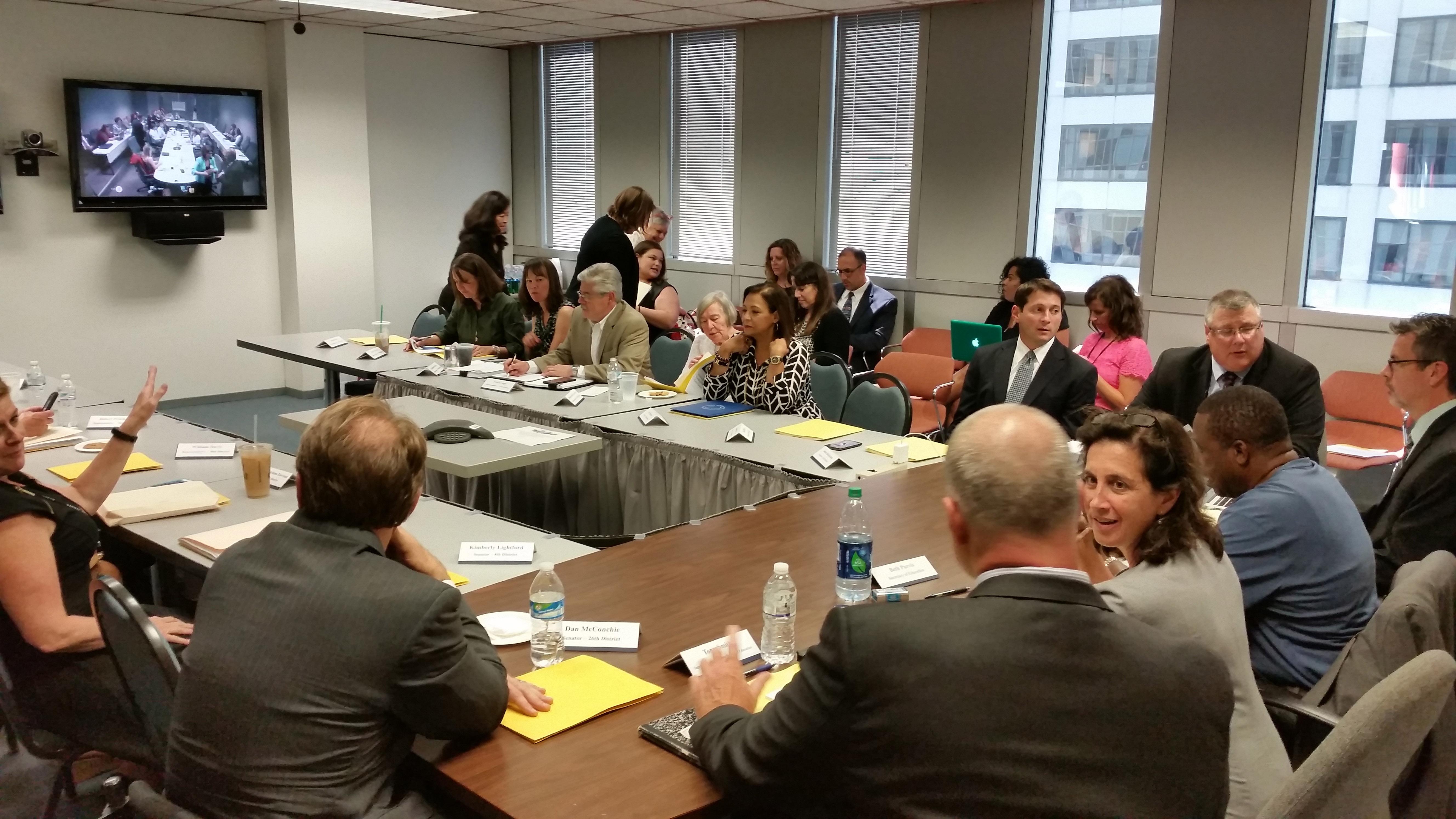 The Illinois School Funding Reform Commission, made up of 25 state legislators and officials, met for the first time Wednesday in downtown Chicago to discussion possible revisions to the state's existing education funding model. (Matt Masterson / Chicago Tonight)
On Wednesday, commissioners heard reports on Illinois' current funding formula as well as best practices from other states around the country before moving on to discussions about what needs to be improved.
Illinois has been the most regressive state in terms of bridging the funding gap between its low- and high-poverty districts. According to Illinois Secretary of Education Beth Purvis, who also serves as commission chairwoman, Illinois schools received just 19.6 percent of their funding from the state during the 2013-14 school year, ranking dead last in the country and well below the national average of 46 percent.
Several commissioners on Wednesday focused on figuring out how "adequacy" — the amount of money required properly educate each student — and "equity" — how the state ensures it can reach those amounts — would be defined in any revised formula before moving forward.
Critics of the state's current formula feel it's too reliant on property taxes and does not provide enough funding to higher-poverty districts.
Changing that formula could result in less funding for some wealthier districts, as the state would need to find additional revenue to pay for the new system, though Rauner told reporters in July his preference is "not to do that."
The state had previously created task forces to examine its education funding formula in the 1990s and various bills and pieces of legislation aimed at finding a fix have been brought forth over the years, but a concrete solution has not yet been implemented.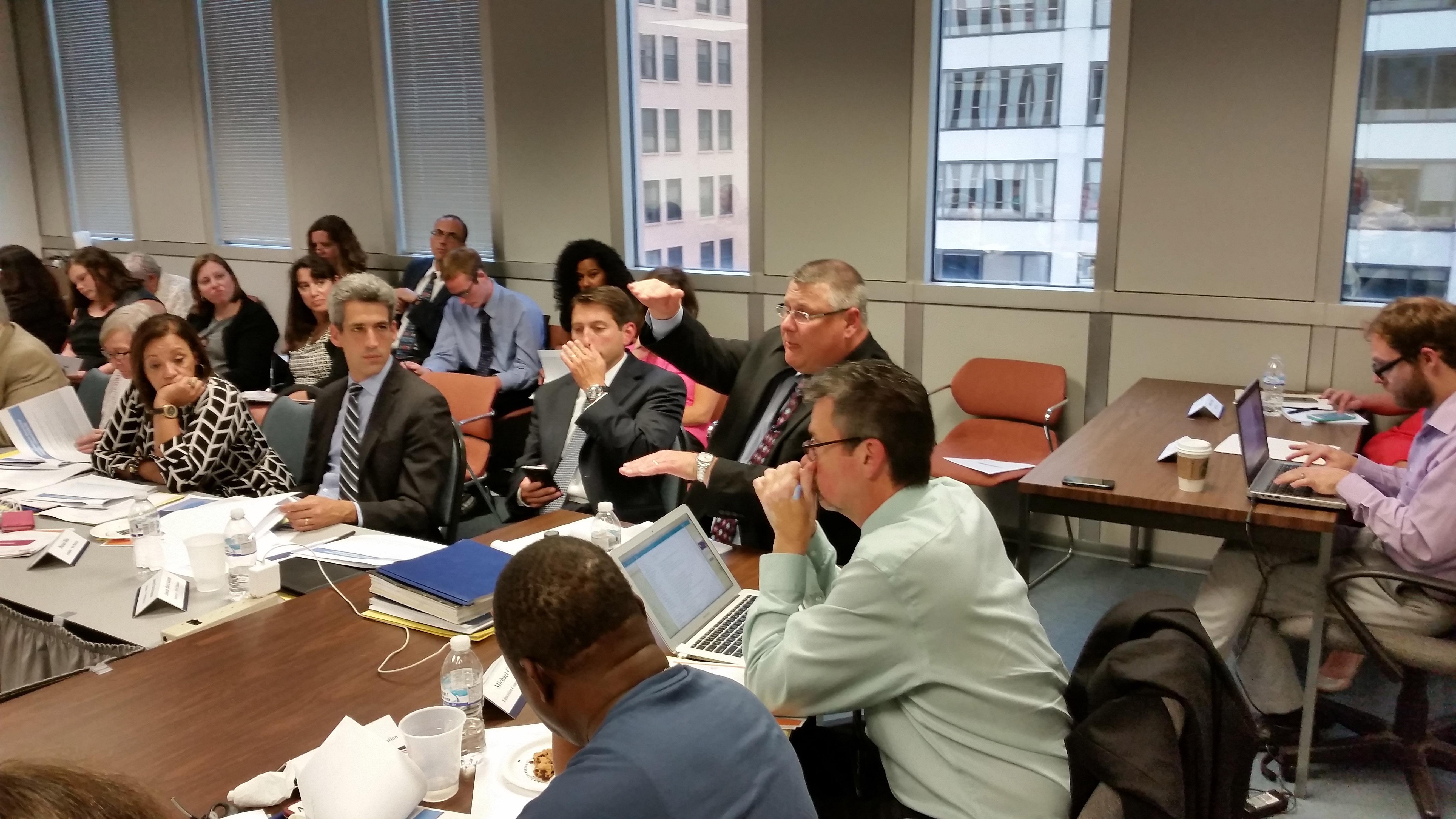 Robert Wolfe, center, chief financial officer for the Illinois State Board of Education, discusses the state's current education funding formula before the School Funding Reform Commission in Chicago on Wednesday. (Matt Masterson / Chicago Tonight)
One possibility is an evidence-based approach model (EBM), which seeks to identify the level of funding necessary to deliver an adequate education to each student in a state. Rauner has said he is a fan of this model, as has the Center for Tax and Budget Accountability, which issued a seven-page press release detailing its support for the evidence-based approach one day after the commission was formed in July.
The EBM model has also received backing from state Sen. Jason Barickman (R-Bloomington) – a commission member who last year introduced a bill seeking to create an evidence-based "professional judgment panel" that would offer guidance on education funding – and Illinois Vision 20/20, an organization comprised of educators and concerned residents.
Griffith said the EBM model can help determine how much money Illinois would need to spend on its schools, but the state would still need to figure out how to distribute those dollars.
Purvis expects the commission to meet regularly leading up to its February deadline, and believes the state will be in better shape for having gone through this review process, no matter the outcome.
"The worst thing that could happen is we end up on February 1 in the same place where we are now, but having had more open an honest communication about this," Purvis told the commission. " … The best thing that could happen is the 20 of you who are members of the General Assembly will have an idea of a bipartisan solution and legislation that (all) of your names could be on, that we could all hold hands and have a 'Kumbaya' moment and move on."
Follow Matt Masterson on Twitter: @ByMattMasterson
---
Sign up for our morning newsletter to get all of our stories delivered to your mailbox each weekday.
---
Related stories: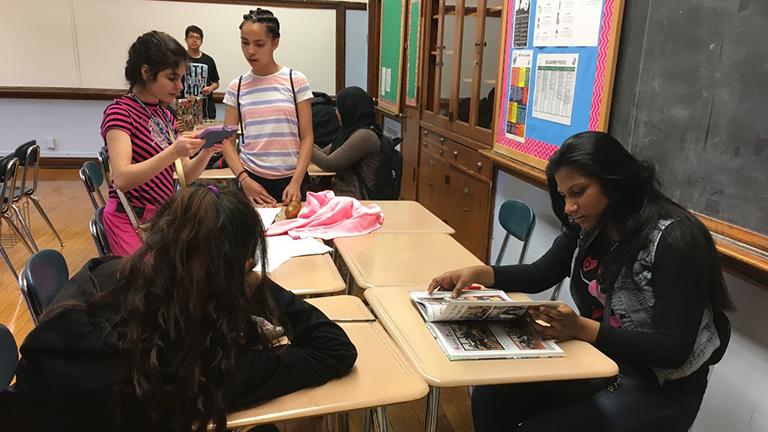 CPS Faces Steady Enrollment Decline, Not All Principals Happy With Budgets
July 15: Though the district's student-based budgeting rate remains at the lowered amount set in February, a declining enrollment means a shrinking budget for schools.
---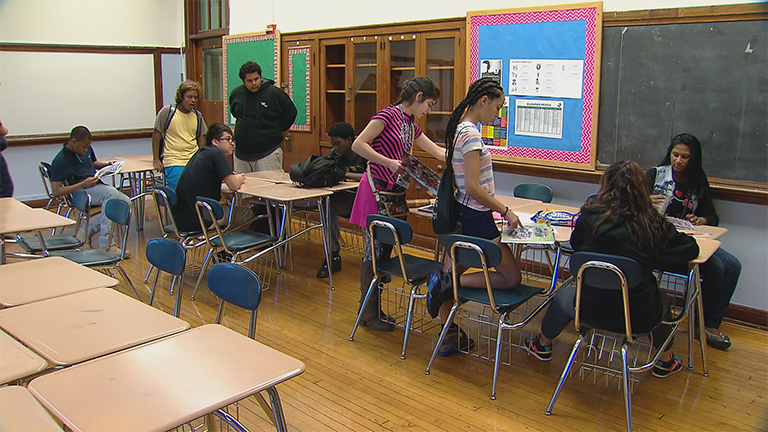 CPS Principals Finally Get Draft Budgets for School Year
July 13: Though the school year has been rife with fiscal crisis, Chicago Public Schools' principals now know that the cuts to their school budgets will not be as deep as threatened in recent months.
---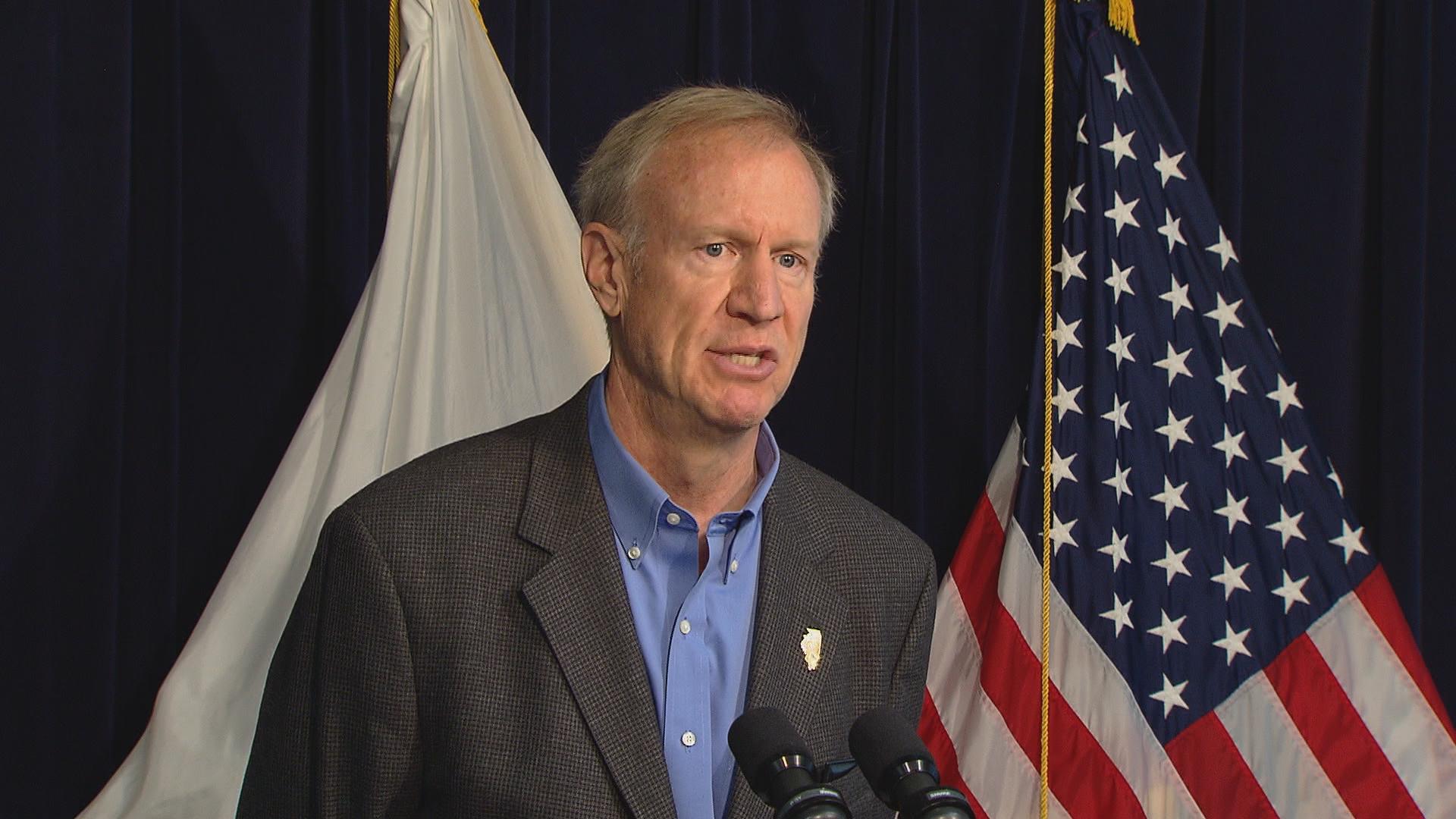 New Commission Forms to Solve Old Problem: Education Funding
July 12: It's not the first education funding reform committee in Illinois, but the governor says he's hoping this one will be the one to get the job done.
---