Video by Evan Garcia for Chicago Tonight.
An interest in politics was a way for 17-year-old Carl Miller and his grandfather, Arthur Siml, to bond. Then it grew into an obsession. Now it has taken them all the way to Cleveland for the Republican National Convention.
"I enjoy being with Carl. He's such a wonderful young man," said Siml, a lifelong Republican.
Miller, a high school senior and founder of the Patriots Club at Timothy Christian High School, says he got the political bug last fall after attending an event in Iowa and meeting both Hillary Clinton and Donald Trump. He and his grandfather decided that they wanted to meet as many candidates as they could.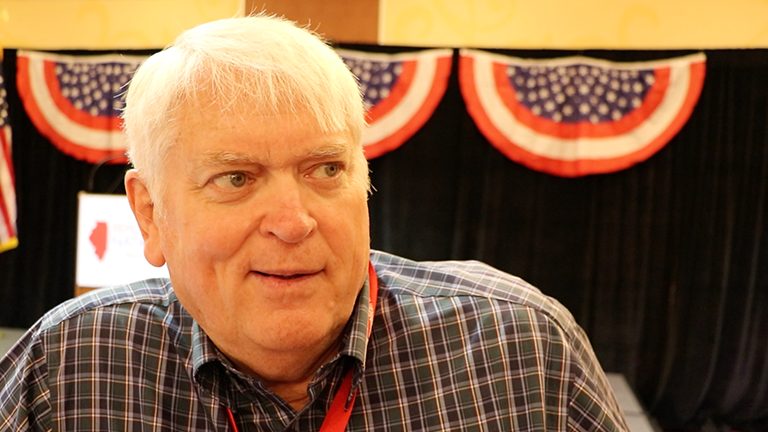 Arthur Siml (Evan Garcia / Chicago Tonight)
"I said, 'If you really want to get in to this, you have to do research,'" Siml said. "So it got to where we'd say, 'Carly Fiorina is in Chicago, let's hop in the car and go see her.' We spent time seeing Huckabee, Bush, Walker and others. It really mushroomed."
Miller says he decided to volunteer for the Ted Cruz campaign. In March, he was elected by the Illinois Republican State Central Committee to become a precinct committeeman and at-large delegate.
"It was a humbling privilege and an honor to serve the people of Illinois," Miller said, sounding like a polished politician and carrying a business card.
Miller says he is happy to support Trump for the sheer fact that he is not Clinton. "Hillary is a serial liar, criminal, and couldn't even pass a background check. She's disqualified," he said.
As for his own political philosophy, Miller states: "I am passionate about this country, the rule of law, the Constitution, and the Judeo-Christian principles that built this country."
Miller was warmly received by state GOP party chair Timothy Schneider. "I wish we could clone him," Schneider said.
Miller's father, Rob Miller, also made the trip and says his son's fascination grew organically.
Rob Miller (Evan Garcia / Chicago Tonight)
"I pay attention to politics," Miller said. "But he definitely took off on his own over the last year."
The younger Miller, who turns 18 on Friday, says he also loves meteorology and can't decide on whether he wants to study politics or law in college. But his next milestone comes in November, where he'll vote in his first general election.
Join "Chicago Tonight" for continued coverage of the Republican National Convention all week.
Follow Paris Schutz on Twitter: @paschutz
---
Sign up for our morning newsletter to get all of our stories delivered to your mailbox each weekday.
---
More election stories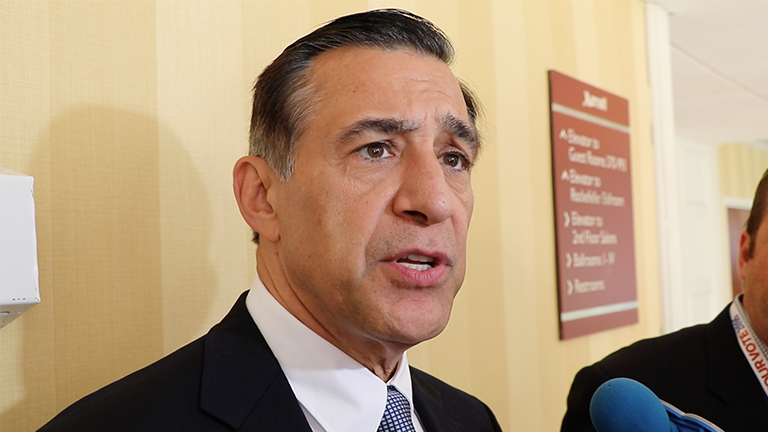 Congressman: Trump Probably Won't Build Actual Wall
July 20: It is one of the cornerstones of Donald Trump's campaign platform, but a high-ranking Republican congressman on Wednesday told the Illinois delegation that Trump's promise to build a wall along the U.S.-Mexico border amounts to little more than a metaphor.
---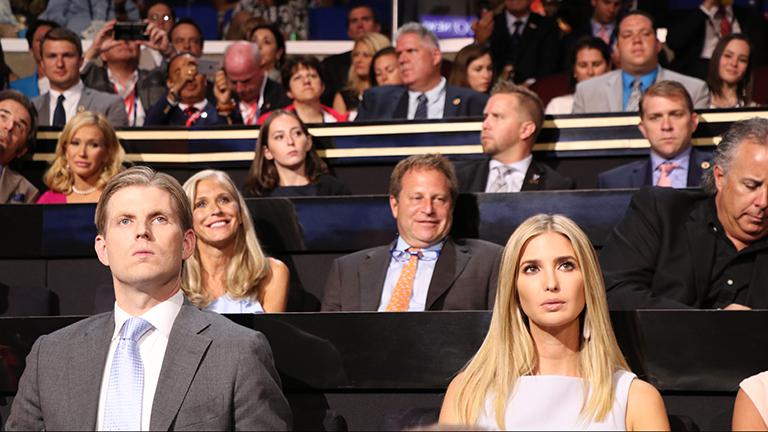 Photos: RNC Convention 2016, Day 2
July 19: Scenes from day two of the Republican National Convention in Cleveland, Ohio, both inside the convention center and on the streets outside.
---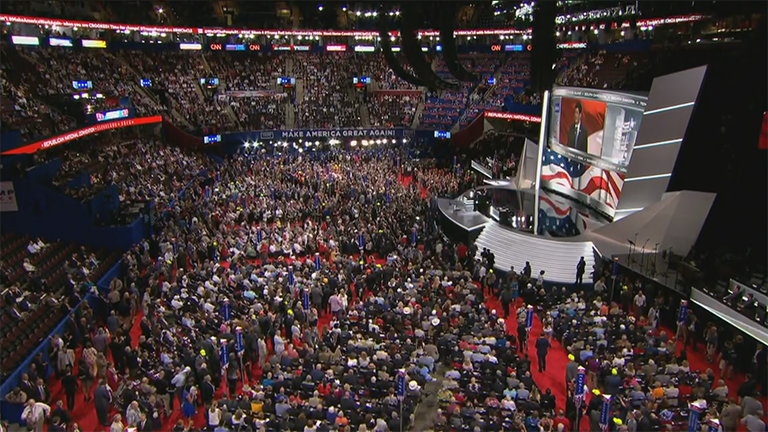 Illinois Delegation Faces Full Schedule on Wednesday
July 19: After a packed night two at the convention that featured keynote speeches from Republican Speaker of the House Paul Ryan and New Jersey Gov. Chris Christie, the Illinois delegation will be at it again bright and early on Wednesday morning.
---