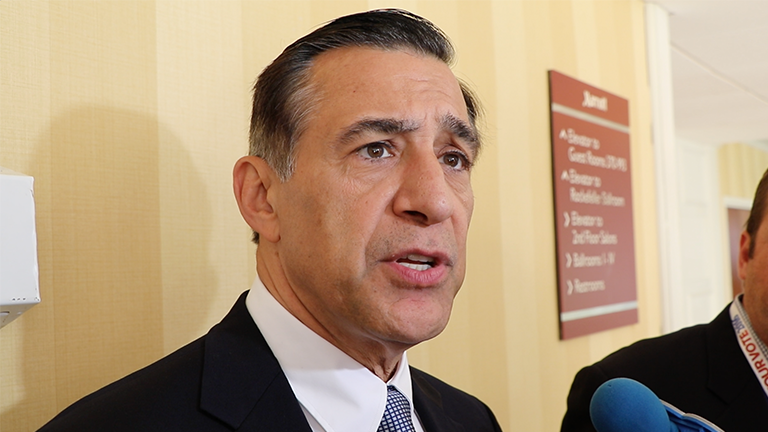 California U.S. Rep. Darrell Issa (Evan Garcia / Chicago Tonight)
It is one of the cornerstones of Donald Trump's campaign platform, and the issue that has inflamed passions on both sides: Trump has pledged repeatedly to build a wall along the U.S.-Mexico border, and to have Mexico foot the estimated $5 to $10 billion to pay for it.
But a high-ranking Republican congressman on Wednesday told the Illinois delegation that Trump's promise amounts to little more than a metaphor for fixing the country's broken immigration system.
It doesn't necessarily mean a physical wall will get built, he said.
"Donald Trump speaks in shorthand too much," said California U.S. Rep. Darrell Issa in a breakfast speech before Illinois delegates.
"'Build a wall' is code for, 'Let's get our immigration system working so that, if you're here legally, we work with you. If you're illegally here, you don't get a job.'"
Illinois U.S. Rep. Peter Roskam, who says he will vote for Trump but won't necessarily support him, says the nominee has been unclear on the specifics of his policy as it relates to immigration reform and border control. And he says a physical wall across the entire border with Mexico isn't a given.
"This is up to Donald Trump to define these terms that he articulated in the campaign," Roskam said. "We need control of the border. If it's a physical manifestation, or high tech, or whatever it happens to be, that's up to him to tell us."
But the Trump delegates in attendance weren't buying the concept of wall as metaphor.
"Trump says build a physical wall, I think that means he's going to build a wall," said delegate Maria Hough.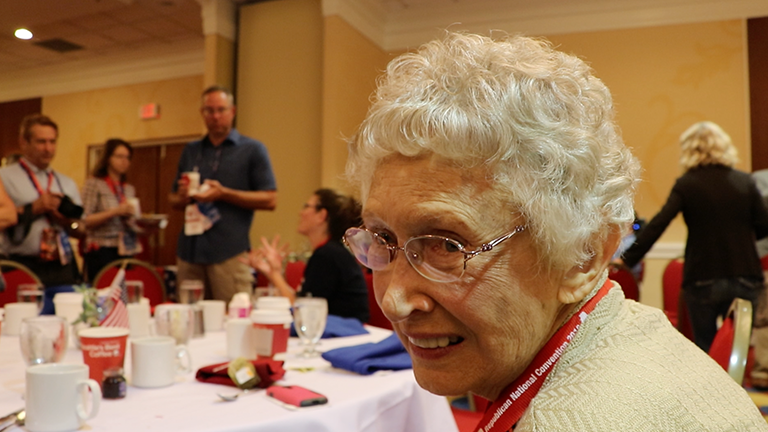 Eighty-year-old Illinois delegate Stella Kozanecki. (Evan Garcia / Chicago Tonight)
"I think the congressman is sadly mistaken," said delegate Stella Kozanecki, an 80-year-old first timer from downstate Mount Vernon. "It means build a wall."
Trump delegate Mark Fratella, an Evanston public school teacher who lives in Elmhurst, takes an all-of-the-above approach.
"The 'build a wall' has two meanings: the physical meaning and just securing our borders, because we don't know who's coming into this country," Fratella said. "We want a wall, but we want a door in that wall for legal, orderly immigration."
Later the Illinois delegation attended parties and receptions honoring Gov. Bruce Rauner and Illinois Republican legislative leaders Christine Radogno and Jim Durkin. But none of the honorees were there.
Rauner and Radogno have stayed away from the convention and Durkin, who was in town earlier this week, left Wednesday morning.
The fetes were sponsored by a slew of companies—including ComEd, AT&T, the Illinois Coal Association and State Farm—underscoring the fundraising that goes on at these conventions, although "Chicago Tonight" was told many companies stayed away this year.
Join "Chicago Tonight" for continued coverage of the Republican National Convention all week.
Follow Paris Schutz on Twitter: @paschutz
---
Sign up for our morning newsletter to get all of our stories delivered to your mailbox each weekday.
---
More election stories
IL GOP Chair: Donald Trump 'Will Lift' Republican Party
July 19: Illinois Republican Chairman Tim Schneider has had the tough task of uniting a fractured party behind Donald Trump.
---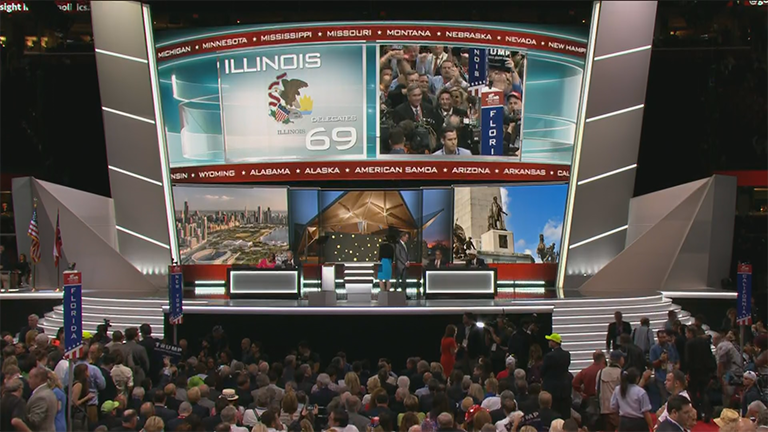 Illinois Delegates Cast Nominating Votes for Trump
July 19: It's official Donald Trump is the Republican nominee for president. Illinois delegates officially cast their ballots for Trump on Tuesday.
---
Don King at RNC Despite Being Turned Down to Speak
July 19: Despite reports that he'd been turned down from speaking at the event due to his criminal history, boxing promoter and Cleveland native Don King was in attendance at the Republican National Convention on Monday.
---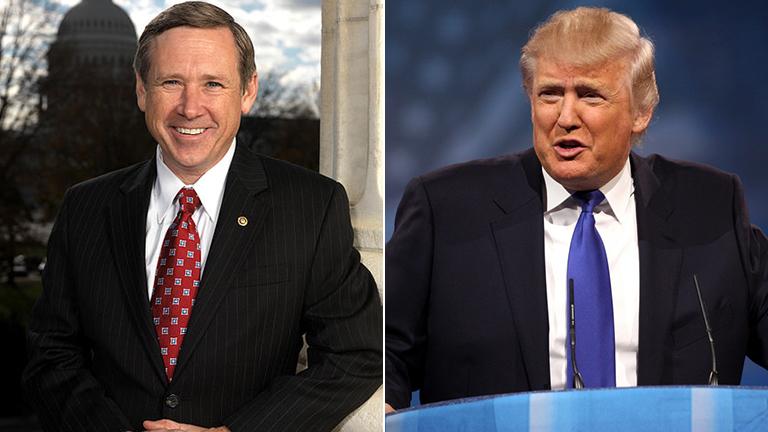 Sen. Mark Kirk Fears Long-Term Damage from Trump Candidacy
July 19: Illinois Republican Sen. Mark Kirk has been an outspoken critic of Donald Trump's campaign. We asked Kirk for his assessment of the Republican National Convention so far and whether he has any regrets about not attending.
---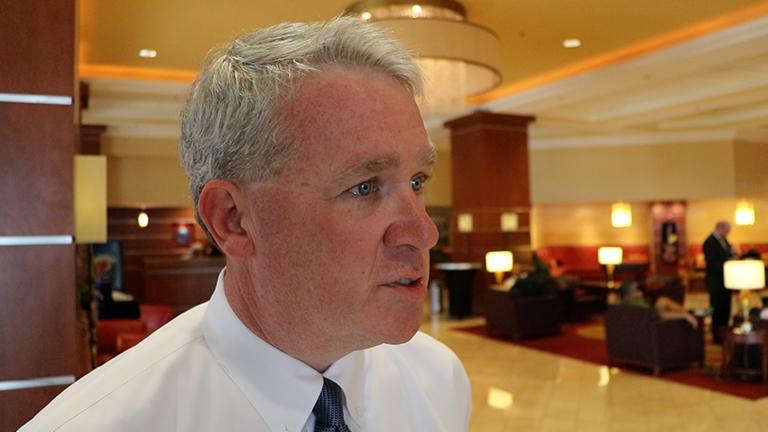 ​Jim Durkin: Trump Could Help Illinois Budget Impasse
July 19: Republican Illinois House Minority Leader Jim Durkin says he is not in Cleveland to attend the Republican National Convention. Instead, he's here to raise money–gobs of it–with the goal of pouring it into contested House races and chipping away at House Speaker Michael Madigan's Democratic supermajority.
---
Trump Campaign Feels Heat Over Melania Trump Speech
July 19: The controversy over would-be first lady Melania Trump's keynote speech on Monday night at the Republican National Convention was a hot topic at breakfast on Tuesday for the Illinois delegation.
---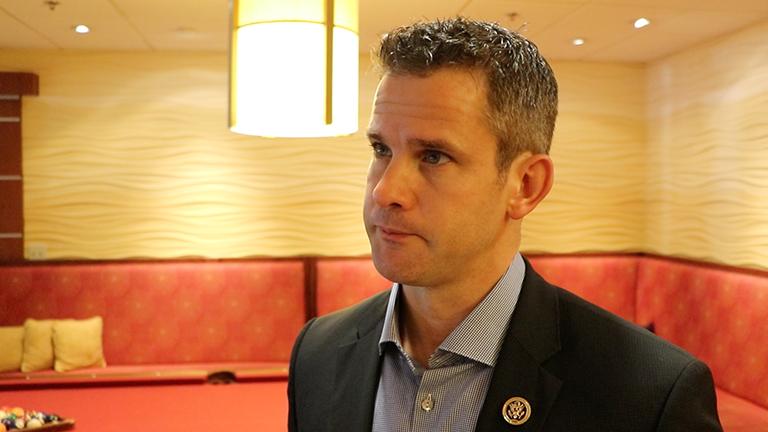 Illinois GOP Congressmen Try to Toe the Line on Trump
July 19: If Illinois' Republican congressmen have anything in common, it's that they do not support Hillary Clinton.
---