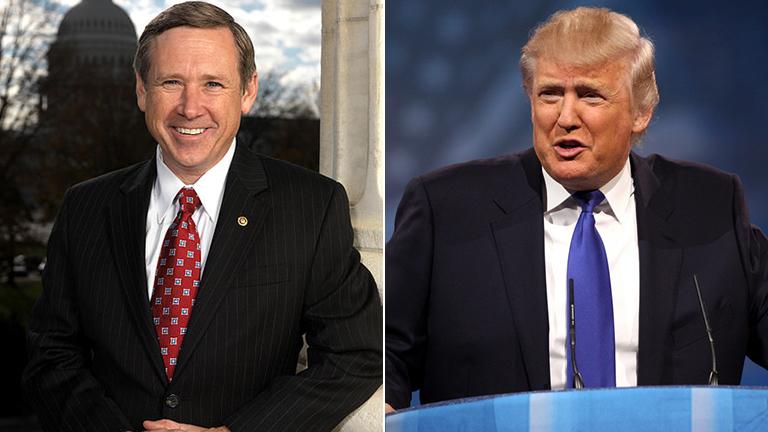 (Photo of Donald Trump by Gage Skidmore / Flickr)
Illinois Republican Sen. Mark Kirk has been an outspoken critic of Donald Trump's campaign and has chosen not to attend the Republican National Convention in Cleveland this week. He withdrew his support for Trump after the Republican presidential candidate's attacks on U.S. District Court Judge Gonzalo Curiel, who is handling two fraud lawsuits against Trump University. Trump called Curiel – who was born in Indiana – a Mexican who was biased against him because of his proposal to build a border wall with Mexico.
Earlier today, "Chicago Tonight" caught up with Kirk by telephone to get his assessment of the convention so far and ask whether he had any regrets about not attending. We began by asking him to clarify just exactly why he dropped his support for Trump.
Chicago Tonight: You've publicly withdrawn your support for Republican presidential candidate Donald Trump. Clarify why you did that?
Mark Kirk: I did that because of his statement that a judge of Mexican-American heritage could not rule impartially in the case concerning Trump University. I felt that that statement was so bigoted and racist it did not fit with the Land of Lincoln and I withdrew my support for him.
CT: So it was the remarks about U.S. District Court Judge Gonzalo Curiel that put Trump over the top for you in terms of withdrawing your support?
MK: Right. The whole idea that someone … Judge Curiel actually went to the same law school as Sen. (Dan) Coats in Indiana. And Coats said to me, "This judge actually went to my law school in Indianapolis" – and the whole idea of growing up in the United States and swearing an oath to uphold the Constitution that you cannot be trusted just because of your parentage is an idea that is too bigoted and racist for the Land of Lincoln.
CT: After the first day of the Republican National Convention, did you see anything that made you wish you were there? Or has it just confirmed your decision to stay away?
MK: It largely confirmed it. Now we see the plagiarism of Michelle Obama's speech being a huge embarrassment for the Trump campaign.
CT: What do you make of that?
MK: They hired the wrong speechwriter. They gotta make sure that guy never works for them again.

"I always look at a future president as a future commander-in-chief. In this case, I have seen a man who is too impetuous and too quick to judge to handle a crisis."
–Mark Kirk
---
CT: About Melania Trump's speech: it was initially well-received. Do you think the campaign has to hold someone accountable? Initially there was an expectation that someone would get fired for this, but some of the most recent reports suggest perhaps not.
MK: Maybe they'll circle the wagons and that's the wrong thing to do. The right thing to do is to have full accountability for the guy that screwed up. (Melania) is a very pretty woman with that foreign accent of hers. Very endearing and very genuine. It was a good performance that was ruined by the speechwriter.
CT: With the selection of Indiana Gov. Mike Pence as Trump's vice presidential pick, did that change in any way how you viewed the Trump campaign?
MK: It did and didn't. I served in the Congress with Mike Pence for about 16 years and know Mike really well and enjoy his company very much. It didn't cause me to switch and endorse Trump.
CT: Do you feel Pence adds a more experienced presence to the ticket?
MK: He is a significant improvement.
CT: How do you respond to some of the Trump supporters in Illinois we've heard from who are disappointed that you and many other leading Illinois Republicans, including Gov. Rauner, have chosen to skip the convention? They say Trump won the primary contest fair and square and Republicans should rally round him. Your response?
MK: For me it's simply a matter of priorities. I thought about going to the convention and the thought of spending a week in Cleveland with a bunch of Republicans shouting "Trump, Trump, Trump" – it sounded better for me to actually be in Illinois. I'm actually going to be starting a bus tour around Illinois to see as many people as I can around the state. We're going to cover the state from Rockford to Cairo.
CT: Do you worry that Trump's candidacy could do long-term damage to the Republican Party?
MK: I do. I do. Obviously I disagree with him on several issues and on tone and tenor. For my major look at a candidate (I rely) on my military background – 23 years in the Navy Reserves – I always look at a future president as a future commander-in-chief. In this case, I have seen a man who is too impetuous and too quick to judge to handle a crisis.
The thing that we all know when we experience a crisis in the government is that all the first reports are incorrect and you have to have the experience to know that. And the judgment to move forward, realizing the outrageous information you might be getting, and people all clamoring for dramatic action by the United States right away might be the wrong thing to do. You've got to have wisdom and judgment and he doesn't have that.
CT: Would you be comfortable if a lack of enthusiasm for Trump amongst some Republicans, including you, ultimately handed the White House to Hillary Clinton and the Democrats for a third term? Would your conscience be clear?
MK: I'm very much not in favor of a third Obama term which is very much what Hillary's candidacy is all about. I don't think we should have another agreement with the Iranians. We just heard from various intelligence sources the new leaked piece of paper that shows that the Obama administration is estimating that the Iranians will be able to cut the time in half to build a nuclear weapon. And for me, as a strong supporter of our allies in Israel I want to make sure that the state of Israel survives the 21st century.
CT: For someone who has military experience and for whom national security is a big issue, I just wanted to ask, is that the biggest issue for you in this election?
MK: Right now when we look at the polling as we've looked at the voters of Illinois, they say that national insecurity is their number one issue. I would say that for the state of Illinois, the fifth largest economy in America, that the economy of our state really doesn't work in a terror environment. When you put together O'Hare and Midway and the Willis Tower, the second-tallest building in North America, that economic engine doesn't work in a terror environment. We've got to make sure that in the war on terror that we don't play any home games. That we always play away games and make sure that the terrorists fear us and that we don't fear them.
CT: Since you brought up the war on terror, in terms of current policy, what do you think the U.S. should be doing differently?
MK: I think we should have a more robust campaign against ISIS. The other day, when I met with the Chairman of the Joint Chiefs of Staff Gen. (Joseph) Dunford, I raised the issue of this slow sortie generation rate of only about 15 or 20 (bombing raids) a day. That isn't enough to wage against the caliphate in Iraq, the 9.5 million people there. To only hit them a little more than a dozen times a day is not enough, we should pick up the pace. I was very happy to see that after the terror attack in Nice, the French carried out their own attack on Raqqa, the capital of ISIS. It was a good move by President (Francois) Hollande.
CT: Are you still planning on writing in former CIA Director David Petraeus as your Presidential pick?
MK: Actually, my new favorite is (retired four-star general and former Secretary of State) Colin Powell, who I think would be much better suited to the larger national stage.
CT: So what made you choose Powell over Petraeus?
MK: I think for Colin, he has got the judgment and the experience and wisdom and background to lead the country. I realize not as a registered candidate so my write-in vote doesn't count in Illinois, I just want to register my non-approval of Donald J. Trump and say that there was another alternative that the party should have gone with which should have been Colin Powell.
CT: We're clearly in a country which is very divided politically now. Have you ever seen the country more divided?
MK: I think right now it's divided because the White House wants it to be divided and we see very strong divisions. I'm worried that the president hasn't been pro-police enough, that we should all back the blue and make sure that those fellow citizens of ours who run towards problems and solve problems are backed up by us.
CT: We're obviously in a state that leans Democratic – especially in the presidential race. Do you think the fact that you are publicly not supporting Trump helps or hinders you in your race with Tammy Duckworth?
MK: Help actually. The key to representing Illinois is being independent of party. In the case of Tammy Duckworth, she's merely a partisan pawn and throughout her career she has always put the interests of the Democratic Party ahead of veterans.
CT: And are you happy with how your campaign is going?
MK: Very much so. Right now I think we're neck and neck in the polls. In a Democratic state like Illinois that's a good thing.
---
Sign up for our morning newsletter to get all of our stories delivered to your mailbox each weekday.
---
More election 2016 stories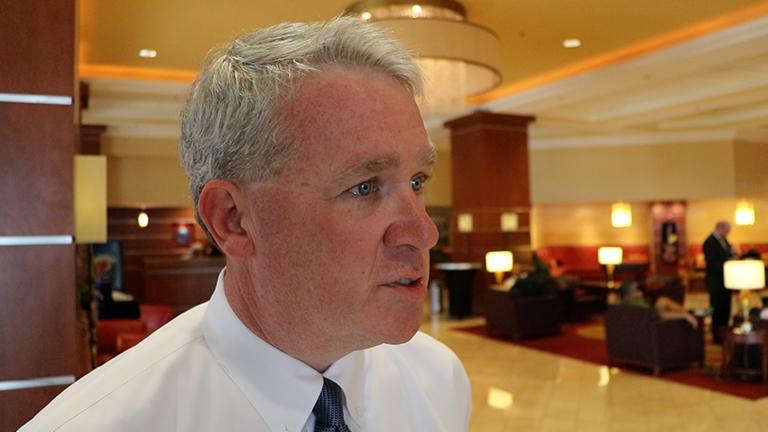 ​Jim Durkin: Trump Could Help Illinois Budget Impasse
July 19: Republican Illinois House Minority Leader Jim Durkin says he is not in Cleveland to attend the Republican National Convention. Instead, he's here to raise money–gobs of it–with the goal of pouring it into contested House races and chipping away at House Speaker Michael Madigan's Democratic supermajority.
---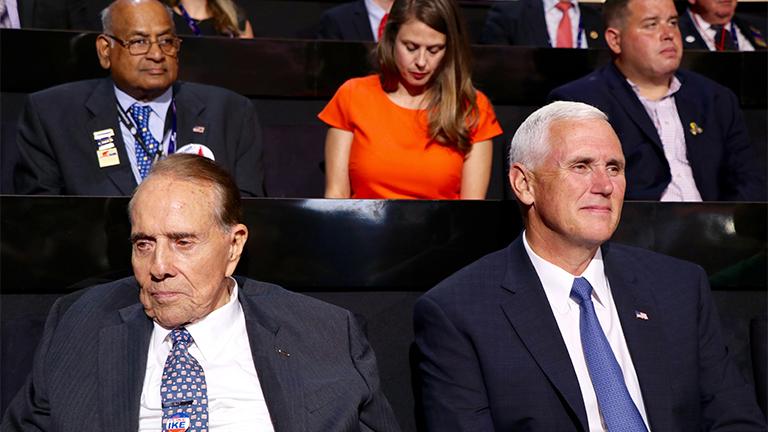 Photos: RNC Convention 2016, Day 1
July 19: Speakers on Monday included former New York City Mayor Rudy Giuliani and Melania Trump, who is facing allegations of plagiarism after similarities were noted between her speech and that of first lady Michelle Obama at the 2008 Democratic National Convention.
---
Trump Campaign Feels Heat Over Melania Trump Speech
July 19: The controversy over would-be first lady Melania Trump's keynote speech on Monday night at the Republican National Convention was a hot topic at breakfast on Tuesday for the Illinois delegation.
---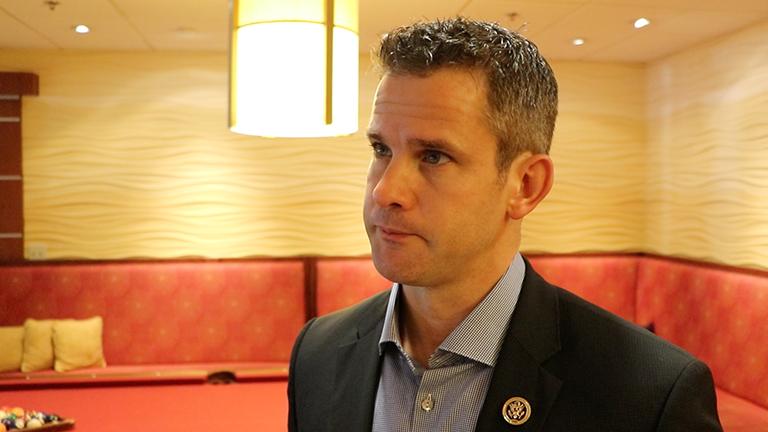 Illinois GOP Congressmen Try to Toe the Line on Trump
July 19: If Illinois' Republican congressmen have anything in common, it's that they do not support Hillary Clinton.
---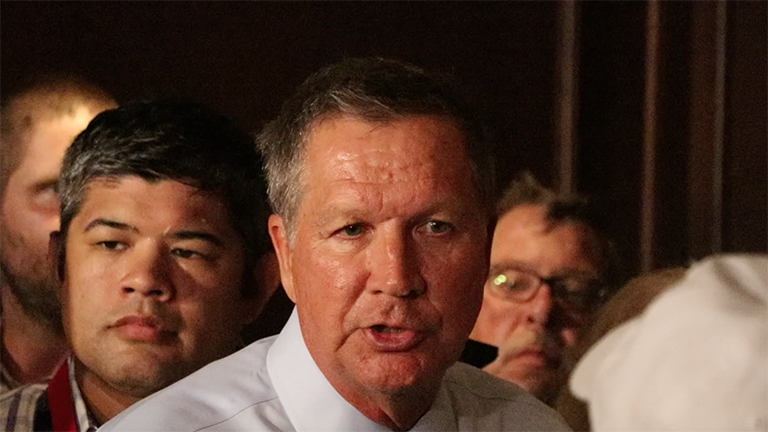 Ohio Gov. John Kasich Offers Different Republican Vision to Illinois GOP
July 18: After declaring they were in lockstep with Donald Trump, the Illinois Republican delegation spent Monday afternoon and evening with a high-profile Republican who has vowed not to support him.
---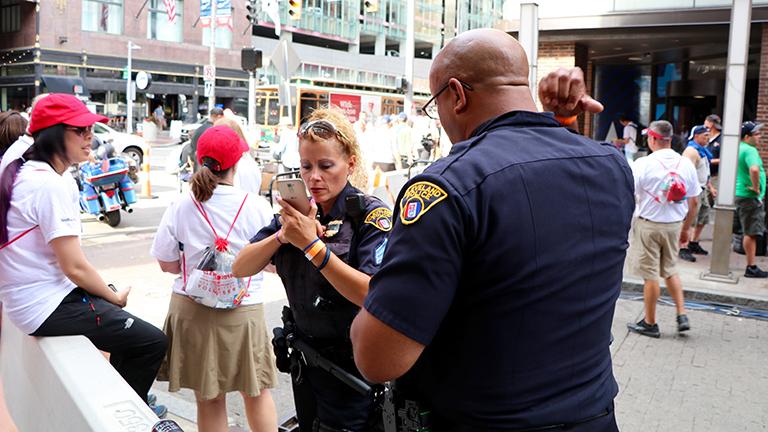 Delegates on Guard at GOP Convention After Baton Rouge Police Shootings
July 18: Breakfast for Illinois delegates at the Republican National Convention on Monday opened with a moment of silence for the police officers killed in shootings in Baton Rouge on Sunday and Dallas earlier this month.
---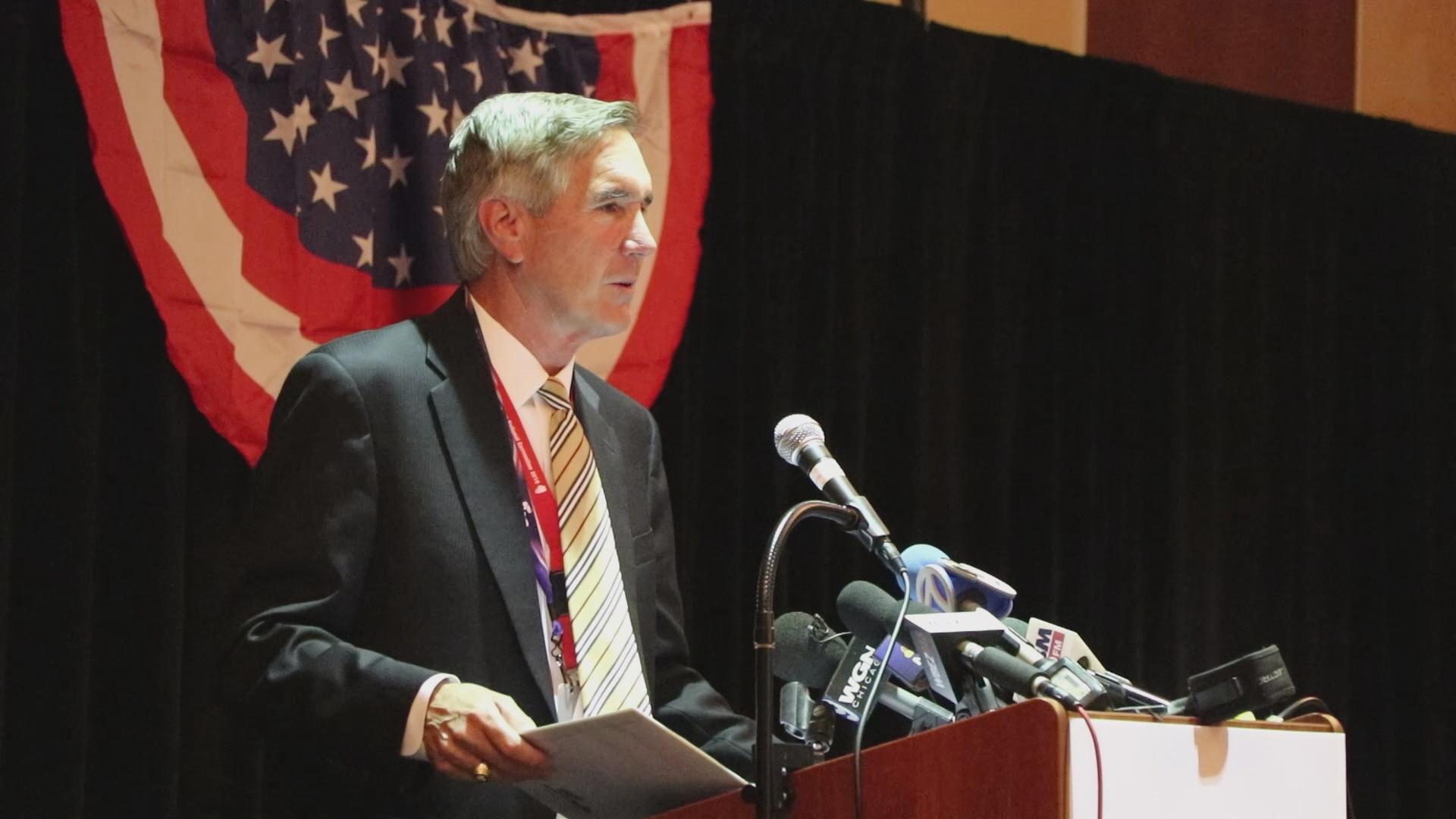 IL GOP Chair: Illinois in 'Lockstep' with Trump
July 18: Chairman Tim Schneider riled up the crowd of Illinois delegates at a breakfast Monday morning in Cleveland, vowing that Illinois would work to elect Donald Trump in November.
---