Melania Trump delivers a speech Monday at the Republican National Convention. (Evan Garcia / Chicago Tonight)
The controversy over would-be first lady Melania Trump's keynote speech on Monday night at the Republican National Convention was a hot topic at breakfast on Tuesday for the Illinois delegation.
Donald Trump's former campaign chairman Corey Lewandowski, who Trump fired in June, made a surprise appearance in front of the delegation and told reporters that his former boss should hold people accountable for the portions of the speech that appeared to be plagiarized.
"I think Melania Trump is a very smart, articulate woman," Lewandowski said. "If staff didn't do their job, then I think there should be accountability. I know what accountability is, and Donald Trump will make the decision about what he thinks the right thing to do is."
The controversy stems from a portion of Melania Trump's speech in which she recounts what she learned from her parents. It seems to mirror, at times almost word for word, a speech given by Michelle Obama at the 2008 Democratic National Convention.
The similarities between Michelle Obama's 2008 DNC speech & Melania Trump's #RNCinCLE. First noticed by @JarrettHill pic.twitter.com/yGpN9aJi1z

— Javier Panzar (@jpanzar) July 19, 2016
---
Lewandowski made the comments after giving a speech to the assembled Illinois delegates in which he thanked them for "delivering" Illinois to Trump. He also took responsibility for organizing the botched speech that was supposed to have been given at the University of Illinois Chicago in March, only to be canceled after concerns about the safety and security of protesters boiled over.
"Trump is one tough guy," Lewandowski said. "Who else would want to go into the belly of the beast like that?"
Melania Trump's speech, a lightning rod among pundits and media Tuesday morning, didn't seem to worry Trump's Illinois delegates.
"It was a great speech," said delegate Mark Fratella. "The feelings, emotions were there. Whether or not a speech writer got parts of it from someone else is irrelevant."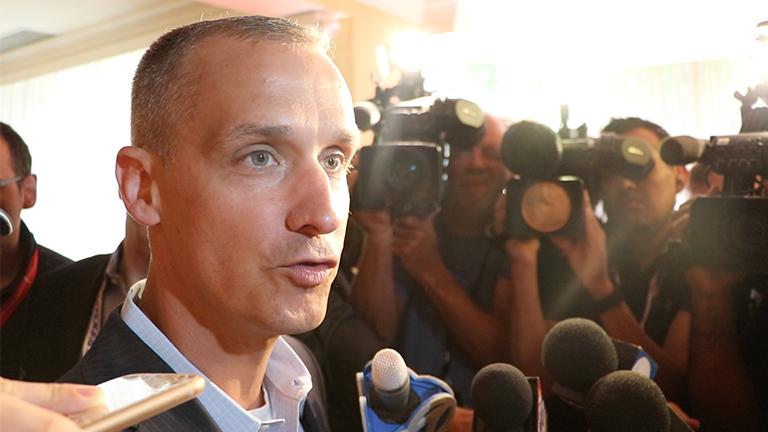 Corey Lewandowski: "If staff didn't do their job, then I think there should be accountability." (Evan Garcia)
Current Trump campaign manager Paul Manafort blamed Democratic opponent Hillary Clinton for the brouhaha.
"This is another example of when a woman threatens Hillary Clinton, she'll … take her down," Manafort told other media outlets.
Illinois U.S. Rep. Adam Kinzinger, who says he's "not yet there" in his support of Trump, said he'd prefer to see action from the Trump campaign in response to the controversy. "That was probably a speech writer," he said. "I doubt Melania Trump actually sat down and wrote her own speech. And I would assume that staffer would be fired."
Join "Chicago Tonight" for continued coverage of the Republican National Convention all week.
Follow Paris Schutz on Twitter: @paschutz
---
Sign up for our morning newsletter to get all of our stories delivered to your mailbox each weekday.
---
Related stories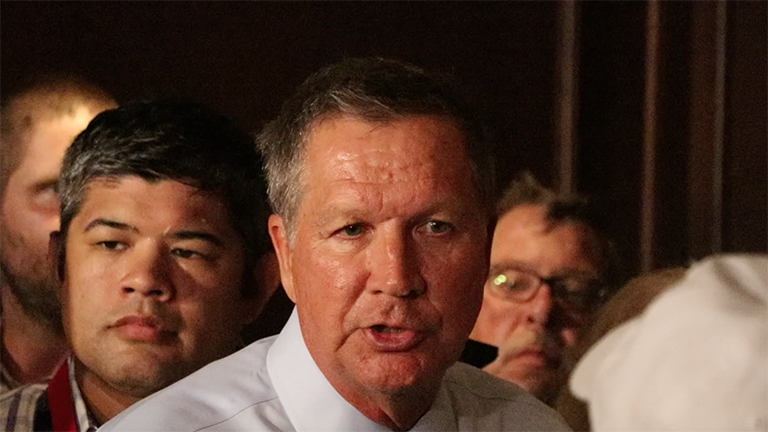 Ohio Gov. John Kasich Offers Different Republican Vision to Illinois GOP
July 18: After declaring they were in lockstep with Donald Trump, the Illinois Republican delegation spent Monday afternoon and evening with a high-profile Republican who has vowed not to support him.
---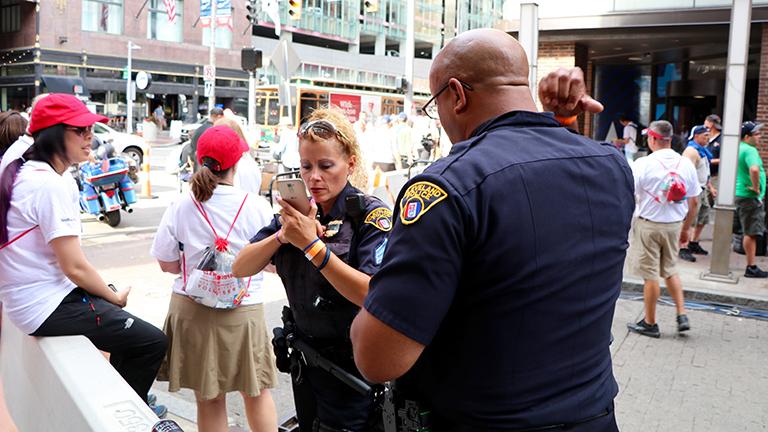 Delegates on Guard at GOP Convention After Baton Rouge Police Shootings
July 18: Breakfast for Illinois delegates at the Republican National Convention on Monday opened with a moment of silence for the police officers killed in shootings in Baton Rouge on Sunday and Dallas earlier this month.
---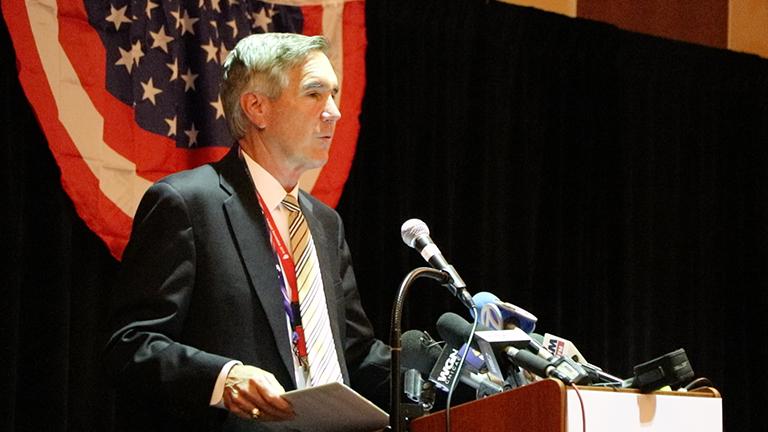 IL GOP Chair: Illinois in 'Lockstep' with Trump
July 18: Chairman Tim Schneider riled up the crowd of Illinois delegates at a breakfast Monday morning in Cleveland, vowing that Illinois would work to elect Donald Trump in November.
---