Video: GOP Chairman Tim Schneider riled up the crowd of Illinois delegates on Monday morning. Also speaking: Demetra Demonte, James Ignatowski, Judy Diekelman and John Cabello. Video by Evan Garcia.
The head of Illinois' Republican Party sought to downplay any division that might exist among the rank and file over the nomination of Donald Trump.
Chairman Tim Schneider riled up the crowd of Illinois delegates at a delegation breakfast Monday morning in Cleveland, vowing that Illinois would work to elect Donald Trump in November, and that, counter to reports of dissension among the ranks, the state is "in lockstep" with Trump.
"Donald Trump has tapped into something that has resonated with millions of new voters across our country," Schneider said.
"We are absolutely unified behind Donald Trump," said Trump Illinois co-chair Demetra Demonte. "There is no fracture. The leadership of the party, the people of Illinois are totally united."
But despite the rah-rah atmosphere of Monday's event, high-profile congressmen have distanced themselves from the nominee, and top party officials including Gov. Bruce Rauner and U.S. Sen. Mark Kirk are avoiding the convention all together. It has drawn the ire of Trump delegates, many of whom are first-time attendees at the convention and new to the political process.
"I'm disappointed," said alternate Trump delegate James Ignatowski, a first-time delegate from Chicago. "It'd be nice for Governor Rauner and Mark Kirk to be here. Show the Democrats we're united. Show it to Madigan and Cullerton."
Despite well documented division in the ILGOP, strong cheers among delegates when Schneider asks "are you ready to elect Donald Trump?"

— Paris Schutz (@paschutz) July 18, 2016
---
Schneider and other state GOP officials drew rousing cheers when they insisted the state party was solidly behind Trump. The Illinois leadership aimed to bridge the divide between more established members of the party and newer entrants.
"We need to work together. We're not your enemy, were your friend," Schneider said.
Ignatowski says he was drawn to Trump and compelled to get involved in politics because of his disdain for Chicago politicians, and because of Trump's hard line on ending illegal immigration and cracking down on undocumented immigrants.
"People should come here legally. Let's keep the illegals out of the country," he said.
"Trump truthfully cares about Americans," Ignatowski said. "He spent his own money, while others spent millions against him."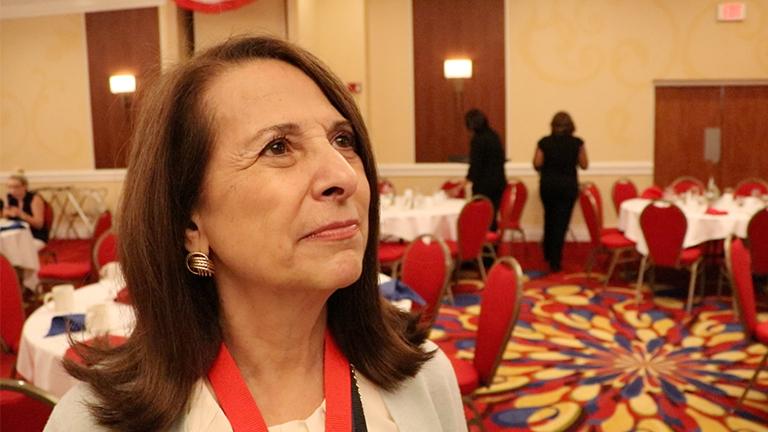 "We are absolutely unified behind Donald Trump," said Trump Illinois co-chair Demetra Demonte. (Evan Garcia)
Through many delegates say they have been attracted to Trump from the beginning, others have needed some persuading.
"I'm coming around, I'm really coming around," said Judy Diekelman, an at-large delegate, who, by rule must cast her vote for Trump. "I'm very happy with his VP pick. We have a big tent, and we have to look at all opinions."
Political conventions are typically a celebration of the party, but the events in Baton Rouge, Louisiana, where three officers were killed in an ambush on Sunday, have cast a shadow over this year's event. Illinois State Representative John Cabello, a former police officer from Rockford, urged the delegation to be vigilant in the wake of heightened security around the convention center.
"When you're going to and from the convention, please be aware of your surroundings," Cabello said. "If a criminal sees you paying attention, you will less likely be a victim of crime. If you see something out of the ordinary, please report it."
The delegation will next visit with Ohio Gov. John Kasich at a dinner reception before the convention begins in earnest Monday evening.
Join "Chicago Tonight" for continued coverage of the Republican National Convention all week.
Follow Paris Schutz on Twitter: @paschutz
---
Sign up for our morning newsletter to get all of our stories delivered to your mailbox each weekday.
---
Related stories:
Republican National Convention Gets Underway Amid Fallout from Baton Rouge
July 17: A motley group of Illinois Republicans, including members of the "Never Trump" movement, are arriving Sunday in Cleveland on the eve of the 2016 Republican National Convention.
---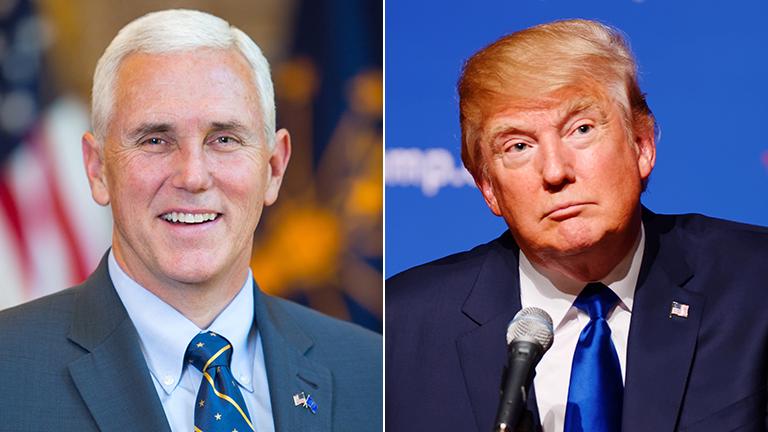 Indiana Gov. Mike Pence Poised to be Donald Trump's Running Mate
July 14: It's almost official: Indiana Gov. Mike Pence is reportedly going to be Donald Trump's vice presidential running mate. WBEZ fills us in on what it means for Indiana and the nation.
---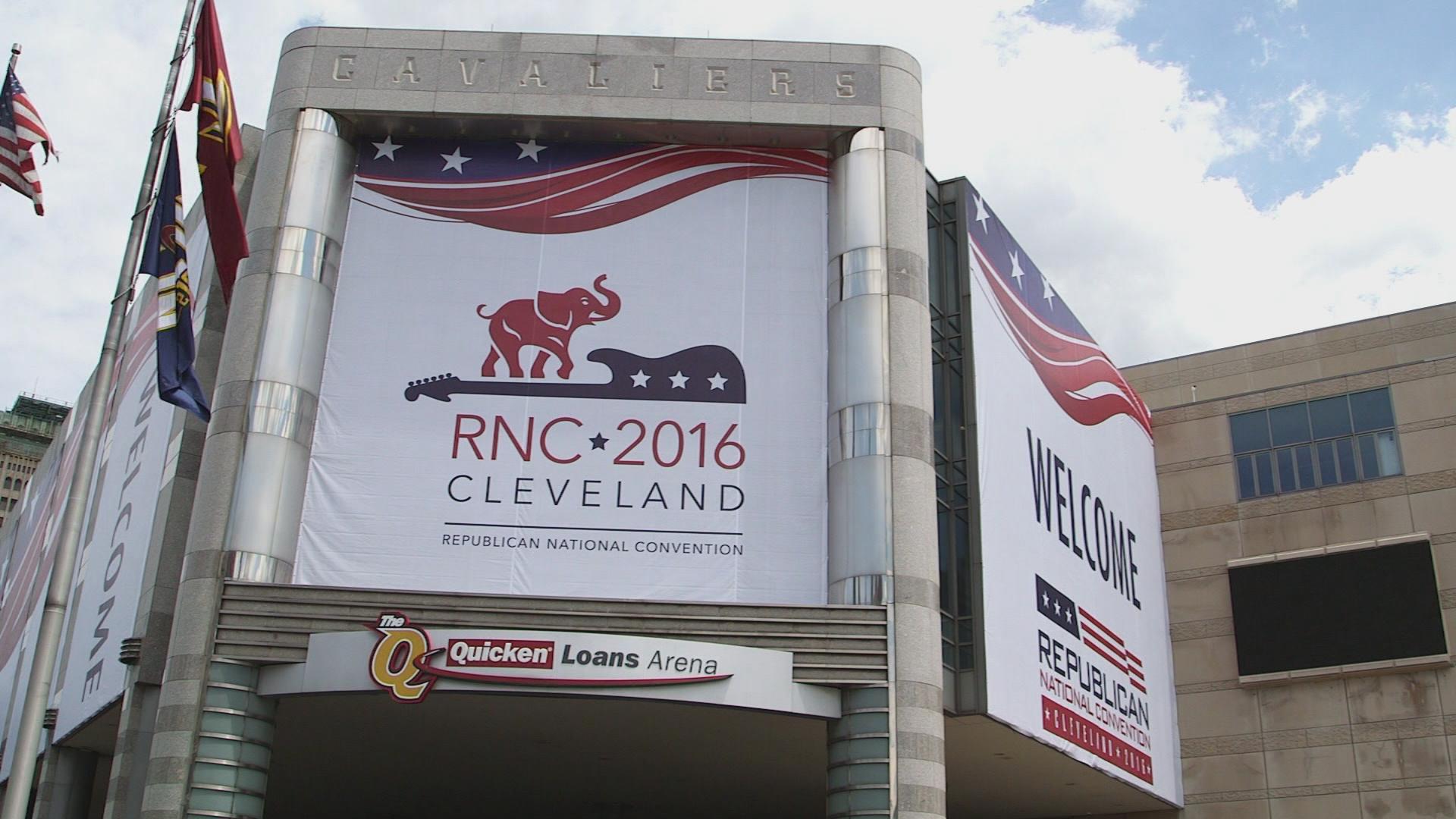 IL GOP Hopes for Unity Despite Absences at Republican Convention
July 14: With one of the most divisive presidential primaries in recent memory at an end, Illinois Republican officials are hoping the party comes together next week in Cleveland for the Republican National Convention.
---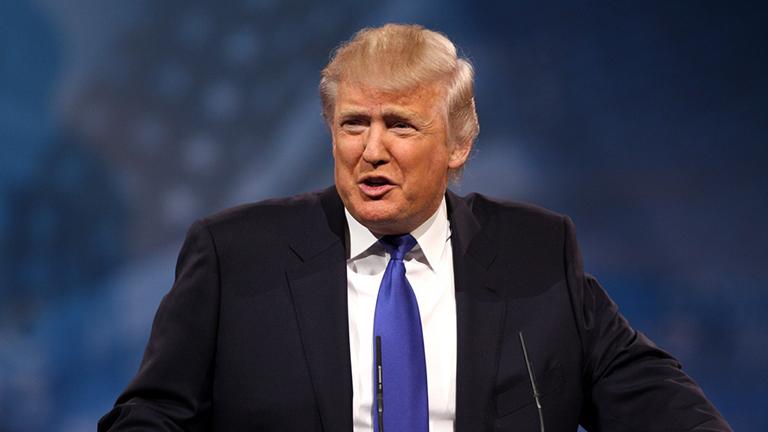 Trump Delegates Sound Off on Republican Convention
July 13: Two supporters of presumptive GOP nominee Donald Trump weigh in on next week's Republican National Convention in Cleveland, Ohio.
---