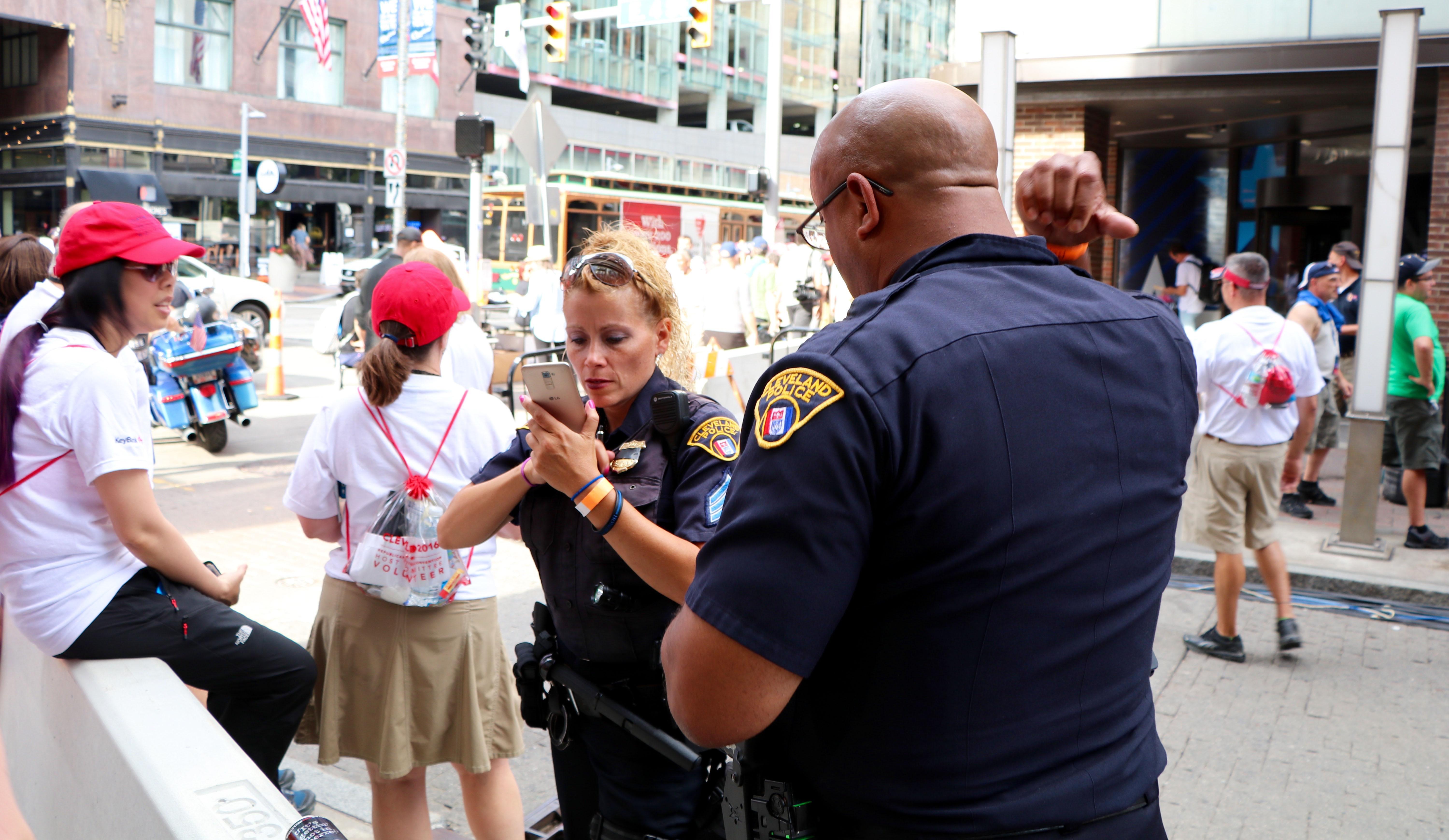 Cleveland police officers outside of the Quicken Loans Arena. (Evan Garcia)
Breakfast for Illinois delegates at the Republican National Convention on Monday opened with a moment of silence for the police officers killed in shootings this month.
The shooting of six Baton Rouge police officers on Sunday cast an air of vigilance over the GOP event. A shooting in Dallas on July 7 left five police officers dead.
Illinois State Rep. John Cabello shared safety advice with the delegation. Cabello is a detective currently on leave from the Rockford Police Department while he serves in the General Assembly, 
"When you're going to and from the convention, please be aware of your surroundings," he said. "Look people in the eyes. Make sure they know that you're watching what's going on. If a criminal sees you paying attention, you will probably be less likely to be a victim of crime."
Officers with the Cleveland Division of Police usually patrol on their own or with a partner, but they've adjusted that protocol in the wake of the shootings, according to Sgt. Jennifer Ciaccia, the department's press information officer.
"From the Cleveland Division of Police, our officers have been on a heightened state of awareness for their own safety and obviously for the safety of the public as well," she said. "The officers are now deploying in partnered efforts."
Cleveland's police department is not alone. Officers from the California State Highway Patrol were seen patrolling the area outside of the Quicken Loans Arena on Sunday, where the convention takes place. Along with law enforcement departments throughout Ohio, the Pittsburgh Police Department has also joined the effort, according to Cleveland.com.
Ohio is an open carry state, meaning anyone who legally owns a firearm can carry it openly with or without a gun license. According to Reuters, Cleveland Police Union President Steve Loomis requested Ohio Gov. John Kasich temporarily suspend the state's open carry law. Kasich's office responded by saying the governor lacks the authority to "arbitrarily suspend federal and state constitutional rights or gun laws."
Join "Chicago Tonight" for continued coverage of the Republican National Convention all week.
Follow Evan Garcia on Twitter: @EvanRGarcia
---
Sign up for our morning newsletter to get all of our stories delivered to your mailbox each weekday.
---
Related stories: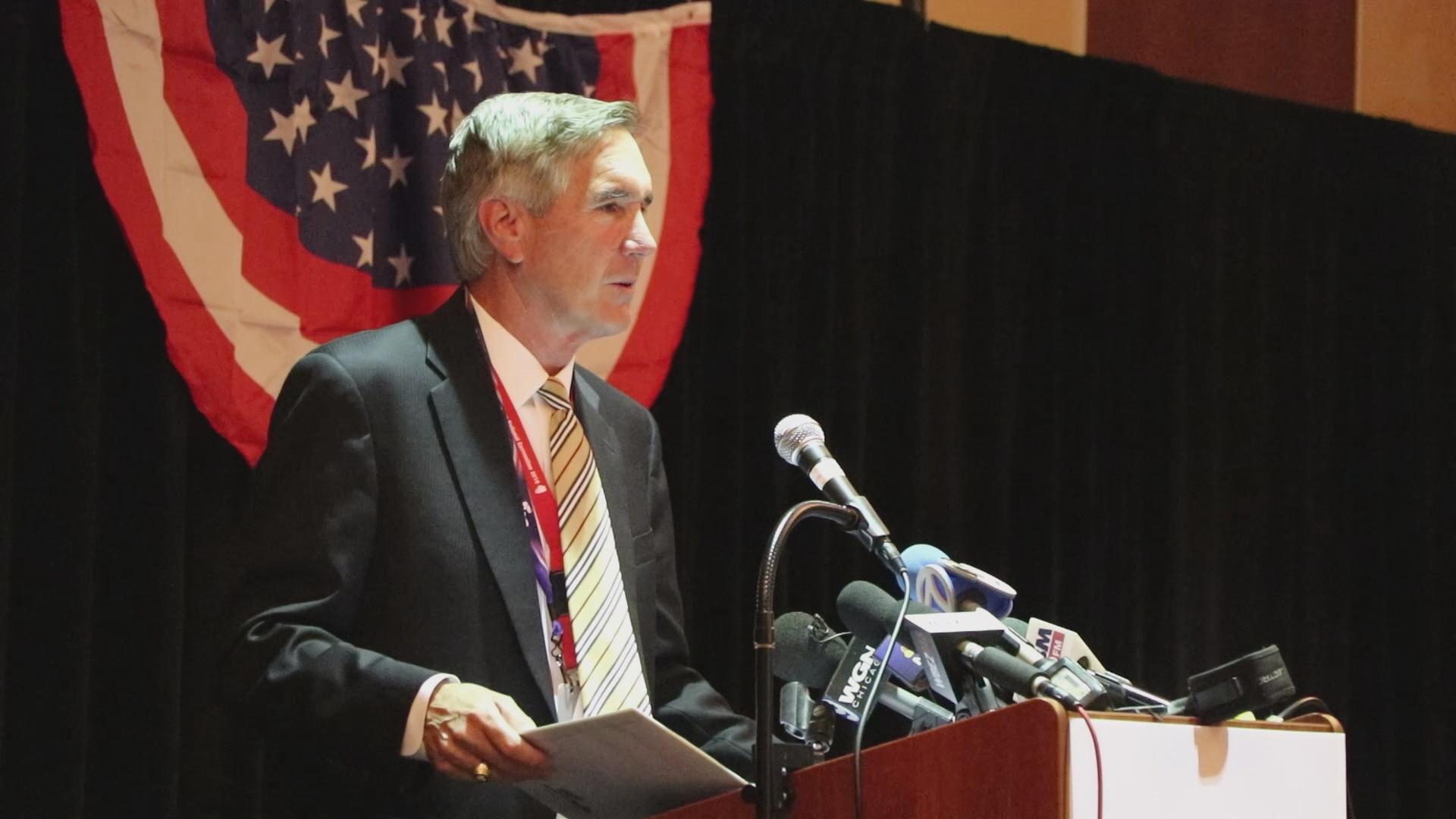 IL GOP Chair: Illinois in 'Lockstep' with Trump
July 18: Chairman Tim Schneider riled up the crowd of Illinois delegates at a breakfast Monday morning in Cleveland, vowing that Illinois would work to elect Donald Trump in November.
---
Republican National Convention Gets Underway Amid Fallout from Baton Rouge
July 17: A motley group of Illinois Republicans, including members of the "Never Trump" movement, are arriving Sunday in Cleveland on the eve of the 2016 Republican National Convention.
---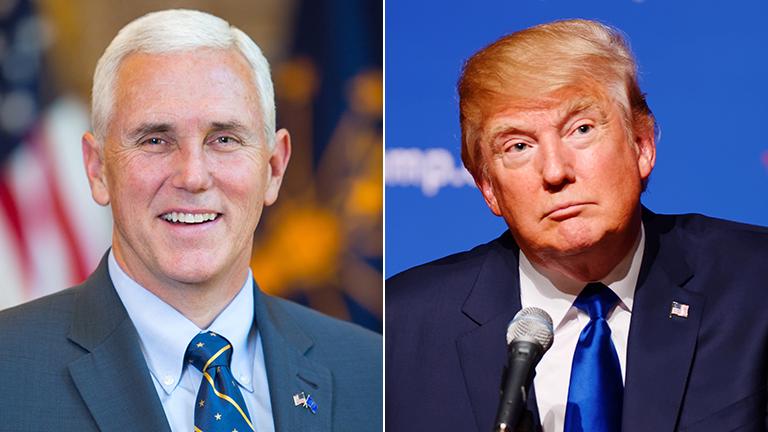 Indiana Gov. Mike Pence Poised to be Donald Trump's Running Mate
July 14: It's almost official: Indiana Gov. Mike Pence is reportedly going to be Donald Trump's vice presidential running mate. WBEZ fills us in on what it means for Indiana and the nation.
---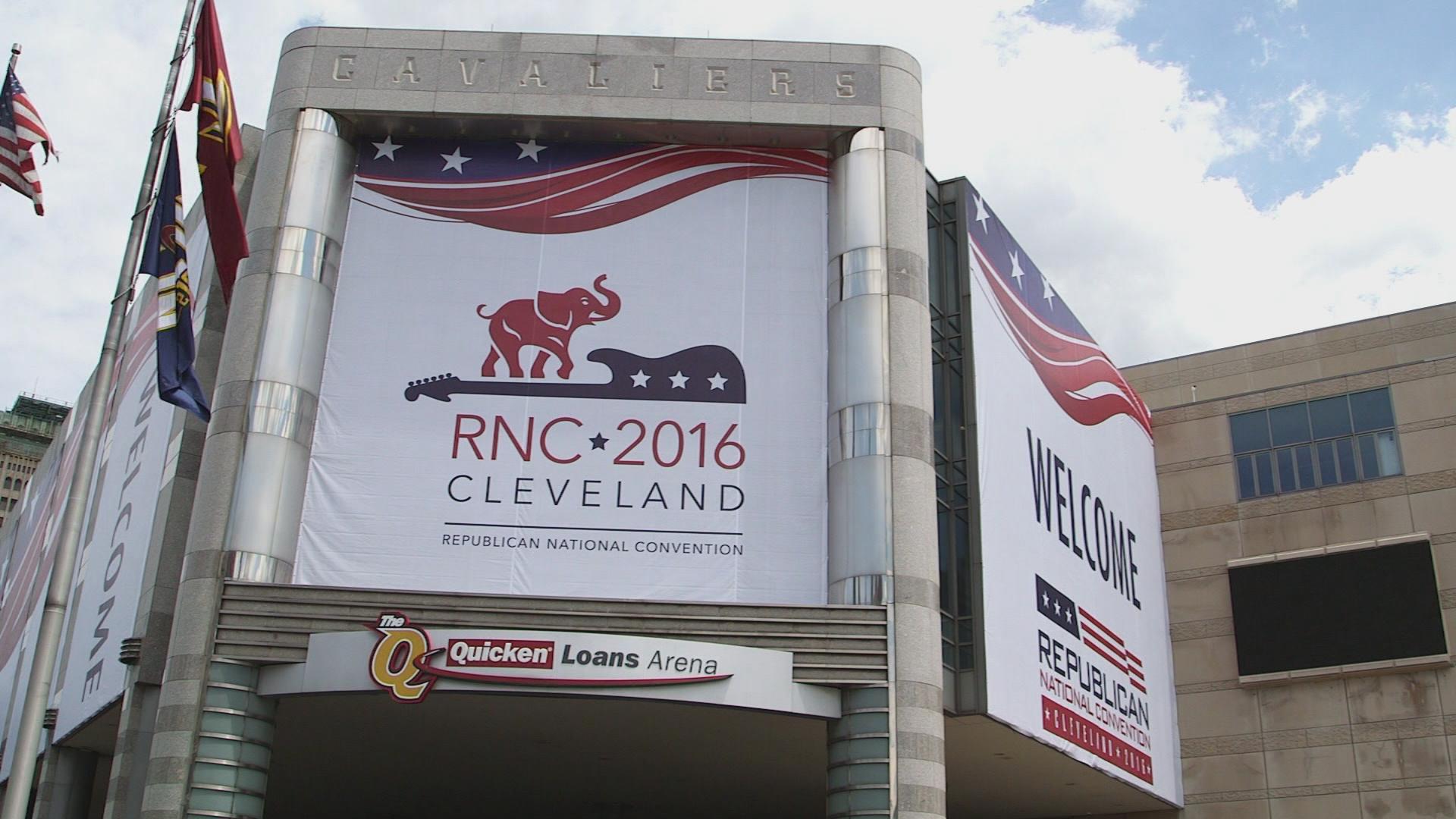 IL GOP Hopes for Unity Despite Absences at Republican Convention
July 14: With one of the most divisive presidential primaries in recent memory at an end, Illinois Republican officials are hoping the party comes together next week in Cleveland for the Republican National Convention.
---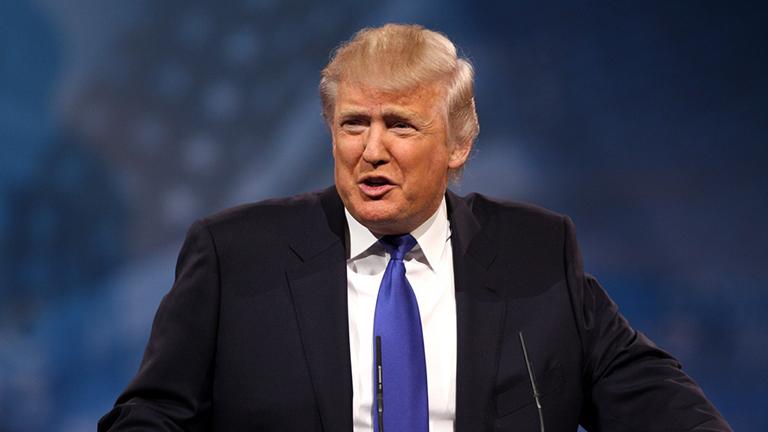 Trump Delegates Sound Off on Republican Convention
July 13: Two supporters of presumptive GOP nominee Donald Trump weigh in on next week's Republican National Convention in Cleveland, Ohio.
---