For more than 40 years, Radio Hall of Famer Terri Hemmert has been part of Chicago's musical community. She's been a DJ at WXRT for almost as long as the station has been around, and she's back on the air after cancer surgery earlier this year.
Hemmert is also a longtime teacher. In a new show, Hemmert, along with the group Chicago a cappella, pares down her 10-week course into a two-hour concert, taking the audience down the long and winding road of "The History of Rock and Soul."
TRANSCRIPT
Nick Blumberg: When Chicago a cappella's founder approached Terri Hemmert about turning her long-running Columbia College course into a live event, the tireless DJ was more than game.
Terri Hemmert: So a year ago before my health totally went south I said, "Yeah, let's do that. That sounds great!" And so as I was coming out of my drug-induced stupor from surgery and all that, I said, OK, now it's time to write the script. Yikes! But, was able to pull that off and I'm excited about it because it's like teaching in a different venue.
Blumberg: And instead of teaching with recorded music, it's all live. But Hemmert isn't changing her teaching style.
Hemmert: Which is like an evangelical preacher. Can I get an amen?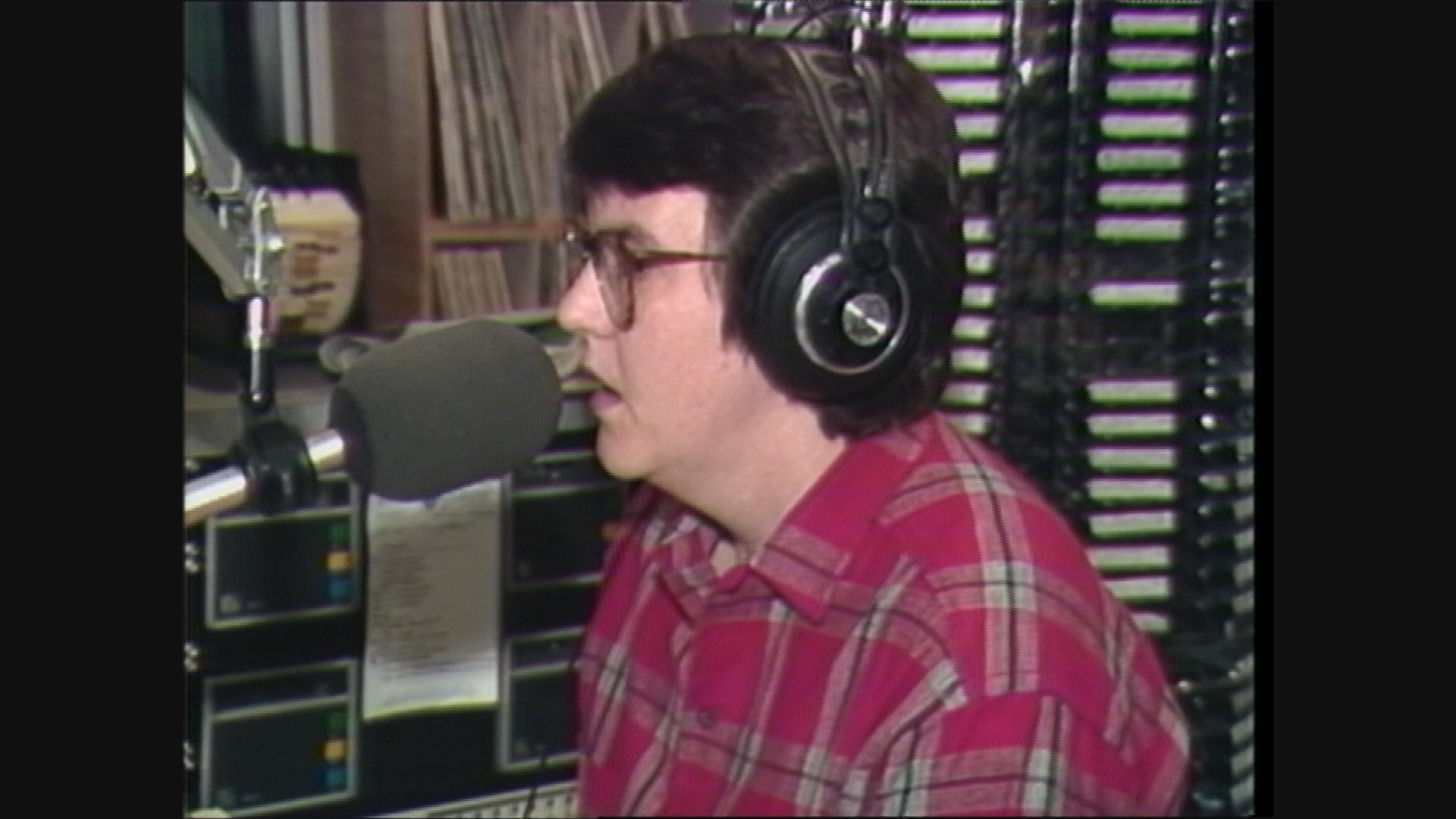 Blumberg: Hemmert says one of the things she's proudest of as a teacher is introducing people to musicians who aren't well-known, like "godmother of rock and roll" Sister Rosetta Tharpe.
Hemmert: Knowledge about this music and drawing people into this music builds community. I learned that from my mother, that music builds community in a lot of different ways. She did it by having a community chorus. I do it by being on the radio and teaching and now this is a new medium.
Blumberg: The show's music director worked with Hemmert to whittle down the 200 songs she covers in a semester to just 38, and he gave them brand-new a cappella arrangements.
Patrick Sinozich, director of "History of Rock and Soul": And I sat around my apartment. My partner was going crazy because I was experimenting with "k-chong chong" or "k-chang chang" or "k-chik chik" and just, what sound is going to best make it, and what's an electric guitar sound like, and what does an acoustic guitar sound like and then maybe there's a fiddle or a steel guitar or a saxophone or a trumpet.
In doing these arrangements, my respect and esteem for the composers and the original artists has really grown. We talk about the American Songbook, which is Cole Porter and George Gershwin and those guys. But this is a whole different songbook, and it's really rich and really interesting.
---
In the video below, Patrick Sinozich talks about his newfound respect for the Beach Boys.
---
Blumberg: Hemmert says this songbook helps tell the story of race relations in America.
Hemmert: We've come a long way, but we've got a long way to go. But we came a long way thanks in part to baseball and music. In my class, I'll tell them that Dr. King owed a great debt to baseball and music, because in sports and in the arts, you win people's hearts.
Blumberg: Music always had a place in Hemmert's heart. As a kid in Piqua, Ohio, she came to love music thanks to her mom, and came to love the Beatles thanks to Ed Sullivan.
Hemmert: And then I saw a picture of a disc jockey interviewing Ringo, and thought, I could meet the Beatles if I became a disc jockey! So that's how I got into it.
Blumberg: Hemmert's been at XRT since 1973. She was the first woman in Chicago to hold down the morning drive shift, which she did for more than a decade.
Hemmert's been on middays since 1992, and hosted her weekly passion project, "Breakfast with the Beatles," since 2002. But in January, she announced she was taking several weeks off for cancer surgery and recovery. Thousands of listeners and fans wrote in support.
---
In this episode of "WTTW Journal" called "Radio Faces," which was recorded and aired in January 1989, John Callaway takes a spin through the dial to feature more than a dozen local radio personalities, including Terri Hemmert.
---
Hemmert:  That was really amazing. It was quite humbling and inspiring, because it goes back to this relationship with the audience. We've grown up together, we've spent years together. And if I can share my experience and give some strength to them like they're giving strength to me and also if I can encourage my listeners to go see the doctor once a year, to get tested if the body's saying something to you, and fortunately for once in my life I did that, and it saved my life.
Blumberg: And while she's still recovering, the notoriously energetic Hemmert even came back to work at XRT earlier than expected.
Hemmert: I don't want to sit around eating bon bons and watching TV. They took all the soap operas off. What would I watch?
Blumberg: Hemmert's got a busy calendar on and off the air – teaching, traveling, charity work – and her new partnership with Chicago a cappella. The show's music director Patrick Sinozich says he's proud of the work that went into this new project.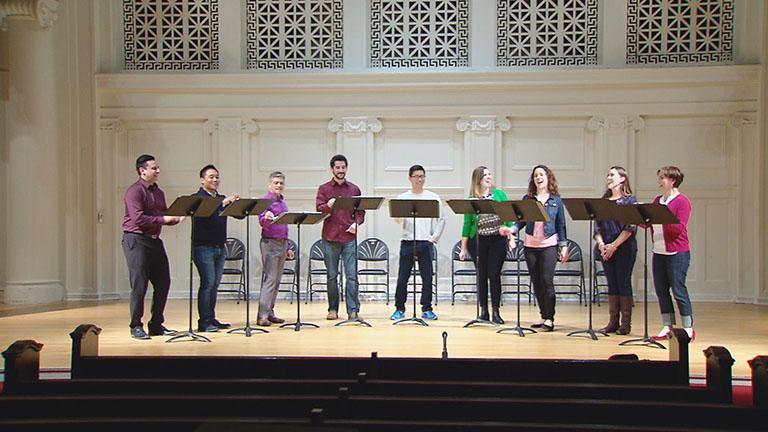 Sinozich: Sometimes I've been to programs where it's this song, and it's that song, and it's that song, and it feels just like a casserole – and not a well-blended one. This way, you're assured of a unified program, and I think that helps the audience focus. That helps them understand what it's all about and how it fits together.
Hemmert: I'm imparting my passion and my knowledge of the music and passing it on. Somebody – more than one person – said I should write a textbook. But if I wrote a textbook, I wouldn't have time to teach. And I sit in the studio all day alone. I don't want to be alone writing a textbook, so forget it!
Blumberg: While a book isn't on the horizon, neither is hanging up her headphones or shelving her syllabus. Hemmert says her work's still fun and she's enjoying the freedom that comes with age.
Hemmert: You don't worry about stuff like you used to anymore! I don't worry about job security, what am I going to do after this? Do people like me? I don't care! I hope they do, but you don't stress out so much about stuff. Until your health goes all to hell and then that's a whole new ballgame! But it's a good place to be right now. I'm happy.
---
Hear Terri Hemmert talk about why she'd leave radio before she left Chicago.
---
Related Stories from "Chicago Tonight"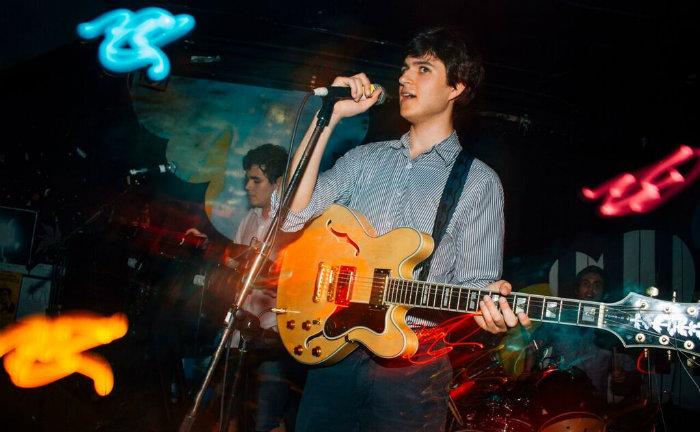 Empty Bottle Book Revists 21-Plus Years of Underground Chicago Music
April 4: The Ukrainian Village music venue first opened the night before Halloween 1993. During its first decade, Empty Bottle would become a magnet for underground rock, post-punk and experimental music. A soon-to-be released book chronicles of some of its 23-year history and shares testimonies from the artists and fans who love it.
---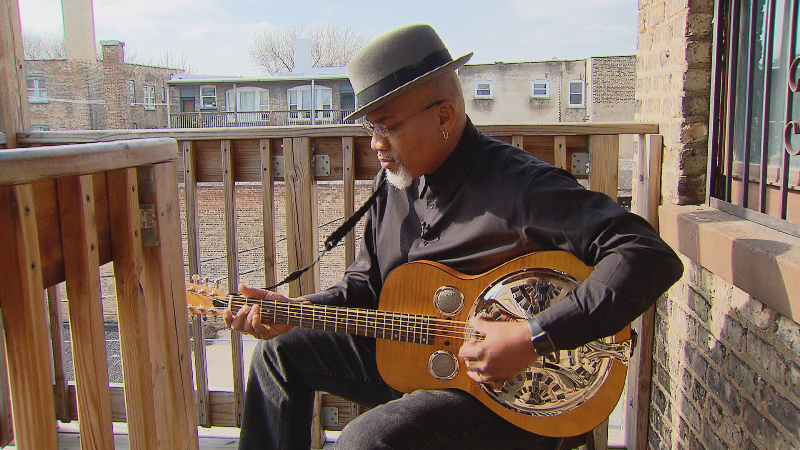 Meet the Rising Chicago Bluesman Who Drives a CTA Bus for a Living
March 1: Toronzo Cannon is just your typical CTA bus driver who moonlights as a sought-after Chicago blues musician. As a guitarist, singer and songwriter, he drives the sound of Chicago blues from the city to blues clubs and festivals around the world.
---