A vast photography archive has been opened to reinterpretation. Curators and students at Columbia College Chicago have devised a way to get viewers to reimagine the meaning of a photograph.
We visited the school's Museum of Contemporary Photography for a clearer picture.
TRANSCRIPT
Phil Ponce: The exhibition is called "re:collection" – it is a re-thinking of some of the more than 14,000 objects in the museum's permanent collection.
Creative sequences encourage visitors to reconsider some arresting photographs.
Karen Irvine, Museum of Contemporary Photography: "re:collection" is exploring the way in which we perceive images, so we tried to come up with an experimental way to look at our collection and to present images. It operates a little bit like a mind map, so through the sequencing of the photographs, each image relates to one to the left and to the right of it, in some way, whether it be formal, or conceptual or some other subtle connecting factor.
I think it becomes a little bit of a puzzle for the viewer and a different way to engage with the work on view.
Ponce: There are historic photos on display, but most of the pictures were taken in the last 10 or 20 years.
Some of the unusual highlights in the eclectic sampling include photos printed directly onto the leaf of a plant, a Chicago photographer's image of a politician on the rise, and a photograph taken at a Chicago political rally by the influential photographer Robert Frank.
It all comes back to: how the photos relate to each other.
Irvine: I think we're really used to looking at photographs in project form, and as series and sequences. So this show plays on that notion and really invites the viewer to remember what they've just seen and try to connect it in some way to the next image, even though it's often by a different author and a completely different work.
We didn't want to really shift too far the author's intentions, or apply something to a work that might not be relevant, but we did want to sort of tease out some of the maybe more subtle messages in the work and design elements.
Ponce: Visitors can download a free app to access additional information on each work in the show.
The exhibition was a group effort on campus.
Irvine: We had a team of curators, there were six of us. So I led the project but I had three graduate students working with me and also our collection manager and a research fellow who's here from Vienna, Austria helped as well.
I think one thing to notice as you go through the show is how many social and political issues we wanted to address, so there are sections that touch upon really serious topics like gun control, like politics, like human rights, and even though the approach is playful, I think the viewer will notice that we're also making some commentary here.

More on this story
"re:collection" is on display at the Museum of Contemporary Photography through Oct. 1. 
---
Related stories: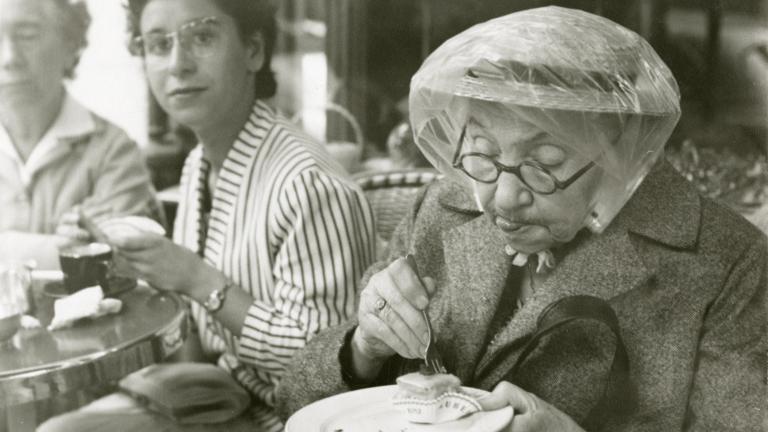 500 Vivian Maier Photos Donated to University of Chicago
July 25: A relatively small but significant trove of photographs by Vivian Maier has a new home at the University of Chicago Library.
---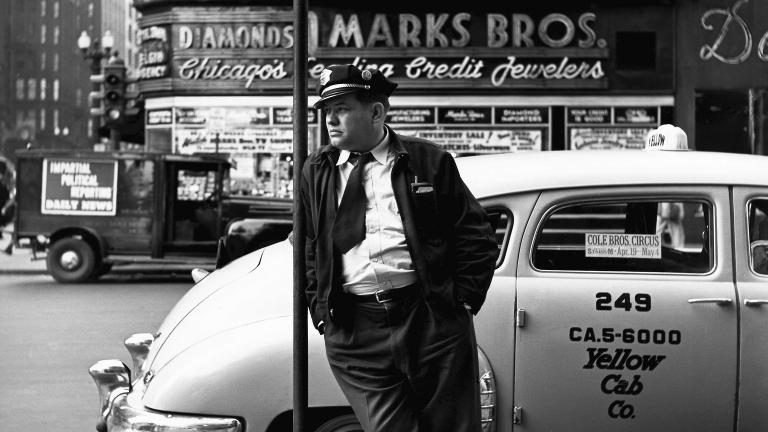 New Book Celebrates Classic Images of Chicago
July 20: Richard Cahan and Michael Williams spend a lot of time digging through old photos of Chicago, and together have created 14 stunning books. Take a look at their latest, "Chicago: Classic Photographs."
---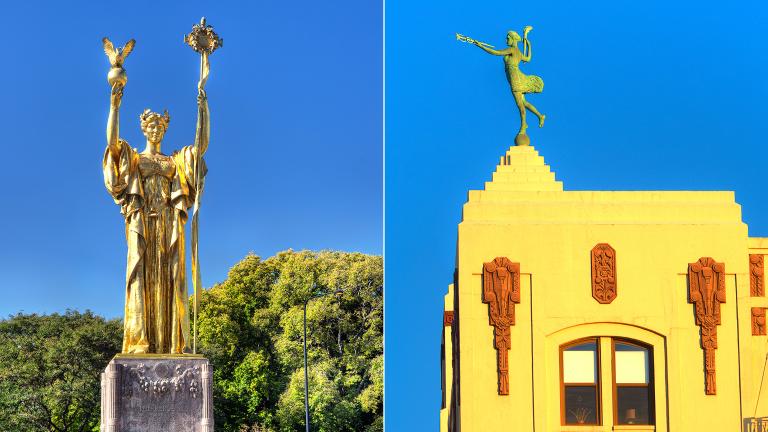 'Chicago Monumental' Shines Light on City's Public Art
July 11: You've heard Chicago described as the City of Big Shoulders and the City of Neighborhoods. Writer and photographer Larry Broutman offers yet another nickname: the City of Monuments. Learn why.
---