The video cannot be displayed.
Calling it a financial "lifeline" to the city, Gov. Bruce Rauner and Republican leaders on Wednesday are urging lawmakers to pass a package of bills that would allow for a state takeover of Chicago Public Schools.
As "Chicago Tonight" first reported last night, the proposals would also allow for Chicago Public Schools, facing an imminent $500 million cash shortage, to declare bankruptcy.
But do any of these bills stand a chance of actually becoming law?
[Sources: Lawmakers to Introduce Legislation Allowing Bankruptcy, Oversight for City and CPS]
Democrats are already flatly rejecting these proposals, but the governor says they are being disingenuous because they have actually approved these very same concepts when applied to other municipalities in Illinois.
The plan put forth today by House minority leader Jim Durkin (R-Western Springs) and Senate minority leader Christine Radogno (R-Lemont) would give the power to the State Schools Superintendent Tony Smith to appoint a five to seven member financial authority that would go in and take charge of CPS.
That means the mayor's current appointed school board and school chief Forrest Claypool would be fired immediately.
This new board calls all the shots. It could negotiate contracts with unions on new contracts, but would not be able to break existing union contracts. Currently the teachers are without a contract.
Once the State Board of Education determined that the financial situation was fixed, it would turn CPS back over to an elected school board – but the Chicago Teachers Union would be barred from making political donations.
Republican leaders say these proposals form the path toward protecting state taxpayers and saving the school system.
"The short-term goal is to get the school finances in order," said Durkin, a co-sponsor of the legislation. "The long-term goal is to make sure school days continue, classrooms are maintained, and school goes on. But we have to change the current operations in the school system."
Radogno says the board would have to comprise local leaders, school and financial experts.
"The first thing they would do is look at the books, look at what they have to deal with. That might not result in any changes immediately," she said. "But going forward, they would draw on the knowledge they acquired through that review to make recommendations that are different than what's happening now."
And the state has taken over the following school districts over the last 14 years, with Democrats approving many of these deals: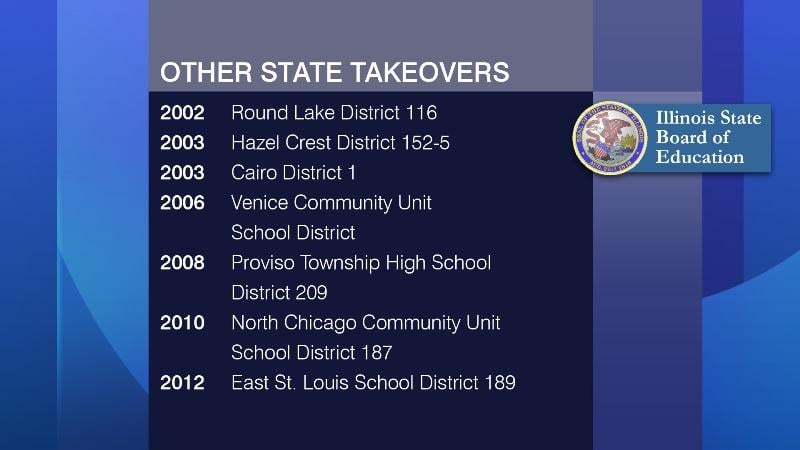 Rauner today says if the General Assembly passes this quickly, CPS can avert financial chaos this year.
"I believe we could avoid layoffs if we act quickly," the governor said. "I don't want to see a single teacher lose their jobs in Chicago. I would like to see more teachers, not fewer. We need to take action. The mayor has failed on this, he's failed on public safety, he's failed on schools, he's failed on jobs in the neighborhoods, he's failed on taxes, he's failed on reforms and I'm tired of it."
Rauner also made no bones about the fact that he is itching for a fight with the CTU.
"If we get involved, we can take on the teachers union. The mayor is afraid of them, he's not taking them on. He caved in the strike four years ago. He's sending the message right now that he's going to give them what they want and say, 'State, pay for it.' We are not going to let that happen."
Chapter 9 bankruptcy
The legislation also allows for CPS to declare Chapter 9 bankruptcy. As in any municipal bankruptcy, a judge would mediate the restructuring of debt. It could mean cuts to retiree pensions, although in Detroit the cuts to those were limited.
Rauner says bankruptcy can actually be a good thing.
"Many people hear the word bankruptcy and they think it's horrible," Rauner said. "They think it means massive layoffs, that it means firings, that it means destruction of the system. It does not mean that at all.
"Bankruptcy protects organization that has too much debt, too many liabilities. And it gives court protection to any organization that files bankruptcy while it reorganizes its liabilities, its debts, its contracts, its obligations in a way that's affordable and sustainable over time. And bankruptcy done properly can mean there are no layoffs."
[Can Cities in Illinois Go Bankrupt?]
Meanwhile, Democratic leaders are slamming the proposals, calling them the latest salvo in the governor's union-busting agenda. In a statement, Speaker Madigan said:
Governor Rauner hopes to use a crisis to impose his anti-middle class agenda. Republicans' ultimate plans include allowing cities throughout the state to file for bankruptcy protection, which they admitted today would permit cities and school districts to end their contracts with teachers and workers – stripping thousands of their hard-earned retirement security and the middle-class living they have worked years to achieve. When Detroit was granted bankruptcy protection, retirement security was slashed for employees and retirees. That is not the path we want to follow in Illinois."
Madigan went on to compare this to the situation in Flint, Michigan, where an emergency manager in that city presided over the current crisis of lead contamination in the city's drinking water.
Senate President John Cullerton gave the legislation zero chance of seeing the light of day.
This is not going to happen. It's mean-spirited and evidence of their total lack of knowledge of the real problems facing Chicago Public Schools. This ridiculous idea only serves as a distraction from the state's problems that these two state leaders should be focusing on."
Mayor Emanuel also reacted to our story last night, saying he was "100 percent" against the proposal.
But, the governor refuses to dismiss it as DOA yet, noting he just needs a simple majority, and he says more rank-and-file Democrats might break against their leaders and support it.
Buried in today's focus on CPS is more legislation, first reported last night by "Chicago Tonight," that Republicans say they are planning to file within the week that would allow for an emergency financial manager to come in and run the city of Chicago. It would also allow for Chicago to be able to declare bankruptcy. Currently it can't by law do that.
We're told the bills are still being revised.
Follow Paris Schutz on Twitter: @paschutz
---
Related stories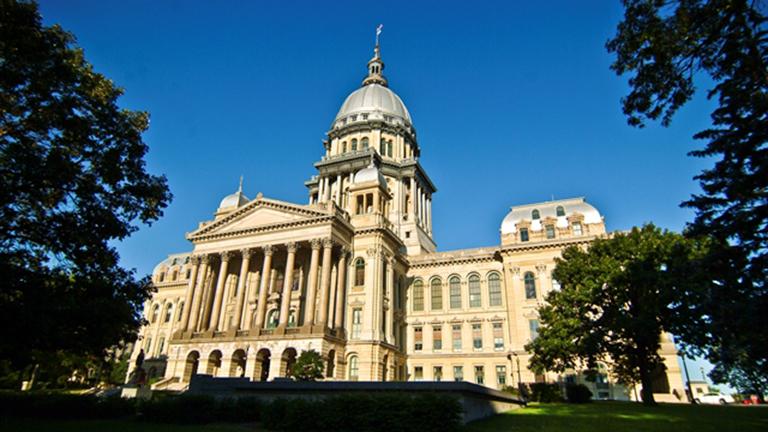 State Legislators Respond to Proposed State Takeover of CPS
Republican state leaders want to take away mayoral control of the cash-strapped Chicago Public Schools. Instead, they want the nation's third largest school district under the purview of a state emergency board. Democratic legislative leaders in Springfield immediately opposed the plan. We speak with state legislators from both parties.
---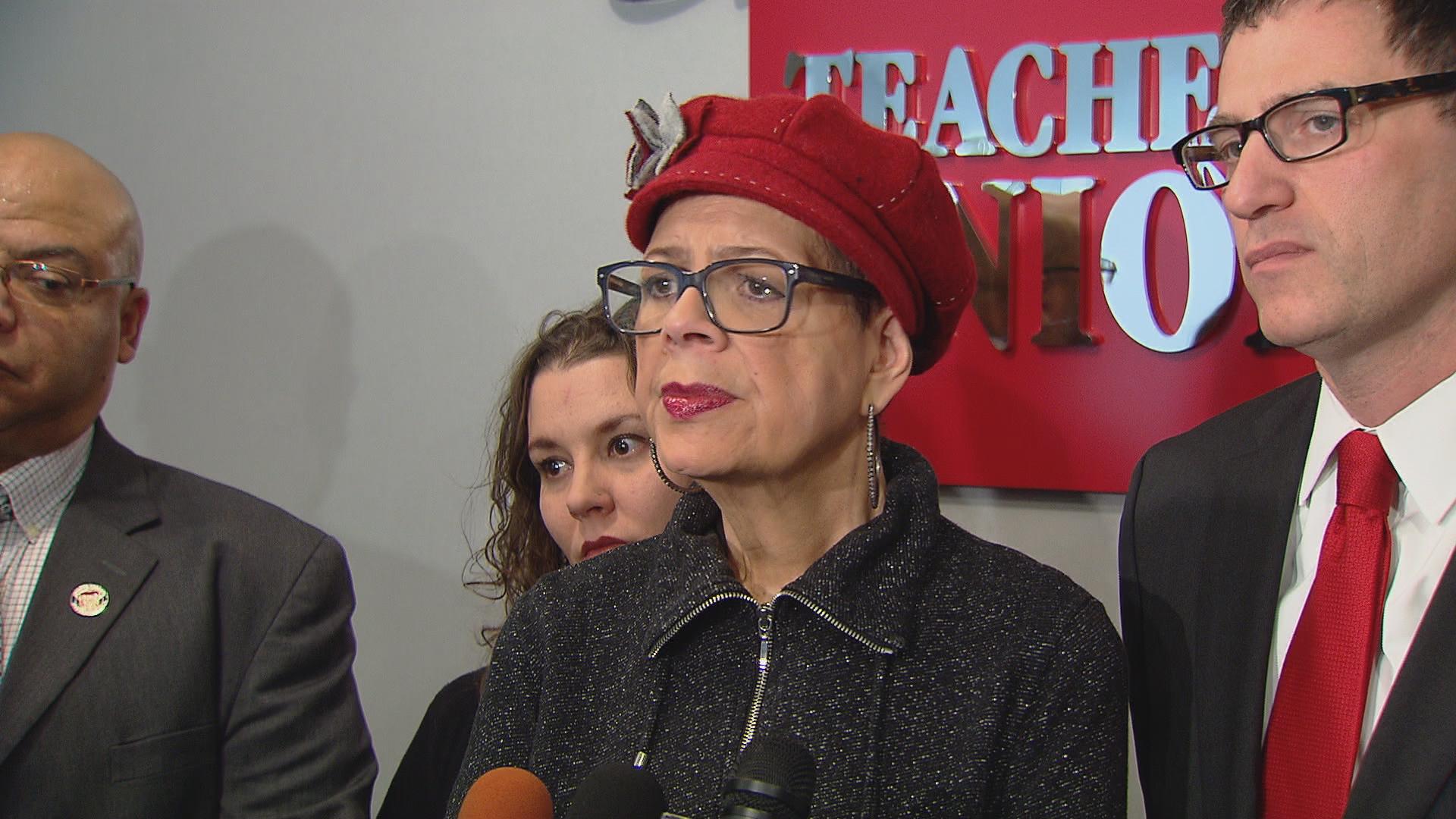 CPS, CTU React to GOP Proposal for State Takeover of District
Teachers, parents and the Chicago Public Schools district may not always agree, but on this point they do: leave the management of CPS in Chicago. We hear from education leaders on the GOP plan for a state takeover of the nation's third-largest school district.
---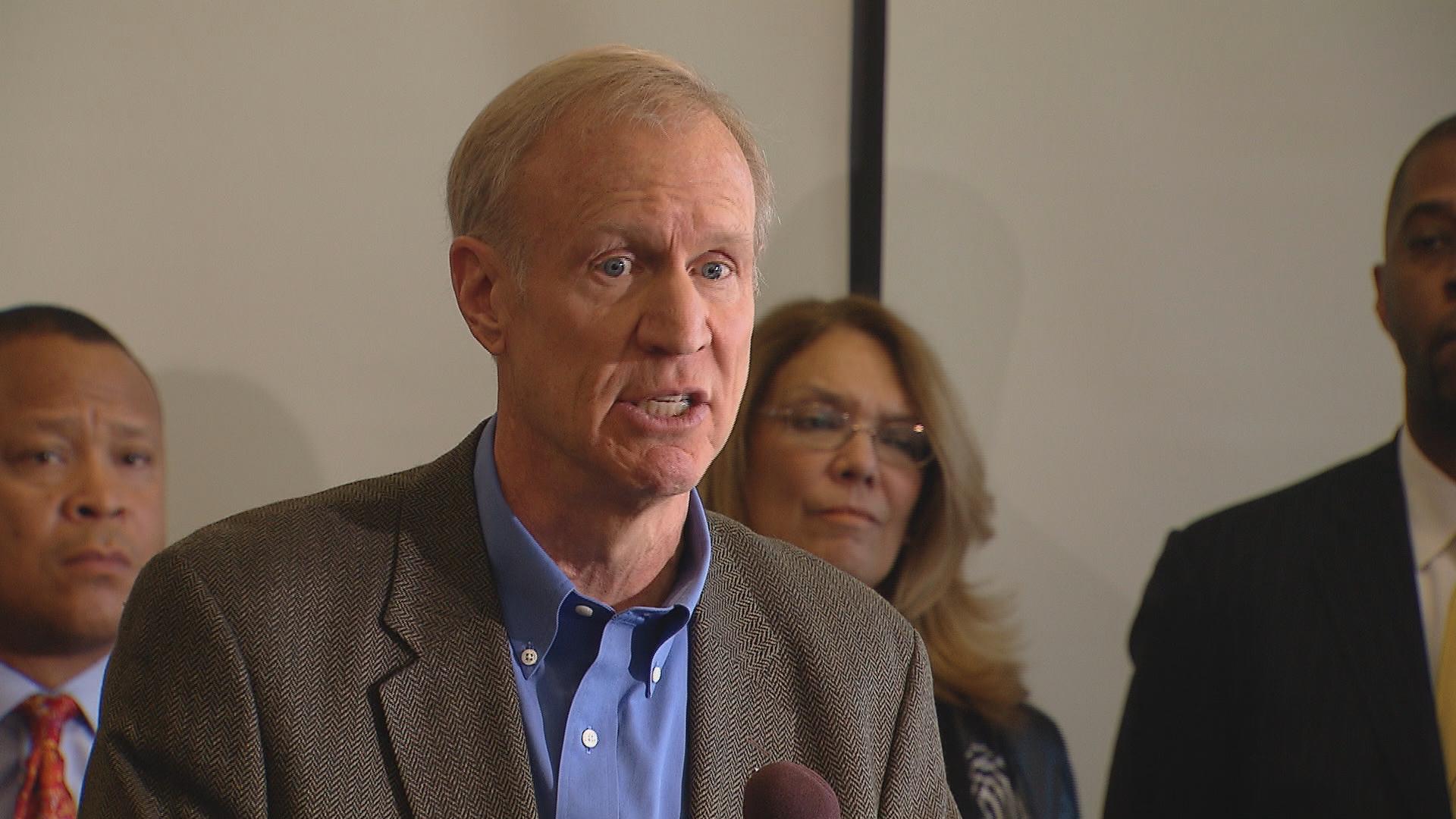 Sources: Lawmakers to Introduce Legislation Allowing Bankruptcy, Oversight for City and CPS
"Chicago Tonight" has learned that Gov. Bruce Rauner and top Republican leaders are planning to introduce legislation aimed at an emergency financial takeover of the city of Chicago and Chicago Public Schools. Paris Schutz has details.
---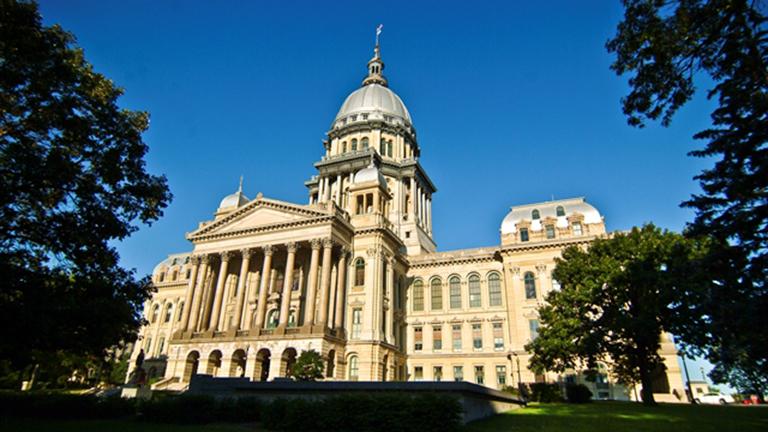 Lawmakers Sound Off on CPS, AFSCME Standstill
Illinois is in an unprecedented budget stalemate that's lasted more than half a year and has sucked up much of the oxygen in Springfield. On Wednesday, Republican lawmakers plan to unveil legislation that would take away mayoral control from Chicago Public Schools. We speak with a panel of legislators.
---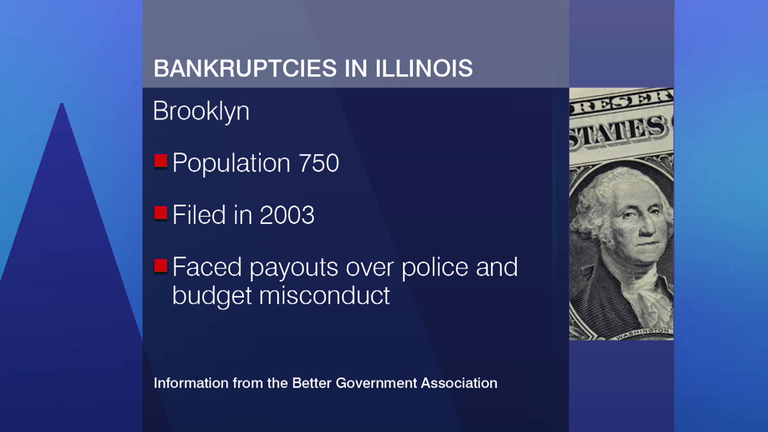 Can Cities In Illinois Go Bankrupt?
The Better Government Association reports that some Illinois municipalities struggling with high debt loads and troubled budgets could be looking at bankruptcy as an option to get out of a financial hole – even though it's technically illegal.
---