The state budget impasse has spilled over into 2016 and it's seventh month, without any resolution in sight. And many agencies that rely on state funds are increasingly struggling.
Among them are the state's public universities where a number of students can only afford to attend college with the help of Monetary Award Program (MAP) grants. But no grant money has been forthcoming from Illinois during this fiscal year. So what does that mean for the college aspirations of an estimated 125,000 students in need?
Here to update us on how dire the situation is are Sharon Hahs, president of Northeastern Illinois University; Justin Smith, a sophomore student and business major at Governors State University; and Elaine Maimon, president of Governors State University.
Below, some highlights from our conversation.
"Right now I'm really dependent on the MAP and the Pell [grants] as really helping me get through college," said Smith, who fears for the future if education funding from the state does not come through. "That's really what I need as far as financial support."
"We really want the students to know that we're behind them, we're going to front the MAP money for them, and we want them to stay in school," said Maimon.
"We are living on fumes," she added. "We are using reserve money which really has to be used for ongoing repairs because the state doesn't fund that – and hasn't in my eight years as president – and so we have to have money aside.
"Basically, 45 percent of our operating budget comes from appropriations, and we haven't had a dime in appropriations this year. In MAP grants, we have fronted $3 million."
In addition to fronting money to students for grants, the impasse has put projects on hold, Hahs said.
"The capital plan's on hold because it was already appropriated, and all of the capital projects are on hold until there is a budget," she said.
"When we anticipated that the budget would be cut, we eliminated 62 non-teaching positions last year, to prepare for the budget that we hoped would come. That was really bad. Now we are doing everything we can to stretch the dollars that are available to us to cover payroll and the light bill, if you will.
As to the outlook? Hahs said, "I think all of the public presidents have tried to make it clear that this is not sustainable."
Watch the video to hear our full discussion.
---
Related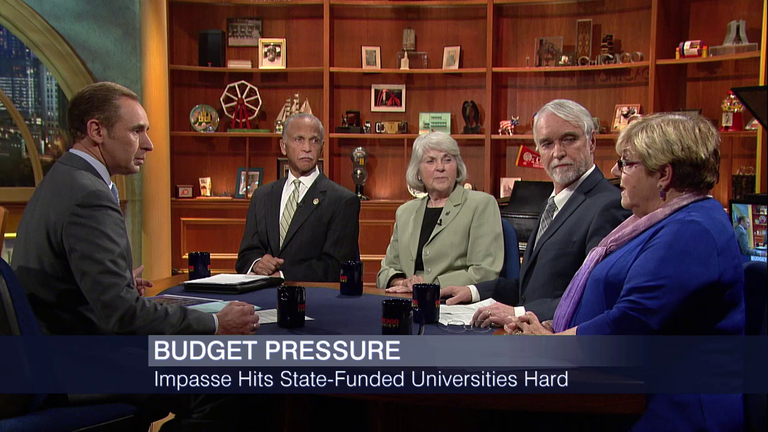 How Illinois' Budget Stalemate is Impacting Public Universities
In November, we heard from four university presidents on the impact the budget crisis is having on their campuses.
---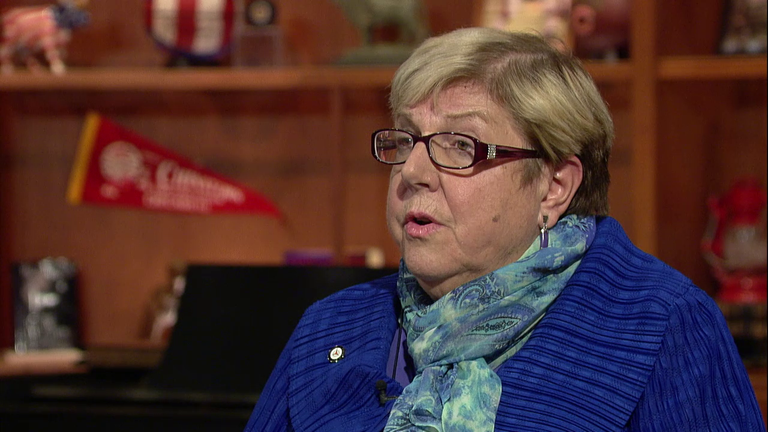 Illinois' Public Universities Pressure Lawmakers to End Budget Stalemate
In October, lawmakers got a visit from protesters demanding an end to budget cuts. We discuss how the standoff is affecting higher education with Governors State University President Elaine Maimon.
---