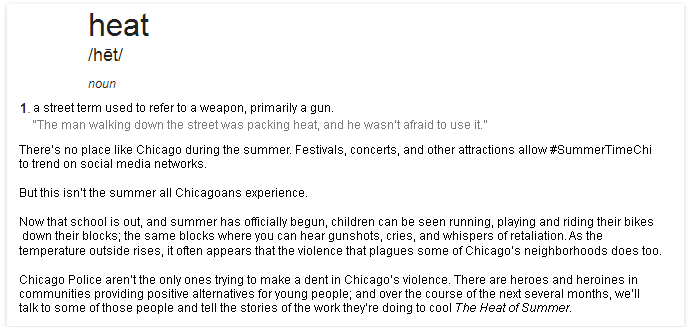 A vibrant 17-year-old with a beaming smile, Mekel Johnson walked into the room prepared for an interview that could grant him the opportunity to end his summer with a memorable trip.
He was interviewing for a chance to attend the Made in America Music Festival in Philadelphia, as a representative for Donda's House, the not-for-profit arts and music program started by Chicago rappers Kanye West and Rhymefest. The two rappers started the organization to continue the legacy of Dr. Donda West, the late mother of Kanye West. 
When the two rappers were younger, they were hanging out at Kanye's childhood home. Rhymefest, whose given name is Che Smith, remembers Dr. West listening to his lyrics and questioning the content of his raps. Smith says he was rapping about the street life and she asked him, "is that your truth? Are you rapping about the type of life you live?" She encouraged him to write about his real life and things that he truly cared about.
Those questions are woven into the culture and mission of Donda's House, where Johnson recently completed a 12-week long summer session. Johnson said he was excited about the possibility of representing the organization and encouraging others who attend the Made in America Music Festival to find their own truths.
"The ugliest part of you is the most beautiful part of you," said Johnson. "I want to help other people realize that, and not be afraid of it."
Johnson attended the Chicago High School for the Arts as a vocal major, but dropped out during his junior year because of personal problems. He received his GED from Kennedy King College this May.
He said that Donda's House took him out of his comfort zone, and exposed him to things that he wouldn't have had the opportunity to be exposed to otherwise, such as working with a music producer and recording in a studio.
And that's what the program's executive director, Rhymefest's wife, Donnie Smith, hopes Donda's House provides.
"If a child is into sports, there's a clear path sketched out for them from start to finish," she said, "but not art programs. Most times there aren't any art programs in schools due to budgets, so we just want to provide access to art and music for kids in the community."
Donda's House also teaches courses on health and wellness, visual arts, and creative writing. The organization recently held a "Behind-the-Label" event where Executive Vice President of Def Jam Recordings Dion Wilson (also known as No I.D.) had an intimate conversation with the students about the entertainment industry.
Smith and her Grammy-winning writer, husband Rhymefest open their home to Donda's House participants from time to time, and sometimes they host organization-related events at their home when other venues aren't available.
Many times you can find some of the Donda's House students at the Smith's Chatham home just hanging out or playing video games. One former Donda's House student said learning about family was one of her biggest takeaways from the program.
"Donda's House has taught me that family can come in different forms," said Kelsey Riley, who was one of the first to participate in Donda's House and is now the organization's social media manager.
"I think sometimes people have a hard time embracing this notion of having an extended family, and Donda's House has really been that for me," she said. "It's been really helpful for me to see you can create that and it can be very real and authentic. Seeing how Donnie and Che have poured into me and the other students shows the real impact that mentoring can have."
That's what Che Smith says the late Dr. Donda West was to him, a mentor, someone who encouraged him to write honest lyrics, and always told him to find and speak his own truth.
You never know what type of issues young people are dealing with, and it's not always violence, he said, adding people need to be there for the youth and provide activities for them.
This summer Johnson found his truth at Donda's House. Donnie Smith said that he has grown during his time with the organization and became a visible leader. He even felt comfortable enough to come out about his sexuality. 
Johnson said he believes that a lot of superficial things go on in art but in order to produce great art, one has to know and love their truth. That is what he learned from the program, the very knowledge that Dr. West was trying to instill in Kanye and Rhymefest many years ago. 
"Donda's House has taken me out of my comfort zone," said Johnson. "I'm starting to look and feel like the person I want to be."
Post Script:
Mekel Johnson was selected as one of nine Donda's House participants to represent the organization at the Made in America Music Festival. The group will be traveling to Philadelphia Labor Day weekend.