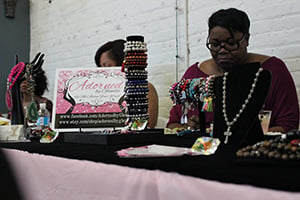 Entrepreneurship seems to be a growing trend, and the first annual Women's Power Luncheon brought some of Chicago's young minority female entrepreneurs together to encourage other women to take back the power in their own careers. The networking event, which was hosted by actress/singer Drew Sidora, featured a panel discussion and was organized with hopes that like-minded women of color could join together and share ideas, instead of bring each other down in a competitive market.
Co-sponsor of the event and the woman behind GirlMuch.com, Briea Chanel, says she wanted guests not only network, but also take away good business and branding tips such as how to get their name out there and market their product.
"I know a lot of women in the industry with great businesses, and we can all use each other," she said.
The panelists ranged from women in the fashion industry to those who work in the media. WGCI radio personality and owner of The Lip Station, Demi Lobo, stressed the importance of making your product stand out among so many others like it. Hear Lobo talk about how she made her lipstick line unique:
But it wasn't easy for Lobo. With building any brand, she said one of the challenges she faced was getting it to stick.
"You have to believe in the brand," said Lobo. "That it's going to be something strong enough that people are going want to get on board with it."
She also said that you must have a strong "bounce back" factor after you face rejection.
"Your bounce back factor is something I speak on often. This didn't work out, this person isn't feeling me, this didn't work out how I wanted it to; but I have so many other ideas out there in the universe that I can make something else happen in no time."
The panelist also stressed the importance of social media marketing when starting a new entrepreneurial endeavor. Rachel Leigh, owner of Pear Nova nail polish, promoted her product via social media a year before its release, which she says built excitement among her followers. Listen as Leigh discusses how utilizing social media worked to her advantage.
One panelist got her start with the social media platform, Vine. As an aspiring singer, Toni Romiti would post videos of herself singing and acting goofy. This led to thousands following her, and her big break in opening up for R&B boy band Mindless Behavior. Her debut album "Lemonade" drops later this month, and she's also focusing on her online store which features clothing with original catchphrases. It's important to be you when building a brand, Romiti said. That's how she's been able to have such a large following. People love her goofy side.
""I'm really weird, and people liked watching me be weird," Romiti said. "I'm going to be myself regardless. Your brand is who you are, so just be who you are."
In addition to being yourself and staying true to your vision, Sidora says having a strong team behind you helps create a successful business. Hear what Sidora had to say below:
Probably the best advice was the power of believing in yourself and your brand, and to always chase after your dreams. And that's just what one entrepreneur recently did.