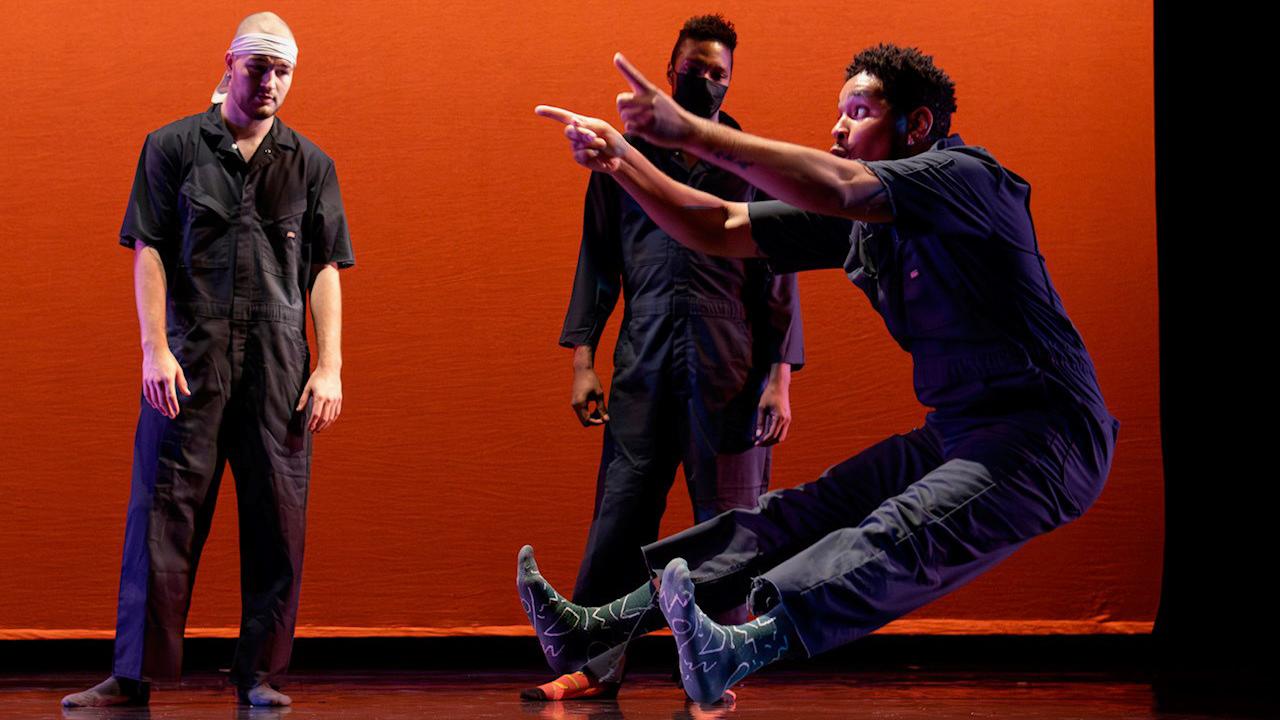 KC Bevis (from left), Logan Howell (front), Diamond Burdine, Jack Halbert and Monternez Rezell perform with Chicago Dance Crash. (Credit: Ashley Deran)
"Evolution" was the overall title of the Chicago Dance Crash company's fascinating program of three intriguingly connected works performed at the Ruth Page Center this past weekend. And it could not have had a more ideal title.
The pieces — the work of three different choreographers who clearly understood the underlying theme at play — were brilliantly danced by five men and two women. Founded in 2002, Dance Crash continues to develop intriguing works that are a unique and seamless fusion of hip hop and contemporary dance.
Adding to its allure is the exceptional use of acrobatic movement that is almost balletic in its grace, beauty and the eye-popping skill it requires. (A sixth male dancer in the company fell ill a couple of days before the performance, but you would never have guessed there was an empty spot.)
So, back to the concept of evolution. It also is the title of the work's opening piece that was choreographed by Annie Franklin and forged the overall tone of the program. Set to seven songs (Odesza's "This Version of You," Lorn's "Drown the Traitor Within," Rahaba's "Godspeed," Goopsteppa's "Just So You Know," Monolink's "Return to Oz," Amon Tobin's "Now Future, and Gustavo Bravetti's "Babel"), the five exceptionally gifted men in the cast (Diamond Burdine, Jack Halbert, Logan Howell, Monternez Rezell and Ibrahim Sabbi), and the two women (KC Bevis and Kelsey Reiter), captured the very earliest stages of human evolution.
Somewhat bent over as they moved, they seemed unable to communicate with each other. And as they flailed themselves around in circles they appeared lost and lonely, and at moments almost mechanically driven and starved for some kind of connection. Strongly yet subtly they suggested the very earliest state of existence.
The two pieces that followed an intermission deftly suggested greater evolutionary changes.
"Proximal," described as "a long-form freestyle work directed by KC Bevis, and set to original music and sound design by e j e c t, says a great deal by way of its title. It's a word that can be defined in anatomical terms "as situated nearer to the center of the body, or part of an attachment." And while there was still a sense of loneliness at work here, there also was the hint of reaching out, and attempting to connect and express emotion.
"Trenches" choreographed by Jessica (Deahr) NeVille (the company's artistic director since 2012, who will soon cede her position to KC Bevis) was the final section of the piece. And what was remarkable all along the way in its performance (that was set to HAAi's "Head Above the Parakeets," hurricane tortilla's "stop for a minute," Son Lux's "This Is A Life-Extended," The Books' "Bonanza," and The Human Experience's "Sending Mark Home" and ideally mastered by Johnny Nevin (and enhanced throughout by the expert lighting design of Erik S Barry), were the daring, difficult and wonderfully expressive gymnastic moves of the dancers. They were carried off with immense skill and grace, and a dramatic impact that captured a higher level of both the physical and emotional connection that developed among the humans.
Yes, overall, this program served as a most intriguing exploration of the process of our evolution in all its many and varied physical and psychological forms.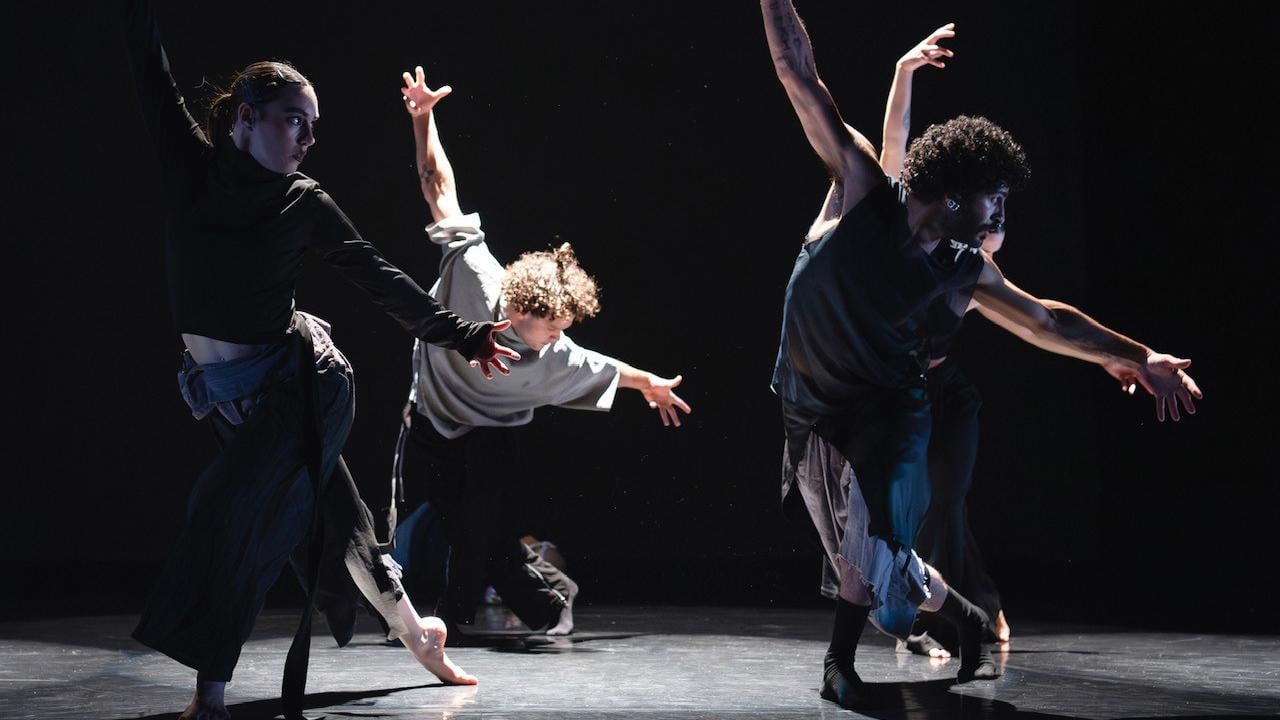 Diamond Burdine (from left), Ibrahim Sabbi (front), Monternez Rezell and Logan Howell perform with Chicago Dance Crash. (Credit" Ashley Deran)
One final note: In October, the ever-intriguing Visceral Dance Chicago, that often performs on the stage of its own beautiful home theater, The Space (that is located at 3031 N. Rockwell, and happens to share its studios there with Chicago Dance Crash) will be performing "Take," an evening length work by Nick Pupillo, its superb artistic director.
Set to an electronic score mixed with live music, I described the work as "spellbinding…a study in the darkness and lamination inherent in human interaction" when I first saw it in 2018. This interactive experience, that invites a dialogue and conversation between dancers and audience members," will be performed Oct. 5-8, 12-15 and 19-22. Visit visceraldance.com.
Follow Hedy Weiss on Twitter: @HedyWeissCritic
---