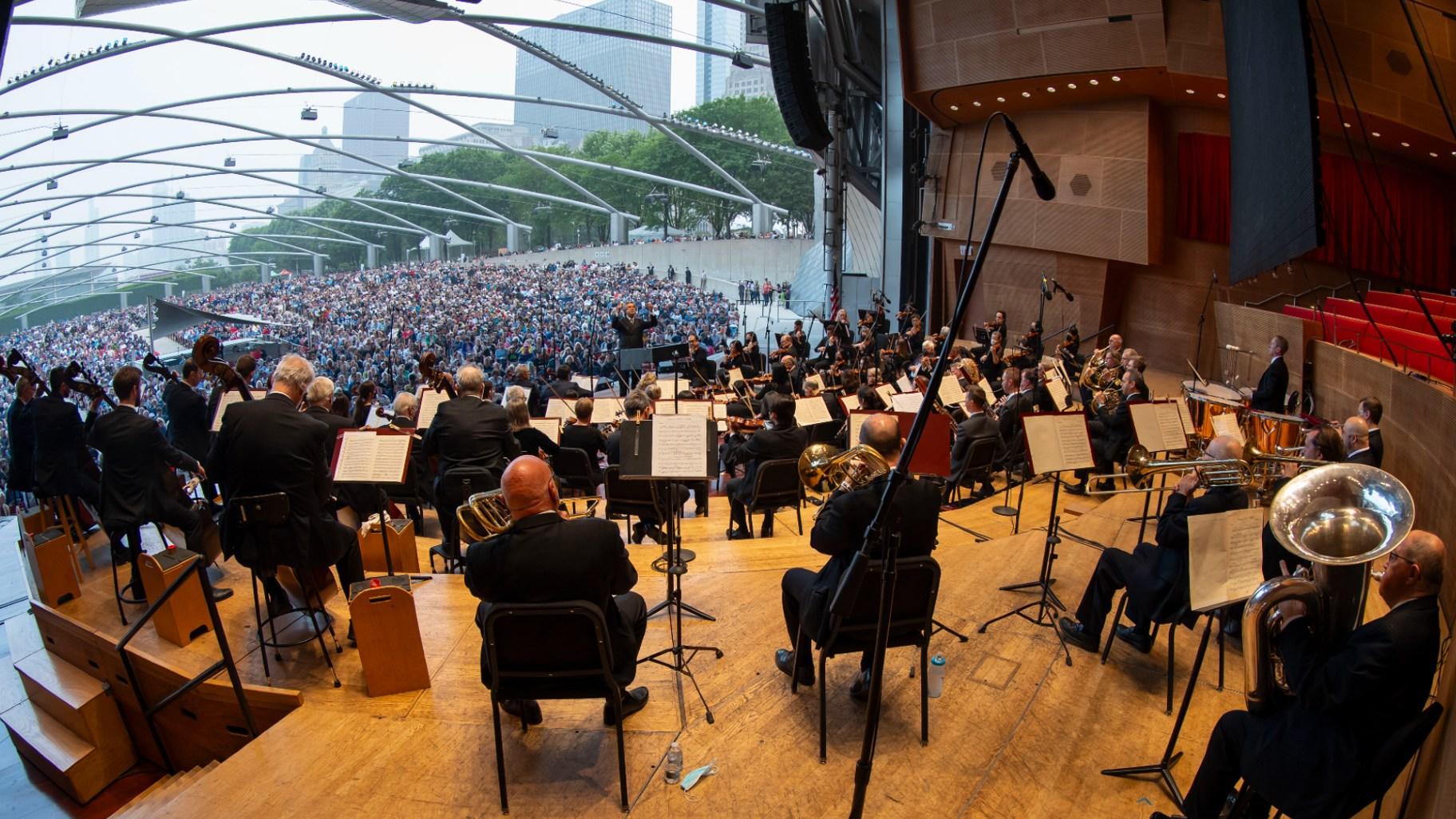 Music director Riccardo Muti leads the Chicago Symphony Orchestra in a program including music by Florence Price and Tchaikovsky's Fifth Symphony at the free Concert for Chicago in Millennium Park. (Todd Rosenberg)
The unhealthy air that blew into Chicago on Tuesday evening clearly sensed precisely where it would not be permitted to take hold. And as an audience approaching about 8,500 people made its way toward the Pritzker Pavilion in Millennium Park for what was "technically" the finale of Maestro Riccardo Muti's extraordinary 13-year tenure as music director of the Chicago Symphony Orchestra, the breathing was easy.
The brilliance of the musicians with whom Muti has created a unique bond (and who he proudly and accurately says form "one of the greatest orchestras in the world") was by no means signaling a farewell.
For not only will Muti (who already had been named the CSO's music director emeritus for life) return to the podium at Orchestra Hall in September, he will also lead the orchestra on a multi-city European tour in January and return for a number of stints at Orchestra Hall during the coming two seasons. In addition, as the "Concert for Chicago" came to a close, Muti was presented with the inaugural Charles Norman Fay Award for Distinguished Leadership. It was named in honor of the Chicago businessman who was the founding trustee of the CSO in 1891 and who lured Theodore Thomas from New York to become its first conductor.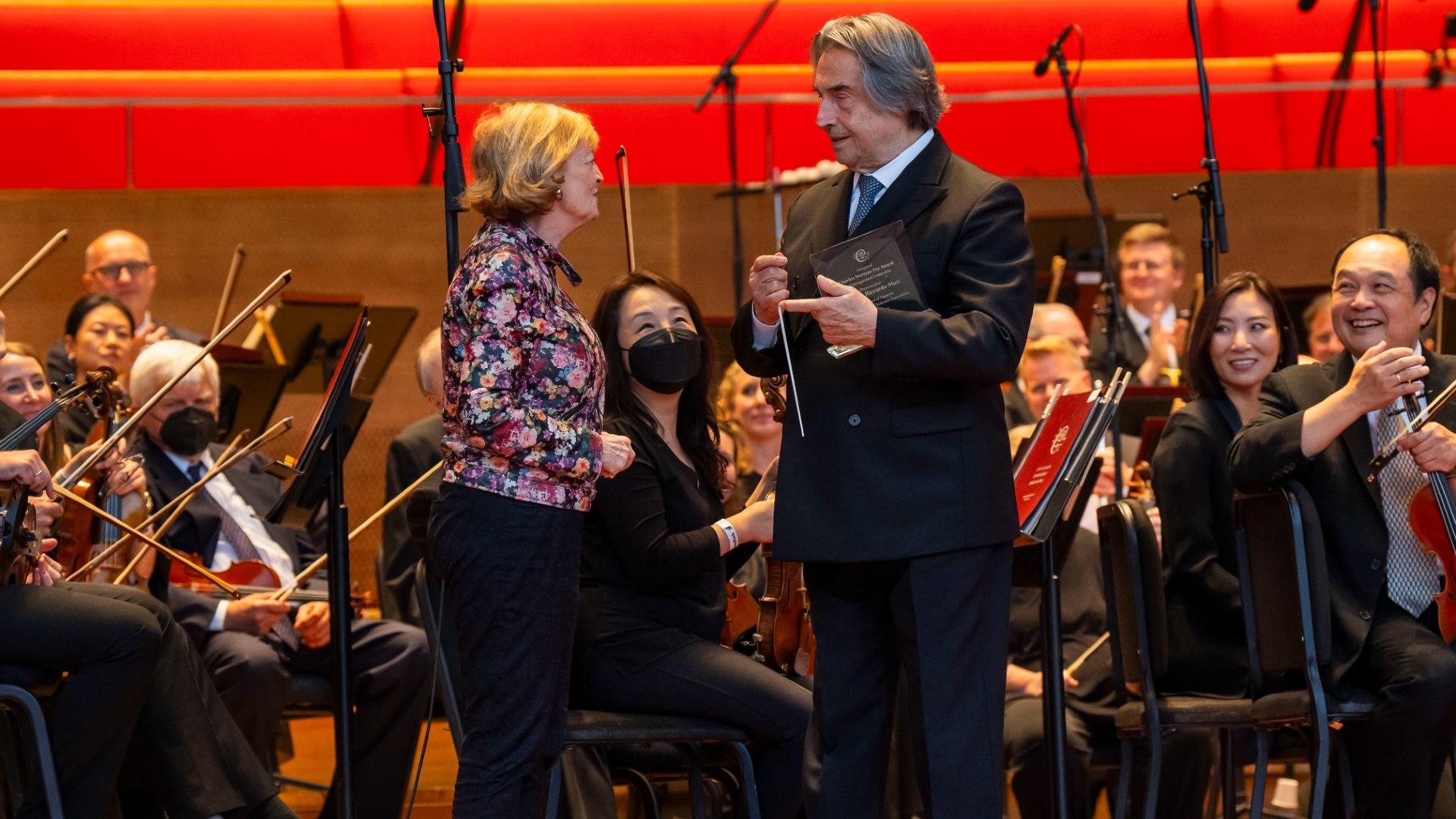 Music director Riccardo Muti accepts the inaugural Charles Norman Fay Award for Distinguished Leadership from Chicago Symphony Orchestra Association Board chair Mary Louise on stage following the Concert for Chicago in Millennium Park. (Todd Rosenberg)
But of course it was the music that mattered most on Tuesday. And the concert opened with the beautiful second movement ("Andante moderato") from Florence Price's 1929 "String Quartet No. 1 in G Major," and went on to an absolutely magnificent rendering of Tchaikovsky's 1893 "Symphony No. 5 in E Minor."
In the spring of 2022, Muti led the CSO in Price's 1940 "Symphony No. 3." (Her "Symphony No. 1" was premiered in 1933 by the CSO and conductor Frederick Stock; it marked the first performance of a large-scale work by a Black female composer to be given by a major U.S. orchestra.) This time around, Muti tapped into history by celebrating Price (and the CSO's marvelous string section) by opening "Concert for Chicago" with the string quartet's 7-minute "Andante moderato" movement that began with a rapturous melody suggesting a hint of heartbreak; moved on to a sensual, romantic riff and the use of plucked strings; shifted to an almost playful passage; and then settled into a softly rapturous passage and sense of calm.
Then came the grand-scale Tchaikovsky masterpiece that so brilliantly conjures a slew of moods and moves in a way that serves as a reminder that he was the composer of such magnificent ballets as "Swan Lake," "The Sleeping Beauty" and "The Nutcracker." His music, as this work suggests, is both wonderfully dramatic and danceable. And Muti and his musicians found a way to tap into this widely familiar yet endlessly exciting symphony with a remarkable freshness.
The gently mournful opening, with its deft shading of tones, suggested that something was coming. And indeed it grew into a weighty march before erupting into a full orchestral sound — a grand proclamation heightened by the timpani and all sections of the orchestra. And then it was off to the races. So many modulations of mood, with alternating weightiness and lightness, from an orchestra that can truly sing and a conductor in total communication with both the composer and his musicians.
After a brief silence it was on to the second movement that opens with an almost prayer-like sound from the low strings. And with this orchestra and conductor it is never just the sounding of notes. It is a conversation, sometimes with itself — with an awakening, a move to the romance conjured by the strings, and a build to a feverish, passionate passage. And Muti has the magic ability to almost turn the music into a gathering of human voices, with great outbursts from the brass that cede into a graceful singing segment and then shift to fever pitch before returning to a gentle, healing sound and a dreamy turn to sleep.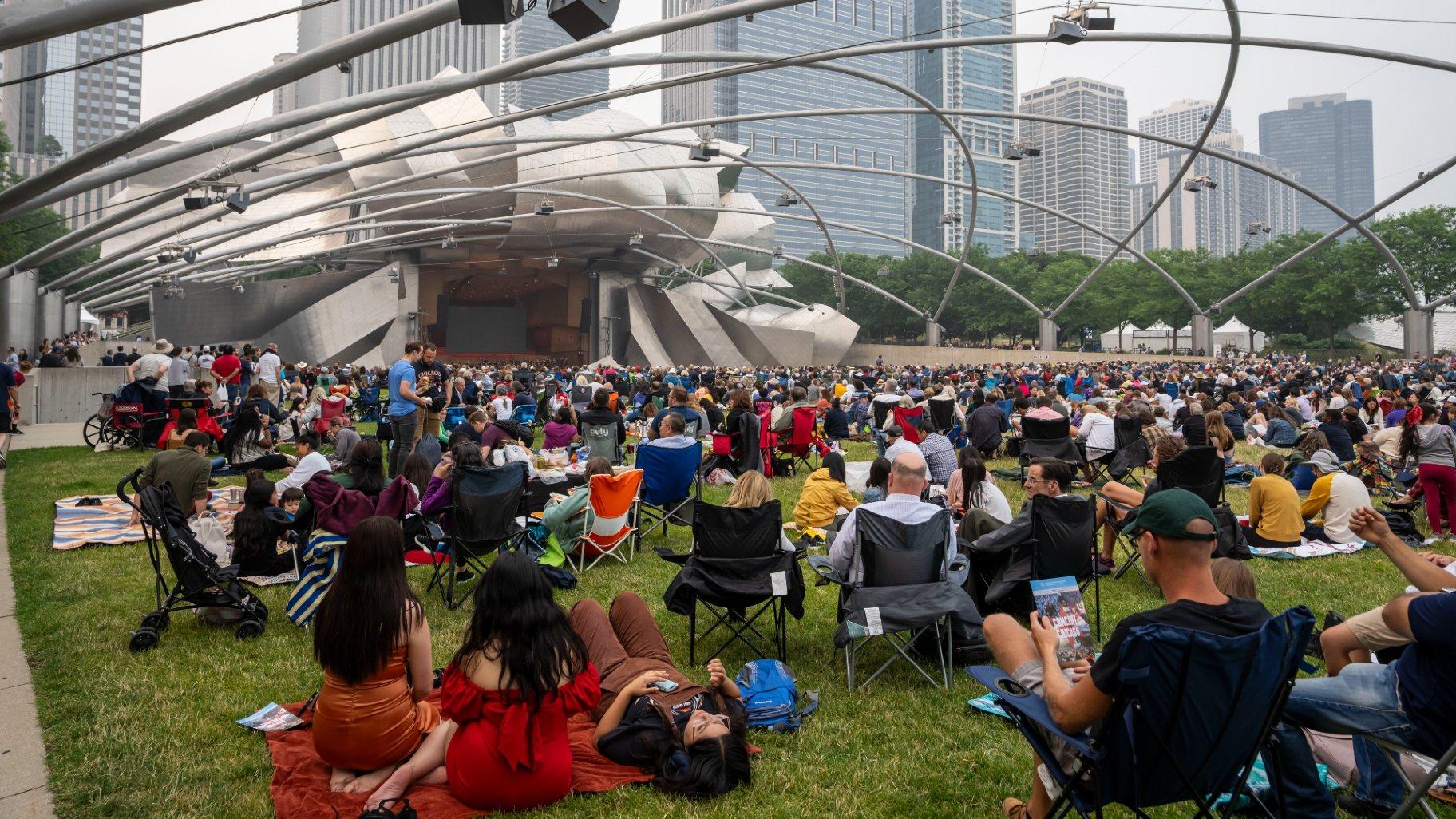 Audience members gather for the CSO Concert for Chicago in Millennium Park. (Todd Rosenberg)
The symphony's third movement takes the form of a waltz and was awash in grace and motion, with the clarity of every instrument driving a light, teasing and rapid melody that grew into a grand sound, and then silence. The fourth and final movement gently restated the work's theme at breathtaking speed. And the strong and frenzied sweep of it all had a triumphant feel — a kind of high-speed, richly excited march with a race to the finish.
The rousing response from the fully thrilled audience was both a grand celebration of Muti and the latest reminder that classical music is simply electrifying.
Note: While the CSO heads to the Ravinia Festival in Highland Park, this summer there will be a slew of free classical music concerts on the Pritzker Pavilion stage under the banner of the Grant Park Music Festival. For details, visit grantparkmusicfestival.com.
When Muti returns to the podium at Orchestra Hall in September, he will conduct the world premiere of Philip Glass' "The Triumph of the Octagon," a CSO commission.
Follow Hedy Weiss on Twitter: @HedyWeissCritic
---