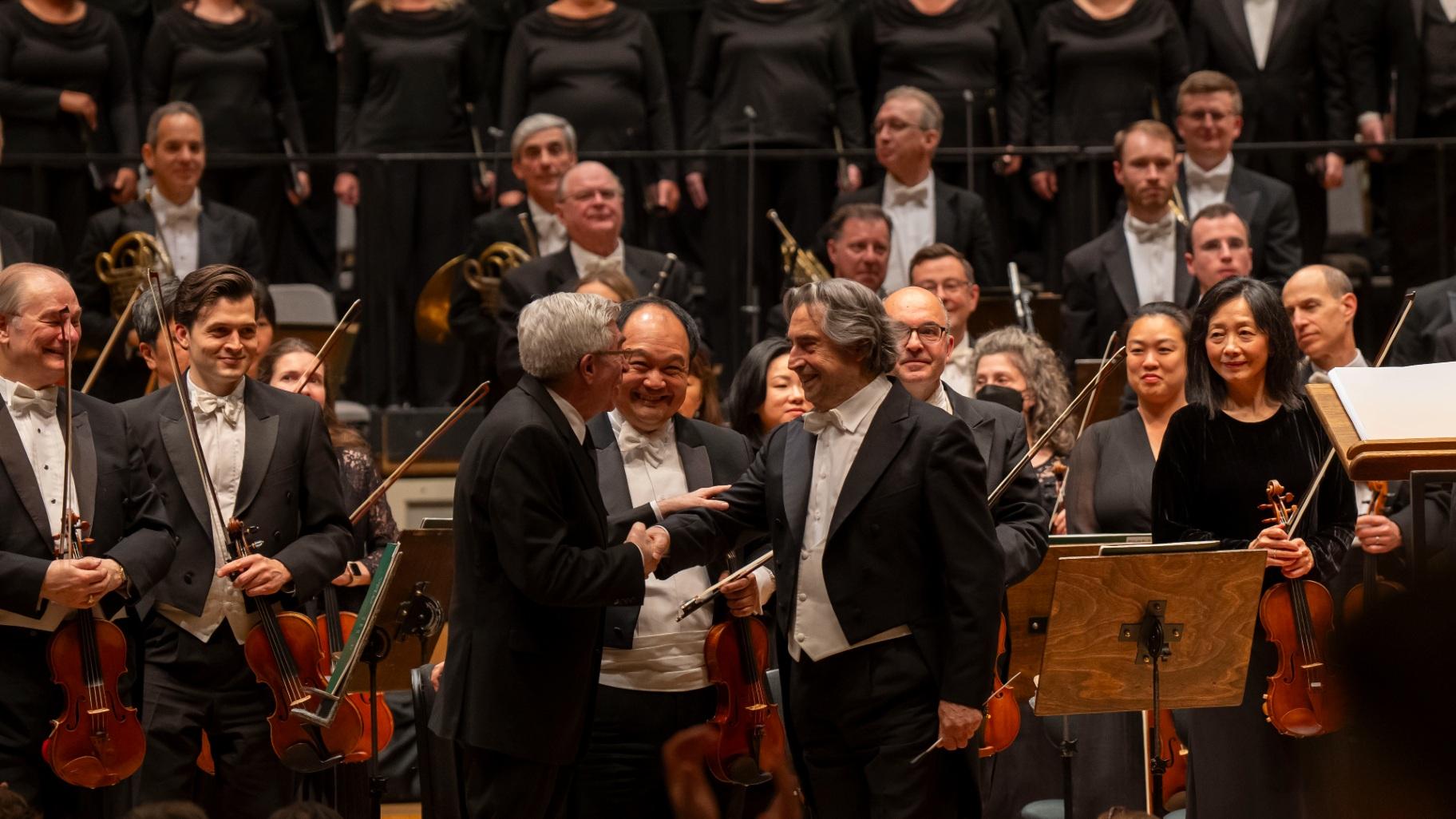 Riccardo Muti and guest chorus director Donald Palumbo onstage following performance of Beethoven's "Missa solemnis." (Todd Rosenberg)
I will confess at the very start of this review that I consider classical music to be the greatest "religion" ever devised. And whatever your personal form of belief might be, Maestro Riccardo Muti's choice of Beethoven's "Missa solemnis" as the work he wished to conduct to mark "the official end" of his glorious 13-year tenure as music director of the Chicago Symphony Orchestra could easily serve as a testament to that fact.
As Muti explained at a final rehearsal Thursday evening at Orchestra Hall, he was so in awe of Beethoven's 80-minute piece — with its full orchestra, massive chorus (under the superb direction of guest chorus director Donald Palumbo) and four soloists singing its Latin text — that it took him close to 50 years before he felt fully ready to conduct it. And given the current war-torn and chaotic state of the world, it could not have been a more timely choice. Just consider the work's final movement, "Agnus Dei (Lamb of God)," which closes with these words: "Agnus Dei, dona pacem. Dona nobis pacem" (or "Lamb of God, grant us peace. Grant us peace").
This monumental work, aptly described as "a sacred drama," was composed over a period of four years (between 1819, when Beethoven became totally deaf, and 1823) and was first performed in 1824 (ironically enough, given current events, in Saint Petersburg, Russia). The work opens with a strong, solemn yet lyrical sound from the orchestra that then becomes a massive call for mercy — alternately earthly and heavenly, and sung in full voice by the chorus and soloists (soprano Erin Morley, mezzo-soprano Alisa Kolosova, tenor Giovanni Sala and bass-baritone Kyle Ketelson), with the words "Kyrie eleison (Lord, have mercy)" in continual repetition.
It was then on to "Gloria," with its powerful sound and speed, and grandeur, its soaring torrents of music from the full orchestra and vocalists, and its call to Lord Jesus Christ to "take away the sins of the world." And it was so feverish in every way — for Muti, as well as for all the musicians and singers — that a silent pause and deep breath were taken before launching into the Credo. In that movement Jesus, the Son of God "became a man" (and) "was crucified under Pontius Pilate," yet "rose again on the third day," as proclaimed by the chorus, with its magnificent shading of a hundred voices. The interweaving of the orchestra, chorus and soloists here was seamless and richly dramatic.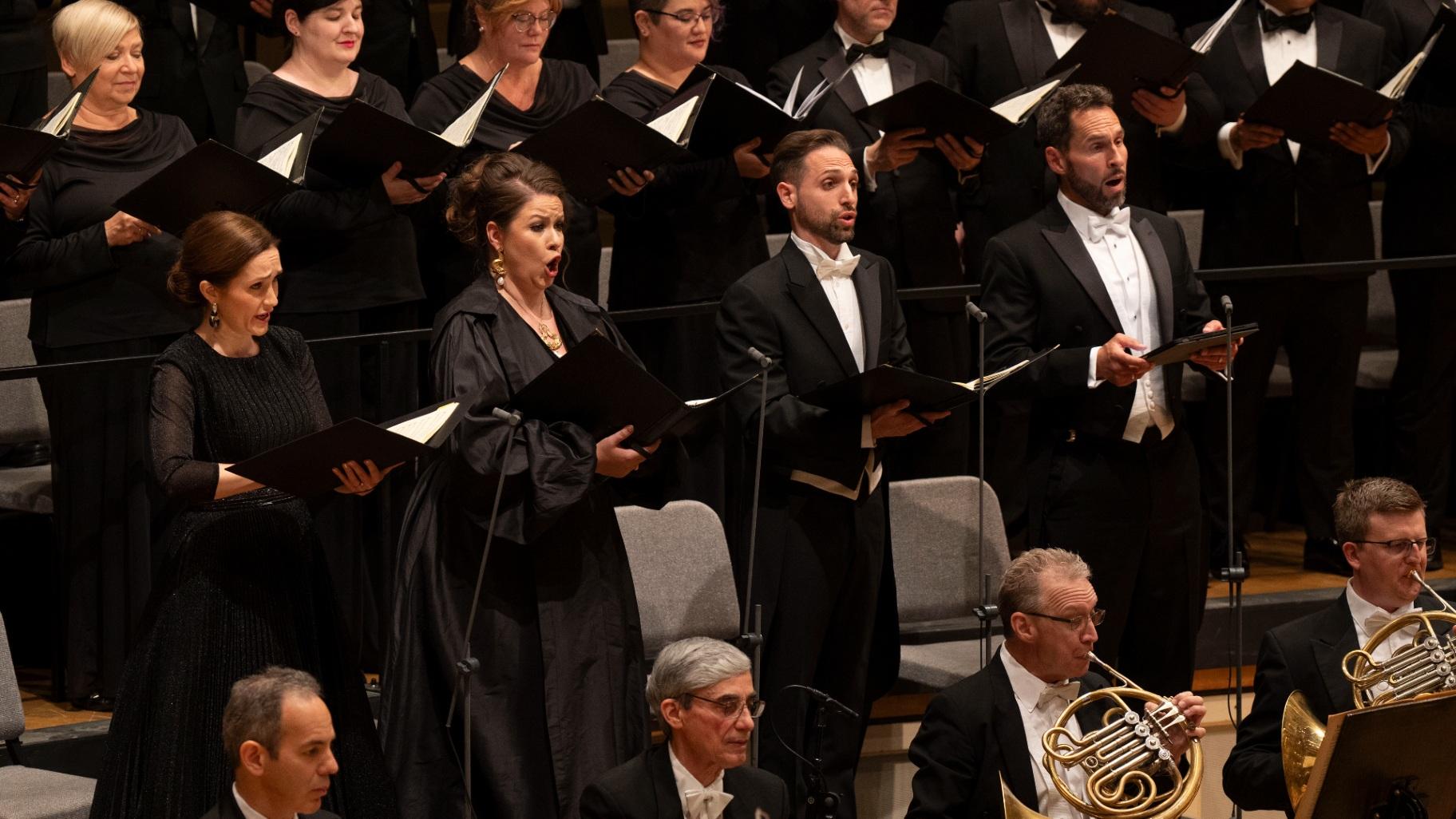 Soloists Erin Morley (soprano), Alisa Kolosova (mezzo-soprano), Giovanni Sala (tenor) and Kyle Ketelsen (bass-baritone) in a performance of Beethoven's "Missa solemnis" with Riccardo Muti and the Chicago Symphony Orchestra and Chorus. (Todd Rosenberg)
Next came the Sanctus, with its beautiful "orchestral prelude," and concertmaster Robert Chen as the lyrical violin soloist joined by the other strings and voices. And finally there was the Agnus Dei, which begins quietly and builds with the full beauty and power of the orchestra and singers, who call out with those crucial final words: "Lamb of God, grant us peace."
Muti, clearly in his own musical heaven with this work, gave his audience a grand farewell and blessing by way of Beethoven, but it was definitely not a "goodbye." Arriving onstage in the wake of a long ovation from a packed audience were Jeff Alexander (president of the Chicago Symphony Orchestra Association) and Mary Louise Gorno (chair of its Board of Trustees). They not only reminded the audience that Muti will be back on the podium in September to conduct concerts, but they also announced he has now been "unanimously proclaimed music director emeritus for life" and will continue to return to Chicago and periodically "lead the CSO for many years to come." In fact, he is already scheduled to lead the orchestra on a European tour in January 2024.
The maestro thanked his "great orchestra and wonderful chorus" and hugged chorus director Palumbo. And then, in Muti's characteristically droll and playful way, he earned some laughs from the audience before giving his trademark wave goodbye as he headed backstage.
Note: The final performances of "Missa solemnis" are 8 p.m. Saturday and 3 p.m. Sunday. And this coming Tuesday, Muti will lead the CSO's annual free "Concert for Chicago" at 6:30 p.m. in Millennium Park. The concert features Tchaikovsky's "Symphony No. 5" and a work by Florence Price, who, in 1933, became the first Black woman to have a symphony played by an American orchestra (it was the CSO).
Muti will return to the CSO podium to conduct concerts this fall, including works by Stravinsky, Brahms and Liadov (Sept. 21-22, 26); Philip Glass, Mendelssohn and Richard Strauss (Sept. 28-30); and Tchaikovsky (featuring violinist Leonida Kavakis), Giordano, Puccini, Leoncavallo and Verdi (Sept. 23, also the night of the Symphony Ball at the Four Seasons Hotel).
Follow Hedy Weiss on Twitter: @HedyWeissCritic
---