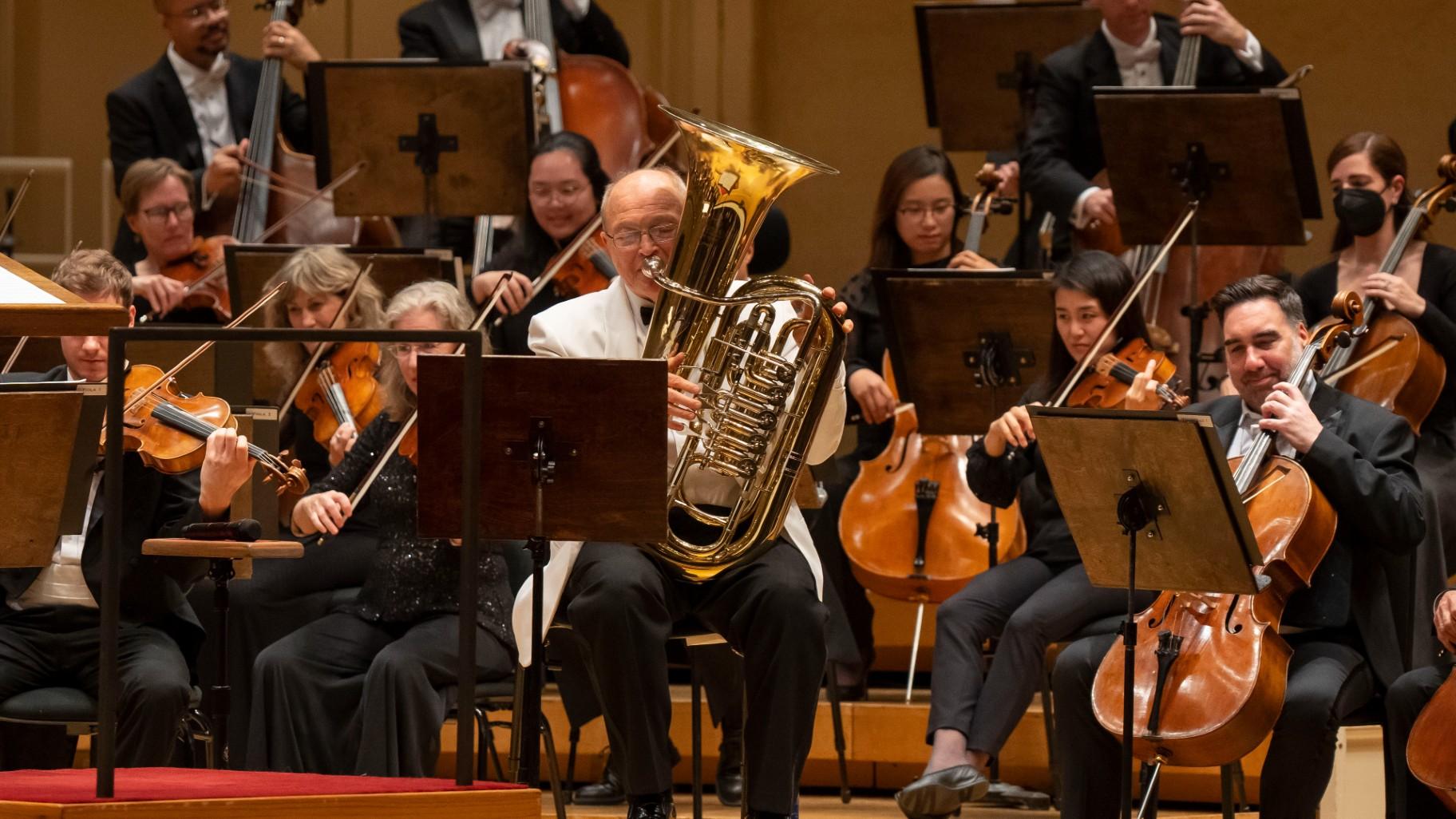 CSO principal tuba Gene Pokorny and the Chicago Symphony Orchestra perform Lalo Schifrin's "Concerto for Tuba and Orchestra." (Todd Rosenberg)
The tuba may be one of the largest instruments in a symphony orchestra and an important source of the brass sound, but it is rarely celebrated in a work that puts it front and center by way of a masterful composer and musician. All that changed Thursday evening at Orchestra Hall as the Chicago Symphony Orchestra, led by Maestro Riccardo Muti, performed Lalo Schifrin's "Concerto for Tuba and Orchestra," with Gene Pokorny, the CSO's masterful principal tuba since 1989, at the helm.
Schifrin, now 91, is the Argentinean-born composer most widely known for his immense number of award-winning scores for television shows and Hollywood films, although he has written many symphonies and concertos as well. This concerto, composed specifically for Pokorny in 2016, is elaborately orchestrated and rich in exceedingly challenging riffs for the tuba. In addition to the usual mix of instruments, it includes an elaborate percussion section, as well as a celesta, harp and harpsichord. As the composer himself has noted, this exhilarating piece "uses a musical language that oscillates between baroque, 20th century music and American jazz." It also shows that this massive brass instrument can be used to make a beautiful, melodic sound, suggest a pensive mood, or at moments, utter a lion-like roar.
The concerto generated a stormy response from the audience, as well as from Pokorny's fellow musicians and Muti. And much to the delight of all concerned, Pokorny returned to the stage for a rip-roaring performance of one of Schifrin's most famous works: the score for the "Mission: Impossible" TV series, with its 5/4 time signature inspired by, of all things, the dot and dash of the Morse code.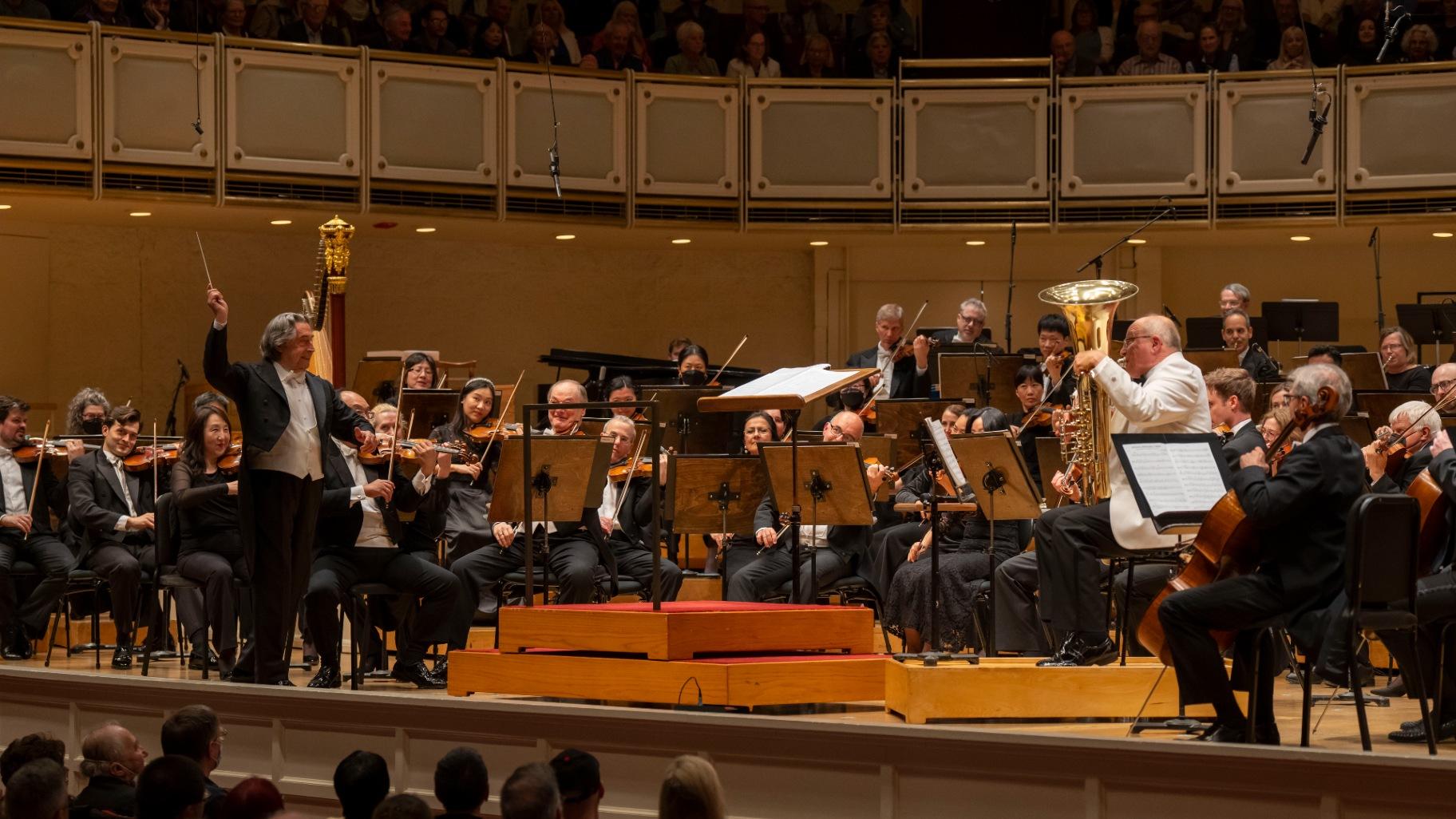 CSO music director Riccardo Muti gives the final cut off for the orchestra and CSO principal tuba Gene Pokorny following a surprise encore performance of composer Lalo Schifrin's famous theme from "Mission: Impossible." (Todd Rosenberg)
The concert opened with a beautiful (and rarely heard) 1871 work by Johann Strauss Jr.: the "Overture to Indigo and the Forty Thieves," his 1861 operetta whose title was later changed to "The Thousand and One Nights." And it was seven minutes of sheer delight — from its instantly seductive, off-to-the-races opening, to its mix of gorgeous melodies, a jaunty spirit, a fusion of speed and lightness, and then a race to the end.
The second half of the concert was devoted to Franz Schubert's lavish "Symphony No. 9 in C Major," which opens with the sound of French horns, moves to a lyrical riff and plucked violins and then engages in a back-and-forth between the strings and winds.
Awash in subtle shifts of mood and intensity throughout, Schubert continually mixes the voices in the orchestra for a wide array of emotional effects. And Muti's body language has a notable way of making you listen to those changes in tone and intensity, with every section of the orchestra making ideally seamless transitions — from a mournful tone to a formal dance-like melody to the sounding of the brass to an exuberant, triumphal finale.
Note: Mark your calendar for the CSO's free outdoor Concert for Chicago in Millennium Park on June 27 at 6:30 p.m. Muti, who is closing out his final season as the orchestra's musical director, will conduct Tchaikovsky's "Symphony No. 5" as well as the 1929 "Andante moderato" by Florence Price, who, in 1933, became the first Black woman composer to have a large-scale composition performed by a major U.S. orchestra (the CSO).
Follow Hedy Weiss on Twitter: @HedyWeissCritic
---