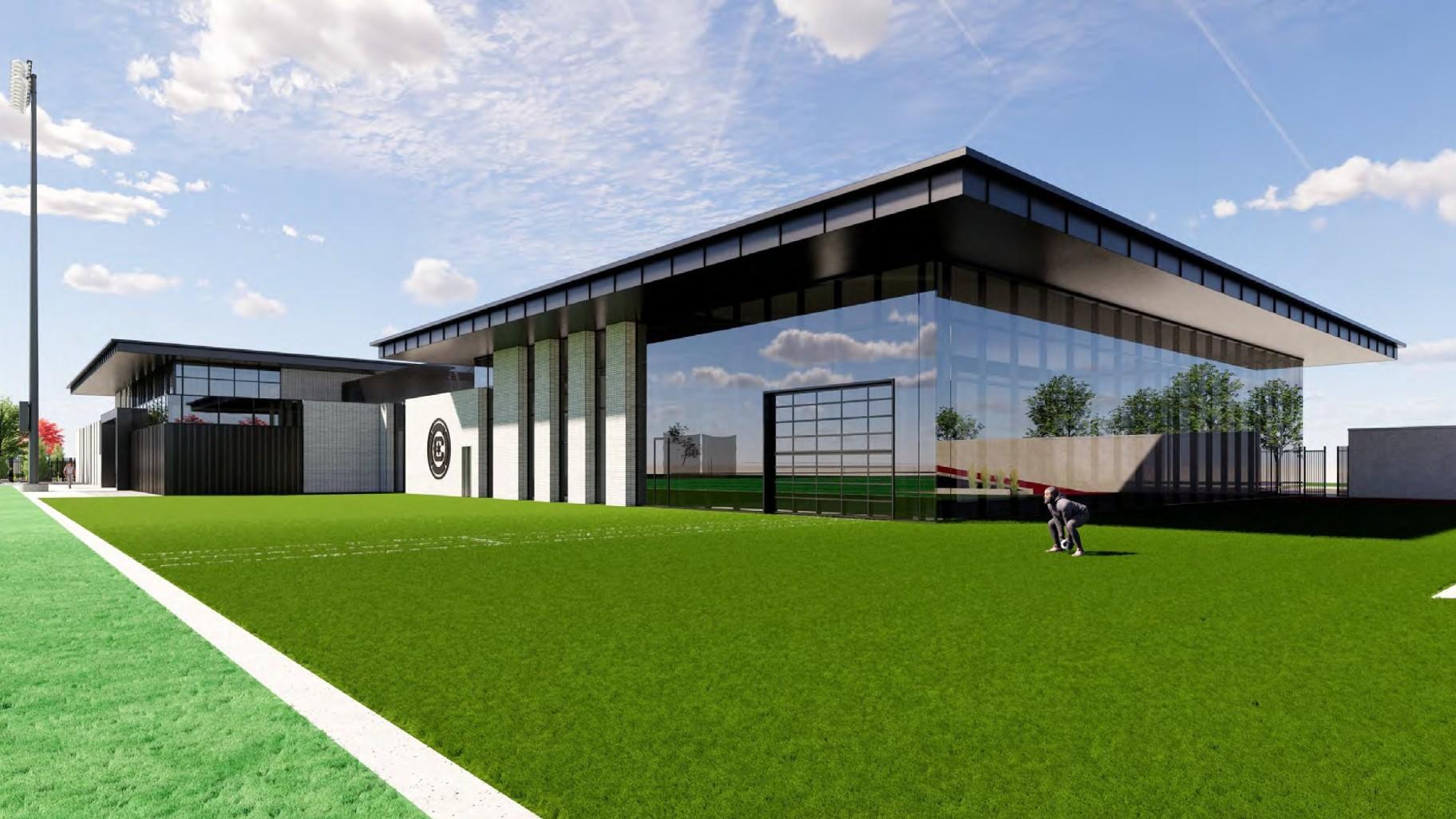 A rendering of the planned Chicago Fire Club practice facility on former Chicago Housing Authority land. (Courtesy of Chicago Department of Planning and Development.)
The plan to build a training facility for the Chicago Fire Football Club on Chicago Housing Authority land that was once home to thousands of families violates federal civil rights laws and should be blocked, according to a lawsuit filed Thursday by a coalition of groups.
Officials with the U.S. Department of Housing and Urban Development, known as HUD, failed to conduct a required civil rights review to determine whether the deal would meet the CHA's obligations under the federal Fair Housing Act, according to the suit filed by the Coalition to Protect CHA Land, Chicago Housing Initiative and the Lugenia Burns Hope Center.
"CHA should be creating new housing for the thousands of families in need in Chicago — but instead they gave up valuable public land to a billionaire and his soccer team," said Kate Walz, associate director of litigation of the National Housing Law Project. "To add insult to injury, HUD evaded its own civil rights obligations by approving this deal at the expense of low-income Black households and persons with disabilities."
Representatives of the CHA and federal housing officials declined to comment on pending litigation. The suit does not name the city of Chicago.
Mayor Brandon Johnson campaigned on a platform that promised to "freeze on the transfer of CHA land to non-housing uses."  
Former Mayor Lori Lightfoot championed the plan to transform 26 acres on the Near West Side that was part of the Addams-Brooks-Loomis-Abbott homes, known as ABLA, into an $80 million Chicago Fire "performance center" building and five and a half soccer fields.
The lease, signed by Lightfoot after she lost her bid for reelection, is expected generate $40 million in revenue for the CHA over the coming four decades, and the Chicago Fire will contribute $8 million toward efforts to preserve nearby CHA housing and the creation of indoor and outdoor community spaces, according to city officials.
The controversial plan triggered vehement opposition from neighbors, housing advocates and skeptical alderpeople who said the land should be used to create sorely needed affordable housing. As part of its so-called "Plan For Transformation," the CHA demolished most of the homes in the ABLA complex, saying at the time it would build 2,441 new units and rehab 455 existing units. But as WTTW News and ProPublica reported last year, in the two decades since the demolition, just 667 new units have been constructed.
The Fire facility also sparked an ethics complaint against Lightfoot. Ald. Raymond Lopez (15th Ward) accused her of pay-to-play politics for accepting a $25,000 campaign contribution from Fire owner Joe Mansueto.
WTTW News' Nick Blumberg contributed to this report.
Contact Heather Cherone: hcherone@wttw.com | (773) 569-1863 | @heathercherone
---