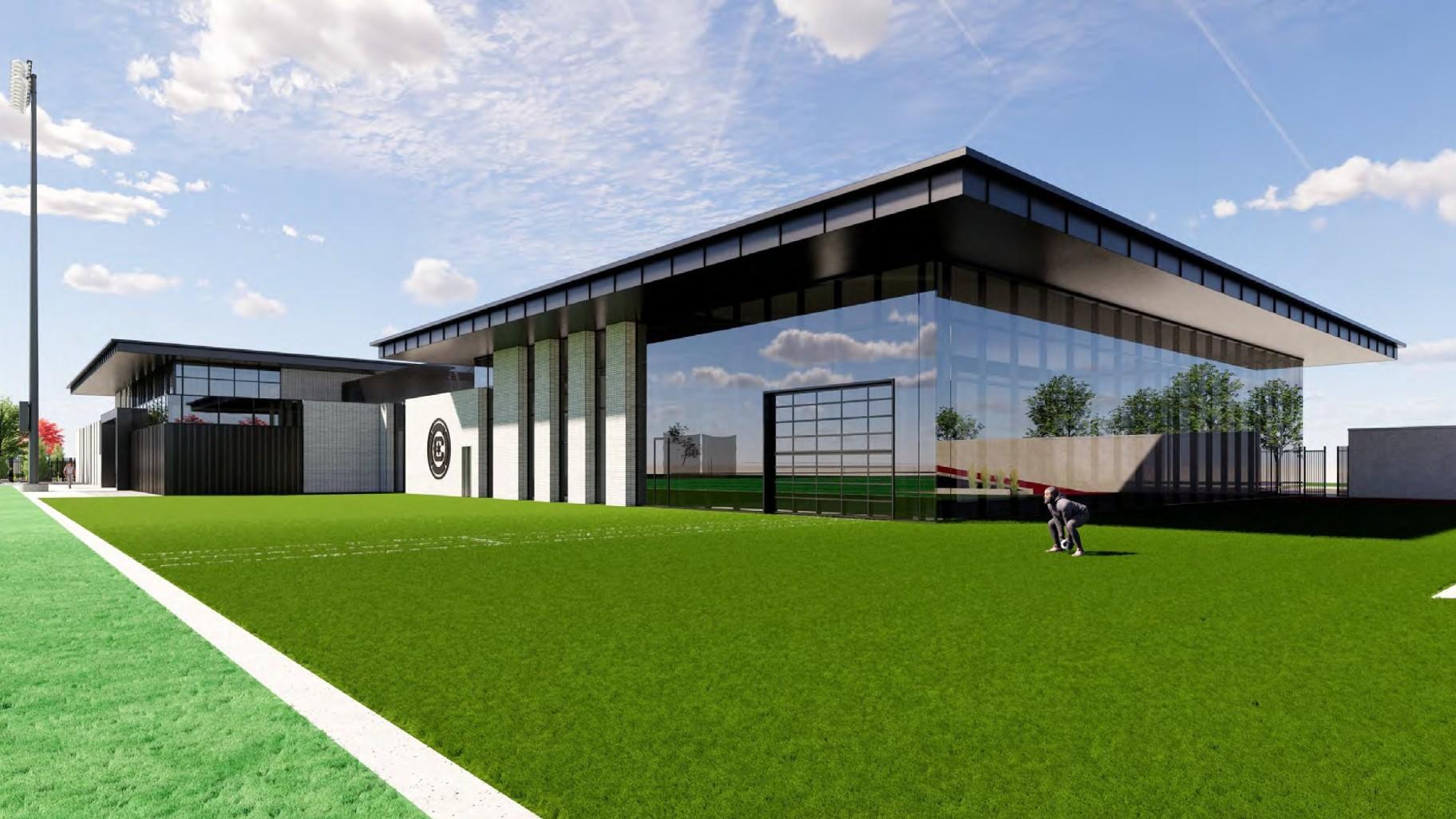 A rendering of the planned Chicago Fire Club practice facility on former Chicago Housing Authority land. (Courtesy of Chicago Department of Planning and Development.)
The Chicago Housing Authority and the Chicago Fire Football Club have signed a lease to build a Fire practice facility on CHA land that was once home to thousands of families, city officials announced Monday.
The facility is set to take over some 26 acres of Near West Side property that was part of the Addams-Brooks-Loomis-Abbott homes, known as ABLA. The Fire plans to build a "performance center" building and five and a half soccer fields, the city said. In a release, officials touted an $8 million investment to preserve and rehab CHA housing and fund community spaces, as well as an expected $40 million in revenue for the CHA over the coming four decades.
"This new partnership with the Chicago Fire will secure substantial funds to improve aging public housing at ABLA Brooks and Loomis Courts and create long-term employment opportunities for CHA residents," CHA CEO Tracey Scott said in a news release.
The deal had drawn fire from neighbors, housing advocates, and skeptical alderpeople who said the land should be used to create sorely needed affordable housing. As part of its so-called "Plan For Transformation," the CHA demolished most of the homes in the ABLA complex, saying at the time it would build 2,441 new units and rehab 455 existing units. But as WTTW News and ProPublica reported last year, in the two decades since the demolition, just 667 new units have been constructed.
The city council signed off on the CHA's deal with the fire after a sometimes-fiery meeting last September.
"The Plan for Transformation has failed," said Ald. Jeanette Taylor (20th Ward), who noted at the hearing that she sat on a CHA waitlist for nearly three decades.
The Fire facility also sparked an ethics complaint against Mayor Lori Lightfoot. Ald. Raymond Lopez (15th Ward) accused her of pay-to-play politics for accepting a $25,000 campaign contribution from Fire owner Joe Mansueto.
"The Chicago Fire, one of our city's greatest sports teams, deserves to have a high-quality training facility that not only meets their needs but fosters the growth of talented athletes," Lightfoot said in the release announcing the lease. "Additionally, the millions of dollars in rental income generated by this project will support the CHA's efforts to rehabilitate and build affordable housing in the surrounding areas."
Contact Nick Blumberg: [email protected] | (773) 509-5434 | @ndblumberg
---