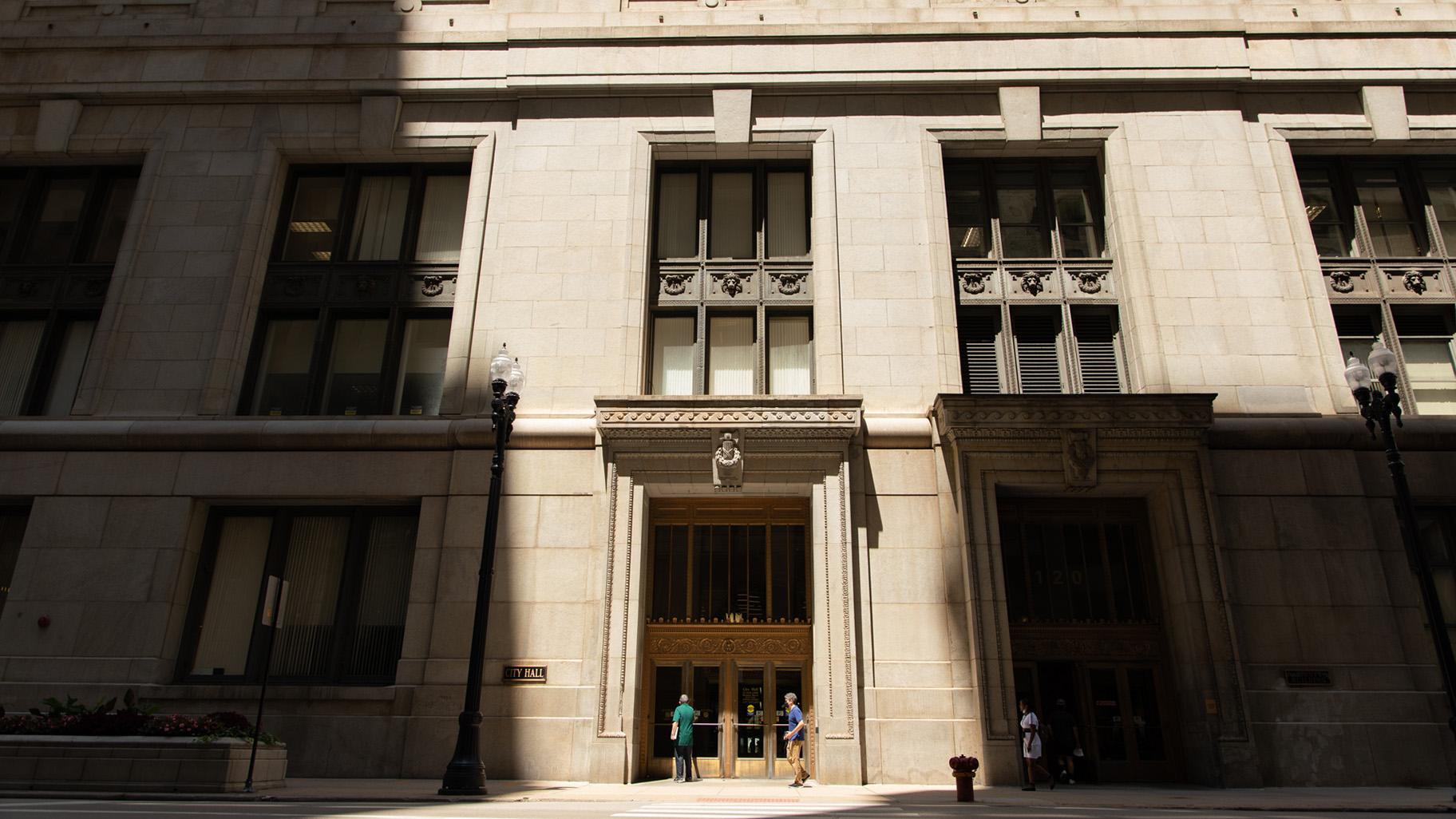 Chicago City Hall. (Michael Izquierdo / WTTW News)
Mayor Lori Lightfoot said Wednesday that she would no longer stand in the way of demands from members of the City Council that the heads of the Chicago Public Schools and the Chicago Transit Authority field questions four times a year.
The announcement, made in an email to City Council members that was mistakenly sent by a member of the mayor's staff and then reaffirmed in a slightly different form, comes one week after a proposal to force Chicago Public Schools CEO Pedro Martinez to testify at a City Council committee meeting every three months — or face the loss of the city's financial support — failed to advance.
Lightfoot urged her allies to vote against that measure. In addition, Lightfoot's allies blocked a proposal authored by Ald. Andre Vasquez (40th Ward) that would have required CTA President Dorval Carter to testify four times a year before the City Council.
Lightfoot told reporters Wednesday that it was "important for members of the City Council to have an opportunity to hear from the CEOs of the sister agencies" but did not answer a question about why she blocked previous efforts to require those appearances.
Martinez, appointed by Lightfoot in September 2021 to lead the Chicago Public Schools, has never answered questions during a City Council meeting.
In addition to Carter and Martinez, Chicago Housing Authority Executive Director Tracey Scott, City Colleges of Chicago Chancellor Juan Salgado and Chicago Park District Superintendent Rosa Escareño will testify every three months about the operations of their agencies, as will officials said.
Scott was appointed by Lightfoot in 2020 to lead the CHA, while Salgado has led the City Colleges since 2017, when he was appointed by former Mayor Rahm Emanuel. Neither Scott nor Salgado have ever testified in front of a City Council committee.
Escareño, who was tapped by Lightfoot to lead the scandal-plagued Chicago Park District in October 2021, has never publicly fielded questions from members of the City Council as the CEO of the Park District. Escareño frequently testified before City Council committees when she led the city's Business Affairs and Consumer Protection Department from 2017 to 2021.
City Council members began ratcheting up efforts to exercise their oversight authority over the city's sister agencies, whose leaders are appointed by the mayor and funded by hundreds of millions of dollars from Chicagoans' taxes after Carter declined to appear at a September Transportation Committee hearing about the CTA's unreliable, dirty and unsafe buses and trains.
Contact Heather Cherone: @HeatherCherone | (773) 569-1863 | [email protected]
---