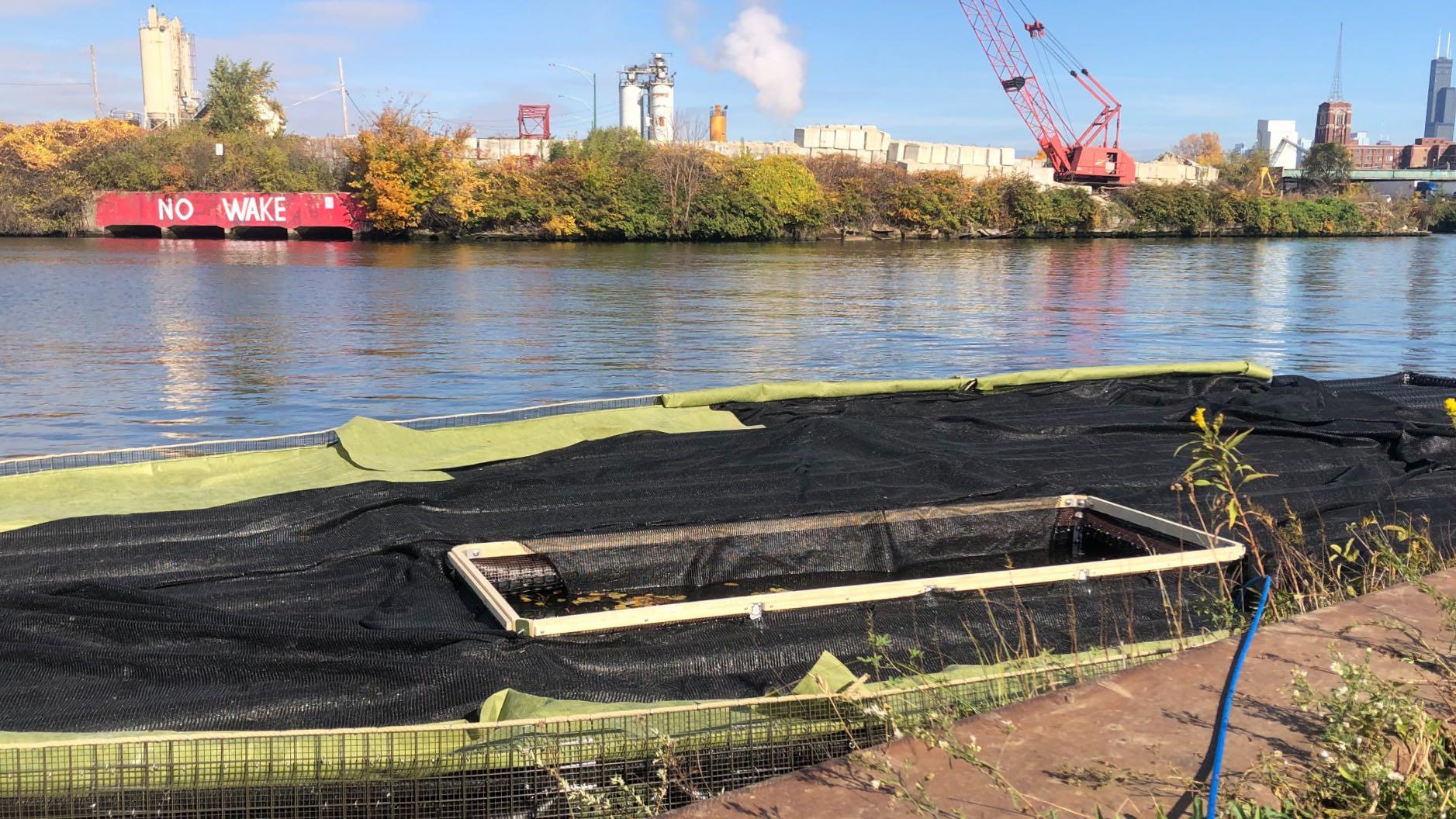 A floating wetland under construction on the South Branch of the Chicago River. Industrial use has stripped the channel of most of its natural vegetation. (Patty Wetli / WTTW News)
A transformation is underway near one of the most infamous stretches of the Chicago River.
The area around Bubbly Creek — a fork of the South Branch — was once a wetland, until the channel became choked first with sewage and then animal waste from the Union Stockyards' meat processing plants. Now the wetlands, albeit in a highly altered and engineered form, are making a comeback.
Backed by federal funding, a team from Urban Rivers and the Shedd Aquarium is in the midst of creating 3,000 square feet of floating habitat that, once completed, will be anchored south of Canal Origins Park to form an archipelago capable of supporting all manner of wildlife. The project is similar to the Wild Mile on the North Branch, only larger in scale.
Interventions like floating wetlands are one way of restoring habitat along parts of the river where steel and concrete walls have all but eliminated any semblance of a natural riverbank.
"The M.O. with how we built the river is to remove structure — to widen it, to dredge it, to make it so it's like a hallway, there's nothing there," said Nick Wesley, executive director of Urban Rivers. "We focus so much on this being an industrial and a wastewater channel. What I want to show people is it's actually a real ecosystem and a real benefit to the city and to everything that's around it."
On a recent workday at the wetland's makeshift construction site — Bridgeport's Park No. 571 (home to Jeanne Gang's Eleanor Boathouse) — volunteers found islands in various stages of completion.
Jaclyn Wegner, Shedd's director of conservation action, pointed to the opposite shore, where operations at a concrete mixing plant stood in contrast to the project at hand.
"This really shows us the industrial past and present of this space, and that a lot of the Chicago River has been developed for industry's needs," Wegner said. 
As the volunteers split into teams, Wegner explained how the wetlands are built: Modular "Lego-like" rafts made from plastic tubes are arranged according to a design developed by Urban Rivers. Once these buoyant components are bolted together, they're covered in matting and surrounded by fencing (to keep out geese).  
"This is kind of like the 'flower bed,' ready to go," she said.
Once the islands are launched into the water, they're filled with a clay aggregate growing medium called leca. Native plants — from sedges to pollinator-friendly perennials like queen of the prairie and swamp milkweed — are placed directly into the leca and grow "feet" down in the water, where their dangling roots will provide shelter and food for fish and other aquatic creatures.
VIDEO: A day of wetland building on the South Branch of the Chicago River. (Patty Wetli / WTTW News)
Fish surveys have already revealed a surprising amount of species diversity in the South Branch, and the new floating wetland islands are designed to build on that success, said Karen Murchie, director of freshwater research at Shedd.
"There's the opportunity to maybe even do more to increase the populations, to maybe bring back some other species that haven't been in the area," Murchie said. "We're already seeing resiliency in the fish species that are here, now let's see how much better we can make things for them after they've endured all this time."
Fish are attracted to vegetation as places to look for food or to hide from being eaten themselves, or to spawn and hatch their eggs, she said.
"These augmented habitats supplement where there isn't a more natural shoreline, where there would be emergent vegetation providing different habitats that different species would use at certain times of their lifecycle or all year round," said Murchie. 
Shedd scientists will monitor fish movement throughout the river — via a technology called acoustic telemetry — to see how species make use of the habitat at the Wild Mile, in the South Branch and points in between.
"We've seen that fish have been reproducing throughout the area but that doesn't necessarily reveal whether fish are interacting with the islands," Murchie said. "We're going to be able to get an idea with the telemetry. It's going to give us a bigger picture of what fish are doing in the river throughout the year and how they're interacting with the different habitat types." 
Monitoring data will also help Urban Rivers fine-tune future installations by providing information on what solutions work best for which species in which locations, Wesley said. 
"There's not really a playbook," he said. "So it's a lot of experimentation, testing out a lot of things, figuring out how it goes."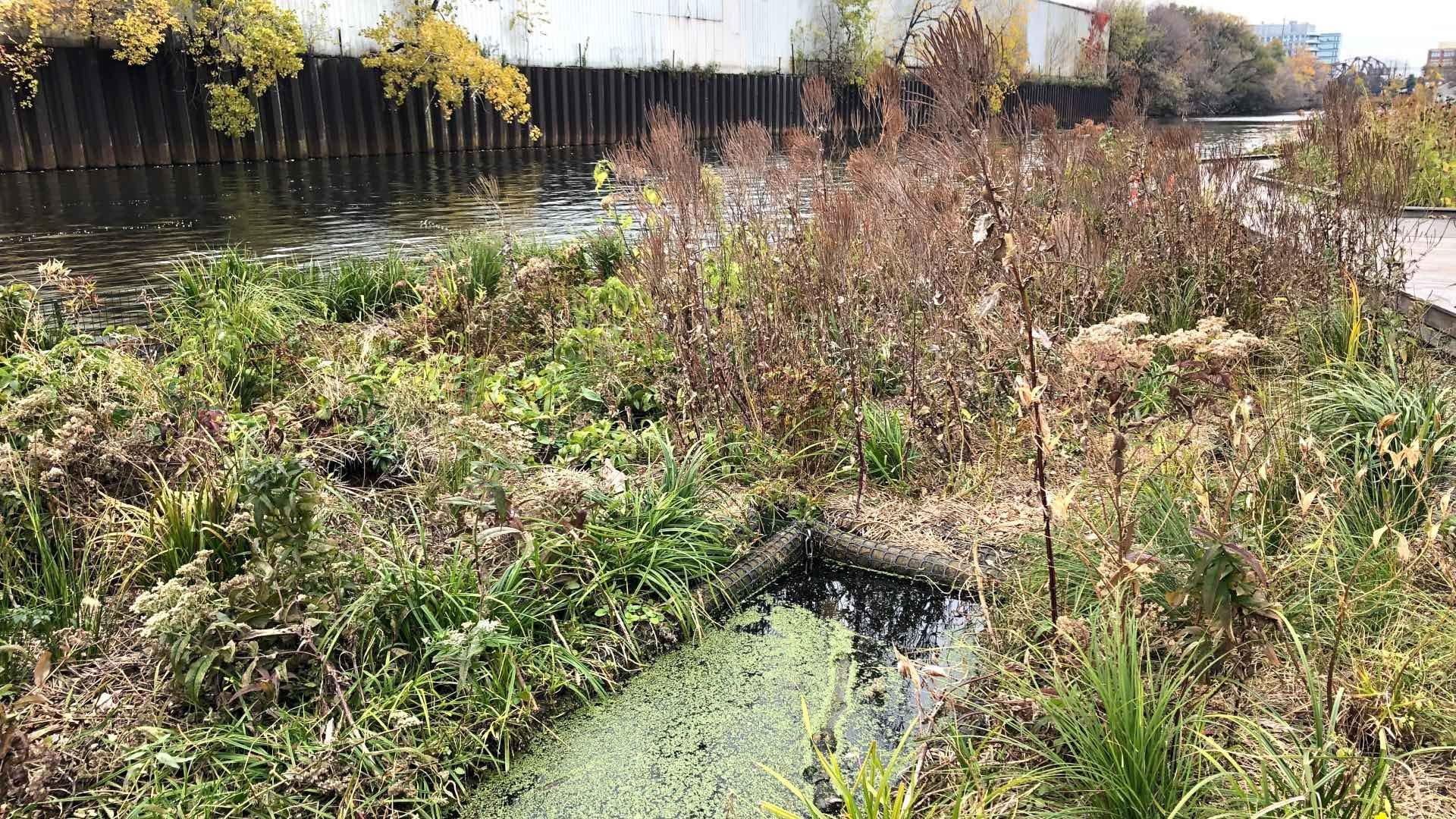 Once plants mature, the floating wetlands in the South Branch will resemble the Wild Mile on the North Branch, pictured. (Patty Wetli / WTTW News)
A question that's often asked and is worth addressing, Wegner said, is why having a diversity of fish in the river matters. One answer is that what's good for fish is also good for humans.
"Fish are one piece of a really diverse ecosystem," Wegner said. "We need the whole ecosystem to be climate resilient, to be contributing to our clean air and water." 
But another aspect is community resiliency, which goes hand in hand with ecological resiliency, she added. The presence of the floating wetlands near Bubbly Creek also sends a message to residents of the surrounding neighborhoods that attention is being paid to a long neglected part of Chicago.
"It's saying there's something worth putting effort into here. I think that seeing more life in an area also brings more hope and connects people to the habitat," Murchie said. "And it starts with the water."
The hope is that the wetlands will not only attract fish, but curious humans. And as these people paddle a kayak through the new archipelago, perhaps if they spot a beaver or a turtle, they'll realize the Chicago River of today is not the same as the dumping ground of previous generations.
"As opposed to going, 'Ew, that river is not somewhere I want to go hang out,' it's about celebrating what we have," Murchie said. "There's life in the Chicago River."
Contact Patty Wetli: @pattywetli | (773) 509-5623 |  [email protected]
---