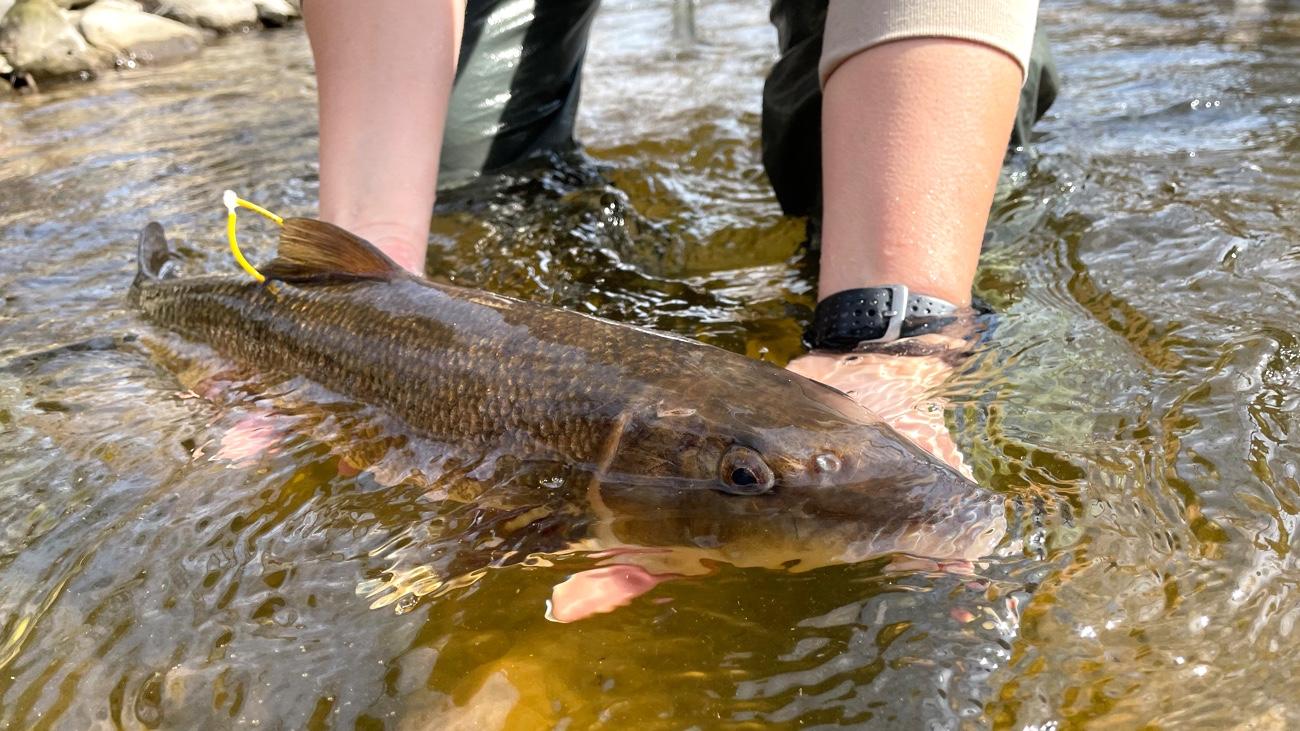 A sucker tagged and released for study in a new research project. (Courtesy Shedd Aquarium)
Already dubbed the "wildebeest of the Great Lakes" for their massive migratory movement, sucker fish are now being afforded the same respect as sharks.  
It's an astounding turn of events for Karen Murchie, director of freshwater research at Shedd Aquarium, who's been singing the praises of suckers for years in service of drawing more attention to the overlooked fish.
"I won't stop until I can get it (the sucker) on a T-shirt," said Murchie, only semi-jokingly.
The species plays an outsized role in the region's aquatic food web but largely flies under the radar because it's viewed as having little to no commercial or sport value (i.e., it's not alluring to anglers or people's taste buds). It's a mindset that's led to a dearth of information on a species that delivers significant benefits to the ecosystem.
"We're going to do the best for our Great Lakes when we have appreciation at all levels," Murchie said.
So Murchie and a dedicated group of volunteers have forged ahead with studies that monitor whether suckers are loyal to the same spawning sites year after year and whether climate change is impacting their migratory patterns.
Now the broader scientific community is beginning to take note.
One of the receivers that will aid Shedd Aquarium's Karen Murchie in her research on suckers, with a map of acoustic telemetry devices active in the Great Lakes. (Shedd Aquarium, Great Lakes Acoustic Telemetry Observation System)
Murchie has, up until this point, tracked suckers by implanting them with the same kind of microchip found in I-Pass transponders. Every spring, at the start of migration season, she hauls antenna out to various tributaries, essentially setting up the equivalent of "toll booths" to record the suckers as they pass. 
The technology works well in streams and rivers, but not in the lakes where suckers hang out the rest of the year. For that, Murchie would need access to acoustic telemetry, the transmitter-receiver technology used to keep tabs on species including sharks. 
Such devices don't come cheap. Although they're deployed throughout the Great Lakes — Lake Erie is all but blanketed with receivers — funding for them has flowed toward the monitoring of lucrative species such as walleye and whitefish, which form the backbone of the Great Lakes' $7 billion commercial fishing and recreation economy.
So when the U.S. Fish and Wildlife Service offered Murchie 50 transmitters and five receivers — to place wherever she wanted — plus the assistance of a field biologist to further her suckers research, it was, she said, like experiencing several years' worth of birthdays and Christmases all at once.
"This was honestly a dream come true to have it happen. I might have cried, it was so exciting," Murchie said. "It's such a big deal to have that support and recognition. It's not just me out there flying the sucker flag."
Fish and Wildlife's backing created a snowball effect: Wisconsin Sea Grant came through with 10 additional transmitters, allowing Murchie to track more suckers, and staff at the University of Wisconsin-Stevens Point agreed to tend to the receivers, which have been placed in the waters of Green Bay. Researchers at Michigan State University and Cornell University are helping Murchie interpret the data she obtains.
"To have so many agencies pitch in, it's beautiful. It's truly a collaborative effort," Murchie said. "The more we collaborate, we can answer bigger questions."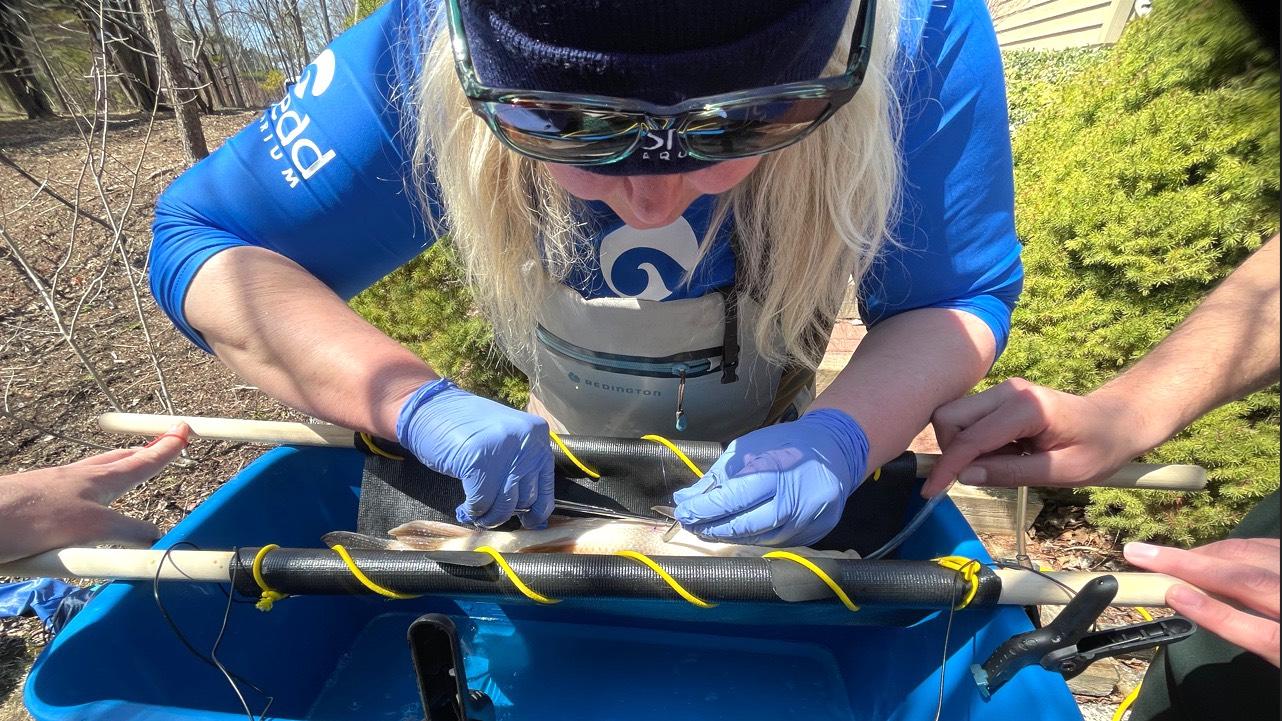 Karen Murchie, director of freshwater research at Shedd Aquarium, tags a sucker. (Emma Lundberg / US Fish & Wildlife Service)
When it comes to suckers, there are more unknowns than knowns.
After five years of collecting "toll booth" data, Murchie can confidently say that white suckers absolutely have spawning site fidelity, meaning the same fish come back to the same creek year after year to lay their eggs. Beyond that, the fish's movements are anyone's guess.
"We visibly can see in the spring when the fish come into the creeks. What we can't see is where these fish go after spawning season," Murchie said.
Among the mysteries: Do suckers that spawn in a specific stream move communally, originating from and returning to the same general area of a lake? Are they solitary or social? How far do they venture? What role do they play in offshore ecosystems? 
Within the first three months, the new receivers have tallied more than 15,000 detections. "We're seeing some cool bits of data," Murchie said.
One of the tagged suckers left Sturgeon Bay and went south toward Green Bay, while another headed north to Chambers Island off the western coast of Door County. Still others appear to be what Murchie called "homebodies."
As scientists gain a clearer picture of suckers' movement and range, they can better direct conservation efforts to ensure suckers' continued abundance, which in turn ensures the health of so many species that depend on the services suckers provide, beginning with the nutrients they supply to streambeds. This fertilizer kicks off an entire food chain that climbs from algae to inset larvae to birds.
"If you love birds, thank a sucker," Murchie said.
Someone should put that on a T-shirt.
Contact Patty Wetli: @pattywetli | (773) 509-5623 |  [email protected]
---