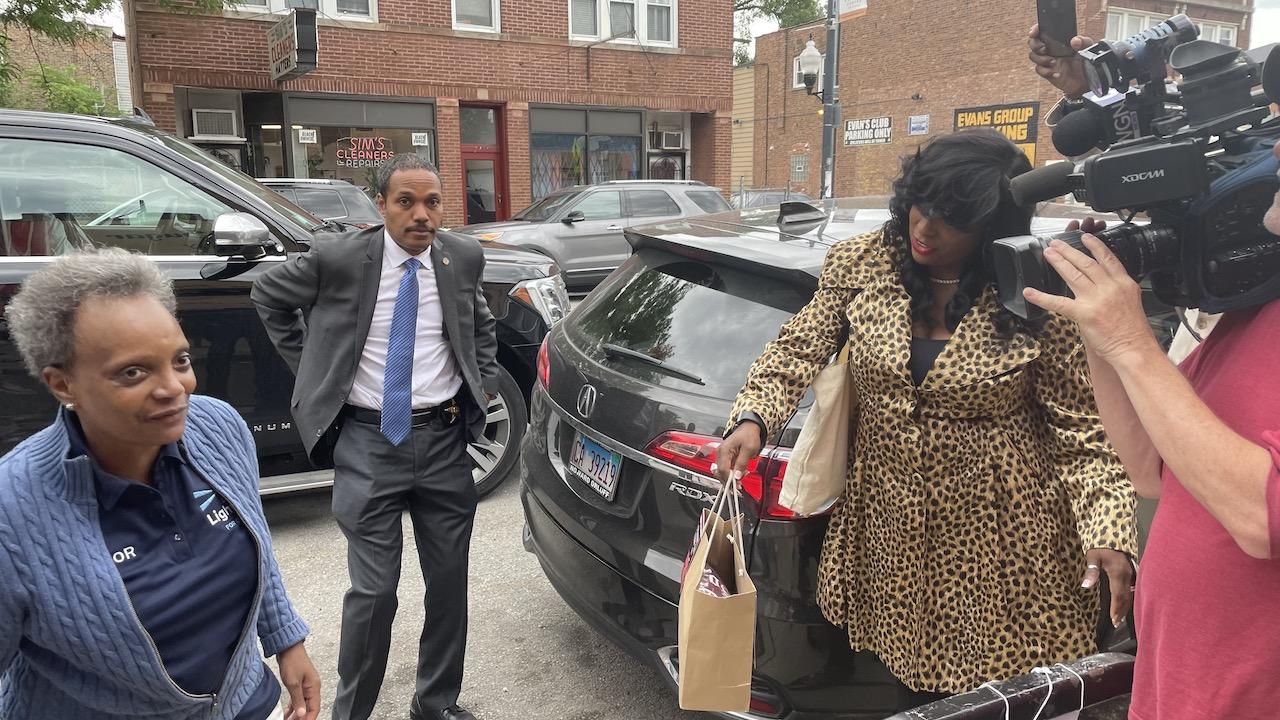 Mayor Lori Lightfoot hits the campaign trail on June 7, 2022, as her security detail looks on. (Heather Cherone/WTTW News) Mayor Lori Lightfoot can travel to campaign events in her city vehicle accompanied by an aide and her security detail — all paid for by taxpayers — without violating the city's ethics ordinance, the Chicago Board of Ethics determined.
The unanimous advisory opinion issued Monday and signed by Chair William Conlon represents the first time the board has addressed the issues that surround the decision by an incumbent mayor to run for re-election. In keeping with the board's rules, the identity of the person who requested the opinion was not revealed. The opinion was sent to Lightfoot.
Lightfoot's campaign spokesperson declined to comment on the opinion in response to a request from WTTW News. The opinion comes as the Ethics Board has faced several cases involving elected officials accused of improperly using city resources for non-official purposes.
The board determined "a mayor's full and varied schedule requires that they be readily available to attend the many meetings, functions, events and emergencies of all kinds that require attention and handling. As the highest ranking official in the city, a mayor is on call every hour of the day and night," according to the opinion.
Lightfoot has spoken frequently about the number of "serious and significant threats" and harassment she and her family have faced since she was elected in 2019.
The Chicago Police Department has banned protests on the mayor's Logan Square block, citing a significant number of threats against her, her wife and teenage daughter.
Police arrested a 37-year-old man in February and charged him with repeatedly driving by Lightfoot's home while carrying a gun that he eventually fired five times in an alley nearby. The man was arrested and charged after he approached the mayor's home carrying a gun and a letter expressing anger with traffic citations he'd received.
The board's advisory opinion cites a similar decision in 2009 by the New York City Conflicts of Interest Board and a Los Angeles law that permits elected officials to use municipal vehicles for both official and personal purposes within Los Angeles County.
The Ethics Board has admonished several elected officials for using city resources for non-official purposes, including an unnamed city official for using their professional social media accounts to broadcast a prayer service and Ald. David Moore (17th Ward) for using his aldermanic Facebook page to promote his campaign for secretary of state. Moore finished third in the June primary.
The bord voted in June not to fine Ald. Nicholas Sposato (38th Ward) for using photographs displaying Chicago Fire Department equipment taken on city property on his Facebook page.
In other action, the board voted Monday to fine Ald. Derrick Curtis (18th Ward) $1,000 for violating the city's ethics ordinance by using his official city of Chicago email account to advertise Lightfoot's reelection kickoff.
Curtis, a Lightfoot ally, sent an email on June 2 to residents of his Far South Side ward that included an advertisement for the mayor's re-election kickoff event at the Starlight Restaurant on June 8. The newsletter included an image that invited 100 residents to reserve a spot at a "supporter breakfast" by contacting Curtis' ward office on a first-come, first-served basis.
In October, a revised ethics ordinance is set to take effect that will boost the maximum fine for violating the city's ethics ordinance from $5,000 to $20,000.
The new law also alters the Ethics Board's ability to decide there is probable cause to believe the city's Governmental Ethics Ordinance has been violated and levy fines, according to the regulations that govern the board.
While the board refers complaints that require a probe to the city's inspector general, it can act in cases that do not require a "factual investigation" and where an ethics violation is apparent. The board's rules require the elected official's name be kept confidential.
The new law requires the board to notify the elected official in writing at least 10 days before the Board of Ethics could find probable cause that they violated the law, giving them a chance to refute the allegation and avoid public embarrassment.
Lightfoot said July 18 the change was needed ensure "due process" for those facing sanctions.
"What the Board of Ethics does now is becomes judge and jury before they even give the target of the complaint an opportunity to respond," Lightfoot said. "But for me, due process matters. And I want to make sure that the board is viewed with legitimacy, not as judge, jury and executioner before they even get the other facts from the person who's the target of the complaint."
Conlon said the board was "committed to enforcing the ordinance with vigor and integrity."
Contact Heather Cherone: @HeatherCherone | (773) 569-1863 | [email protected]
---