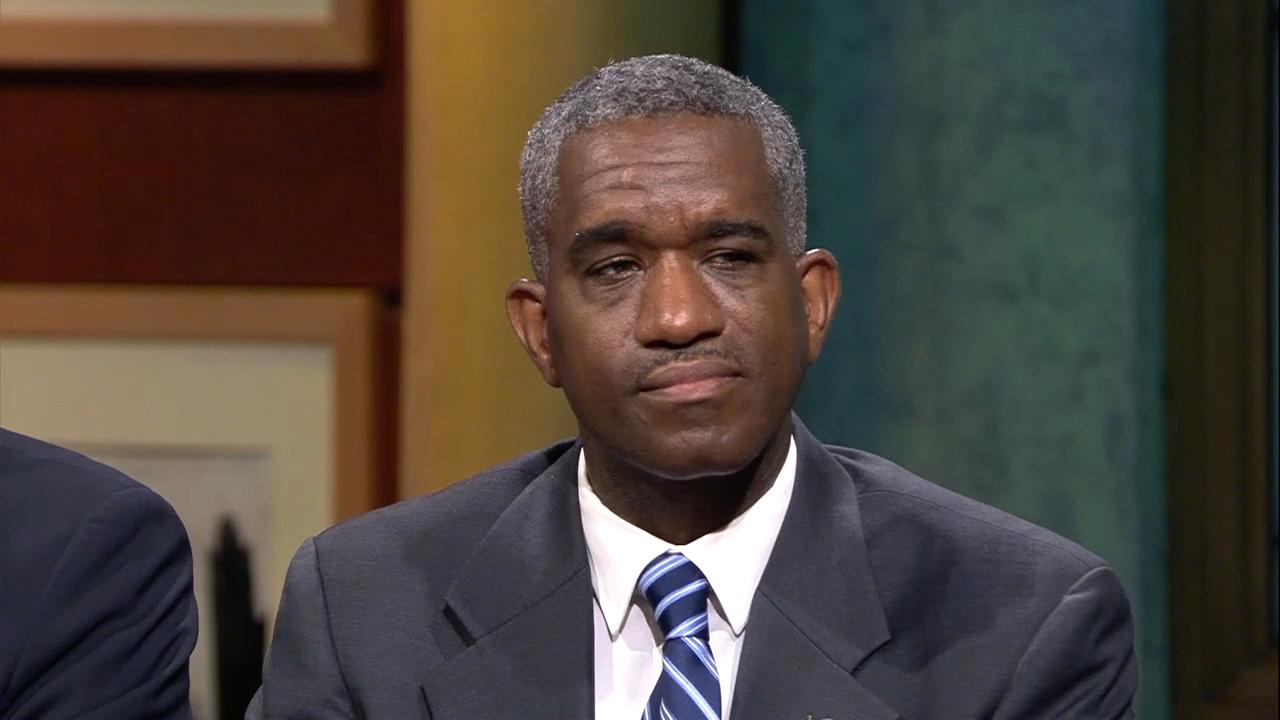 Ald. David Moore (17th Ward) appears on "Chicago Tonight" on Sept. 4, 2018. (WTTW News)
The Chicago Board of Ethics warned Ald. David Moore (17th Ward) not to not use his aldermanic Facebook page to promote his campaign for secretary of state.
Ethics Board Deputy Director Lisa Eilers warned Moore that if he did not separate his activity on social media as alderman of the West Side ward from his political efforts to win statewide office by the end of the day on Monday, he could face "enforcement and fines."
"This mixing is not permitted under the Governmental Ethics Ordinance," Eilers wrote. "Our board's opinion states that political/campaign content cannot be posted to an official city social media account, in this case, an official ward Facebook page." 
Moore posted the first page of the letter he received to his non-official Facebook page two days after he launched his campaign to replace Secretary of State Jesse White, and invited his friends and followers there to "like" another Facebook page — this one with his official title — to "continue receiving important city related information."
Moore told Eilers, in a response released by his campaign spokesperson Delmarie Cobb to WTTW News, that he "made the correction."
"I make it a point to abide by the rules … I hope we can all work together to ensure that everybody follow the rules," wrote Moore, 55, who is in his second term as alderman.
In addition, Moore suggested to Eilers that the board had singled him out, noting that other Chicago elected officials use their official titles on non-official Facebook pages.
"Over the last year, I saw this being ignored many times," Moore wrote. "It is my hope that I will not be the only one held to this standard and held accountable."
Without Moore's decision to publish the warning from the Ethics Board, it may never have become public, since ethics officials are prohibited by city ordinance from revealing ongoing probes or consultations.
In the March 2022 primary for secretary of state, Moore faces Ald. Pat Dowell (3rd Ward), City Clerk Anna Valencia, former state Treasurer Alexi Giannoulias and state Sen. Michael Hastings, who represents south suburban Frankfort.
Ethics Board Executive Director Steve Berlin declined to comment on the issue when asked by WTTW News because "board advice or enforcement matters are confidential until and unless there is a determination of a violation made by the board."
Moore is not the first alderman to run afoul of the board rules prohibiting city leaders from using city resources for non-official purposes.
In December, the board voted unanimously to admonish a city official who used their official social media accounts on Facebook, Twitter and Instagram to broadcast a prayer service. 
The elected official, who was not named in the board's action in keeping with its rules, was not punished after they removed the video. The board later dismissed the complaint.
The opinion issued by the Chicago Board of Ethics in January 2019 requires elected city officials to keep accounts designed to promote their bids for reelection or personal accounts separate from those designed to inform the public about their official duties. That is designed to eliminate the possibility that "non-city business is being sponsored or endorsed by the city," according to the board's opinion signed by Chair William Conlon.
Violations of the city's ethics ordinance can trigger fines ranging from $1,000 to $5,000 for each offense.
The Board of Ethics also prohibits elected officials who use social media like Twitter and Facebook to communicate with constituents and city residents from blocking people from following their accounts or deleting comments critical of them or their positions.
However, elected officials may delete comments posted to their pages if they are "obscene, profane, libelous or defamatory, or are commercial and posted to sell goods or services," according to the opinion.
Contact Heather Cherone: @HeatherCherone | (773) 569-1863 | [email protected]
---