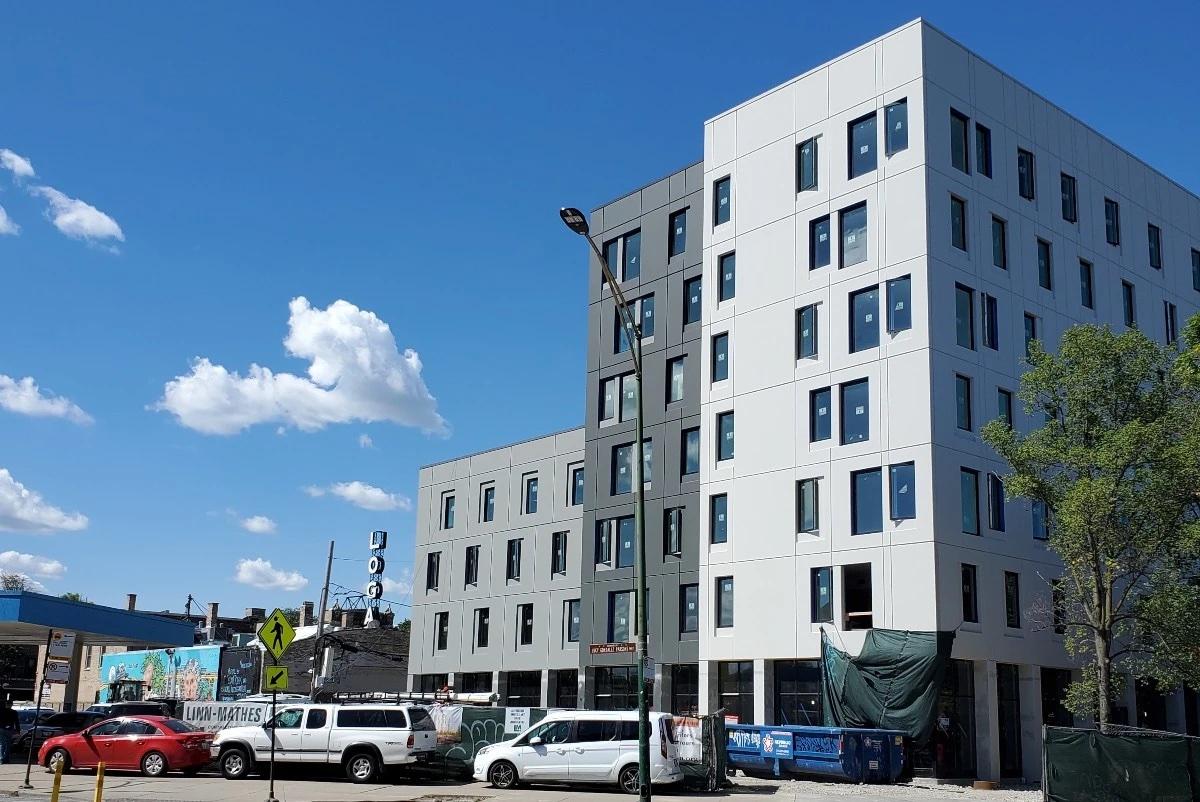 The under-construction affordable housing project at 2602-38 N. Emmett St. in Logan Square. (Credit: Bickerdike Redevelopment Corp.)
The Chicago City Council voted 36-10 on Wednesday to make more Chicago neighborhoods on the South and West sides places where people are more likely to hop a train to get to work or meet up with friends than jump in a car.
The new rules will encourage transit-oriented development by boosting incentives and increasing pedestrian safety while expanding the amount of affordable housing being built near train stations and along bus lines.
Mayor Lori Lightfoot celebrated the measure's passage after Wednesday's City Council meeting.
"This brings our city one step closer towards ensuring that every Chicagoan can live in a walkable, affordable community that is connected to transit and all of its benefits," Lightfoot said. "We are also a step closer to tackling segregation between neighborhoods of our city."
Since 2013, the city has allowed large apartment complexes to be built along CTA train stations — without the usual number of parking spaces, in order to increase the area's density. In 2019, the city's transit-oriented development policy was expanded to include 20 corridors with high-frequency bus lines.
But that resulted in the construction of only market-rate homes, with more than 90% of transit-oriented developments built on the North Side, Northwest Side, downtown and around the West Loop, according to a city report. That helped supercharge the deep inequities facing Chicago and its residents, including racial and economic segregation, officials concluded.
While transit-oriented developments essentially avoided the South and West sides entirely, the developments on the Northwest Side turbocharged the displacement of working-class residents, many of whom were Latino from Logan Square and Wicker Park, with the construction of high rises along the Blue Line that attracted Millennials and members of Gen Z who commuted to work downtown.
Transit-oriented developments are now allowed to be built within a half-mile of any CTA or Metra train station and within a quarter-mile of high-capacity bus corridors, more than doubling the available land.
In addition, it prohibits developers from including more than one new space for every two new apartments near transit hubs and requires that infrastructure changes needed for new construction be designed to protect pedestrians — not speed the flow of traffic.
However, a provision that would have allowed three-unit residential buildings to be built in wealthy neighborhoods near transit hubs without special permission from the City Council, which requires the support of the local alderperson in nearly all cases, was removed during behind-the-scenes negotiations.
That would have struck a significant blow against aldermanic prerogative, the largely unwritten, decades-old practice giving aldermen a veto over ward issues, but faced significant opposition from Lightfoot's allies on the City Council.
However, the measure gives developers the right to demand an up-or-down vote by the City Council within a year of their proposal to build affordable housing, as part of an effort to reduce Chicago's deficit of affordable housing.
The measure also expands the area of the city where special permission is needed before multifamily homes can be demolished and replaced with single-family homes from Pilsen to all areas of the city where there is evidence that longtime residents are being pushed out of their homes. Originally, the measure would have included that restriction in affluent areas of the city.
In other action, the City Council approved a measure that would allow police to impound cars parked on city streets that have been used in drag races and reckless driving "sideshows." The illegal events have drawn hundreds of spectators and videos of the spectacles have gone viral on social media.
Contact Heather Cherone: @HeatherCherone | (773) 569-1863 | [email protected]
---