Casey Hoekstra as Jack, left, and Sarah Price as Louise in the Northlight Theatre production of "Dear Jack, Dear Louise." (Credit: Michael Brosilow)
Among the many charms of "Dear Jack, Dear Louise," Ken Ludwig's beguiling play about his parents' courtship during World War II, is the way it suggests the power of handwritten letters — those intensely personal, pen-on-paper documents that bore distinctive penmanship, were sent in stamped envelopes by way of the Post Office, often took weeks to arrive and are now widely viewed as old-fashioned.
True, with emails and text messages has come the virtue of immediacy. But there is something so much more intimate and alluring about the distinctive look and effort involved in the penning of a real letter (or the very occasional telegram). And the many hundreds of such letters that were exchanged "across the miles" by Ludwig's parents throughout the chaotic war years of the early 1940s — and before the two ever met face-to-face — serve as a vivid reminder of their special impact.
Now, in a wholly disarming, winningly acted production at Northlight Theatre that has been deftly directed by Jessica Fisch, the epistolic romance forged between U.S. Army Capt. Jacob (Jack) S. Ludwig (played by Casey Hoekstra) and Louise Rabiner (Sarah Price) is being brought to vivid life with a winning mix of comedy, the proof that opposites do, indeed, attract, and just enough of a reminder that war is hell.
As it happens, Jack and Louise were put in touch at the suggestion of their fathers, Jewish immigrant tailors from Eastern Europe who somehow knew each other.
Jack grew up in a small town in Pennsylvania, had 12 aunts, became a doctor, and when war broke out he was initially stationed in Oregon where he treated casualties from the Pacific front. He was later sent to Guam to care for the most seriously wounded, and finally was sent to the European battlefront where his own life was at great risk.
Louise, about a decade younger than Jack, was a high-spirited beauty who grew up in Brooklyn and was determined to forge a career on Broadway. She moved into a boarding house in Manhattan, took dance and acting lessons, and suffered the hard knocks of endless disappointing auditions before she finally landed a role in the touring company of the hit musical revue, "Hellzapoppin'."
Jack was reserved, while Louise was feisty and exuberant. Yet somehow their personalities managed to click as they shared their various frustrations, disappointments, fears and successes. And, in one of the more laugh-inducing moments in the play, it is the very first signing of a letter using the word "love" that begins to change things.
Meanwhile, while their attempts to meet were repeatedly thwarted by Jack's canceled leaves and Louise's career, Jack's family, including his multitude of aunts, saw to it that they met Louise — a move that laughably came much to the horror of Jack.
Ludwig, whose many shows (including such early hits as the farcical "Lend Me a Tenor" and the musical "Crazy for You") have been widely produced for decades, and whose current intense schedule includes the crafting of the libretto for "Tenor Overboard," (a jukebox-style comic opera drawing on the music of Rossini that is to open this week at the Glimmerglass Festival in upstate New York), clearly inherited his mother's show biz genes and playfully acerbic sense of humor as well as his father's work ethic. The two ideally cast actors in the Northlight production capture both qualities to perfection.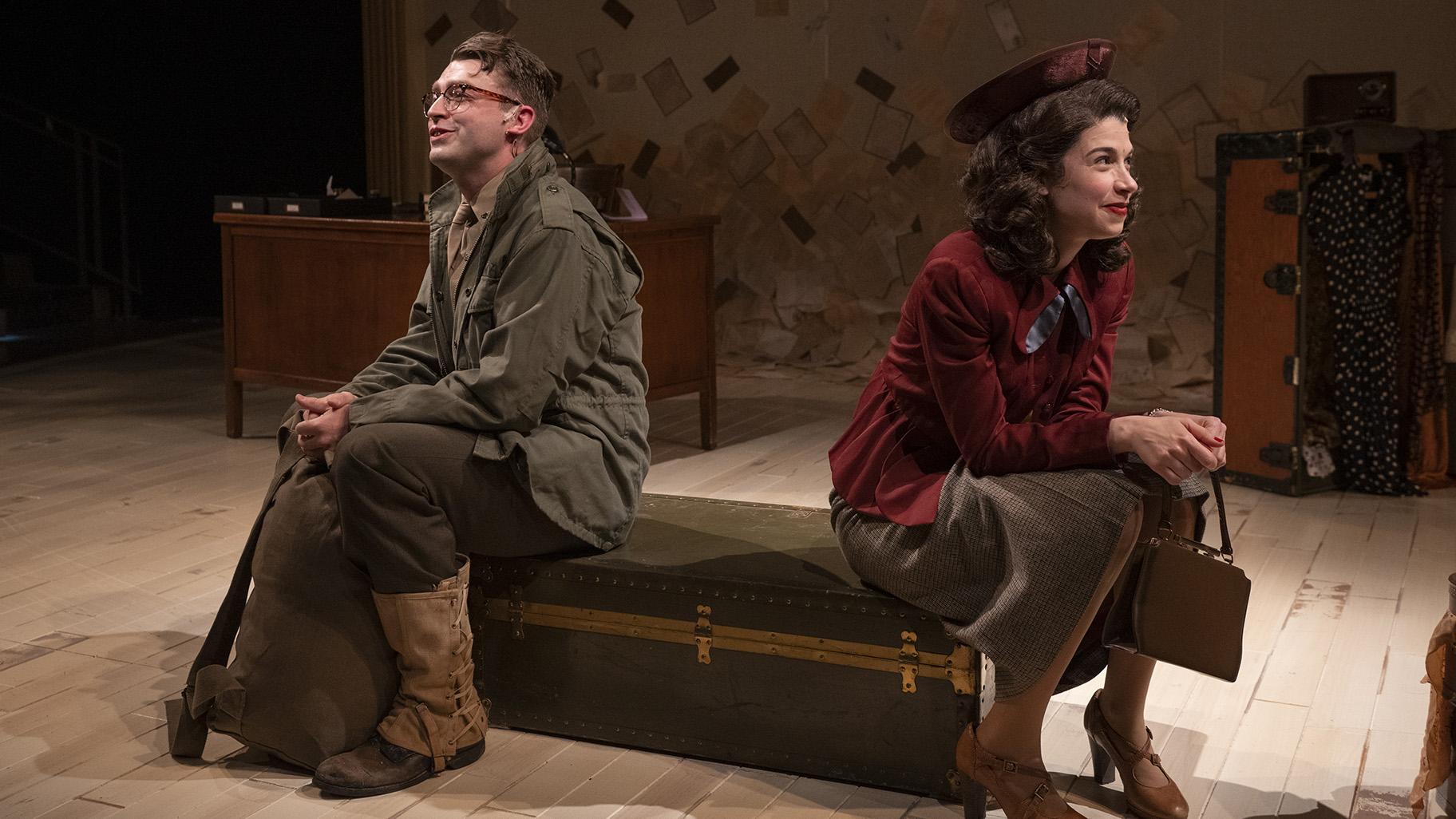 Casey Hoekstra as Jack, left, and Sarah Price as Louise in the Northlight Theatre production of "Dear Jack, Dear Louise." (Credit: Michael Brosilow)
But before going any further there is this important note: Ludwig never actually saw the letters exchanged between his parents. Before her death, his mother destroyed them, perhaps because she thought they were too intimate for him and his brother to read. So the genius of this play is how the tone, wit and heart of the letters that have been imagined by Ludwig ring so true, and how they so ideally capture the personalities of the two correspondents. And Hoekstra and Price do a superb job of suggesting their chemistry, and making them completely believable as the two different sides of a valuable coin.
Hoekstra captures the serious, reserved, slightly awkward and determined nature of his character — a man transformed by Louise's attention and the war's horrors (although there is just the briefest mention of the concentration camps that he knew existed but never saw). And Price (a fine model for Izumi Inaba's costumes) lights up the stage at every moment with her larger-than-life personality, and she easily suggests Louise's sassy, flamboyant spirit, comic flair, innate New York sarcasm and fierce determination.
Yeaji Kim's set design is ideal, too, with Jack's spare office on one side of the stage, Louise's dressing room vanity table and folding screen on the other, and an airy backdrop suggesting their hundreds of airborne letters.
If there is one point in the production that could use a bit of tweaking it is the timing of the very final moment when the two long distance letter writers finally meet face-to-face in Times Square on V-E Day in May 1945. What is needed is just a greater sense of forging through the crowd, of perhaps not immediately spotting the other, and then finally enjoying that first, truly dramatic, long-awaited embrace.
"Dear Jack, Dear Louise" runs through Aug. 7 at Northlight Theatre, 9501 Skokie Boulevard, Skokie. For tickets visit northlight.org or call (847) 673-6300.
Follow Hedy Weiss on Twitter: @HedyWeissCritic
---