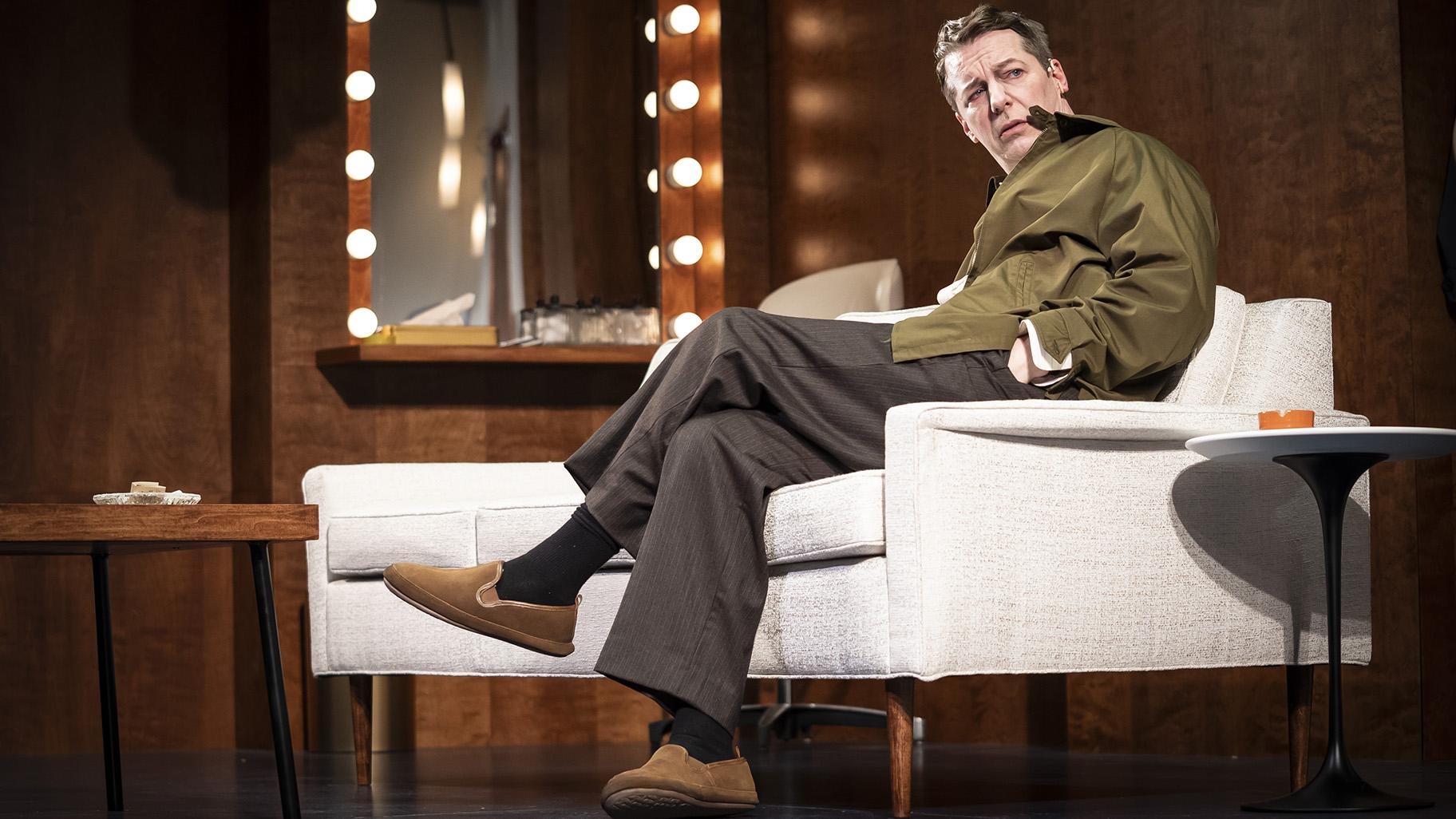 Sean Hayes in Doug Wright's "Good Night, Oscar" at the Goodman Theatre. (Credit Liz Lauren)
Oscar Levant was a virtuosic pianist, conflicted champion of George Gershwin, conductor, film actor, author, proudly uncensored comic and commentator, television personality and self-confessed victim of mental illness. And all this is brilliantly encapsulated in his widely circulated observation that "There is a thin line between genius and insanity. I have erased this line."
Levant was absolutely clear about who he was, and how his extraordinary talent came paired with a profound self-destructive streak that, despite his many successes, led to multiple hospitalizations in mental institutions, compulsive drug use and years of anguish for his wife, children and himself.
All that, and a great deal more, is explored in "Good Night, Oscar," the riveting play by Doug Wright now receiving its world premiere at the Goodman Theatre. The production features a remarkable star turn by actor (and yes, master pianist) Sean Hayes that is so compelling, and so real, that you might begin to wonder if Levant has been fully reincarnated.
Yes, it is that astonishing.
And without question this production, deftly directed by Lisa Peterson, and featuring a fine supporting cast, should be headed straight to Broadway.
Wright's play hones in on one nearly calamitous night in 1958 that marked the first time "The Tonight Show," the immensely popular late night talk show hosted by Jack Paar (Ben Rappaport), would be broadcast from Hollywood.
Levant was to be the headlining guest, but little did anyone know that his appearance had been quietly arranged by his wife, June (Emily Bergl), who somehow managed to get him released on a four-hour pass from the mental hospital to which she had committed him (and not the first time).
And while Levant's razor-like, taboo-breaking wit and musical talent made him a favorite of Paar, his often scandalous humor and self-revealing, off-the-cuff remarks triggered immense fear in Bob Sarnoff (Peter Grosz), the president of NBC, who believed the network's future might be imperiled by the performer's unfiltered conversation with Paar.
Amazingly the show did go on, with help from Levant's "orderly," Tramell Tillman (Alvin Finney), an aspiring med student charged with overseeing Levant's medications, and Max Weinbaum (Ethan Slater), the broadcast's young stage manager, and a huge fan of Levant, who somehow wins his trust.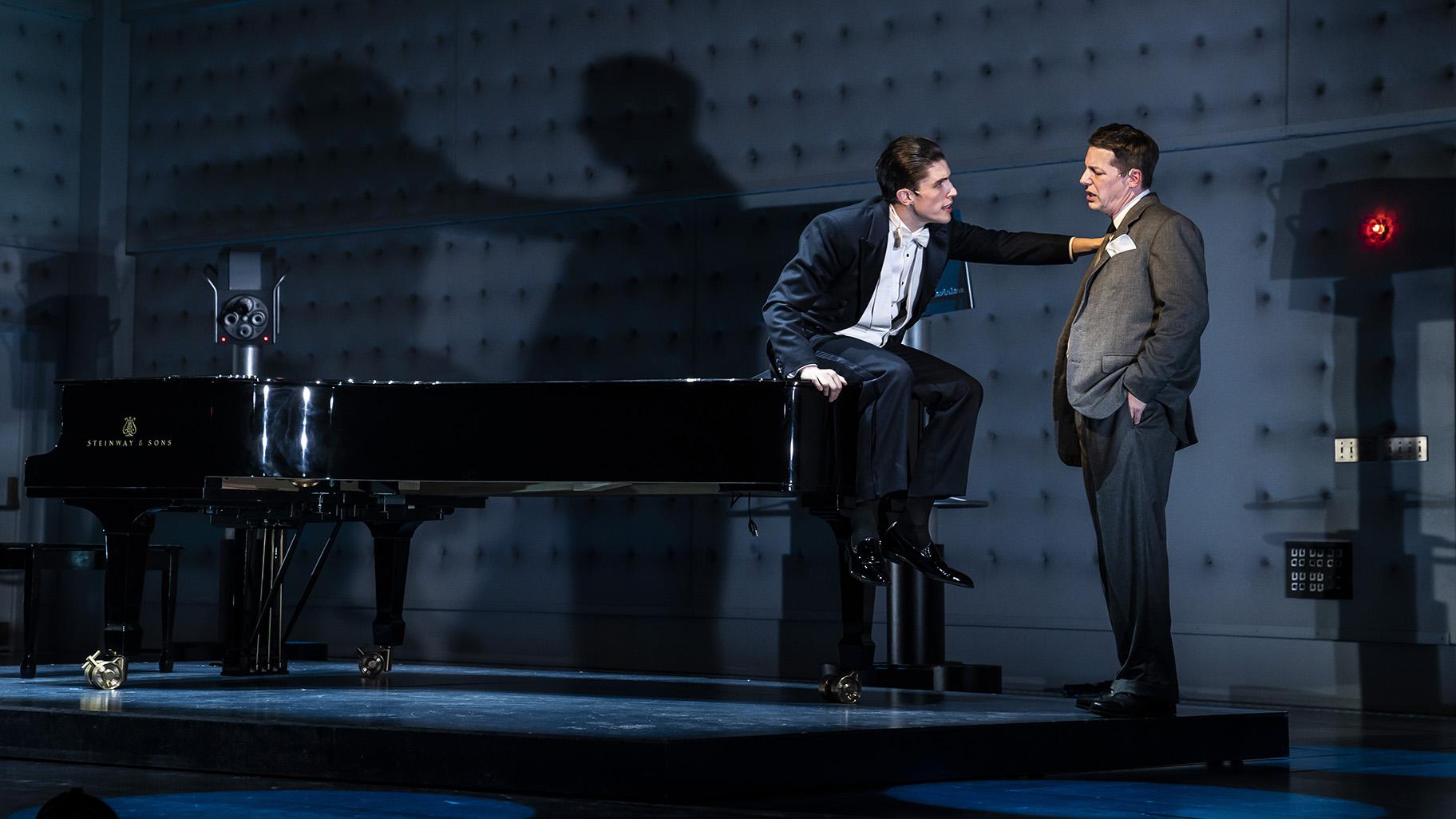 John Zdrojeski, left, and Sean Hayes in Doug Wright's "Good Night, Oscar" at the Goodman Theatre. (Credit Liz Lauren)
The appearance of Gershwin's elegant "ghost" (John Zdrojeski), captures the unresolved feelings of adoration, jealousy, resentment and competition Levant felt for Gershwin who had died two decades earlier at the age of just 38, but whose musical genius was indisputable, and left Levant feeling like his second-rate popularizer.
Much of this is captured in the time before Levant finally arrives on "The Tonight Show" set, with Hayes' breathtaking, near melt-down, pill-popping, OCD-driven behavior conjured to chilling effect. But it is only the beginning of Levant's tour de force performance — and uncannily matched by Hayes — that is full of scandalous yet laugh-inducing wisecracks as well as an unvarnished openness about mental illness that was far ahead of its time.
And there is more. For the great climax of Levant's visit to Paar's show was to be his performance of "Rhapsody in Blue," Gershwin's gorgeous, fiendishly difficult hybrid of classical music and jazz. But at this point he is so rattled and drugged he panics and tries to bow out before finally throwing caution to the wind.
It is at this point that Hayes sits down at a grand piano and gives a phenomenal performance of the exceedingly difficult piece, with accompaniment from a taped orchestra. It is an almost belief-defying turn (with the secret that the actor is playing the "Rhapsody" for real out by now), and it is enough to leave you speechless. Not surprisingly the audience roared.
"Good Night, Oscar" is now running through April 24 and tickets can be purchased at GoodmanTheatre.org, or by phone at 312-443-3800.
One final note: With this production, in addition to the exceptional revival of August Wilson's "Gem of the Ocean" earlier this year, and the upcoming remount of Tyla Abercrumbie's superb new play, "Relentless," the Goodman Theatre appears to be on track for a banner year.
Follow Hedy Weiss on Twitter: @HedyWeissCritic
---