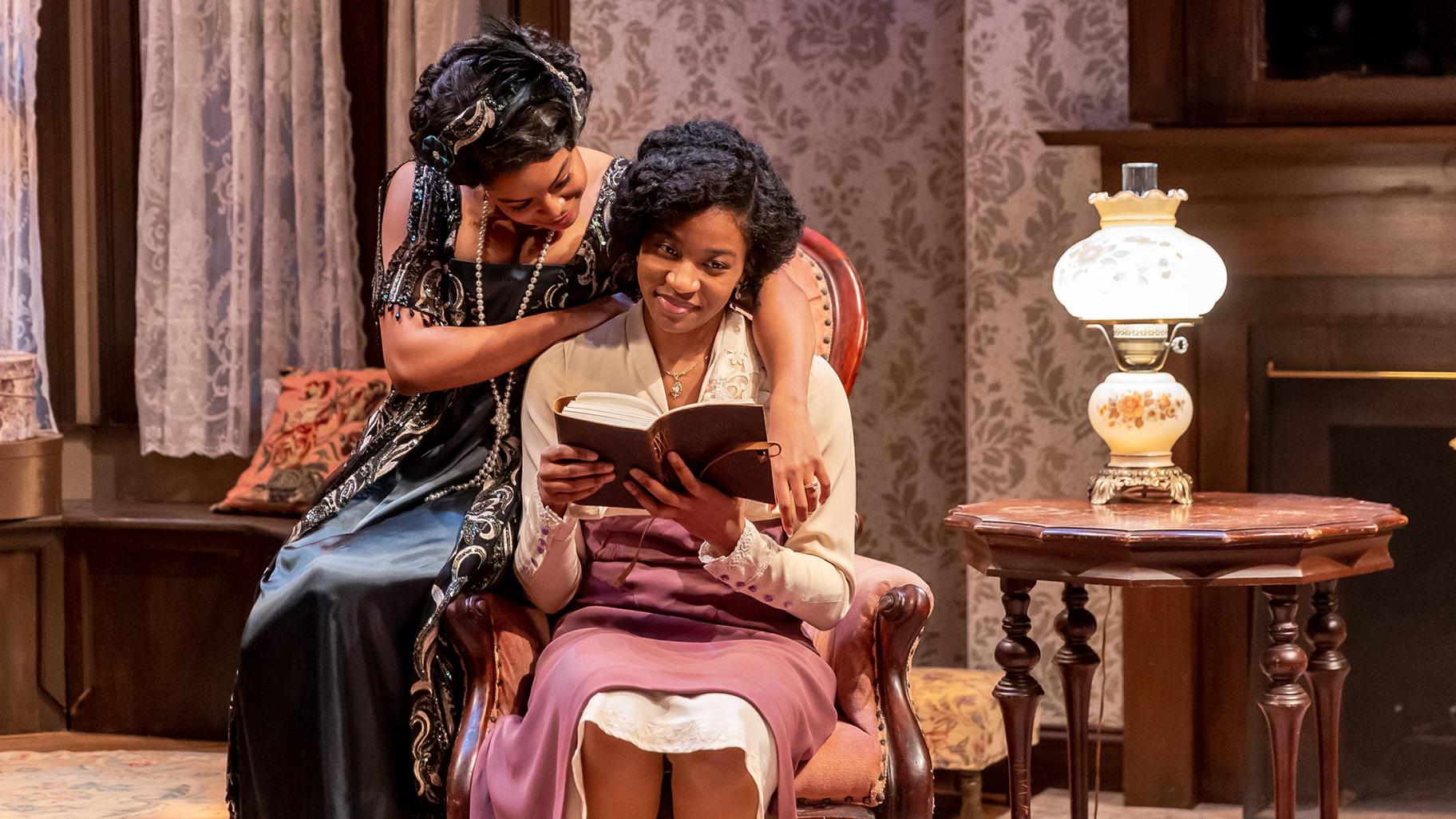 Annelle (Ayanna Bria Bakari, left) tries to tempt her sister Janet (Jaye Ladymore) into enjoying a night on the town in Tyla Abercrumbie's new play "Relentless." (Brett Beiner Photography)
While I don't want to overwhelm Tyla Abercrumbie, whose riveting drama "Relentless" is receiving its world premiere production by Timeline Theatre, it is all but impossible to refrain from this conclusion: This is a playwright and poet (with a long list of credits as an actress in both the theater and television) who might very well become the female counterpart to August Wilson.
Using "Relentless" as a jumping off point, she might travel further back in time to more closely examine the lives of the women held as slaves in pre-Civil War history (a subject she already deals with in vivid terms, but might expand upon), but then she may also forge ahead to explore stories that unfold in the decades from 1919 (the endpoint of "Relentless") through wherever the 2020s might take us.
And, as it happens, in a program note Abercrumbie already says that "Relentless" is the initial entry in what is a planned trilogy.
An immense challenge, to be sure. But this play – powerfully realized by the ever masterful director Ron OJ Parson, who has assembled a remarkable, impeccably chosen cast of six who deliver flawless performances (with excellent dialect direction by Sammi Grant) – suggests that Abercrumbie is more than capable of meeting that challenge. And while to a large degree August Wilson focused on the impact of race and racism from a male perspective, here is a playwright who, in this one work alone, demonstrates she clearly has the ability to capture the other half of the picture with immense insight and eloquence.
Set in 1919, "Relentless" focuses on the lives of two African American sisters – Janet (Jaye Ladymore) and Annelle (Ayanna Bria Bakari) – young women of notably different temperaments whose affluence, and emotional scars, are the result of the complex histories and exceptional strength and tenacity of both their grandmother and mother.
Each of those older women experienced different aspects of slavery, but one of them was fortunate enough to have lived through the formal end to slavery by way of the Emancipation Proclamation of 1863, and was eventually able to forge a life as a free woman, and raise two daughters emblematic of what is known as the Black Victorian era.
It is a period of American history very rarely discussed, and to my knowledge rarely if ever dealt with in the theater except perhaps in Britain, where Black Victorian society also existed.
At the center of "Relentless" are the two sisters who share deep bonds of love but have dramatically different personalities and goals. They both live in Boston, but are now in the process of clearing out the beautiful house in Philadelphia in which they grew up (it is handsomely designed in period-perfect style by Jack Magaw and lit by Heather Gilbert, with costumes by Christine Pascual). And Janet is determined to keep it.
It is a trunk full of diaries that was kept by the sisters' mother, Annabelle Lee, that is the key to the family history. (She is beautifully portrayed by Demetra Dee.) And it is Janet – a highly skilled nurse with a fervent political spirit – who not only discovers those diaries but hungrily reads them, and in the process finally learns about her heritage.
Annelle is a fashionista and social climber married to Marcus (Travis Delgado), a successful doctor at a Black hospital. In her particular way, she wants to fully escape her history and steers clear of the diaries. As for Janet, she wants to steer clear of men – at least until Annelle fixes her up with Franklin (Xavier Edward King), a well-to-do purveyor of wine who will very soon be faced with the Prohibition era. Janet also is determined to become a political activist.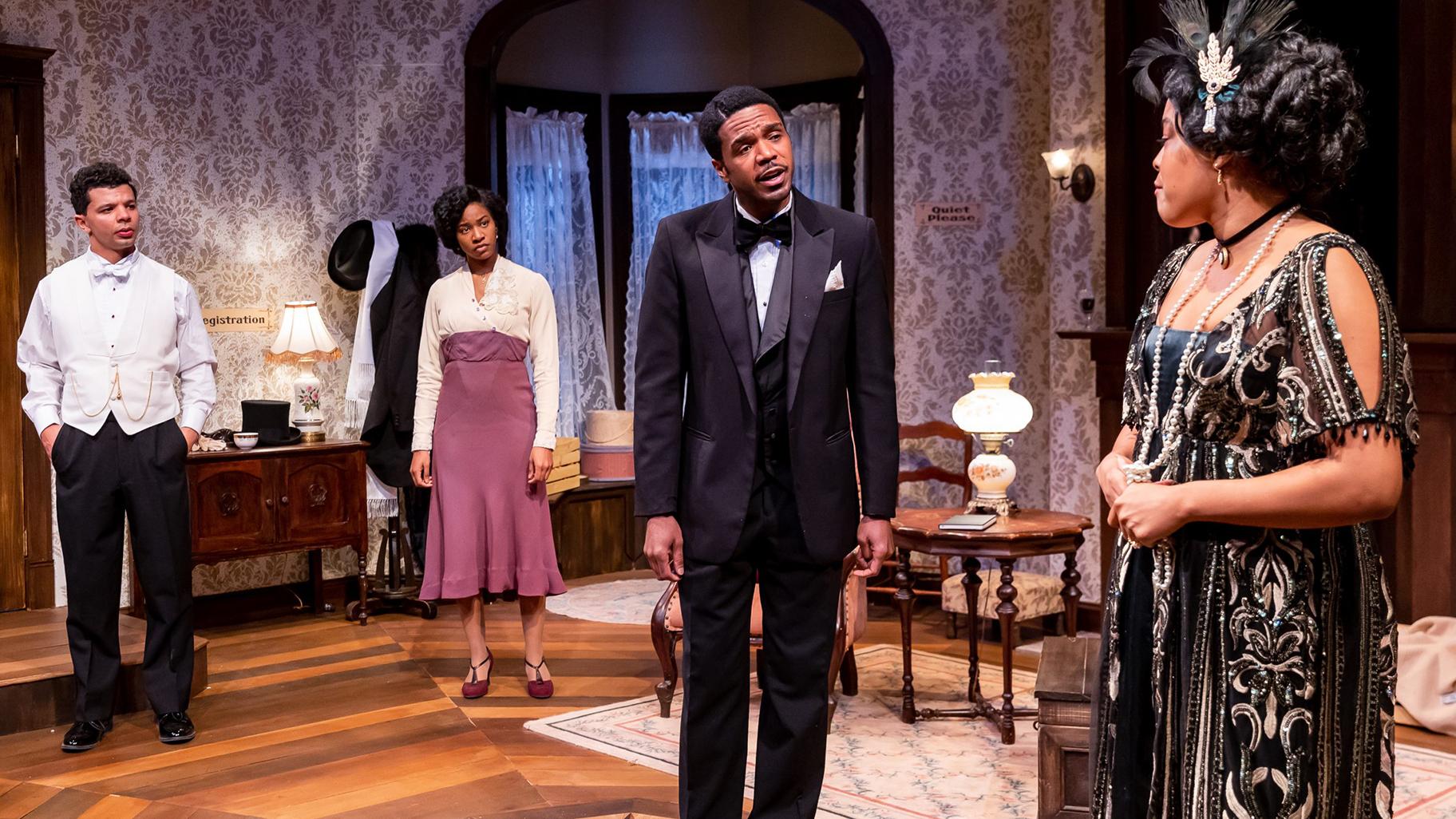 Black Victorians Franklin (Xavier Edward King, from left), Janet (Jaye Ladymore), Marcus (Travis Delgado), and Annelle (Ayanna Bria Bakari) discuss the state of their world in 1919 in Tyla Abercrumbie's new play "Relentless." (Brett Beiner Photography)
The backstory of Janet and Annelle that is revealed in their mother's copious diaries comes to life in a series of vivid scenes – from the crucial one in which the sisters' grandmother (also played by Bakari) saves her daughter from being sold at a slave market, informs her that her true African name is Zhuukee, and warns her against letting anyone know that she can read. (Literacy is an invaluable key to freedom.)
As it happens, Zhuukee becomes the house maid and companion "owned" by Mary Anna Elizabeth (Rebecca Hurd), the lonely daughter of a slave-holding family. And not only does Mary Anna fall in love with her, but years later, in a psychologically complex and moving scene, oversees her freedom by means of a surprising gesture.
Throughout there are powerful reminders of racism in both pre-Civil War days and the many decades that followed – from lynchings and suicides, to enduring psychic scars, to the rape of Black women and their treatment by the medical profession, to protests and violence in the streets of big cities.
Abercrombie clearly finds ways to make her historical play resonate with the present day. But at the same time she explores the routes to success by way of education, wealth, inheritance and sheer endurance.
"Relentless" (with a total running time of three hours) runs through Feb. 26 at Timeline Theatre's temporary residence at Theater Wit, 1229 W. Belmont. For tickets visit timelinetheatre.com or call 773- 281-8463.
Note: In what is quite an intriguing coincidence, an upcoming world premiere production by Chicago Opera Theater will deal with a somewhat similar theme to "Relentless."
"Quamino's Map," by Errolyn Wallen and Deborah Brevoort (to be performed April 23, April 29 and May 1 at the Studebaker Theatre in the Fine Arts Building), spins the story of an African American man freed from slavery for fighting with the British during the Revolutionary War. He arrives in late 18th century England and meets a woman who is a member of the British Black gentry. For tickets visit chicagooperatheater.org or call (312) 704-8414.
Follow Hedy Weiss on Twitter: @HedyWeissCritic
---