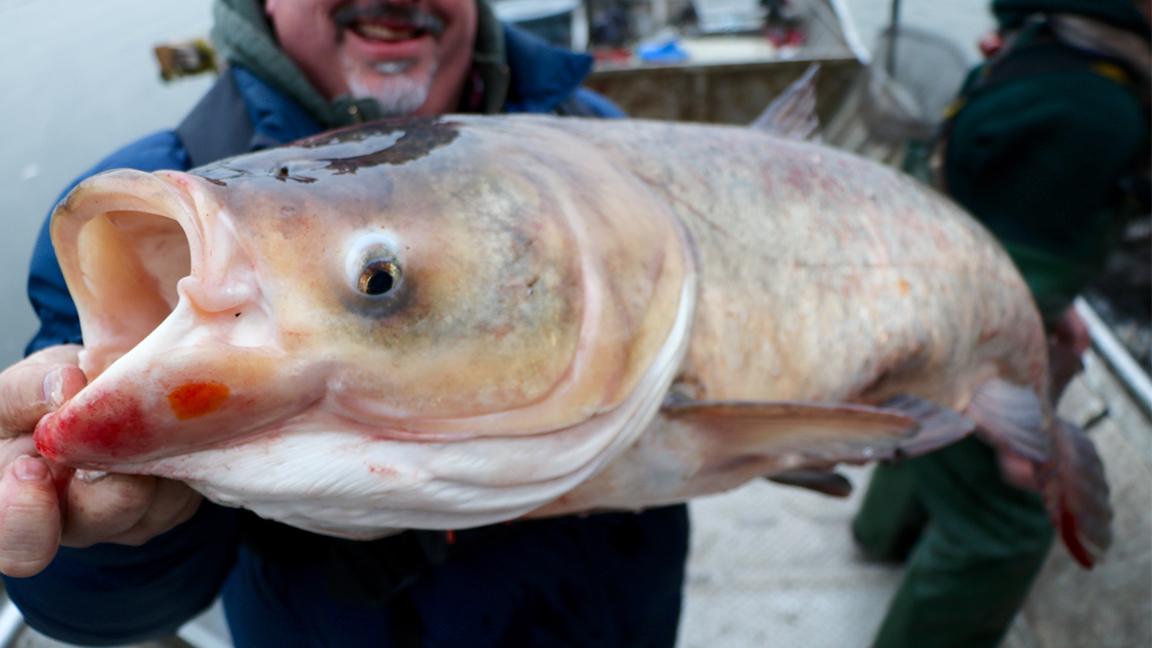 A bighead carp, like the one caught in the Humboldt Park lagoon. (Evan Garcia / WTTW News)
When a fish the size of a 10-year-old child was pulled from the Humboldt Park lagoon earlier this month, the reaction quickly went from "Oooh" to "Uh-oh."
The catch? Angler Jarrett Knize, as originally reported by the Chicago Sun-Times, had reeled in a 52-inch, 72-pound bighead carp — one of the species of invasive Asian carp threatening waterways up and down the Mississippi River and knocking on the door of the Great Lakes.
Hundreds of millions of dollars have been spent on efforts to control the spread of bighead and silver carp. How did the Humboldt Park carp slip through that net?
It didn't. It was placed in the lagoon on purpose, accidentally.
"A number of stocking sites in the Chicago area likely received bighead carp in shipments of channel catfish stockings roughly 20-plus years ago. Humboldt Park lagoon is one of them," said Brian Schoenung, aquatic nuisance species program manager with the fisheries division of the Illinois Department of Natural Resources.
The theory is that Knize's haul is one of those "oops" carp. The question for IDNR: How many more bigheads are still out there?
The invasive carp are voracious feeders, capable of weighing up to 100 pounds and consuming one-third of their body weight daily. They not only outcompete native fish for food, but can alter the underwater environment so that it's uninhabitable for plants and other animals. Though the carp don't pose a threat to ponds or lagoons — they need access to fast-moving water in order to reproduce — leaving any behind still poses a risk.
After all, Asian carp were initially brought to the U.S. back in the 1970s to help clean retention ponds. It was the unforeseen flooding of those ponds that allowed the carp to escape into rivers in the first place, setting off a chain of events that led straight up the Mississippi to the Illinois River. Among the last lines of defense for the Great Lakes is a barrier at the Brandon Road Lock and Dam in Joliet, where the Army Corps of Engineers is planning $800 million in additional fortifications. 
Over the years, IDNR has conducted "removal missions" at sites where the carp were mistakenly stocked, including the Humboldt Park lagoon. According to Schoenung, the agency is now considering a thorough sweep of all of these locations where bighead carp were previously identified.
"We still think the number of fish, provided there are any remaining, remains very low," he said, "but we want to evaluate the sites again just to be certain." 
Contact Patty Wetli: @pattywetli | (773) 509-5623 |  [email protected]
---