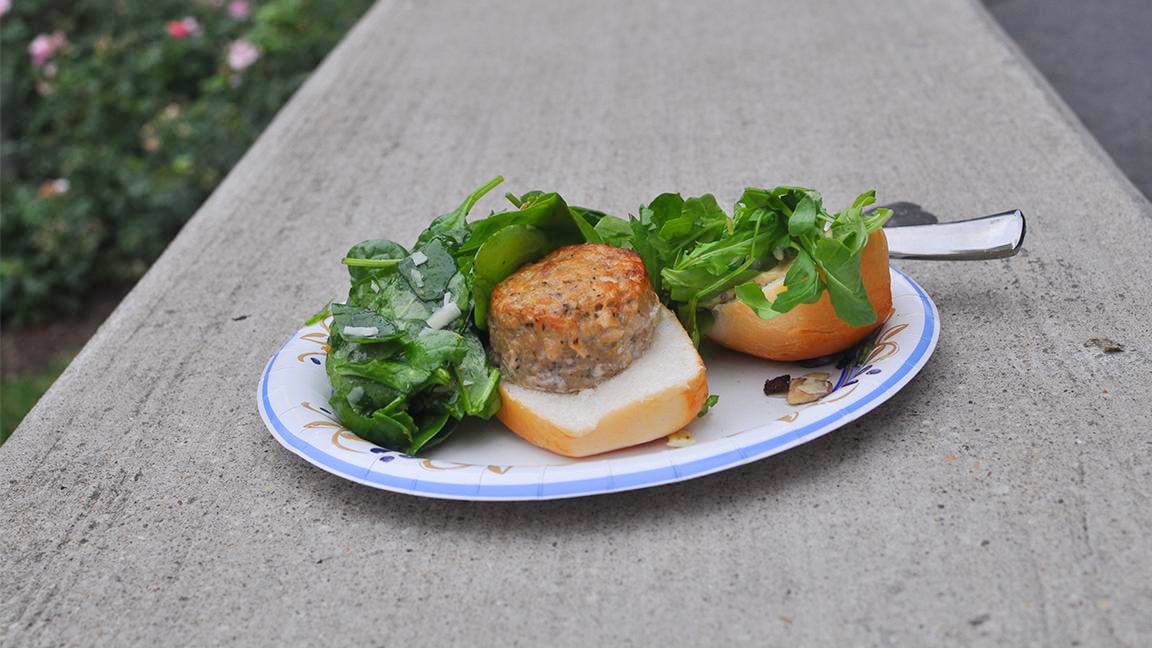 Asian carp burger, served at a Friends of the Chicago River event. (Margaret Frisbee)
Josina Morita would like you to give Asian carp a try. 
Put it in a taco, grill it like a burger, or add it to a stir-fry. Just eat it. Please.
"It almost tasted like turkey," Morita claimed of the smoked Asian carp burger she ate last weekend. "In a taco, it takes on whatever spices you cook it with."
Because tasting is believing, Morita will be handing out free samples of Asian carp dishes for the second weekend in a row on both Saturday and Sunday. It's all part of her mission to build consumer demand for the invasive species that's knocking on the door of the Great Lakes, threatening to annihilate the ecosystem and destroy states' multi-billion-dollar fishing and boating tourism industries in the process.  
Morita, a commissioner with the Metropolitan Water Reclamation District and an appointee to the Great Lakes Commission, kicked off the Asian Carp Challenge in mid-October as a lighthearted, social media-friendly way to raise awareness of a simple stopgap response to the Asian carp problem, one that's been staring us in the face ever since the fish reared its ugly head.
Reel 'em in and put 'em on a plate.
"I don't know if we'll be able to eat our way out of the problem, but it will buy us time," Morita said. "It slows their progression north while we work on structural solutions."
The Army Corps of Engineers has proposed the construction of additional barriers at the Brandon Road Lock and Dam in Joliet, including an acoustic fish deterrent, air bubble curtains, engineered channels and more. The nearly $800 million project is only just nearing the pre-construction phase, with completion another 10-15 years away. 
It's important not to rush the project, which could entail some flow reengineering of waterways, something Morita said should be approached with an abundance of caution.
"This issue (of Asian carp) is itself an unintended consequence of messing with nature," she said.
Asian carp were imported to the U.S. in the 1970s to help clean retention ponds. Through flooding and accidental releases, they escaped into the Mississippi River and have since swum their way into the Illinois River, which is their gateway to the Great Lakes courtesy of the Chicago Sanitary and Ship Canal.
Asian carp (actually multiple species lumped together) are voracious feeders, capable of weighing up to 100 pounds and consuming one-third of their body weight daily. They not only outcompete native fish for food, but can alter the underwater environment so that it's uninhabitable for plants and other animals. 
Because Illinois is essentially the last line of defense against the Asian carp's potential decimation of the Great Lakes, Morita's appeal to Chicagoans, and all residents of the state, is to essentially take one for the Great Lakes team. 
Companies like Peoria's Sorce Freshwater have answered the call on the supply side, harvesting and processing fresh, local Asian carp. Now it's a matter of creating demand, Morita said.  
For the Asian Carp Challenge, she partnered with Sorce, Midwest Fish Co-Op and the Illinois Department of Natural Resources (IDNR) to get 1,000 people to try Asian carp for the first time. 
"See if you like it," Morita said, and then brag on social media that you're saving the Great Lakes.
Events held last weekend ran out of food, she said, with people standing in 20-minute lines at Temperance Beer in Evanston to nab a sample.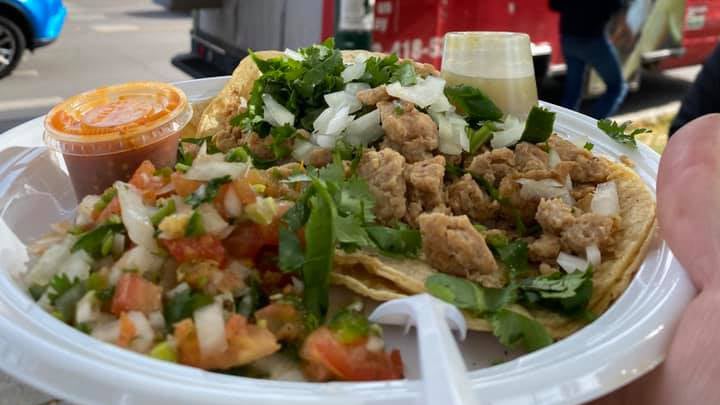 Asian carp tacos. (MWRD Commissioner Josina Morita / Facebook)
The biggest hurdle, typically, is getting people to overcome their preconceived notions about Asian carp, Morita said.
People have seen video footage of the fish jumping out of the water and attacking boaters, or they've come across pictures of its bloody, slimy face, or they've heard it's bony to the point of being inedible.
Sorce processes the fish so that there's no trace of bones, Morita said, swatting aside the primary knock against the carp. As for the Asian carp's looks, Morita asked, since when is attractiveness a prerequisite for food?
Morita will be back on the "If you can't beat 'em, eat 'em" campaign trail this Saturday and Sunday, hawking more free Asian carp delights (Click here for details).
"What's the worst that can happen? You have one bad meal," Morita said.
Contact Patty Wetli: @pattywetli | (773) 509-5623 |  [email protected]