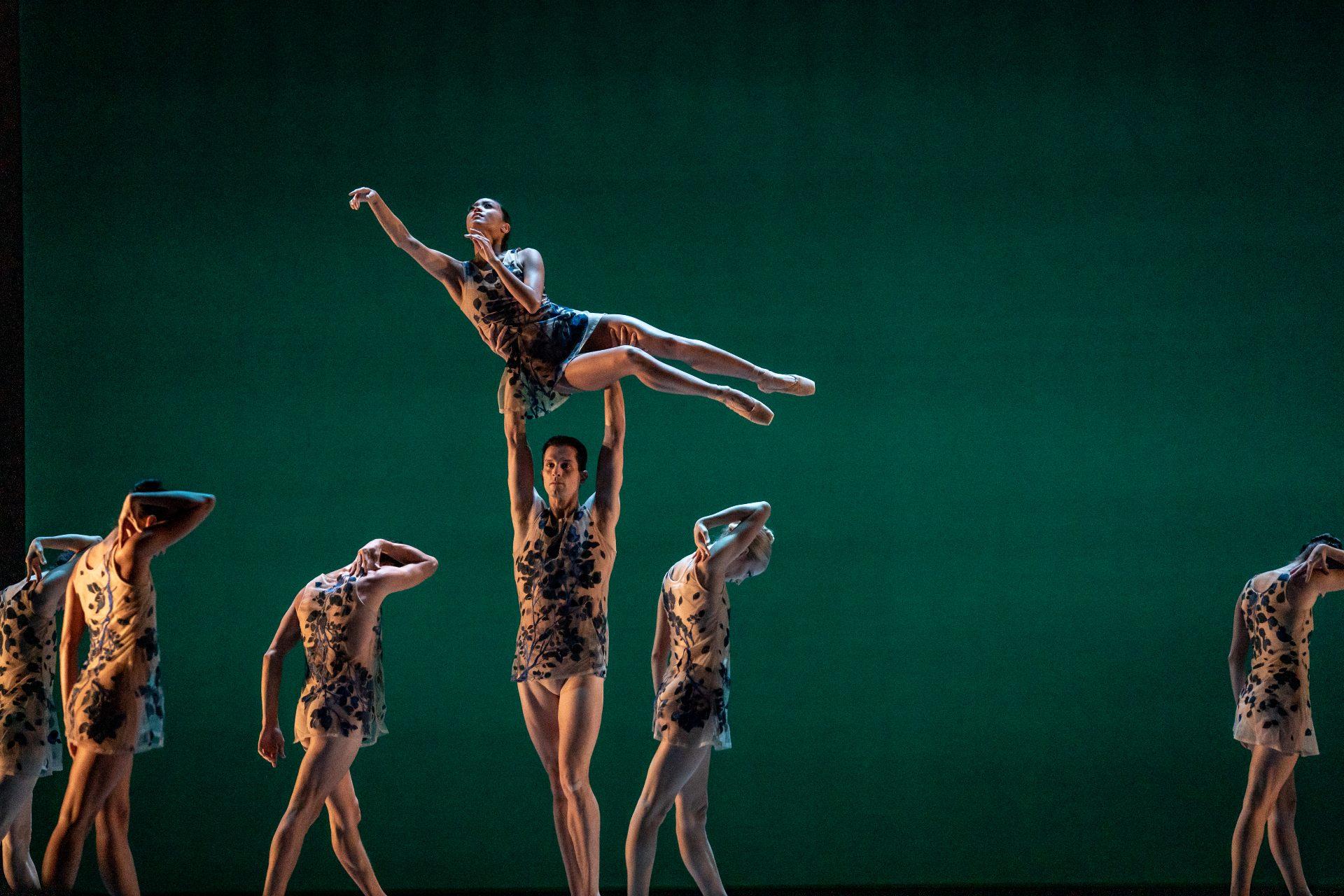 Jeraldine Mendoza and Dylan Gutierrez perform in "Under the Trees' Voices." (Photo by Cheryl Mann)
With its ideally titled program, "Home: A Celebration," the Joffrey Ballet finally made its pandemic-delayed debut as the resident dance company at the Lyric Opera House on Wednesday evening. And it did so by way of a beautifully constructed and exquisitely danced program of four works that found the company in absolutely stellar form.
The word "home" suggested more than the Joffrey's move from its former residence at the Auditorium Theatre to the equally magnificent confines of the Art Nouveau-style Lyric with its expansive stage to which the company brought a palpable and instantaneous sense of belonging.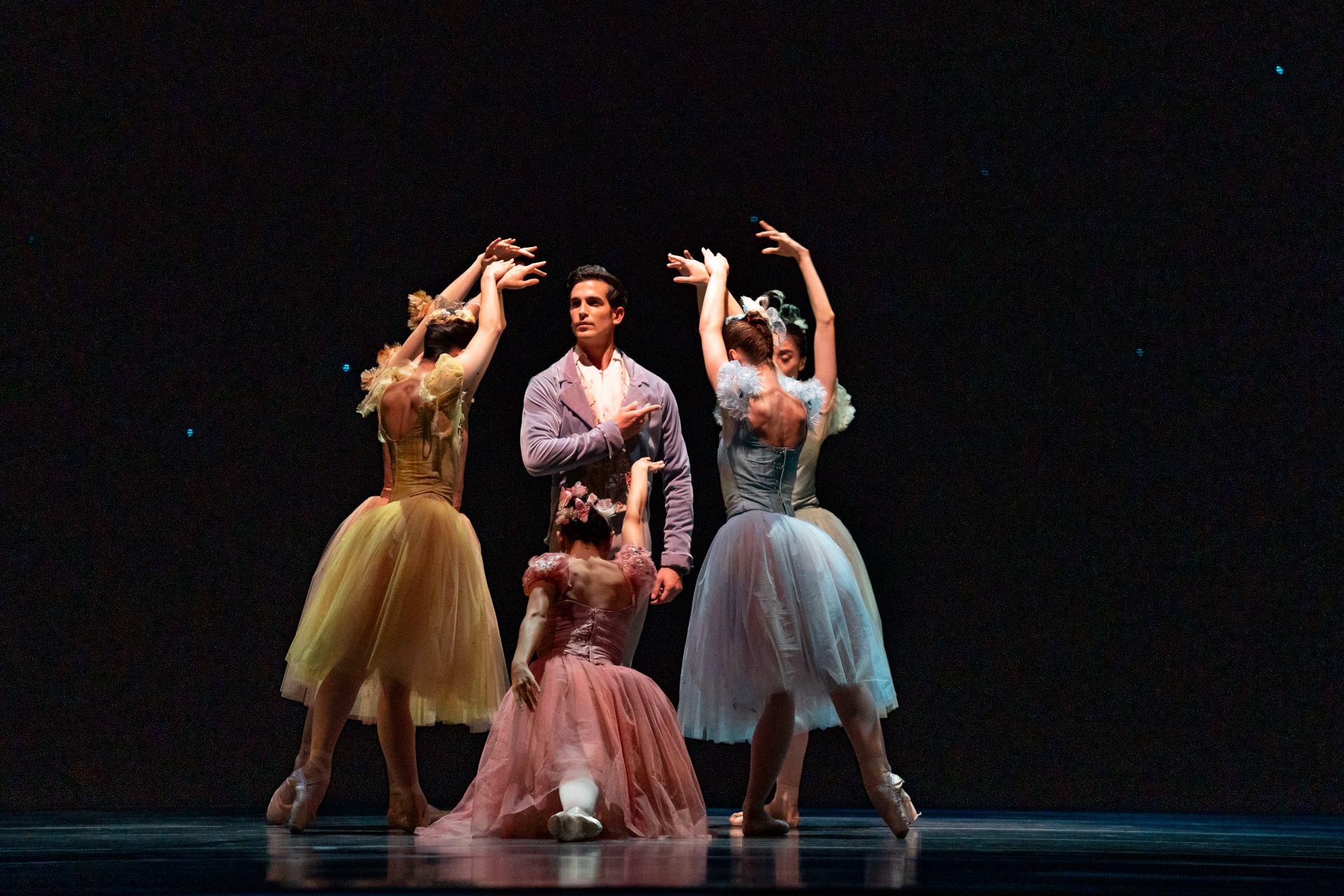 Alberto Velaquez performs in "Birthday Variations." (Photo by Cheryl Mann)
This feeling of home was immediately evident in the choice of the evening's opening work, "Birthday Variations," which served as a reverent yet at the same time wonderfully exuberant homage to Gerald Arpino, the company's late co-founder, who oversaw its life-saving move from New York to Chicago in 1995. The Arpino work was then followed by recently created ballets that not only celebrated the talent of three different contemporary choreographers, but that were also all performed in the Joffrey's studio space during the pandemic and received their world premieres in digital form. Seeing them performed live was a totally different experience – one that captured the full grandeur of each work and also powerfully magnified the sense of entrapment (and release) that has marked the past 19 months. In addition, all four of the performances were a reminder of how, from quite early on in the pandemic, the supremely disciplined Joffrey dancers kept themselves in peak form, and then, following the strictest of protocols, engaged in what they do best.
Set to the music of Giuseppe Verdi, "Birthday Variations" (which debuted in 1986, and was commissioned by Becky D'Angelo as a gift to her husband, Dino, who at the time owned Chicago's Civic Opera House), is an enchanting showcase of the essential vocabulary, technical demands and tropes of classical ballet. But Arpino somehow found a way to set free all that dazzling technical work. And here, with every tricky formation, high speed pirouette and acrobatic lift, the dancers – led by a central couple (Alberto Velazquez and Amanda Assucena), and encircled by four women (Lucia Connolly, Yumi Kanazawa, Gayeon Jung and Valeria Chaykina) – brought a remarkable effortless quality of joy and ease to the piece. The women's beautiful pastel tulle costumes (by Stanley Simmons), enhanced the mood and motion, as did the radiant glass chandelier and starry lighting by Jack Mehler.
And then it was on to all things new, beginning with "Swing Low," choreographer Chanel DaSilva's magnificent and superbly realized dance drama for five men that is set to a haunting score by cellist/composer Zoe Keating.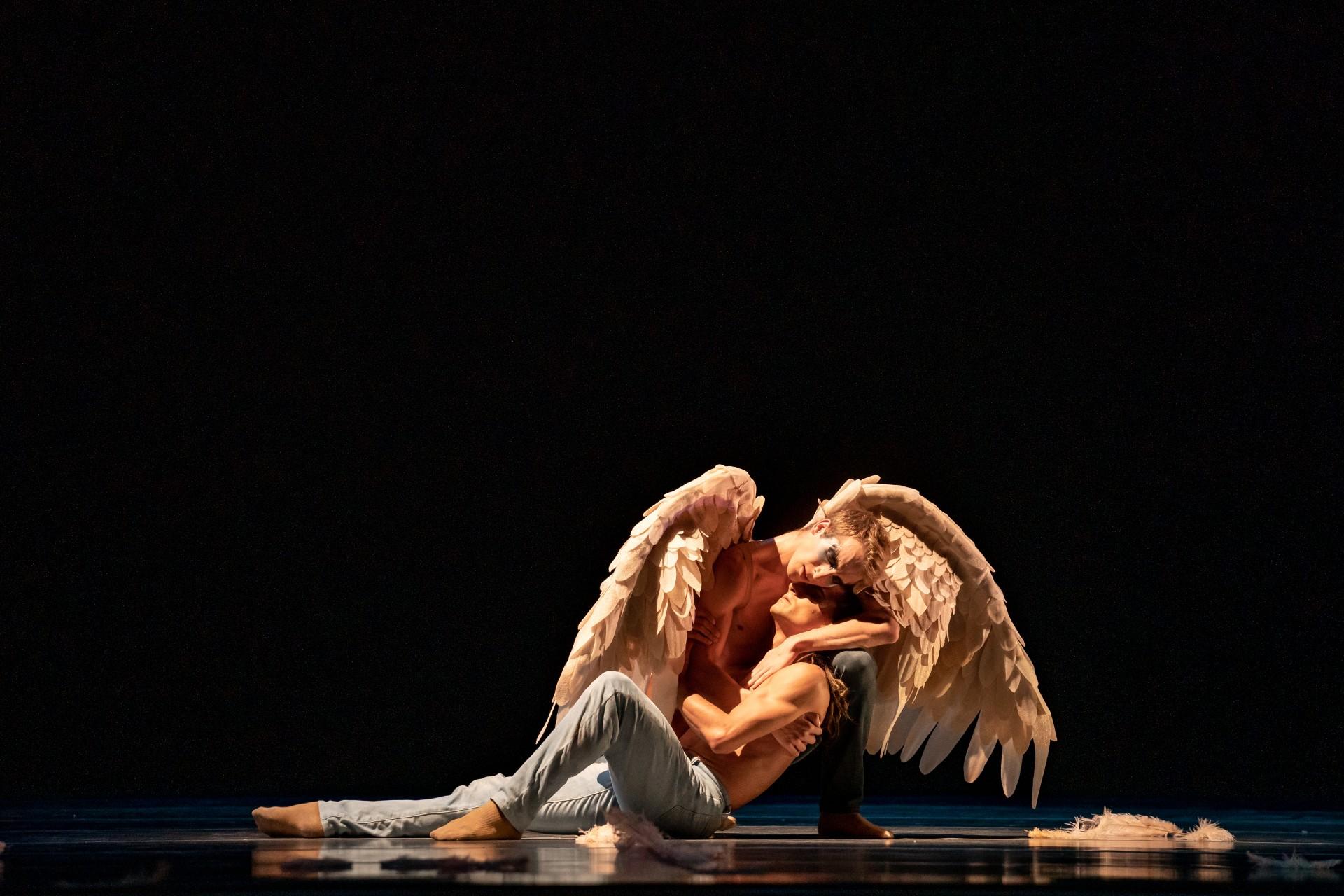 Fernando Duarte and Stefan Goncalvez perform in "Swing Low." (Photo by Cheryl Mann)
Keating's score does not echo the familiar spiritual of the title. But the ballet focuses on a distraught and clearly isolated man (the intense, wiry Fernando Duarte) who is first seen alone on the floor. White feathers soon begin to float down from above, signaling the arrival of a band of grandly winged angels (Edson Barbosa, Evan Boersma, Stefan Goncalvez and Hyuma Kiyosawa in costumes conceived by DaSilva). And they might very well have "come to carry that man home," even if he is not entirely sure he wants to submit to such a rescue from loneliness and despair.
Both DaSilva and Keating joined the dancers on stage for extensive bows as the audience erupted with chants of "Bravo" and a fervent standing ovation.
Next up was "Under the Trees' Voices," choreographed by Nicolas Blanc, who also is the Joffrey's outstanding rehearsal director. The artful beauty of Blanc's work - richly enhanced by the use of Italian composer Ezio Bosso's feverish score, giant golden leaves that periodically float above the stage, and the dancers' sheer tunics that are emblazoned with a black leaf pattern - was clearly evident even when first seen in its virtual format on a computer screen. But the dancers' faces, and their intense connection with each other (a quality seen throughout the evening), was only enhanced by their vivid "live" presence. And once again, the psychological impact of the pandemic shone through, with a final scene featuring Christine Rocas as the desperately lonely outcast who painfully watches the interaction of three couples: Assucena and Velazquez, Jeraldine Mendoza and Dylan Gutierrez, and Jung and Temur Suluashvili. Throughout, Blanc's ballet movingly intertwines the natural world with a vivid sense of human nature.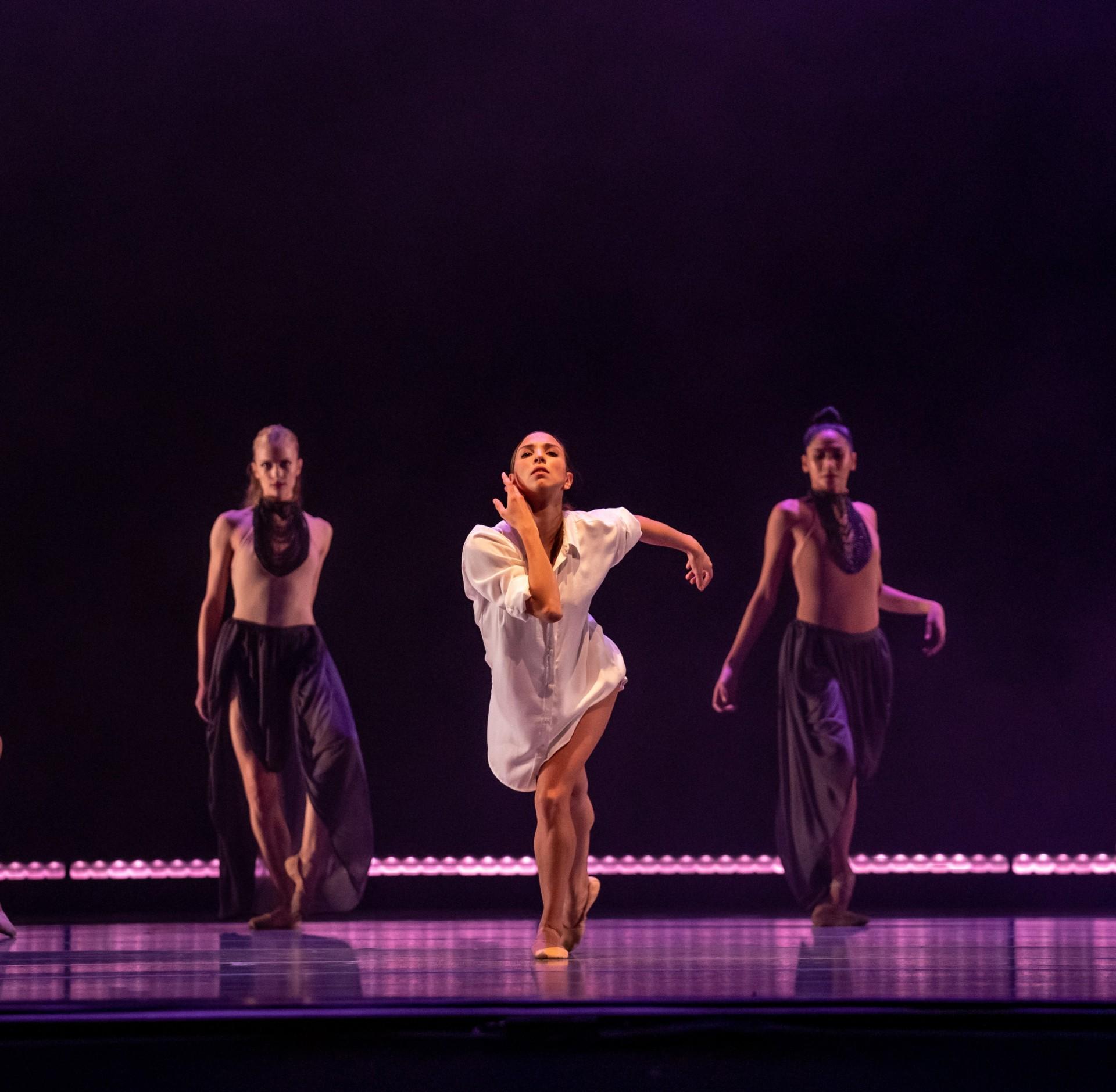 Anais Bueno, Brooke Linford and Christine Rocas perform in "Bolero." (Photo by Cheryl Mann)
The final piece on the program, set to the irresistible repetition and gradual orchestral climax of Maurice Ravel's "Bolero," is the work of company dancer Yoshihisa Arai who clearly has a future as a choreographer. At its 16-minute, marathon-like center was the bravura, relentless performance of Anais Bueno, in a nonstop, ever- intensifying, trapped-but-relentless kind of motion that, once again, suggested a form of pandemic era emotional entrapment. Surrounding Bueno, who was costumed in a loose white shirt that suggested someone who was not about to leave her apartment, was a chorus of 14 dancers in black outfits designed by company dancer Suluashvili.
Finally, last but by no means least, there must be exuberant applause for the Joffrey's invaluable conductor, Scott Speck, and the stellar Lyric Opera Orchestra, They offered just another proof that just as there is no substitute for live dance, nothing can match the power of live music.
All in all, a better "homecoming" would be difficult to imagine.
The Joffrey's "Home: Celebration" runs through Oct. 24  at the Lyric Opera House, 20 N. Wacker Drive. For tickets visit joffrey.org or call (312) 386-8905.
Follow Hedy Weiss on Twitter: @HedyWeissCritic
---