Violinist Leonidas Kavakos acknowledges the audience following his performance with Riccardo Muti and the CSO, September 30, 2021. (Credit Todd Rosenberg Photography)
Last week's concert marking the return of the Chicago Symphony Orchestra and Maestro Muti to Orchestra Hall was a great spirit-raising event. But this Thursday's second concert in the fall series was absolutely electrifying as Leonidas Kavakos — the Greek-born violinist who thrilled audiences with his performance of Beethoven's 1806 "Violin Concerto in D Major" two years ago — returned to the stage with a galvanic rendering of Brahms' 1878 "Violin Concerto in D Major," leaving the packed house in a state of contained awe between movements, but then finally erupting in a standing ovation and extended volcanic applause once it drew to its rousing finale.
And there was no less exultation following the bravura performance of Beethoven's triumphant "Symphony No. 7 in A Major" - a work whose grand emotional sweep and dramatic rhythmic shifts made intense demands on every section of the ever-phenomenal CSO.
In an interview I did with Maestro Muti last week, I asked him about Kavakos' unforgettable pre-pandemic performance and he explained the very delicate interplay between a soloist and conductor in matters of interpretation. He also noted that this violinist is interested in being a conductor himself, but I would hate to see him relinquish his bow for a baton.
Kavakos draws a dazzling range of sound and emotion from his Stradivarius violin — from a near imperceptible whisper to a brilliant fireworks display, from a feverish opening solo to a delicate singing quality. And always there is a magnificent sense of the work's melodic undertow.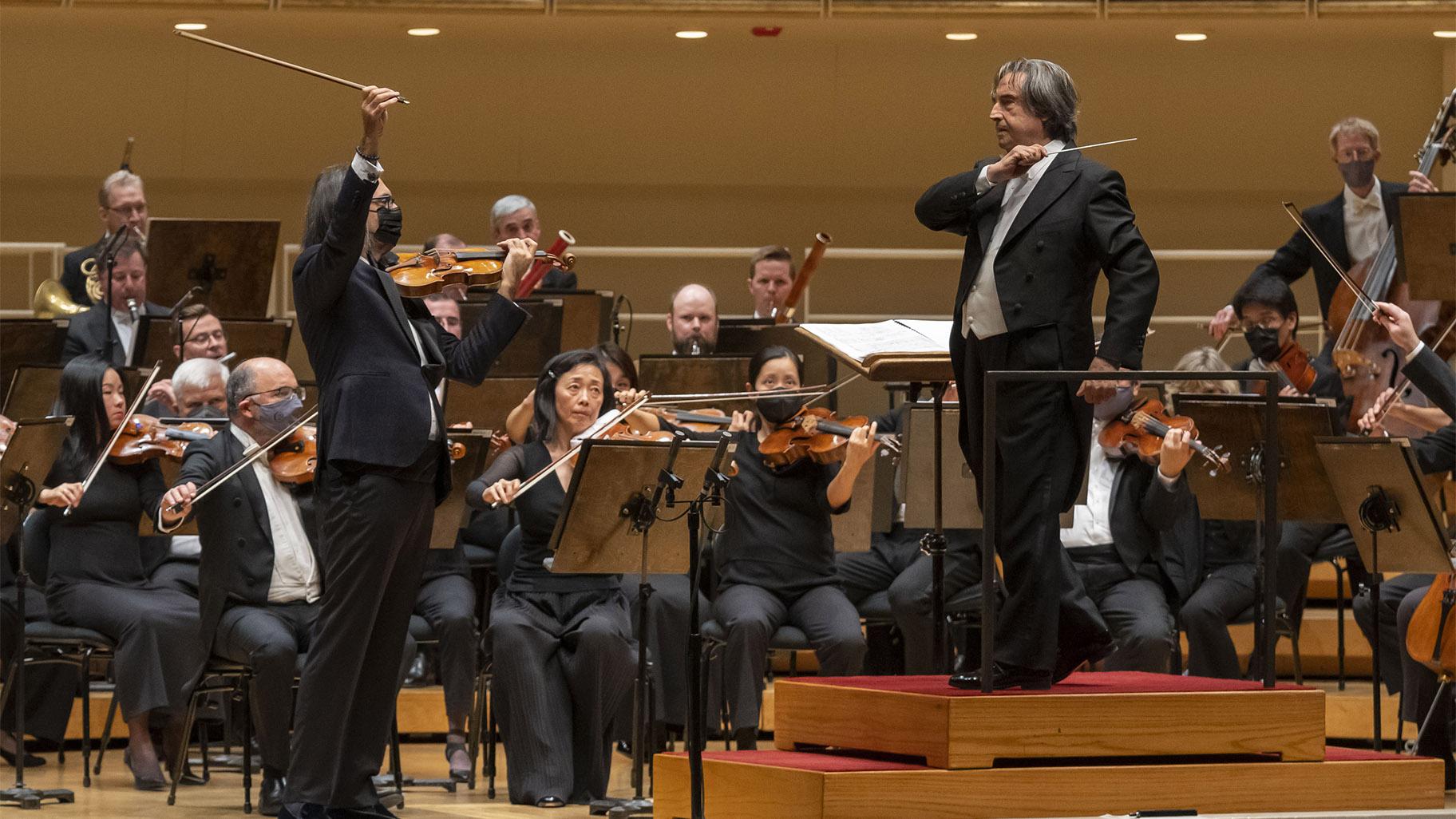 Riccardo Muti leads the CSO and violinist Leonidas Kavakos in performance of the Brahms Violin Concerto, September 30, 2021. (Credit Todd Rosenberg Photography)
In fact, the whole piece suggests that the violin is the composer's private voice, full of internal turmoil, while the orchestra conjures the stormy outside world in which the superb woodwinds, brass, timpani and strings all contribute their own crucial voices. Even in the concerto's most familiar passages — including a wild folk-dance-infused theme — the musicians created a seamless drama. And their impeccable synchrony captured the aura of genius, madness and introspection devised by Brahms, and brought to such vivid life along with Kavakos.
And then came Beethoven, in a symphony that is at turns awash in dramatic, wavelike transitions, a dirge-like theme, and an immense, propulsive energy. And again, there was notably beautiful playing by the wind section, with delicate, lace-like sound in passages from the strings.
Ultimately there is a triumphal, celebratory life force at work in this symphony, tumultuous as it might be at times. Listening to this piece is to imagine the sensation of riding a thoroughbred horse through every possible type of terrain. All in all, it is just another reminder of a human-made miracle - one realized by the genius who could create such work, and by the musicians who have mastered its performance and been able to make it come to life so brilliantly.
The final performance of this concert is this Saturday at 8 p.m.
Next week's concerts (Oct. 7 - 9) mark the end of Muti's fall residency with the CSO in a concert featuring Tchaikovsky's "Symphony No. 6 (Pathetique)," along with "These Words In Us," a work by Missy Mazzoli, the CSO's former Mead composer-in-residence, and "The Enchanted Lake," a tone poem by the relatively unknown Russian composer Anatoly Liadov, a contemporary of Tchaikovsky.
Meanwhile, Kavakos will return to Orchestra Hall on Nov. 7 for a collaboration with pianist Yuja Wang, with a program of works by Bach, Busoni and Shostakovich.
For tickets visit CSO.org.
Follow Hedy Weiss on Twitter: @HedyWeissCritic
---