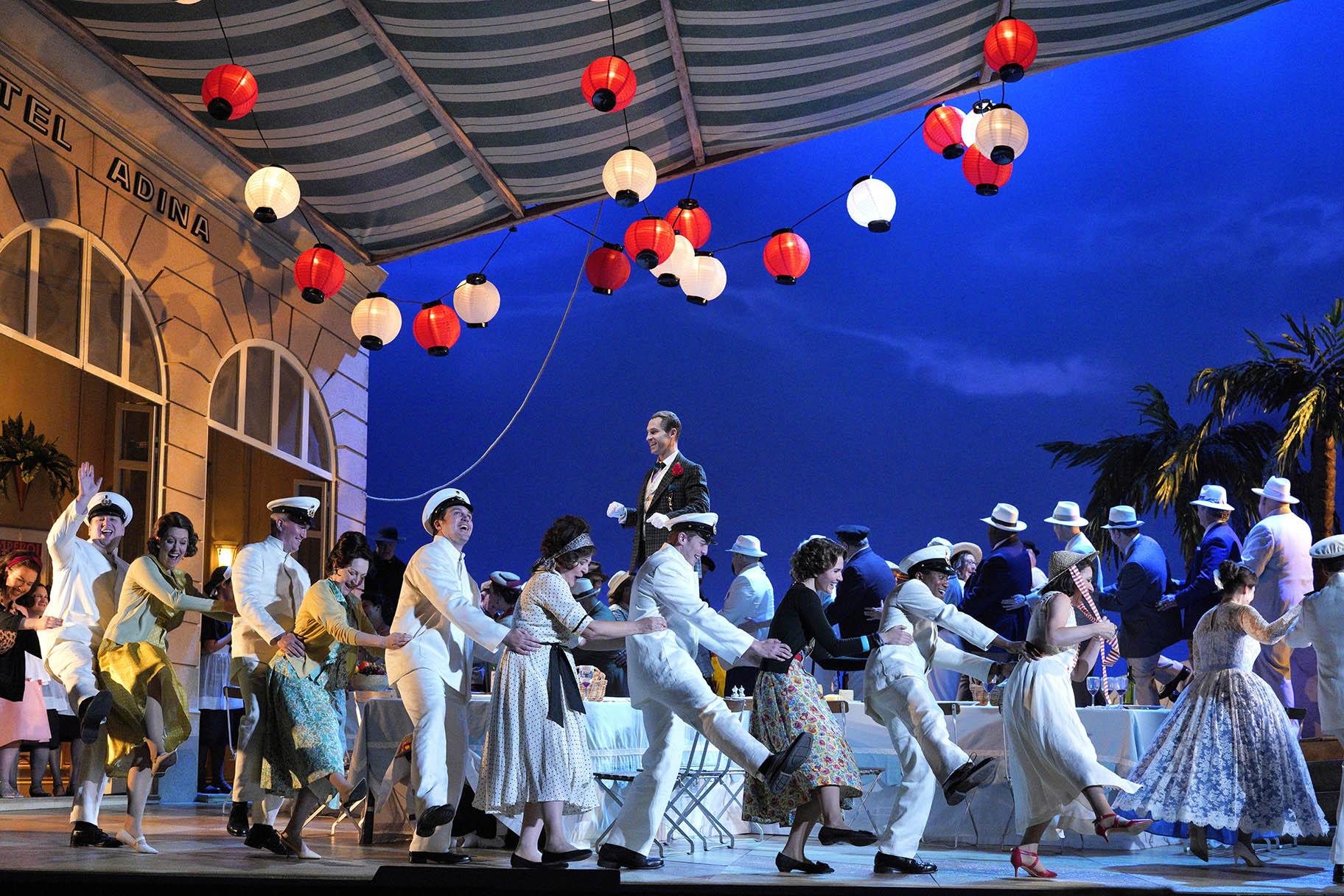 The company of "The Elixir of Love." (Photo by Cory Weaver)
Just a few days after raising the curtain on its pitch black production of Verdi's "Macbeth," Lyric Opera treated its audiences to a delicious confection by way of Gaetano Donizetti's beguiling romantic comedy, "The Elixir of Love" ("L'elisir d'amore"), a delightful  and winningly insightful tale of true love, money, egotism, self-doubt, wishful thinking and charlatanism. And, to top it all off, it comes with a happy ending.
Penned by the prolific 19th century librettist Felice Romani (based on a work by Eugene Scribe), and sung in Italian, the opera has been deftly updated in director Daniel Slater's production so that the story unfolds on the spacious patio of a stylish hotel in a resort town in Italy in the 1950s — a period expertly evoked by Robert Innes Hopkins' set and costumes. And of course the Donizetti score is ideally played by the Lyric Orchestra, led by Enrique Mazzola, its new music director.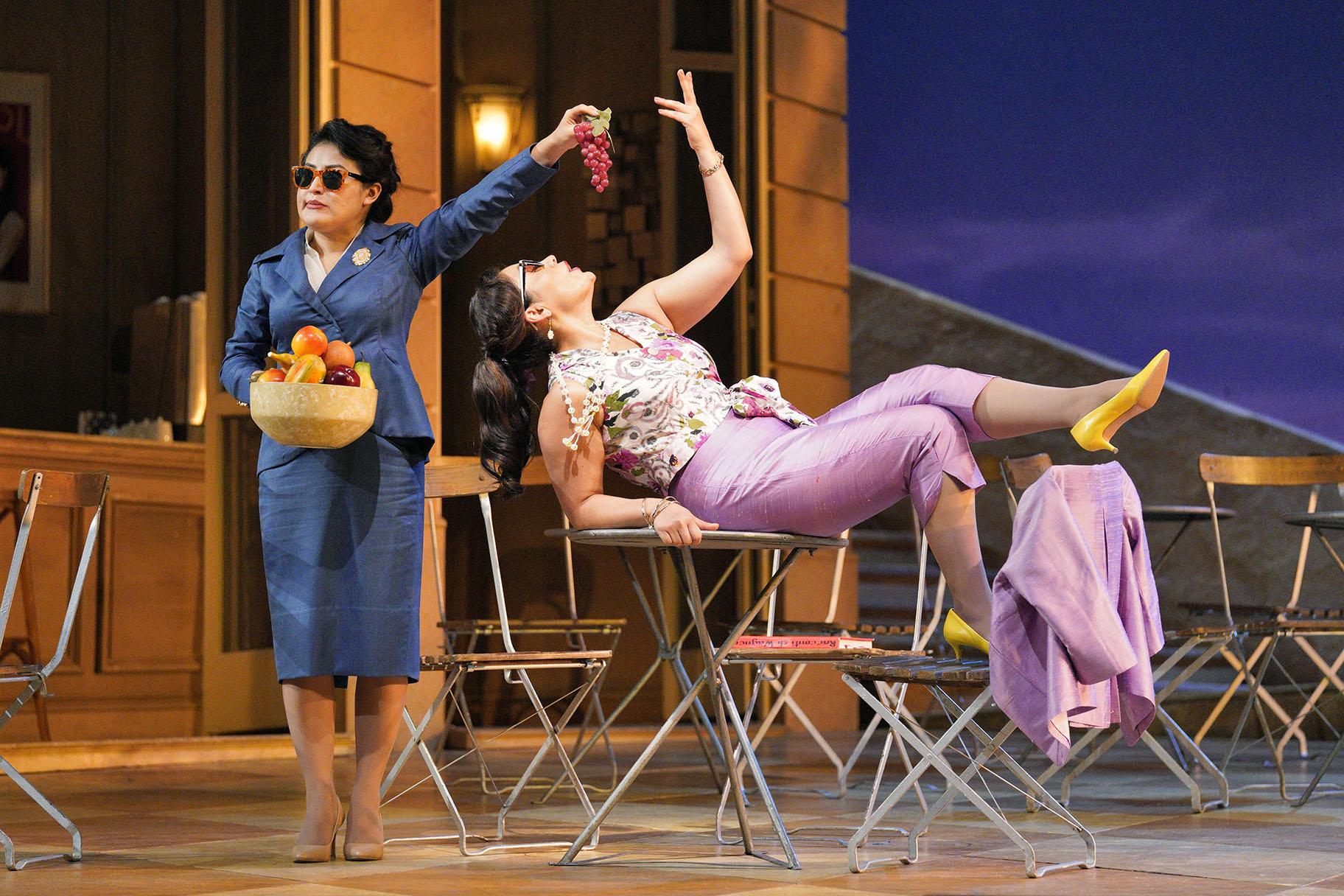 Denis Velez and Ailyn Perez in the Lyric Opera production of "The Elixir of Love." (Photo by Cory Weaver)
The Hotel Adina is run by the self-confident and avowedly fickle free spirit, Adina (in a winning turn by soprano Ailyn Perez), who oversees a large staff of waiters, waitresses and upscale customers, played by Lyric's vibrant chorus, and, as always, ideally tuned by chorus master Michael Black.
Among the waiters is Nemorino, played with heartbreaking honesty and winning charm by Charles Castronovo, a splendid tenor as well as a wonderful tragicomic actor. His golden voice had the audience erupt with cries of "Bravo!" after his final impassioned aria, "Una furtiva lagrima" ("A furtive tear"), which captures his elation when he senses that the woman he adores finally seems to love him in return.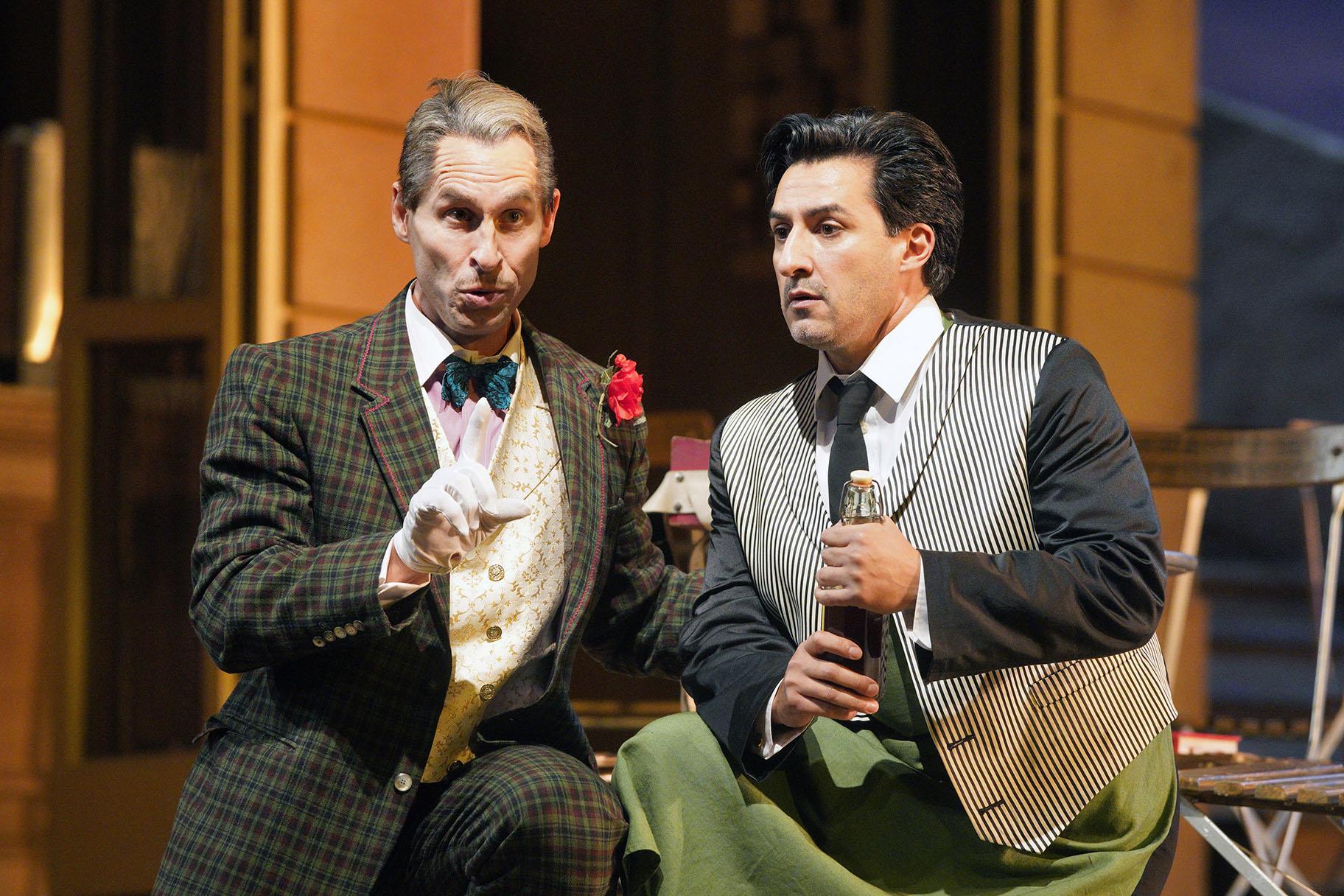 Kyle Ketelsen and Charles Castronovo in the Lyric Opera production of "The Elixir of Love." (Photo by Cory Weaver)
The pursuit of Adina has not been easy for the shy, penniless, but emotionally fervent Nemorino. His competition comes in the form of Captain Belcore (played with just the right brash self-confidence by baritone Joshua Hopkins), who zooms onto the scene on a scooter. Dressed in his crisp white military uniform, he wastes no time in proposing marriage to Adina — a proposal she dismisses.
And then, with great fanfare, another cocky man arrives, making a flashy entrance in a colorful hot air balloon. His name is Doctor Dulcamara (he is played to perfection by bass-baritone Kyle Ketelsen), and his profession is pure hucksterism. A salesman of phony potions for every ill, he is delighted to sell Nemerino with an elixir of love he claims will help him win the heart of Adina in 24 hours. In fact, this "elixir" is nothing more than a bottle of wine, but Nemerino believes it will transform him. As it happens, it only makes him a bit drunk and it drives Adina to agree to an on-the-spot marriage to Belcore, who has suddenly been called back to duty.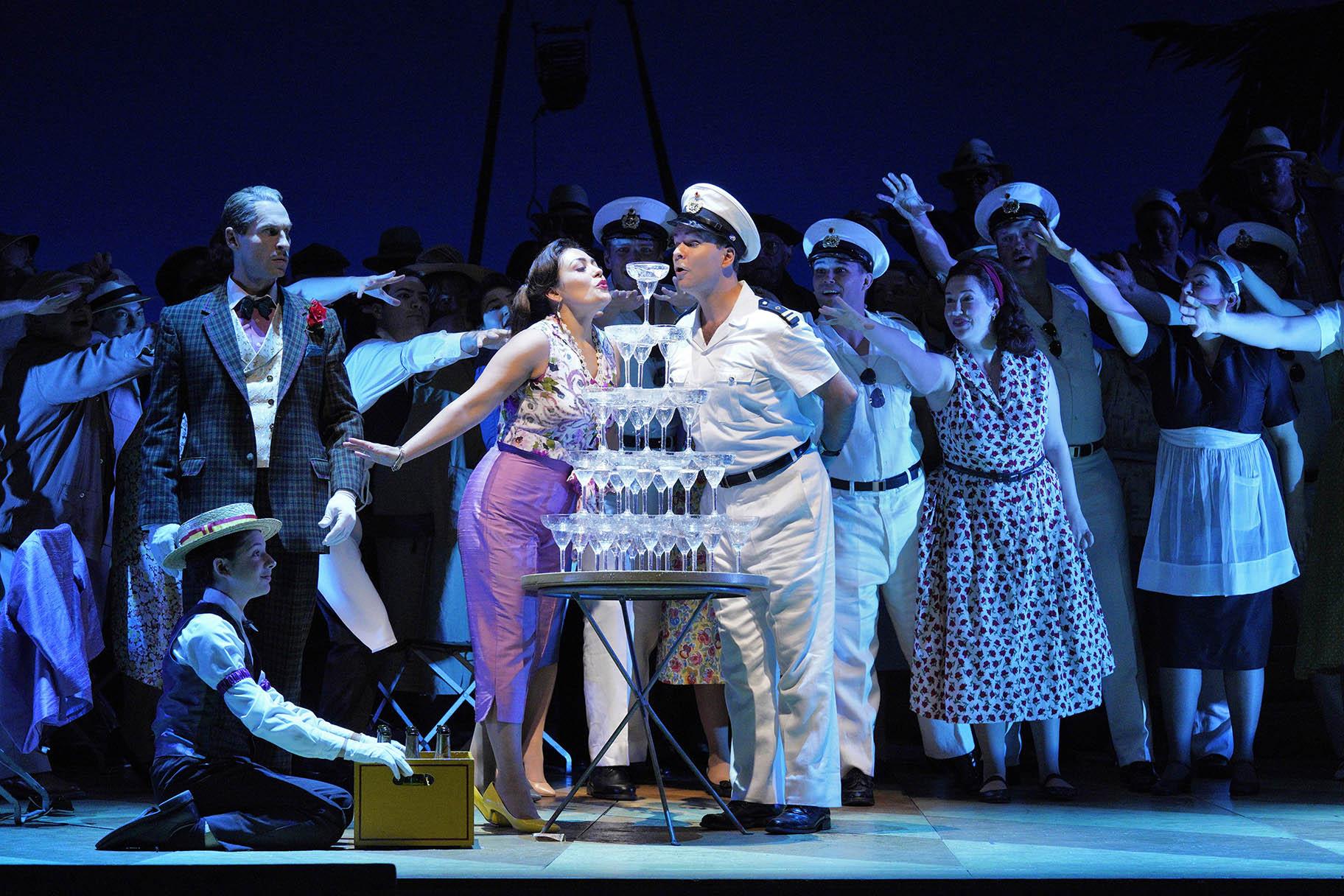 Ailyn Perez and Joshua Hopkins in the Lyric Opera production of "The Elixir of Love." (Photo by Cory Weaver)
What follows is a rapid-fire series of events, including more wine, an unforeseen inheritance, and a perfect exchange of hearts and circumstances.
It is to the credit of Slater and his cast — and above all, to Castronovo, who captures every emotional nuance of his character to touching effect — that you will find yourself laughing, crying and winningly transported to a world where love triumphs (if just barely) over opportunism.
The remaining performances of "The Elixir of Love" ("L'elisir d'amore") are on Oct. 2, 5 and 8. For tickets and other details visit: lyricopera.org.
Follow Hedy Weiss on Twitter: @HedyWeissCritic
---