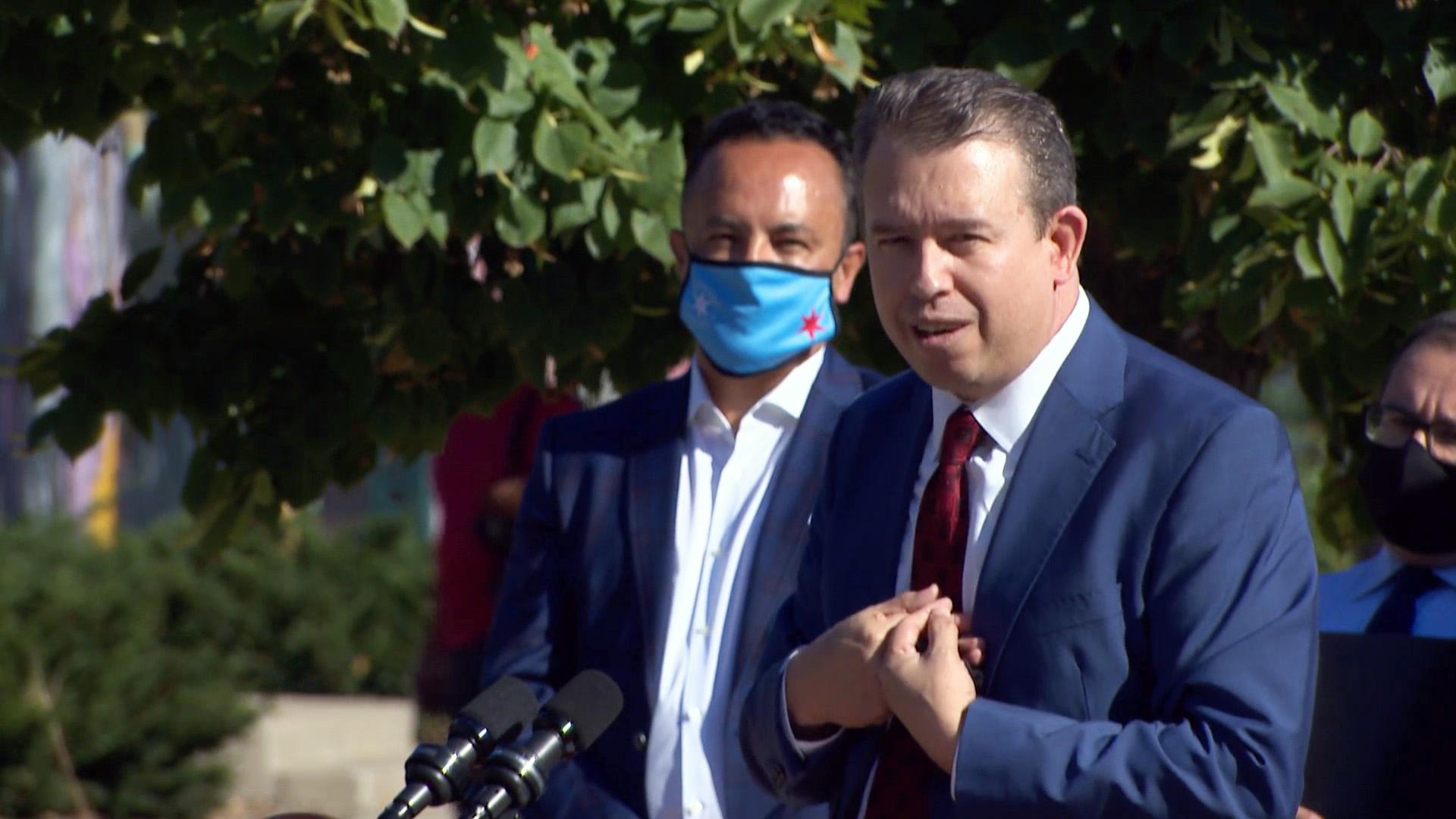 Pedro Martinez speaks Wednesday, Sept. 15, 2021 outside his alma mater, Benito Juarez High School in Pilsen. (WTTW News)
Pedro Martinez is officially set to take over as the new leader of Chicago Public Schools following a vote Wednesday by the Board of Education.
A week after his appointment was announced, board members unanimously voted to approve the former San Antonio Independent School District superintendent as the next CPS CEO during its monthly meeting.
"I'm excited for the experience and passion he brings to this position and also for the investment he has here in Chicago and in the Chicago Public Schools system," board president Miguel del Valle said, noting that Martinez has close to 30 nieces and nephews currently enrolled in CPS schools.
MORE: School Resource Officers Will Stay in Some CPS Schools Following Board of Education Vote
A Mexican immigrant, Martinez will become the first Latino CEO within CPS.
Martinez, who is himself a CPS graduate and the district's former chief financial officer under then-CEO Arne Duncan, will take control after leading the San Antonio Independent School District since 2015.
He will replace Janice Jackson, who stepped away from CPS earlier this year after more than three years as its CEO, and interim CEO Jose Torres, who has served since June.
Martinez's first day with CPS will be Sept. 29.
COVID-19 testing, contact tracing concerns
Martinez now finds himself leading a district struggling to execute contact tracing and COVID-19 testing as students resume in-person learning.
The Chicago Teachers Union has been consistently critical of the way CPS has handled safety protocols, with leaders on Wednesday going so far as to call its plan a "disaster" thus far.
Earlier this week, Mayor Lori Lightfoot told WTTW News she was "disappointed" with the way testing and contact tracing has been implemented to start the year.
"I know that parents like me are taking a leap of faith every day," CTU Vice President Stacy Davis Gates said Wednesday morning. "So to hear the mayor tell me on Monday night that she's disappointed … you cannot be disappointed when you are in control. You cannot be disappointed when you have power. You cannot be disappointed when you already promised me."
On Wednesday, the district said it had hired 28 additional full-time contact tracers, and has redeployed other existing CPS staffers to increase its full tracing team to more than 80 members.
Union officials have also criticized the district for not making enough of an effort to implement a comprehensive vaccination plan. Citing Chicago Department of Public Health data, the district on Wednesday said that while 61% of Chicagoans ages 12-17 have received at least one dose of the COVID-19 vaccine, only 40% of eligible CPS students have gotten at least one dose.
Contact Matt Masterson: @ByMattMasterson | [email protected] | (773) 509-5431
---