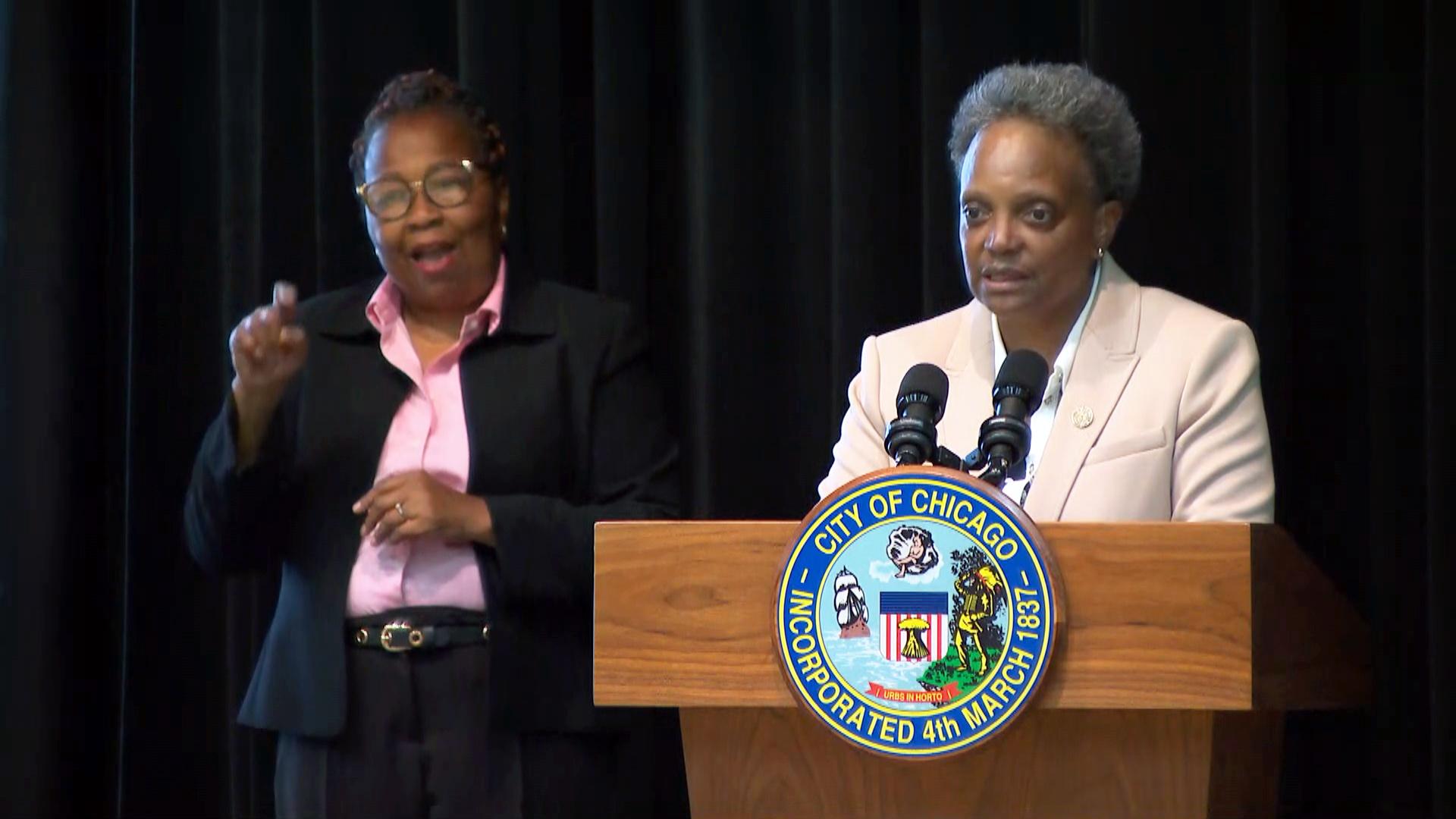 Mayor Lori Lightfoot talks about a vaccine requirement for city workers on Monday, Aug. 23, 2021. (WTTW News)
City workers will "absolutely" have to be vaccinated against COVID-19, Mayor Lori Lightfoot said Monday, promising a formal announcement in "days."
The Food and Drug Administration fully authorized the Pfizer COVID-19 vaccine several hours before Lightfoot made her remarks Monday afternoon at an unrelated news conference, paving the way for vaccine mandates to be imposed on public-sector employees.
"City employees are absolutely going to be required to be vaccinated," Lightfoot said, adding that negotiations with labor unions representing the bulk of Chicago's 31,000 employees are underway. "We absolutely have to have a vaccine mandate. It is for the safety of all involved, particularly members of the public who are interacting with city employees on a daily basis. It is important for colleagues to also feel like they have a workplace that is safe."
A detailed announcement is coming in "days," Lightfoot said.
Lightfoot's announcement came on the heels of an announcement Friday by Cook County Board President Toni Preckwinkle that all employees of the office of the president as well as those covered by Cook County Employment Plan have until Oct. 15 to be fully vaccinated.
Chicago Public Schools officials announced Aug. 13 that all teachers and staff must be vaccinated by Oct. 15.
Nearly a month ago, Lightfoot told reporters she was negotiating with Chicago employee unions and would have an announcement "shortly."
Officials in New York City, Los Angeles, San Francisco and St. Louis have all announced in recent weeks that city workers must be vaccinated as confirmed cases of COVID-19 have soared, driven by the more transmissible delta variant.
Bob Reiter, Jr., the president of the Chicago Federation of Labor, said "discussions regarding COVID-19 vaccinations are ongoing with the city.
"We appreciate the city's willingness to not announce a specific policy while those discussions continue," Reiter said.
Contact Heather Cherone: @HeatherCherone | (773) 569-1863 | [email protected]
---