We recently featured a show at the Museum of Contemporary Art that put a spotlight on comics, from 1960s counterculture cartoons right up to present-day graphic novels. 
That show has a sister exhibition which opened soon after at the Chicago Cultural Center. It looks at an even earlier history of comics, making the case that Chicago truly brought comics to life. 
TRANSCRIPT
Marc Vitali: At the Chicago Cultural Center, the curators walk through their cartoonish creation.
They are acclaimed artist Chris Ware; and the city's cultural historian, Tim Samuelson.
Tim Samuelson, cultural historian emeritus: This was an interest that we both shared, but Chris was able to put it into form as an exhibit. I could have never put together something like this.
Even where there's comics pages I know well and have read since a kid, when I see them on the wall like this it's like, "Oh, wow."\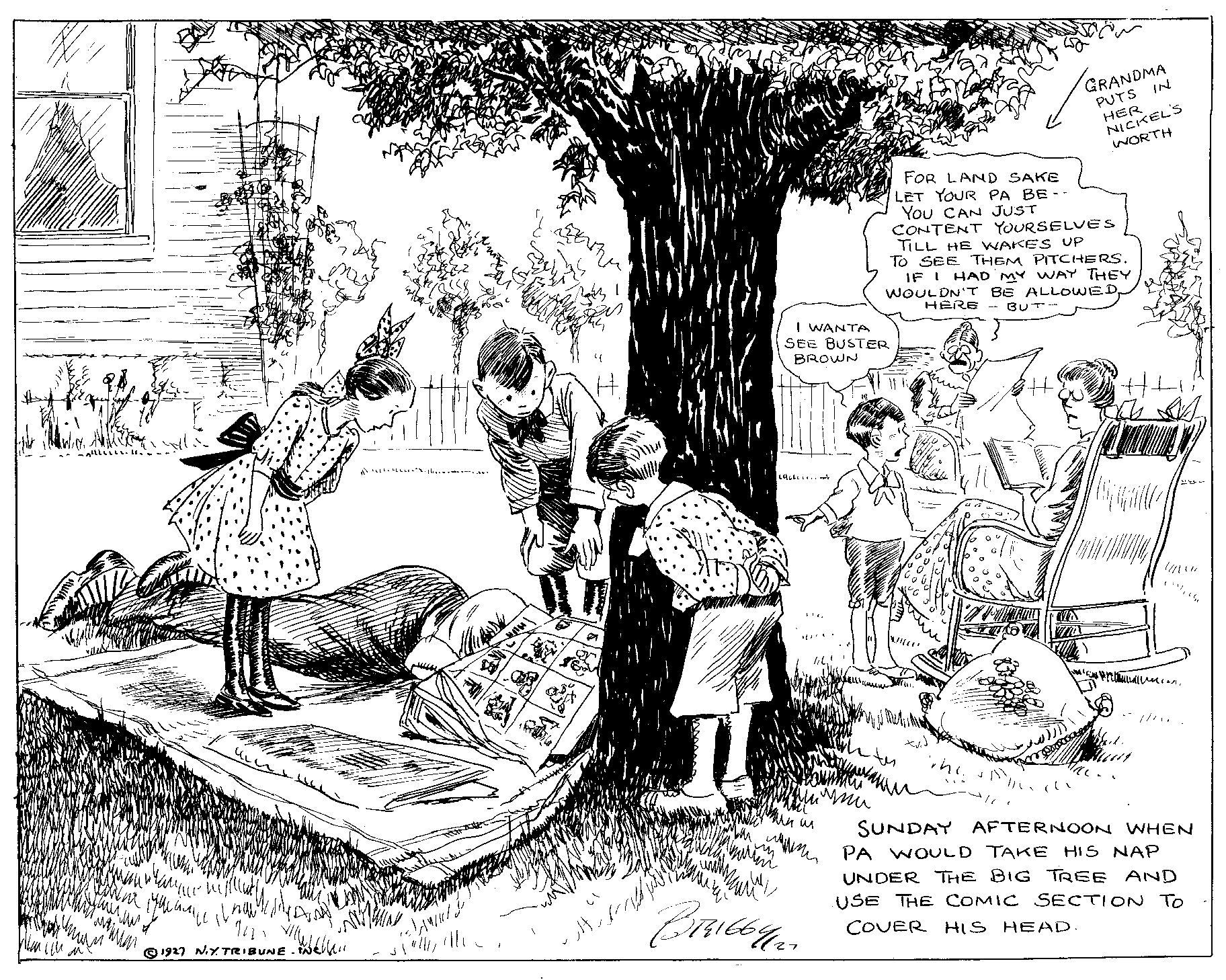 Although the first daily strip is sometimes credited to Bud Fisher with his horse-betting daily "A. Mutt" (later to be known as "Mutt and Jeff"), Clare Briggs actually invented the daily comic strip for the Chicago American in 1903 with "A. Piker Clerk" which was also about horse betting; though this original drawing directly deals with the politics of the day in Chicago, it appears to make quiet reference to his groundbreaking work in its near lower right corner. (Courtesy Chicago Cultural Center)
Chris Ware, artist: A comic strip really is a visual two-dimensional rat maze, so I tried to create a three-dimensional analog to that and to use every available spot that I could because in comics you're likely to see a dialogue balloon here and there and an image behind, so I wanted to use the entire walls and not just have everything be a dried bathtub ring of imagery that gets dreary. 
Comics are a very active thing. I wanted it to be as fun and as exciting as a comic strip actually is. 
Vitali: We last met Chris Ware at his home studio in January 2020.
Ware: I grew up reading stupid superhero comics and reading them because I thought I'd grow up to be a superhero.
But when I became a professional cartoonist what really appealed to me more than comic books — they always seemed to be somehow limited and infantilized and very much based on a movie camera — I realized that the very earliest comics that were drawn before the advent of the movies was where the real action was and where the medium actually came to life, and you could feel the soul and the warmth of the artist behind the pen.
Vitali: The show covers from the late 19th century up through the 1950s, and it is full of revelations.
Ware: I was surprised more than anything to discover that the Chicago Tribune was actually a very experimental, strange newspaper.
Samuelson: The Tribune was not the first paper to have a Sunday comics page, however, it took the comics page and almost literally made a work of art.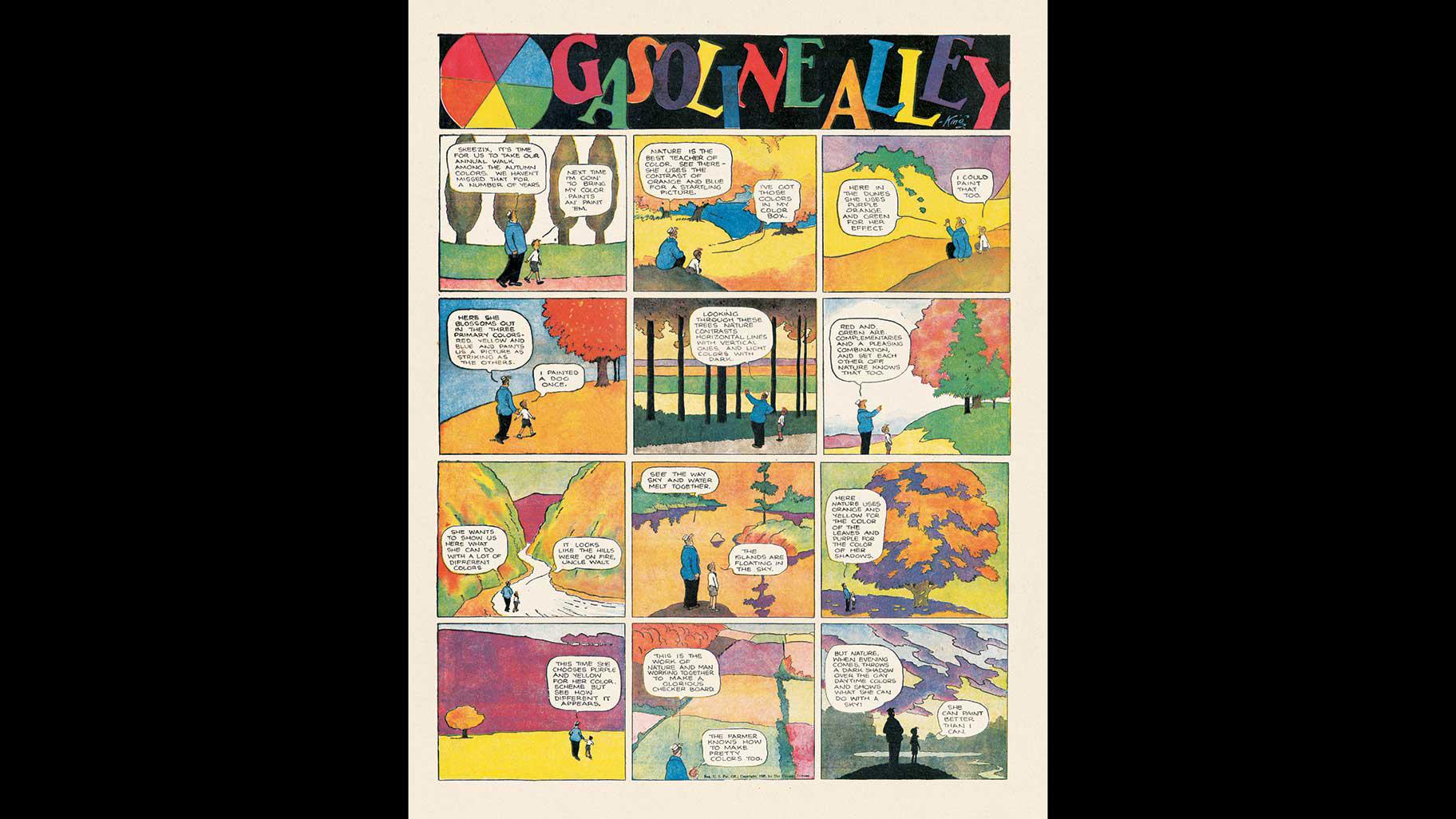 Frank King created the masterpiece "Gasoline Alley," which captured the ineffable passage of life in an impermanent medium, its characters aging at the same rate as its readers, many of them based on King's own family. His best work focused on the quiet, tender and poignant moments of life, especially those between parents and children. (Courtesy Chicago Cultural Center)
Vitali: The exhibition abundantly credits the creators of the work.
That includes Frank King, whose characters in his "Gasoline Alley" strip aged day by day and year by year.
But the author of one short-lived Tribune comic strip from 1905 remains anonymous.
"Lucy and Sophie Say Goodbye" features two women whose impassioned departures are always being interrupted.
Ware: It was published anonymously, not signed, which indicated that they were pushing the envelope. It didn't run for very long but it's a beautiful strip and very powerful. The first same-sex comic strip in the history.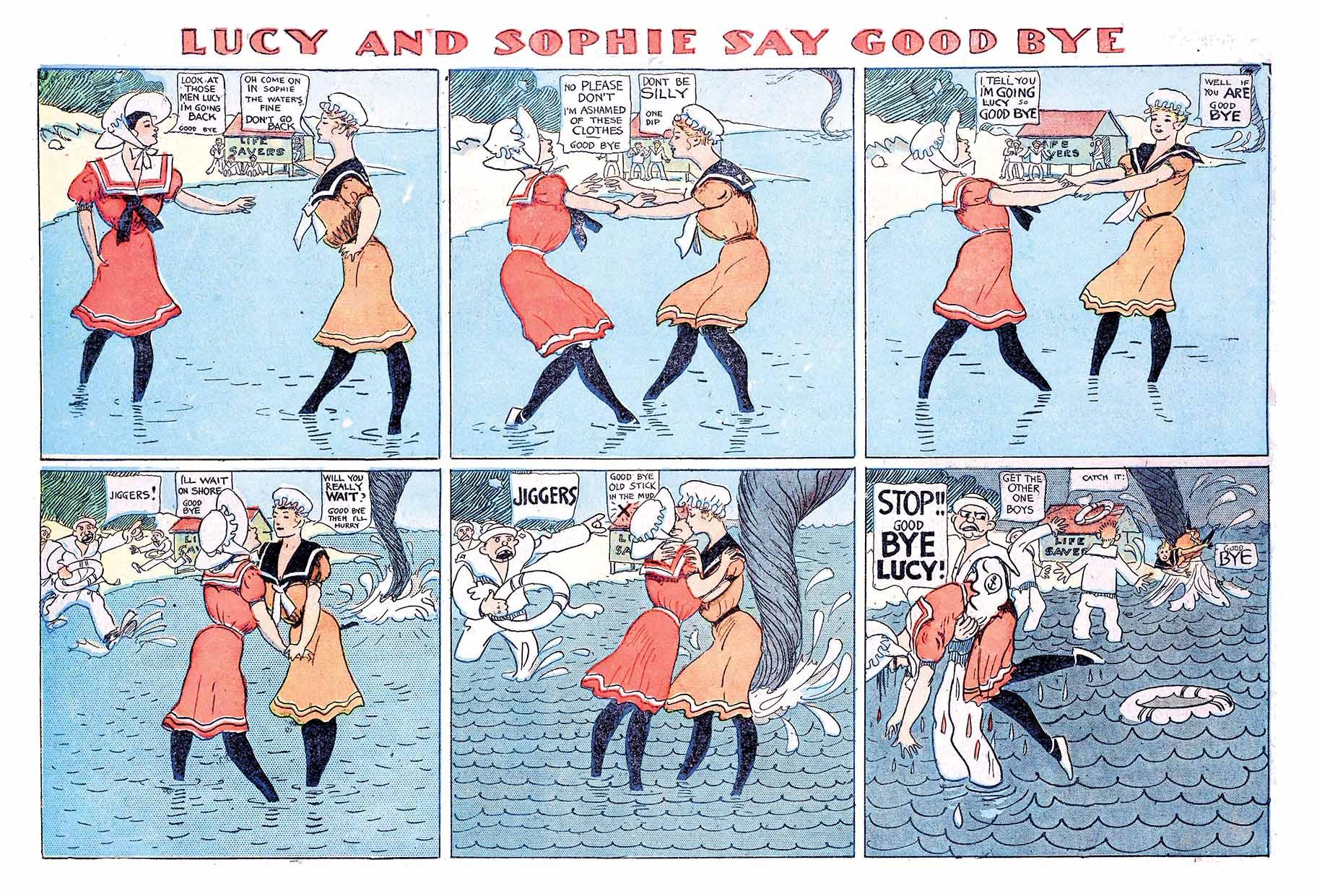 This anonymous strip ran for eight months in 1905 and always pictured its two protagonists furtively kissing for as long as they could before some inclemency swept them apart. It was unsigned perhaps for a reason, and the Chicago Tribune is to be lauded for its vision, sympathy and foresightedness at a time generally noted for neither. (Courtesy Chicago Cultural Center)
Vitali: Though some of the material is on loan, much of it comes from the curators' personal collections.
Samuelson: Some of these things are part of my childhood obsession. It's kind of interesting to see a bit of your own interests and obsessions on a gallery wall and other people looking at it.
Ware: Comics are looked down upon as sort of a throw-away medium, which I think is one of its greatest powers. It's a medium that you can look at and understand immediately without feeling like you have to know something about the history of art or the history of painting. If you look at a comic strip and you don't get it, you just assume the cartoonist is an idiot.
It's a powerful medium, it's a beautiful, emotional and unpretentious, personable medium and that's what I've hoped to highlight with this show is to have some sense of the rich textures of life and how it can be communicated in something that was essentially trash.
---
More on this story
The show "Chicago: Where Comics Came to Life" is free and on display at the Chicago Cultural Center through the end of the year.
---