Chicago is well-known for comedy, architecture, the blues – the list goes on. Lesser known is the city's continuing role in the development of cartooning and graphic novels.
And the artists who used to be on the comics page have now earned a place in museums. A new exhibition at the Museum of Contemporary Art highlights Chicago comics from the 1960s to now.
TRANSCRIPT
Marc Vitali: There are scary monsters. Counter-culture classics. And plenty of things that are family friendly.
From Chester Gould's Dick Tracy to original art by Lynda Barry, and new works by acclaimed painter Kerry James Marshall, walk through the galleries at MCA Chicago and it's graphically clear that the big summer show has arrived.
"Chicago Comics: 1960s to Now" makes the case that Chicago has long been a magnet for creative cartooning.
Michael Darling, MCA Chicago: Every couple of years at the MCA we do shows that go outside the bread and butter of contemporary art and look at some sister genres and disciplines, whether it's furniture design, fashion design, architecture. And in this case, it just felt like a prime time to really look at comics in Chicago. The more you dig the more you realize that this town has been ground zero for American comics since the early 20th century.
Dan Nadel, curator: There's a few different historical reasons, it goes all the way back to the late 19th Century where Chicago really became the hub of the Midwest for lithography, for billboard printing, for children's book printing and then had these great newspapers here that really fostered and nurtured really individualistic cartooning.
Installation view, Chicago Comics: 1960s to Now is on exhibition June 19 – Oct. 3, 2021. (Credit Nathan Keay / MCA Chicago)
Vitali: There are graphics from underground newspapers of the 1960s, popular comics from the 1970s, and the show has a strong emphasis on the many African American artists who've called Chicago home.
Nadel: I selected the artists really based on who had a really unique voice in the medium both writing and drawing, and I wanted to make sure that the show showcased a diversity of voices both in terms of where they were coming from but also what they were saying and how they were saying it.           
Vitali: There's also an abundance of new work made specifically for the show. Models and installations bring some of the comics to three-dimensional life.
Another reason Chicago has been a haven for cartoonists and graphic artists: it's more affordable than LA or New York.
Darling: Artists could come here and work and make work that's very experimental and still be able to live a decent life.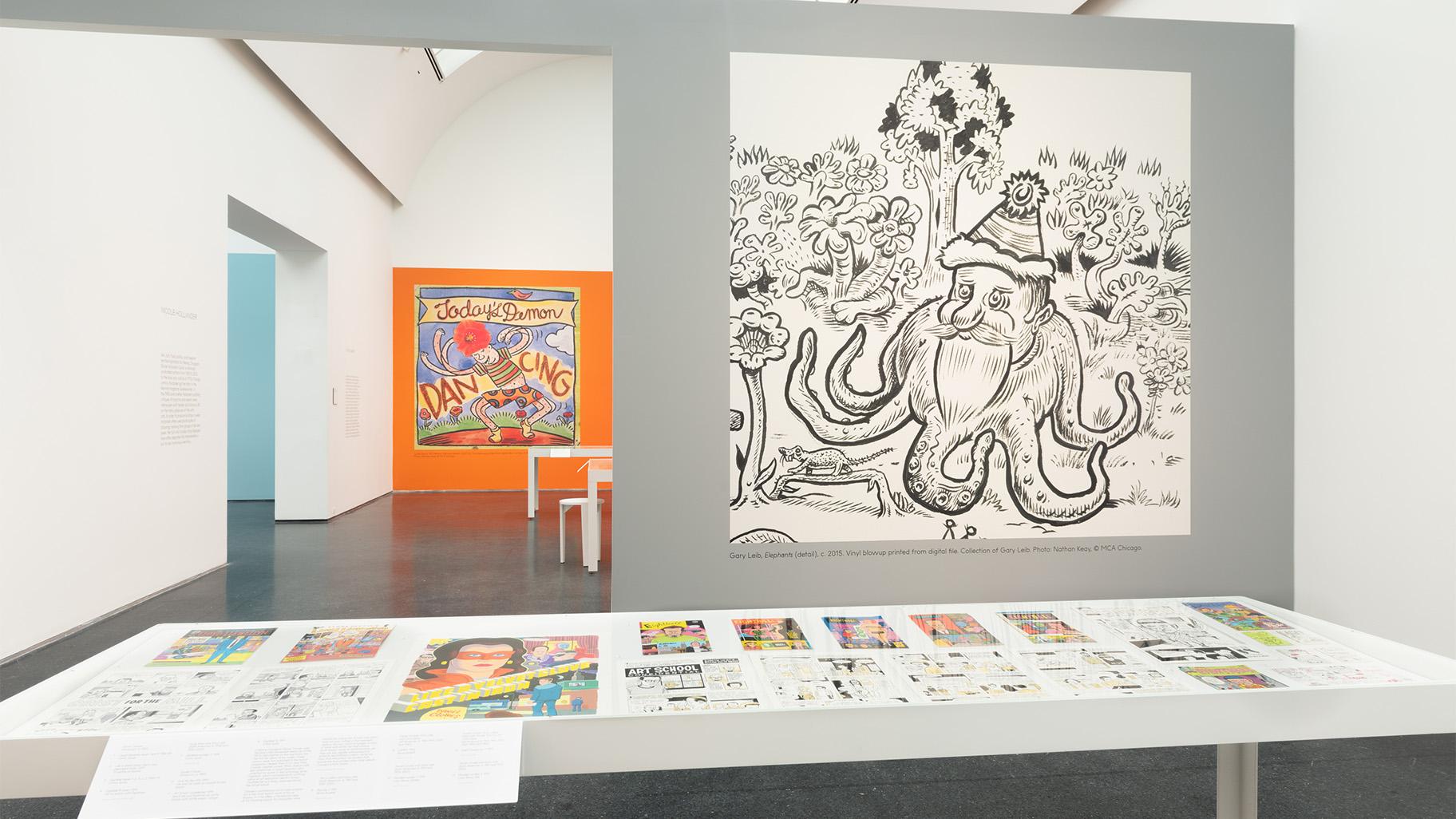 Installation view, Chicago Comics: 1960s to Now is on exhibition June 19 – Oct. 3, 2021. (Credit Nathan Keay / MCA Chicago)
Nadel: And as comics became more popular in the 21st century, the cartoonists were able to stay and teach. So now a lot of the cartoonists in this show teach and make comics, which is really the first time in the history of the medium that that's happened — at a university level I should say — and so that has made the city a real hub.
Darling: Real comics aficionados know that this city has been an incubator for this work. They know that this is the place to come to study it, but the general public I think has been unaware. Every now and then you'll find someone like Chris Ware kind of come to the fore. Or Daniel Clowes wrote some of his influential material while he was living here in Chicago in Wicker Park.
I just feel like this is one of those exhibitions that I think Chicagoans can be proud of. We know about Chicago contributions to jazz and to sports and to visual arts, but this is a whole other history of the creative arts in Chicago that really needs to be reckoned with.
---
More on this story
"Chicago Comics: 1960s to Now" is on view at the MCA through Oct. 3. A sister exhibit at the Chicago Cultural Center looks at the even earlier history of comics in the city with "Chicago: Where Comics Came to Life (1880-1960)."
Follow Marc Vitali on Twitter: @MarcVitaliArts
---