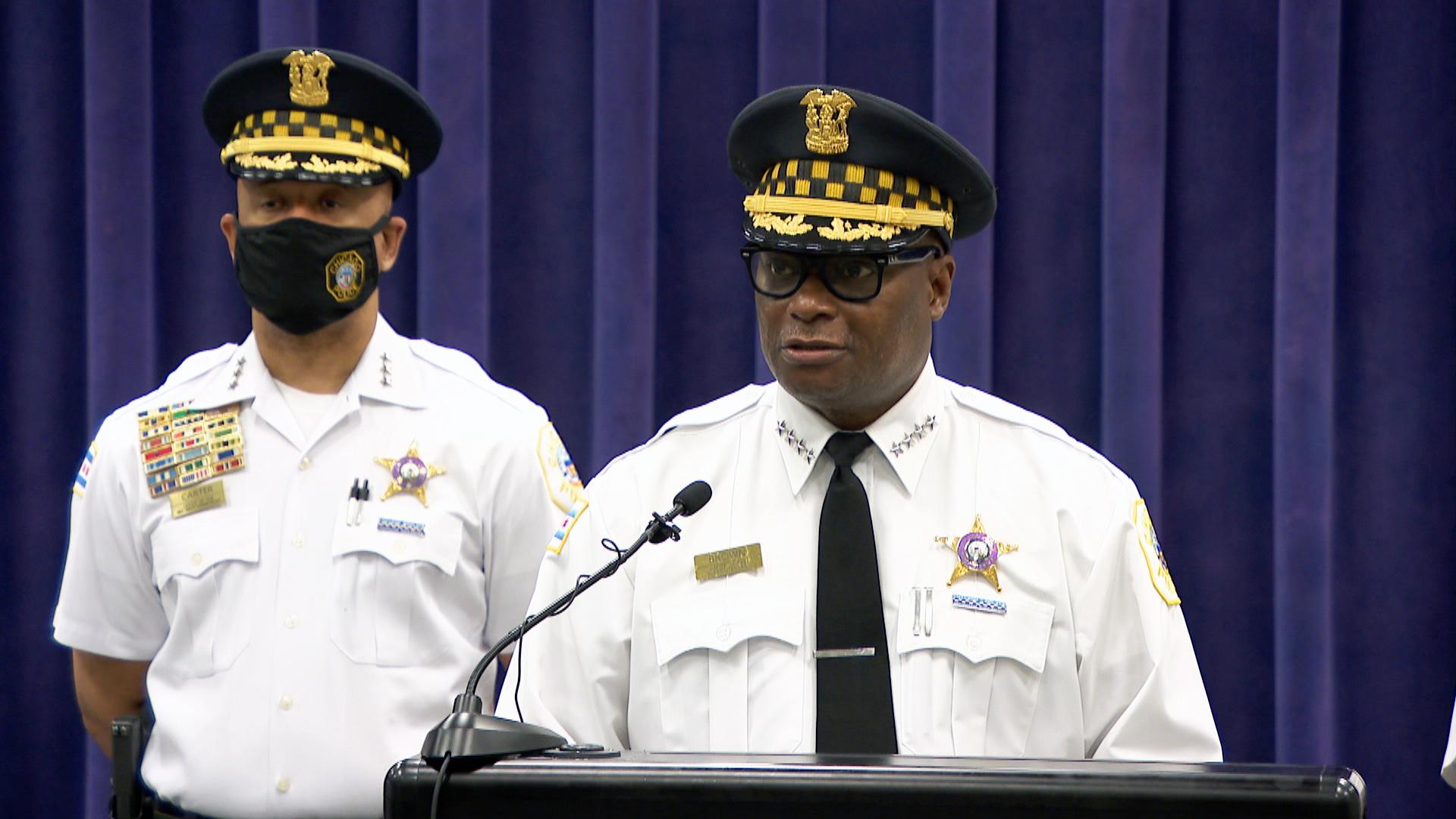 Chicago police Superintendent David Brown talks about his Monday meeting with President Joe Biden at a news conference on Tuesday, July 13, 2021. (WTTW News)
Chicago police Superintendent David Brown said he had a "significant and substantive" discussion with President Joe Biden on Monday in Washington, D.C., about strategies to reduce surging violent crime.
Brown said he and other law enforcement officials who met with the president and Attorney General Merrick Garland had a "shared vision" over a sense of urgency to address these issues and the need for "real consequences for serious crimes."
"We discussed both short-term and long-term solutions," he said Tuesday during a news conference in Chicago. "There will be significant follow-up. This wasn't a one-off meeting."
Chicago has seen increases of more than 10% in both the number of shootings and shooting victims in 2021 compared with the same time last year.
Last weekend, at least 40 people were shot in Chicago, 11 of them fatally. So far this year, the city has recorded 382 homicides and nearly 1,700 shooting incidents, according to Chicago Police Department data.
Among the issues discussed in Washington was the flow of illegal firearms into Chicago. Mayor Lori Lightfoot, who spoke with Biden during his visit to Illinois last week, said federal help will be coming "relatively soon" to help address that issue.
Brown on Tuesday said his department will soon be rolling out a new "strike force" — a collaboration with the U.S. Bureau of Alcohol, Tobacco, Firearms and Explosives aimed at tracing illegal guns and investigating the buyers and sellers of those firearms.
Today President Biden met with Attorney General Garland, local law enforcement leaders, elected officials, and a community violence intervention expert to discuss his comprehensive plan to reduce gun crime and enhance public safety. pic.twitter.com/UovcRo6mwS

— The White House (@WhiteHouse) July 12, 2021
---
The superintendent also spent significant time Tuesday again calling for "violent offenders" to be kept in jail longer while they are awaiting trial. He pointed to the Saturday killing of Londre Sylvester, who was shot dozens of times as he exited the Cook County Jail, as an incident that put innocent bystanders at risk.
Brown has repeatedly pointed a finger at the Cook County court system for increases in violence this year. He's claimed the pretrial release of suspects charged with violent crimes has led to more crimes being committed, though that claim has been rebutted by the Cook County State's Attorney's Office and Chief Judge Timothy Evans.
According to Brown, Sylvester had an extensive criminal background but was placed on electronic monitoring following his arrest on multiple charges, including armed habitual criminal and felony assault.
Brown claimed Sylvester's release "created an unsafe environment for others," saying he was killed in a "targeted execution" that also wounded two women, one of whom just happened to be walking by at the time of the shooting.
"Any one of you could be having lunch on a patio sitting next to an offender on (electronic monitoring) who others are targeting to kill, and you get shot and killed trying to enjoy your day," he said, "because someone had made a decision that offenders' rights trump victims' rights."
When asked what the president had to say about bail reform and the pretrial release of violent offenders, Brown declined to give any specifics.
"The president can speak for himself," he said. "I'm not his (communications) director, so I would just refer you to the White House."
Contact Matt Masterson: @ByMattMasterson | [email protected] | (773) 509-5431
---