Mayor Lori Lightfoot marked her second anniversary in office on Thursday by renewing her campaign promise to breathe new life into neighborhoods that have faced decades of disinvestment and structural racism.
Speaking in an empty lot at 79th Street and Harlem Avenue in Auburn Gresham, Lightfoot acknowledged that she felt "despair" at times during the past two years while she confronted the COVID-19 pandemic, civil unrest and an economic meltdown.
"These past two years have been very different than what I would have anticipated," Lightfoot said. "But in many ways, I wouldn't trade a second of it. It has been hard. It has been tough. There have been times when I felt despair."
READ: Aldermen Give Lightfoot Failing Grades on 2nd Anniversary
Lightfoot said she would not let those challenges dissuade her from shifting the city's focus from downtown and wealthy North Side neighborhoods to those struggling with crime and poverty. 
"This two-year anniversary of my administration … provides us with an opportunity to acknowledge how far we've come, chart out our path forward and continue to reimagine a better future for everyone in every neighborhood," Lightfoot said.
Lightfoot also repeated claims that her Invest South/West initiative, which focuses on 10 Chicago neighborhoods, has begun to pay dividends, with $70 million in public funds attracting $300 million in private investments.
In addition, Lightfoot touted efforts to reduce fines and fees for parking tickets and utility bills as ways that her administration has worked to help Chicagoans get out of debt and stand on firmer financial footing. Lightfoot also celebrated the fact that the city's minimum wage will rise to $15 per hour on July 1.
Looking ahead to the final two years of her term, Lightfoot announced plans to use $10 million from the city's five-year, $3.7 billion infrastructure plan to fund "community-identified enhancements" to city facilities or city-owned vacant in lots Chicago's seven planning regions.
Applications are available June 1 and due Sept. 1, with a community engagement process during October and December winnowing down the projects that are expected to break ground in 2022. 
While that kind of neighborhood-focused spending and investment would normally be embraced by aldermen — who are also halfway through their terms in office — no aldermen flanked Lightfoot, who was joined Thursday by Planning Commissioner Maurice Cox and Treasurer Melissa Conyears-Ervin.
Ald. David Moore, whose 17th Ward includes Auburn Gresham, was campaigning for secretary of state outside of Chicago on Thursday, Lightfoot said.
The mayor's relations with the City Council have been tense throughout her time in office, with Lightfoot making little headway on her signature promise to end aldermanic prerogative, which gives each alderman the final say on developments and initiatives in their wards.
Lightfoot's sunny vision of her accomplishments and the next two years ahead is also clouded not only by a continuing and significant increase in shootings and homicides — which are up through the first four months of 2021 compared with 2020, according to police data — but also continuing tensions with the Fraternal Order of Police.
Violence often surges in Chicago during the summer.
In addition, Lightfoot will face two critical tests in the coming weeks on issues where she has reversed herself since taking office, drawing the ire of progressive groups and aldermen.
Lightfoot is at odds with all three of the major City Council caucuses over a long-stalled plan to put an elected board of Chicago residents in charge of the Chicago Police Department.
Lightfoot promised Thursday to introduce her own plan Monday for an elected board to oversee the CPD. Eight months ago, Lightfoot dropped her support for the measure crafted by a coalition of community organizations under the umbrella of the Grassroots Association for Police Accountability, known as GAPA, saying it would limit her ability to keep the city safe.
That led to supporters of GAPA joining forces with the supporters of a competing proposal known as CPAC to craft a compromise measure known as Empowering Communities for Public Safety.
The mayor said her proposal will take "the best of both GAPA and CPAC."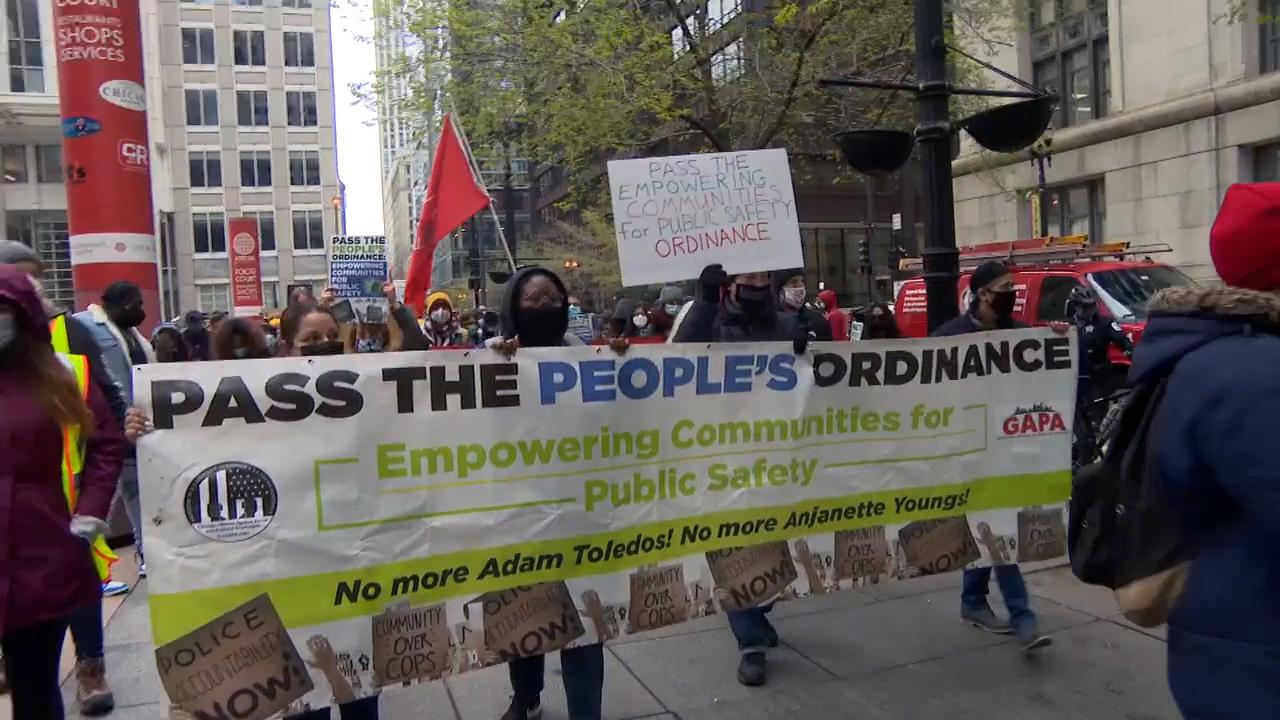 Supporters of the Empowering Communities for Public Safety plan call for more police accountability during a rally April 21, 2021. (WTTW News)
At the same time, Lightfoot is trying to push a bill through the General Assembly that would change the Chicago Board of Education — whose members were all appointed by Lightfoot — to a hybrid model, with some members elected and some members appointed by the mayor.
During her 2019 mayoral campaign, Lightfoot backed a fully elected school board, as did the Chicago Teachers Union.
Lightfoot did not directly answer a question from WTTW News about those reversals, and what she would say to voters who cast their ballots for her based on those positions.
Since the city subsidizes the Chicago Public Schools with $500 million, the mayor should have some level of control over the school district, Lightfoot said.
For the second day in a row, much of the coverage of the anniversary of the mayor's office was dominated by her decision to only grant interviews to journalists of color.
"The fact that the City Hall press corps is overwhelmingly white, has very little in the way of diversity, is an embarrassment," Lightfoot said.
Contact Heather Cherone: @HeatherCherone | (773) 569-1863 | [email protected]
---