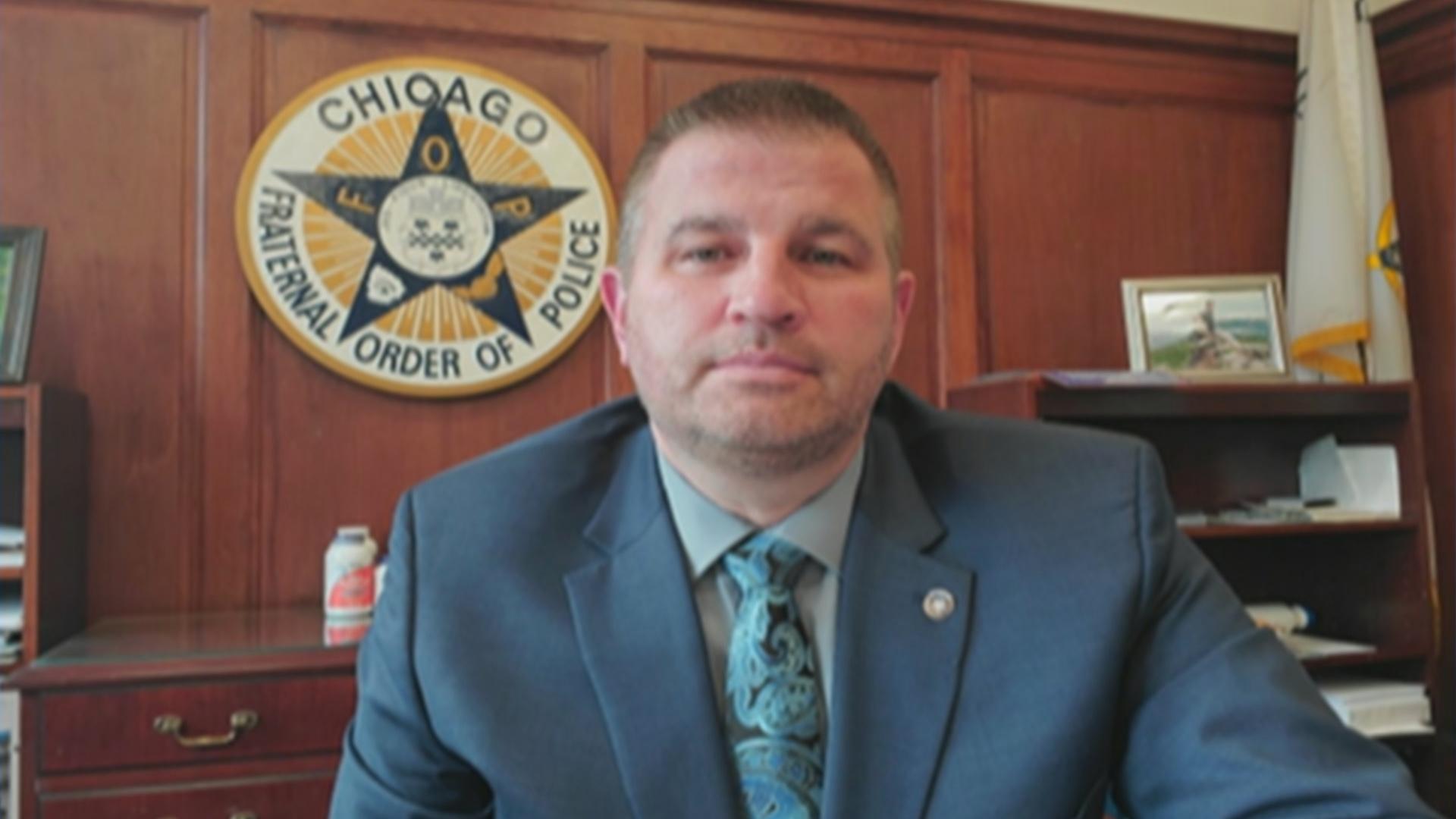 Fraternal Order of Police Lodge 7 President John Catanzara appears on "Chicago Tonight" via Zoom on Thursday, May 14, 2020. (WTTW News)
Members of Chicago's largest police union issued a vote of no-confidence in Mayor Lori Lightfoot, police Superintendent David Brown and First Deputy Superintendent Eric Carter on Wednesday night, citing what they called a "lack of consideration" for officers' working conditions.
In a video message, Fraternal Order of Police Lodge 7 President John Catanzara announced that his union membership spoke "loud and clear" during a general meeting Wednesday in issuing the vote against city leaders.
Catanzara has butted heads with the mayor on several issues since his election last year, including negotiating a new police contract after the previous one expired nearly four years ago.
Lightfoot shot back Thursday saying Catanzara and the FOP have refused to come to the bargaining table, saying he has dragged out negotiations so he "doesn't have to face reality" of policing reforms.
"Frankly getting a vote of no-confidence from that guy is a badge of honor," she said. "Accepted."
In the video, Catanzara explained the no-confidence vote came in part due to difficult working conditions, including the repeated cancellation of days off and shifting officers from 8.5- to 12-hour workdays.
"Too many of our officers have worked extended hours, not voluntarily, but forced," he said, adding that city officials have been "playing games from day one" in contract negotiations with the FOP.
Days off have again been canceled for officers next week, according to Catanzara, on the one-year anniversary of George Floyd's murder by a Minneapolis police officer. He said he'd been told by Brown that these cancellations came out of a "fear that something might happen."
"That's not justifiable," he said. "You can't do things and upend our officers' lives on a fear of maybe something's gonna happen." 
The FOP has previously issued no-confidence votes in past police superintendents, including Eddie Johnson in 2019 and Jody Weis in 2009.
Asked about the no-confidence vote on Thursday, Brown repeatedly said he wants to "stay focused on the task at hand," which is "protecting the people of Chicago."
He said the department needs to adjust officers' hours every summer based on violence levels, and "this year is no different."
"I just want to make sure that all of you understand that our officers are dedicated and committed to this department and to protecting the people of Chicago," Brown told reporters Thursday, "which oftentimes means adjusting our hours to ensure that we're in the neighborhoods during the time that the violence is occurring to have a chance at reducing violence in this city."
Contact Matt Masterson: @ByMattMasterson | [email protected] | (773) 509-5431
---