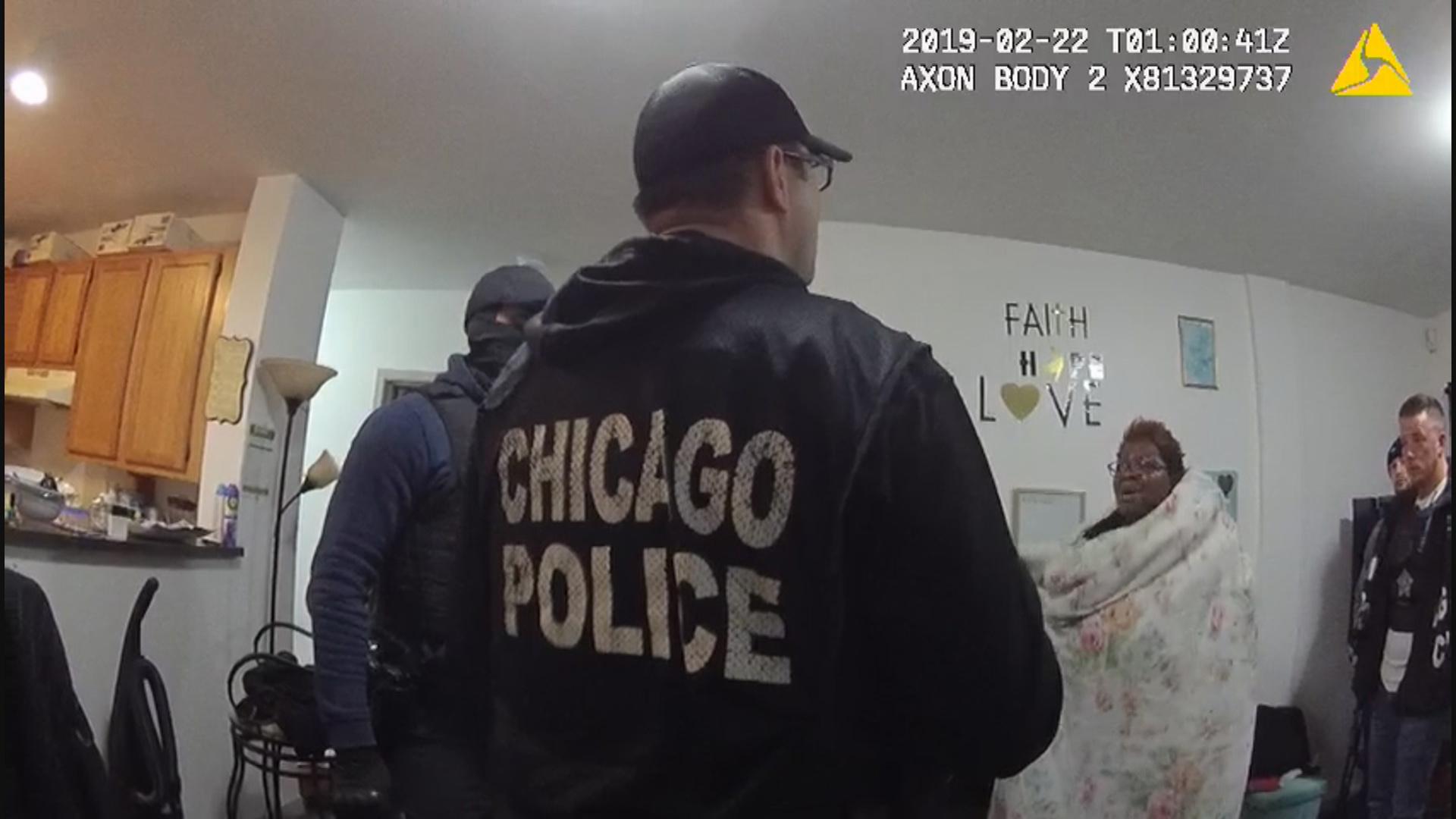 A still image from a Chicago Police Department body camera video shows a police raid at the home of Anjanette Young in February 2019. (WTTW News via Ja'Mal Green)
The Chicago Police Department has announced changes to its search warrant policy that will go into effect later this month, including a requirement that bureau chiefs sign off on any no-knock warrants, following widespread calls for reform after a botched raid at the home of Anjanette Young in February 2019.
The CPD released a revised policy Friday that adds new steps before, during and after the execution of a search warrant, such as requiring officers to account for the possible presence of children or vulnerable parties and mandating a lieutenant or higher-ranking official is on the scene.
It also limits controversial no-knock warrants to situations in which "there is a reasonable suspicion that knocking and announcing would be dangerous to the life or safety of the officers serving the warrant or another person," and requires that such warrants be personally reviewed and approved by a bureau chief.
"These critical revisions to CPD's search warrant policies and procedures come at a pivotal moment in our journey as we work to bring about true police reform," Mayor Lori Lightfoot said in a statement. "Furthermore, they are just one of many reforms that CPD has and will continue to make in order to ensure that accountability, transparency, and human dignity are the guiding principles of policing here in Chicago."
The revised policy will go into effect May 28.
The new changes come five months after body camera footage was released showing the raid of Anjanette Young's home by CPD officers. Young, a social worker, was handcuffed naked as the officers searched her apartment and ignored her stating dozens of times that they were at the wrong home.
A subsequent probe by the Civilian Office of Police Accountability found evidence that officers committed nearly 100 acts of misconduct during the botched raid. And a report released last week by the city's inspector general found that approximately 72% of all search warrants served by the Chicago Police Department in homes during the past four years targeted Black men.
The policy now requires that officers "treat all persons with the courtesy and dignity which is inherently due every person and will act, speak, and conduct themselves in a courteous, respectful, and professional manner" while serving search warrants. 
The CPD must also conduct an independent investigation in order to verify the information used to develop a search warrant prior to its execution. And a CPD bureau chief must approve not only no-knock warrants, but also "John Doe" warrants, which are based on information provided by an anonymous informant.
Two former CPD officers, Xavier Elizondo and David Salgado, were convicted in federal court on corruption charges in 2019 after they used informants to lie to judges in order to fraudulently obtain "John Doe" warrants, which they'd use to search properties and steal cash and drugs.
The new policy also expands the department's definition of a wrongful raid to include those conducted at the wrong address as well as those in which the information used to obtain a search warrant from a judge was false. All wrongful raids will be tracked and an "after-action" review will be conducted.
But the new policy could close the door on a measure backed by Young and several aldermen, including five Black female members of the City Council, to ban no-knock warrants and require officers to use "tactics that are the least intrusive to people's home, property and person and least harmful to people's physical and emotional health" while tracking warrants. That proposal would ban officers from pointing guns at children or others while children are present. The revised policy set to take effect would only require officers to document incidents in which they point their guns while serving a search warrant, even as the federal consent decree already imposes that requirement.
The team appointed by a federal judge to oversee efforts to reform the police department through a consent decree, which must sign off on new departmental policies, did not immediately respond to a request for comment from WTTW News about the revised policy.
According to city officials, the CPD received more than 800 public comments after a draft of the revised policy was released earlier this year.
In March, Attorney General Kwame Raoul said Lightfoot's proposed changes were insufficient and would not prevent what happened to Young from happening again. A spokesperson for Raoul did not immediately respond to a request for comment from WTTW News.
The CPD said it will keep reviewing the new policy "to ensure appropriate development, approval, service, supervision and accountability," a process it expects to be completed later this year. If any additional updates are made, the policy will again be made available for public comment.
"The revisions of this search warrant policy reflect our dedication to protecting public safety, while prioritizing and respecting the rights of the residents we serve," police Superintendent David Brown said in a statement. "This revised policy would not have been possible without the input of our community members."
However, Nusrat Choudhury, the legal director of the ACLU of Illinois, said the plan was developed without meaningful input from Black and Latino Chicagoans.
"Police reform is not simply checking a box after a horrific incident is exposed for public view by pushing through a new policy. It is hard work that begins with learning from affected communities where police have gone wrong," Choudhury said. "The policy that CPD issued today was an opportunity to begin this healing. Once again, the city has failed to meet the moment."
Contact Matt Masterson: @ByMattMasterson | [email protected] | (773) 509-5431
---