Video: A stricter — yet gentler — policy for executing search warrants. Amanda Vinicky explains on "Chicago Tonight."
---
Mayor Lori Lightfoot on Wednesday introduced a series of changes to the way the Chicago Police Department serves search warrants in an effort to douse the continuing firestorm triggered by video of a mistaken raid that left Anjanette Young handcuffed and pleading for help in February 2019.
The changes Lightfoot referred to as "sweeping" include a requirement that a deputy chief sign off on search warrant applications, rather than a lieutenant as now required, and banning no-knock warrants "unless in specific cases where lives or safety are in danger" with the approval of a bureau chief.
"We are on a path toward healing," said Lightfoot, flanked by CPD Superintendent David Brown who said the video of the botched raid of Young's home prompted a "top to bottom" review of the department's policies and reflects "lessons learned" by the department.
Lightfoot said the changes were designed to ensure that no one else endures what Young did, when her "personal dignity was abused and violated."
Young, a social worker, told seven male police officers 43 times they were in the wrong home and begged them to let her get dressed, according to video first published by CBS2-TV. Young sued the city in February, alleging her rights were violated by officers. 
"If Ms. Young was the biggest drug kingpin, we still should have treated her with dignity and respect," Brown said.
Officers will get additional training to ensure that they respect "human rights" and preserve the "dignity" of those present during a search, Brown said.
Members of the public have 15 days to weigh in on the new policy before it takes effect, officials said. The revisions will also have to be approved by the federal judge overseeing efforts to reform the Chicago Police Department as part of the consent decree.
The revised policy would require police officers to plan for the presence of "vulnerable people" including children in the home when the warrant is served, and information from informants must be verified before it is used to apply for a warrant, according to the proposed policy.
All raids must be supervised by a lieutenant and a female officer must be present at the raid, according to the revised policy.
The revised policy would also expand the department's definition of a wrongful raid to include those conducted at the wrong address as well as those where the information used to obtain a search warrant from a judge was false. All wrongful raids will be tracked, and an "after-action" review will be conducted, officials said.
Under the current policy, the department does not track searches conducted in a location not listed on the warrant, although those incidents trigger an investigation.
This represents the second time Lightfoot has made significant changes to the police department's policy on search warrants. In January 2020, Lightfoot imposed a requirement that a lieutenant sign off on the request, body-worn cameras be activated and that information from a paid informant be corroborated before being used in an affidavit requesting a search warrant.
In addition, an executive order issued by Lightfoot takes effect Sunday that will allow those who have filed police misconduct complaints to obtain copies of video and audio documenting the incident within 30 days in most cases.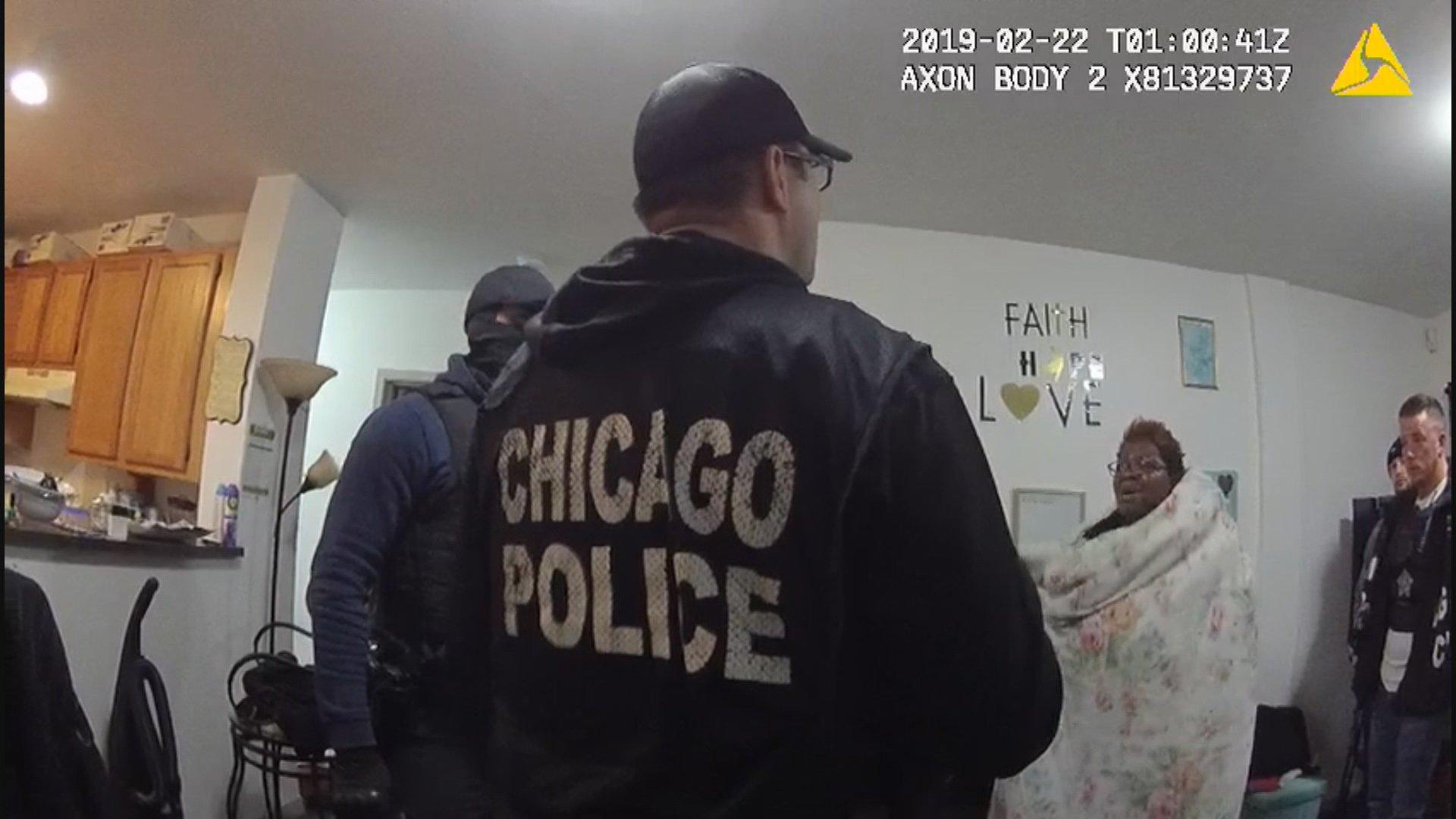 A still image from a Chicago Police Department body camera video shows a police raid at the home of Anjanette Young in February 2019. (WTTW News via Ja'Mal Green)
All 12 officers involved in the raid of Young's home were stripped of their police powers and assigned to desk duty by Brown on Dec. 21.
Three probes of the botched raid of Young's home are ongoing, including one ordered by Lightfoot on Dec. 22. That outside investigation by retired Judge Ann Claire Williams will examine the raid and the conduct of the mayor's office, the city's Law Department and the police department.
In addition, the Civilian Office of Police Accountability has been investigating the conduct of the officers involved since November 2019.
In addition, Inspector General Joseph Ferguson's probe of the botched raid will focus on "possible misconduct" by city officials, according to a statement from his office.
Ferguson's office opened a separate probe in November 2019 into raids conducted by the Chicago Police Department at the wrong address.
Lightfoot said Wednesday she was frustrated that those investigations have not yet been completed, 16 months later, criticizing Ferguson directly twice.
"We haven't heard a peep from the inspector general on this issue. Where's he been?" Lightfoot said.
However, the Public Safety Division of the Inspector General's Office issued preliminary recommendations from the ongoing probe of the botched raids in January and urged the department to "modify its directive on search warrants to require verification and corroboration of information in all circumstances and broaden the circumstances in which supervisors must initiate an investigation to determine whether discipline is necessary and appropriate when a search warrant is erroneous in fact or execution."
Brown accepted those recommendations in January, and they are reflected in the revised policy for search warrants.
Lightfoot's announcement of the revised policy comes a week after several aldermen, including five Black female members of the City Council, joined forces to propose changes to the department's search warrant policies, including an outright ban on no-knock warrants and require officers to use "tactics that are the least intrusive to people's home, property and person and least harmful to people's physical and emotional health," while tracking warrants.
Lightfoot has yet to endorse that proposal, reducing its chances of passage, and Ald. Chris Taliaferro (29th Ward), the chair of the City Council's Public Safety Committee, declined Wednesday to commit to holding a hearing on the proposal from his colleagues on the City Council and endorsed by Black Lives Matter and other progressive organizations.
That proposal would ban officers from pointing guns at children or others while children are present. The revised policy backed by the mayor would only require officers to document when they point their guns while serving a search warrant, even as the federal consent decree already imposes that requirement.
Contact Heather Cherone: @HeatherCherone | (773) 569-1863 | [email protected]
---