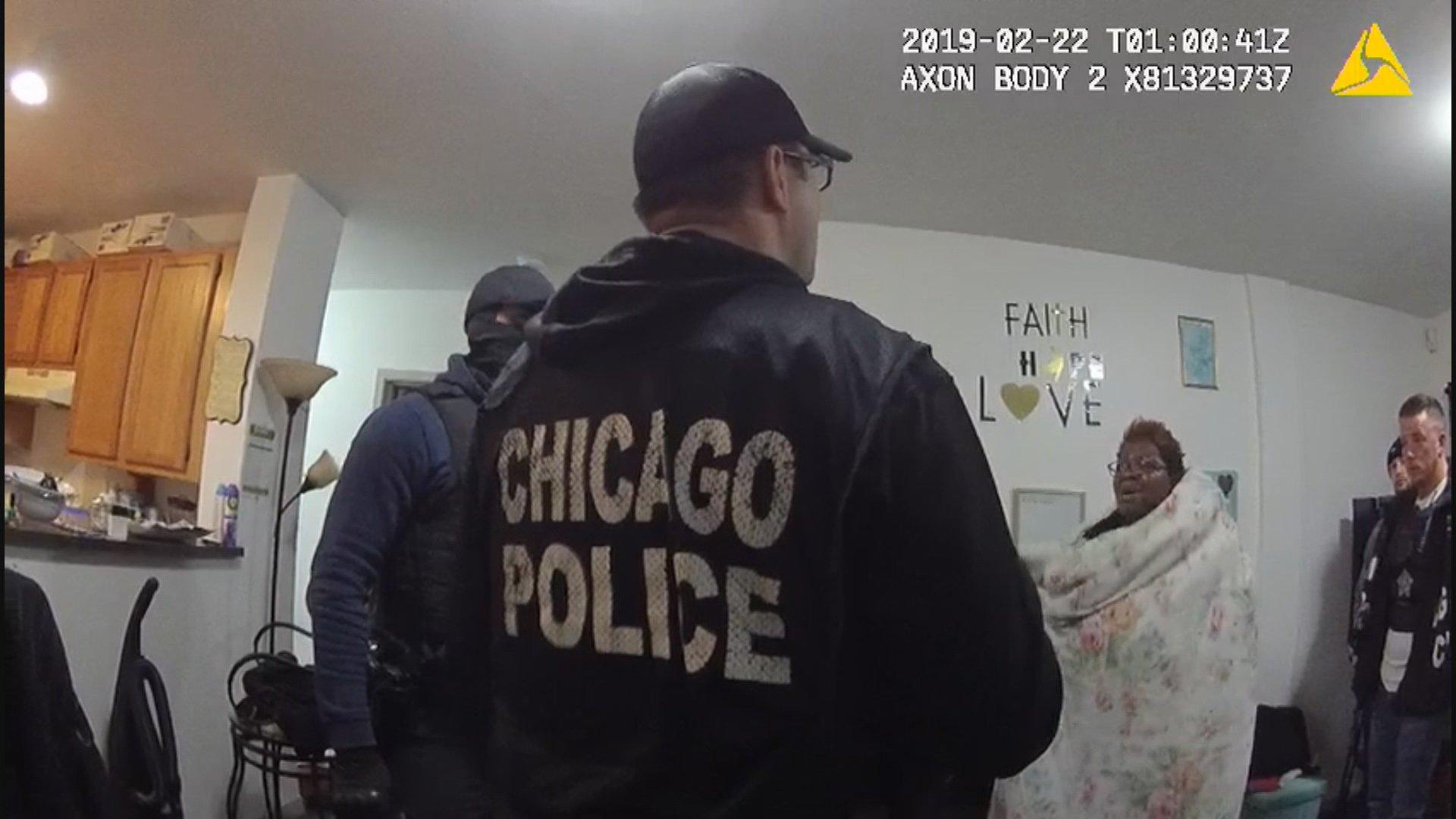 A still image from a Chicago Police Department body camera video shows a police raid at the home of Anjanette Young in February 2019. (WTTW News via Ja'Mal Green)
Mayor Lori Lightfoot was told in November 2019 that a raid that left Anjanette Young handcuffed and pleading for help during a mistaken raid of her home in February 2019 was "pretty bad," according to emails released Wednesday by the mayor's office.
Lightfoot was told, in detail, that Young, 49, a social worker, had been handcuffed while naked and left unclothed for 40 minutes during the botched raid more than a year before CBS2-TV aired video of the raid and set off a political firestorm.
Lightfoot was warned that CBS2 was working on a story about the raid on Young's home and wanted the video of the incident in an email sent to her at 9:16 a.m. on Nov. 11, 2019 by Susan Lee, the former deputy mayor for public safety.
Lee warned the mayor the "wrongful" raid was "pretty bad," and included a long string of emails and their responses that began Nov. 8, 2019 when a producer for CBS2-TV asked a spokesperson for the mayor if he could help them get video of the raid that they had requested under the Freedom of Information Act.
"Police officers handcuffed Young, who was naked, and allegedly left her standing for 40 minutes handcuffed and naked while all-male police officers searched her apartment. After 45 minutes, a female police officer arrived at the scene and uncuffed the woman and then turned off her body camera to let her get clothes on," according to the email sent to the mayor by Lee.
Lightfoot responded to Lee's email at 9:49 a.m. Nov. 11, 2019, and copied Tamika Puckett, the city's former chief risk officer.
"I have a lot of questions about this one," Lightfoot wrote. "Can we do a quick call about it?"
Maurice Classen, the mayor's chief of staff, set up a conference call.
The next email to Lightfoot about the raid was sent by Puckett at 12:17 p.m. Nov. 12, 2019. Puckett outlined changes to the Chicago Police Department's search warrant policy a working group was crafting.
In addition, Puckett told Lightfoot that a Freedom of Information Act request for video of the raid submitted by CBS2 on Aug. 21 was not responded to appropriately.
"Given the work we are doing in the CPD Liability Committee focused on search warrants, this one should have been flagged," Puckett wrote. 
The changes proposed by the working group included ordering additional training for officers who requested search warrants more than two times in the previous 18 months, Puckett wrote.
Lightfoot responded with one sentence at 3:17 p.m. on Nov. 12, 2019: "We need to escalate the training for the 2+ search warrants affiants," Lightfoot wrote. "We cannot afford any additional hits." 
After the CBS2 report aired, Lightfoot said on Dec. 17 she had no memory of the exchange.
Lightfoot apologized for her response in a statement issued Wednesday.
"While it's clear that I focused my response to this information on the policy change we unquestionably needed, I should have paused to ask more questions about Ms. Young's well-being and the video itself," Lightfoot said. "I am sorry that I didn't do that then, and I'm committed to doing all that I can now to righting the wrongs Ms. Young experienced. Now is the time for meaningful change, and I won't rest until we can be sure that what happened to Ms. Young never happens again." 
While the emails indicate that officials in the mayor's office expected the video to be released to Young, it was stopped when police officials confirmed that the Civilian Office of Police Accountability had opened an investigation. That prompted the request to be denied.
However, that standard has been inconsistently applied by officials during Lightfoot's tenure. In June, Lightfoot called a news conference to air a video that showed 13 officers lounging in the office of U.S. Rep. Bobby Rush, D-Chicago, while unrest swept the South and West sides.
Lightfoot called for those officers to be investigated, but no discipline has been announced.
Young obtained the video with an order from a federal judge. Her lawyer Keenan Saulter acknowledged he gave it to CBS2, and could face sanctions from the judge.
The raid — and the Lightfoot administration's handling of Young's attempt to get video of the raid captured by officers' body-worn cameras — created a furor that cost the city's top lawyer, his deputy and the Law Department's spokesperson their jobs and imperiled the mayor's political standing.
Lightfoot initially told the news media that she did not learn about the raid until she saw CBS2's report. However, 24 hours later she acknowledged that she was informed in November 2019 about the raid and Young's attempt to get video of the incident.
Lightfoot promised on Dec. 17 to release the emails about the raid.
Lightfoot also acknowledged she was incorrect when she angrily told reporters on Dec. 16 that Young had not filed a Freedom of Information Act request for the footage of the raid and that the city had not sought to block access to the video.
In fact, Young did request the video and her request was denied.
Lightfoot said that was improper, and that she would instruct city officials to quickly turn over footage that features individuals requesting the video.
Lightfoot did not meet Wednesday with Young, after her attorney said a one-on-one meeting between the two women would not happen unless the mayor agreed to attend a forum at Young's church with aldermen and Chicago Police Superintendent David Brown that he planned to broadcast on Facebook.
Lightfoot has repeatedly apologized in public to Young for the raid, which took place before she took office, and for her administration's handling of the matter. Lightfoot announced Dec. 22 she had tapped retired Judge Ann Claire Williams to conduct an outside investigation into the raid and the conduct of the mayor's office, the city's Law Department and the police department.
Brown has said there was "no excuse" for the conduct of the officers, which he said violated Young's "human rights." All 12 officers involved in the raid were stripped of their police powers and assigned to desk duty by Brown on Dec. 21.
Contact Heather Cherone: @HeatherCherone | (773) 569-1863 | [email protected]
---