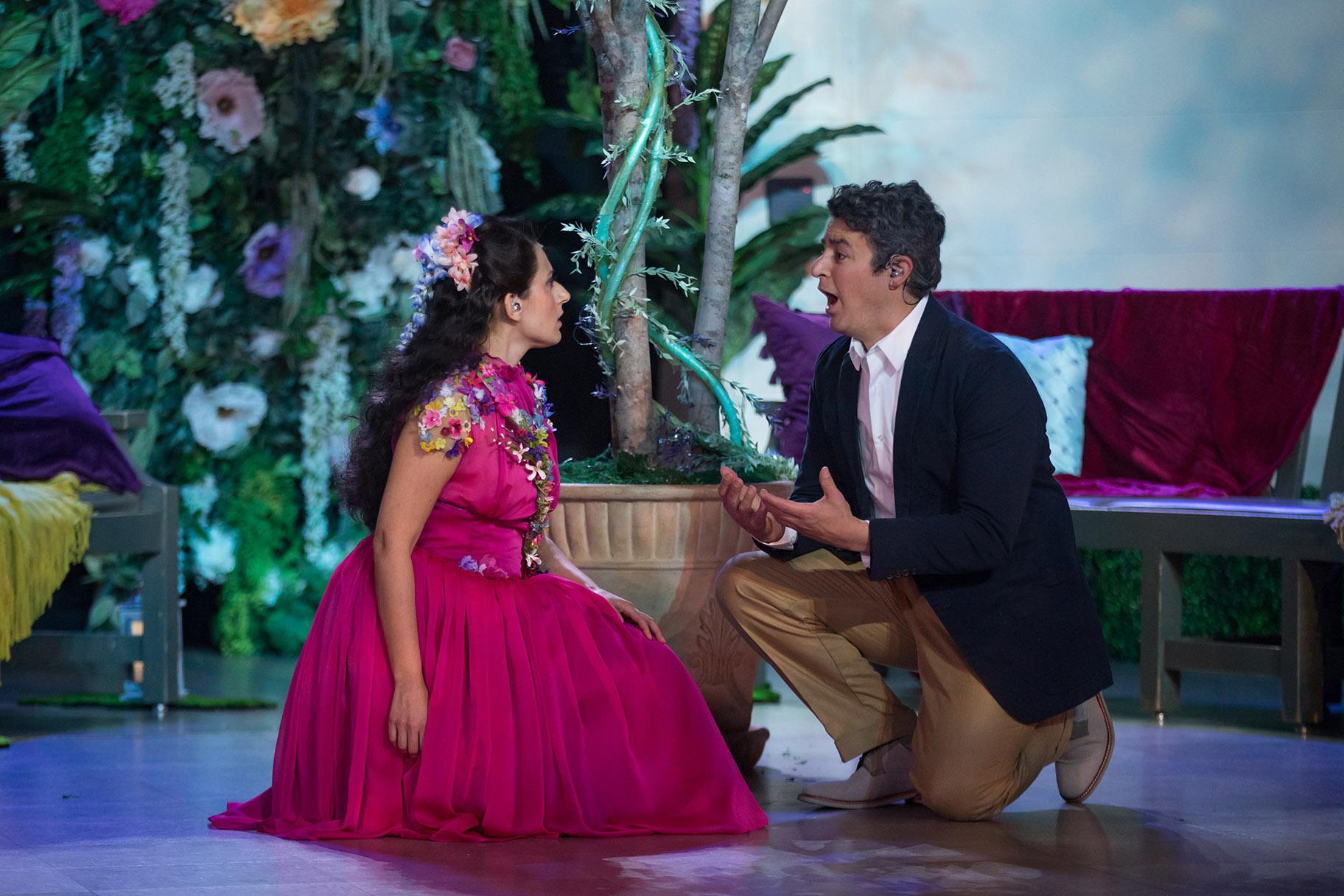 Megan Pachecano is Beatriz and Daniel Montenegro is Giovani in the Chicago Opera Theater production of Daniel Catan's "La hira de Rappaccini" ("Rappaccini's Daughter"). (Photo: Justin Barbin)
A museum staircase and an underground parking garage. With most traditional theater spaces still off-limits to the usual interplay of performers and audiences, and Zoom an increasingly annoying way to have to watch anything, two Chicago opera companies have demonstrated in radically different ways that "all the world is a stage" — or can be turned into one.
Chicago Opera Theater chose a grand curving staircase in the Field Museum to serve as the backdrop for its livestreamed production of "La hija de Rappaccini" ("Rappaccini's Daughter"), a haunting tale about a warped scientist, his daughter and the lover who cannot save her or himself. At the same time, Lyric Opera of Chicago literally went underground — and even more "grand-scale" — transforming a vast portion of the mazelike Millennium Lakeside Parking Garage into the backdrop for "Twilight: Gods," a highly condensed, drive-thru adaptation of "Gotterdammerung," the fourth (and final) installment in Richard Wagner's epic "Ring Cycle" whose title conjures up world-altering visions of chaos and destruction, and whose audience remains seated in their cars.
Here is a closer look at each production:
La hija de Rappaccini" ("Rappaccini's Daughter")
Chicago Opera Theater has a well-earned reputation for uncovering exceptionally fine new or rarely produced operas and treating them to highly polished, handsomely realized productions. "Rappaccini's Daughter," the work of Daniel Catan (the late Mexican composer of Sephardic Jewish descent), and librettist Juan Tovar (who drew on a play by the Nobel Prize-winning poet Octavio Paz that was based on Nathaniel Hawthorne's 1844 short story), is an ideal example. First performed in 1991, much of its subject matter — isolation, loneliness, the nature of medical experimentation — seems very much of this moment, while its feverish neo-romantic score has an almost Italianate quality. (In fact, the story is set in Padua, Italy, although it is sung in Spanish with English subtitles.)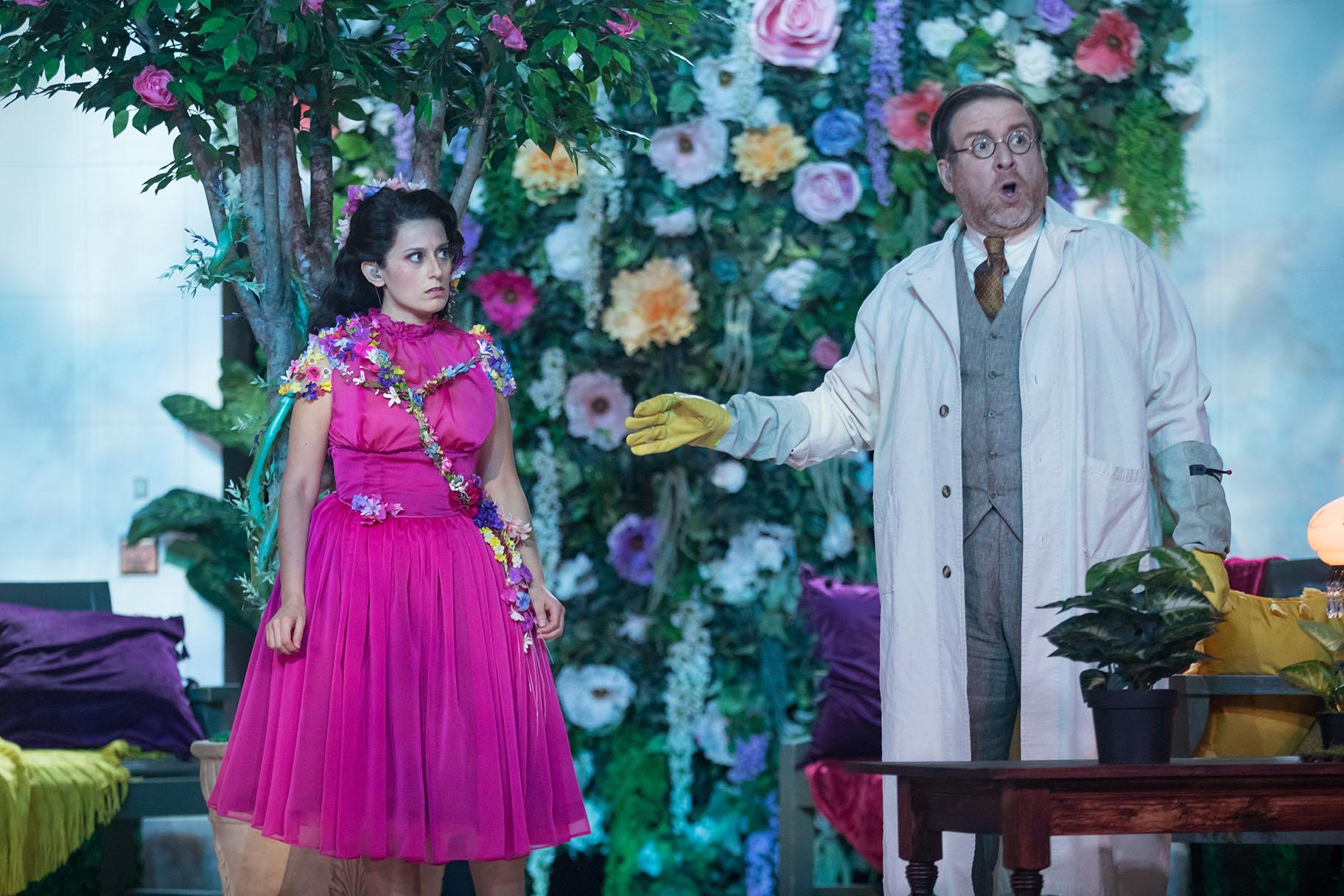 Rappaccinni, in the Chicago Opera Theater production of "La hija de Rappaccini" ("Rappaccini's Daughter"). (Photo: Justin Barbin)
Deftly directed in its Chicago premiere by Crystal Manich, the opera plays out on two levels, with the lush (and poisonous) courtyard garden of Dr. Rappaccini (baritone Levi Hernandez) framed by the staircase, and the balcony area above it serving as the dreary apartment into which Giovanni (lustrous tenor Daniel Montenegro), a medical student from sunny Naples, has just moved. It is from his window that he sees Rappaccini's beautiful and even more lonely daughter, Beatriz (soprano Megan Pachecano), who is essentially held hostage by her father, for whom she is the crucial subject of his demonic experiments. As he notes, "Poison can become an elixir with the slightest alteration," just as love can turn into a deadly poison.
Also crucial to the story is Dr. Baglioni (the formidable tenor Curtis Bannister), the humane (and notably stylish) doctor who rebukes Rappaccini for his warped experiments, and warns Giovanni against becoming caught up in them. In addition, Giovanni's landlady, Isabela (soprano Jenny Schuler), serves as something of a go-between.
The voices and acting were uniformly excellent (with all necessary protocols observed as the singers were unmasked), and they were backed by a superb chamber orchestra led by Enrico Lopez-Yanez that included two pianos (Yasuko Oura and Patrick Gordon), harp (Lillian Lau), timpani (Bobby Everson) and percussion (Jeff Handley).
Additional kudos for this 90-minute Valhalla Media production must go to designers Emily Boyd (costumes and props), Sarah Riffle (lights), Brenda Winstead (costumes), Jan Thompson (video director), and an expert team of camera operators and other technicians.
One final note: In what is sadly a rare occurrence these days, the opera's cast and musicians even got to take their well-deserved bows to live applause supplied by the large (if unseen) crew sequestered at a safe distance from the action.
The opera had a brief streaming window, but my hope is that it eventually will return either with a longer online life or as a fully live, "post-pandemic" production. 
Visit chicagooperatheater.org for all updates.
"Twilight: Gods"
If theater director Yuval Sharon ever decides to switch professions he might think seriously about getting himself appointed as the U.S. secretary of transportation. All he would have to do would be to stream "Twilight: Gods," his wildly eccentric, fully motorized, highly condensed but mega-scaled version of "Gotterdammerung" having a brief but momentous run this week throughout the seemingly endless (it's 13 acres) subterranean spaces of a Millennium Park garage.
Sharon, who was raised in the Chicago area, forged his career in Los Angeles and was recently appointed artistic director of Detroit's Michigan Opera Theatre (where this production originated last year), has not simply condensed an opera that generally runs about five hours into a 70-minute spectacle, of which a good 10 minutes is devoted to members of the audience driving their cars into a series of meticulously choreographed parking formations that enable them to observe the production's six brief scenes.
Wagner purists might miss the grandiose full score of the opera, and mourn the loss of Lyric's entire "Ring Cycle" that had to be cancelled last spring as a result of the pandemic. And they might question whether the Prologue, a decidedly "woke," free-form riff on current socio-political themes created by actor/poet avery r. young, and projected onto three video screens, really fit into Wagner's hellish mythical vision. But non-Wagnerians might rejoice at being given nothing but the opera's vocal and dramatic highlights. And above all, there is Sharon's uncanny ability to envision and realize this logistical and technical wonder. In addition, the music is delivered to each car (engine off but radio on) with total clarity thanks to the impeccable sound design by Mark Grey that supports both the cast's powerhouse voices and the superb work of 18 musicians from the Lyric Opera Orchestra who are strategically positioned at various points throughout the performance.
Performed in English (Sharon's adaptation), the production focuses on the end days of the aging Wotan (Henson Keys), ruler of the gods and God of war, and his daughter Waltraute (Catherine Martin), who wants to save him by convincing her sister, Brunnhilde (Christine Goerke) to return the magic ring she received as a gift from her lover, Siegfried (Sean Panikkar). Meanwhile, Alberich (Donnie Ray Albert), chief of the Niebelungens, a race of dwarfs, convinces his reticent son, Hagen (Morris Robinson), to murder Siegfried and retrieve the ring of the Rhine in a scene that opens with a beautifully sung trio of Rhinemaidens in fluid blue gowns (Ryan Opera Center ensemble members Maria Novella Malfatti, Katherine Beck and Kathleen Felty).
Siegfried's murder leads into a stunning Processional for which an immense area of the garage floor is covered in nearly 3,000 battery-lit candles, with this "lawn" of white light just one of the many triumphs of production designers Jason H. Thompson and Kaitlyn Pietras of PXT Studios. Then, in the climactic scene, Brunnhilde heads off to a cleansing self-sacrifice, with Goerke fittingly carried away not on a mythical horse but perched in a blazing red 1964 Mustang convertible.
The audience too rides off, following the exit sign in the garage and driving past a wall along the ramp with graffiti that reads: "The gods' destruction brings a new day."
The three performances (with a total audience of 378 cars as a result of 14 rotations per night) were completely sold out before the brief run of "Twilight: Gods" even began. And while the drive-thru experience (with tickets priced at $125 per car) cannot possibly be fully duplicated, a film of the production directed by Raphael Nash (tentatively slated for release in July, and streamed free of charge), is being shot. For updates visit lyricopera.org.
Follow Hedy Weiss on Twitter: @HedyWeissCritic
---