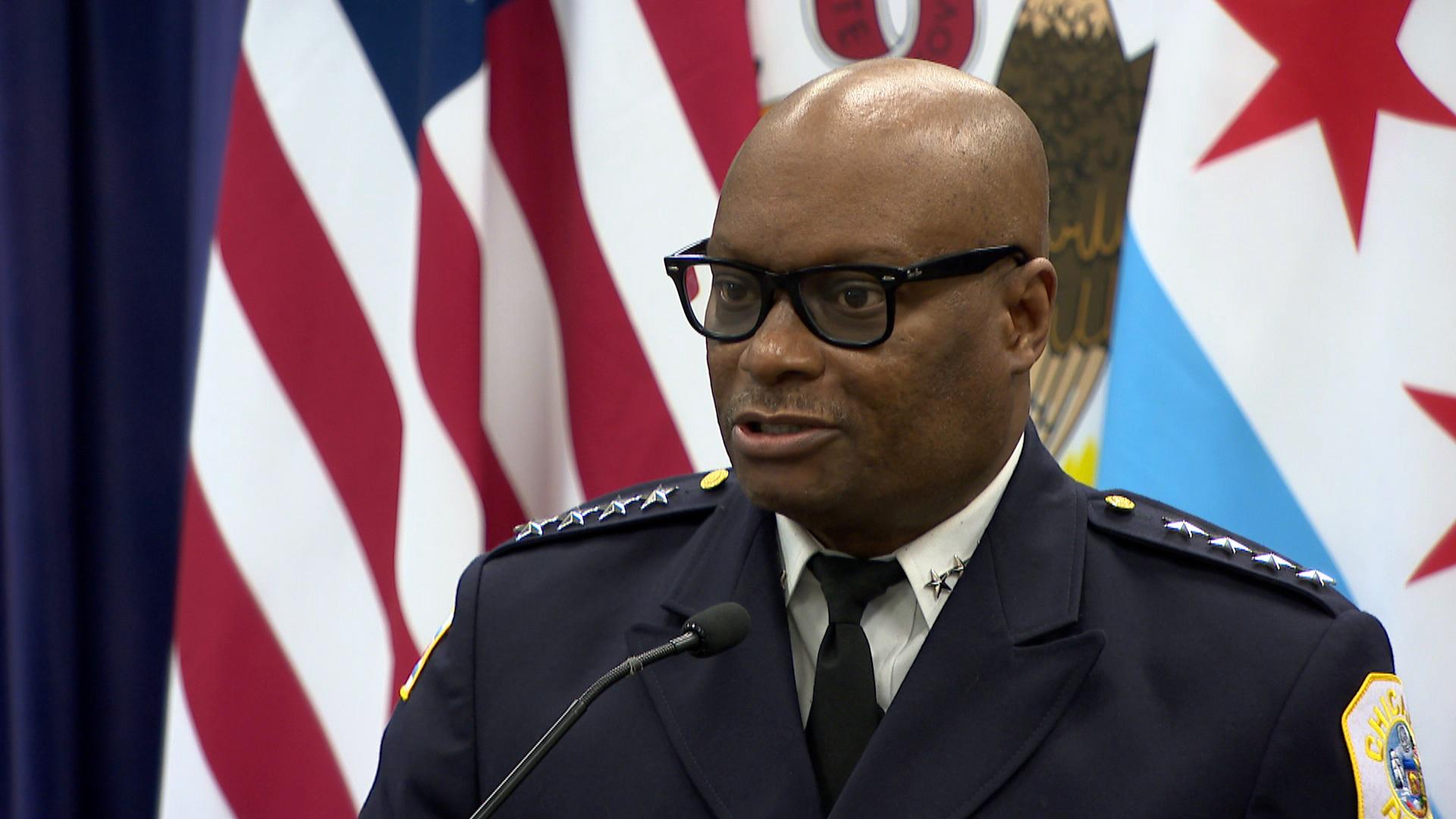 Chicago Police Superintendent speaks to reporters at police headquarters Thursday, April 22, 2021. (WTTW News)
A year to the day after the City Council unanimously approved his appointment as Chicago police superintendent, David Brown said he remains "determined and committed" to his job despite a turbulent start to his tenure and speculation about his possible departure.
Brown spent nearly an hour with reporters at Chicago Police Department headquarters Thursday — which marked one year since Brown officially took over as police superintendent — fielding questions about the past year and the future, beginning with his response to online rumors that he could resign or be fired in the wake of the fatal shooting of 13-year-old Adam Toledo by a Chicago police officer.
"I hadn't dealt with those since junior high school, and I don't plan on doing it now," Brown said in regards to the "rumors and gossip" surrounding his job.
His comments come one day after Mayor Lori Lightfoot rejected any speculation that the police superintendent may be leaving. She said Brown "is the superintendent of this police department today, tomorrow, in the future" and called internet chatter that he's considering a return to his native Dallas "destabilizing."
Lightfoot selected Brown from among three finalists last spring to replace interim CPD Superintendent Charlie Beck, who had stepped in following the firing of Eddie Johnson in 2019. Prior to his arrival in Chicago, Brown had led the Dallas Police Department from 2010-2016.
In his first year, he's already faced a host of challenges — a global pandemic, spiking homicides and violence, and widespread unrest following the murder of George Floyd by Minneapolis police, among other issues.
"When I get complaints about, 'Man you've had a tough time in your first year,' I always remind myself, because this is what I tell our officers, it is the life we chose," Brown said. "We did sign up for this work and we swore to do it in a way that respects people. So don't feel sorry for me, it's the life we chose."
Thursday's press conference marked the first time Brown has taken questions from reporters since the public release last week of officer body camera footage showing the fatal shooting of Toledo following a foot pursuit on March 29.
Asked if he felt the shooting was justified, Brown refused to answer, saying it would be premature for him as the "final decision maker" in the CPD to "determine my opinion now," before an investigation can be completed by the Civilian Office of Police Accountability.
That investigation remains ongoing.
The shooting, and the subsequent release of body camera footage last week, has led to protests and calls from city leaders for the CPD to create a new policy regarding its foot pursuits.
Brown on Thursday said his department is moving "as quickly as practical" to get a final draft of that policy ready for community feedback, a process he said is vital not only to getting the policy right, but to reforming the CPD's culture across the department.
"We as a profession, not just as a department, have to No. 1, embrace this change that's happening across the country in law enforcement. We have to embrace it," he said. "A lot of what that means is 'shut up and listen.' … This is a time more needed for a lot of humility, and you can't very well listen while you talk."
Brown on Thursday repeatedly pointed to changing the department's culture, specifically through the reforms mandated under the federal consent decree — the court-enforced overhaul of CPD policies and reforms that's been in effect for more than two years.
In March, the independent monitor overseeing those reforms found the CPD missed more deadlines than it hit in its latest reporting period, which lasted from March to December 2020, though the department did make progress on other requirements.
Despite repeated public remarks from Lightfoot and the past two police superintendents about the importance of those reforms, Brown on Thursday said that when he took the job last year, the CPD "wasn't really taking the consent decree very seriously."
"I heard throughout my discussions with many members of the department that it was gonna go away," he said.
When Brown took over he said he had to help the department dig itself out of a hole in regards to missed deadlines and reforms, and additional improvements have been made even since the independent monitor's latest report.
He called the consent decree "a floor, not a ceiling," and said meeting those goals is just one part of the larger picture of police reform.
"If we meet all the deadlines and all the paragraphs, but we can't change the culture, the consent decree would have been for naught," Brown said. "That the ultimate goal is not checking boxes, it's coming into compliance with the consent decree and changing our culture."
Contact Matt Masterson: @ByMattMasterson | (773) 509-5431 | [email protected] 
---