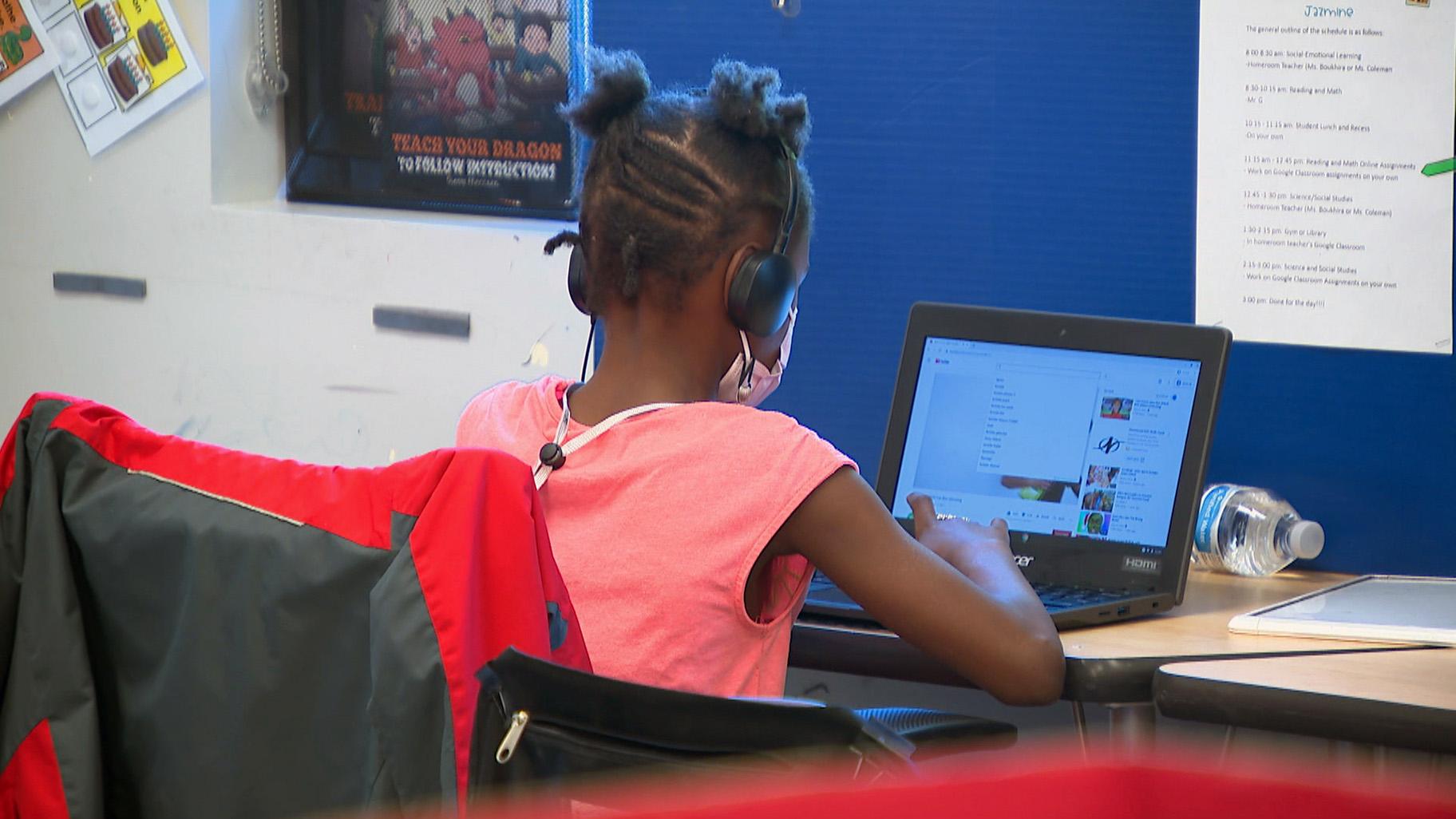 (WTTW News)
A larger percentage of White students within Chicago Public Schools have returned to in-person learning, compared with their Black and Latino peers, according to new attendance data released by the school district Friday.
In total, fewer than 50,000 students have returned to the classroom, below the 77,000 initially estimated by the district. That's about a quarter of all eligible students.
CPS CEO Janice Jackson and other CPS leaders have repeatedly said a return to in-person learning was a particular need for Black and Latino students, who have had lower attendance rates and recorded more failing grades than their peers in a remote learning setting during the COVID-19 pandemic.
While Black and Latino students make up the majority of the CPS student population, it's White students who have shown up in the largest percentages for in-person learning, according to data recorded March 8-12, which marks the most recent available numbers from CPS.
During that timeframe, a daily average of 89% of White students expected to appear in person — meaning they opted in for in-person learning — showed up to those classes, the district data shows, compared with daily averages of 77% for Latino students and 60% for Black students during that same period.
Asian students had a daily in-person attendance average of 83%.
Although fewer students than expected have shown up for in-person learning since the district began bringing students back into schools last month, CPS said the average daily attendance rate has increased the longer schools have been open.
As of last week, an average of 73% of students who were expected to attend in-person classes actually did so.
"While in-person attendance rates aren't comparable to pre-pandemic levels, the district is encouraged to see an increase in school-based attendance the longer students have that option available, especially among our youngest learners and students in cluster programs," Jackson said in a statement.
The data also shows a daily attendance average of 70%, March 8-12, for all special education students with an individual education plan who were expected to attend classes in-person.
CPS initially brought back preschool and special education cluster students for in-person learning in January, before protracted negotiations with the Chicago Teachers Union over a safe reopening plan nearly led to a teachers strike in February.
Since those two sides struck a deal, CPS has begun offering in-person classes to all elementary school students. The district initially estimated more than 77,000 kids would resume in-person learning, but that figure steadily dropped, first to 67,000, then down to about 60,000.
According to the data released Friday, 49,281 of those students who were expected to return to their schools have actually attended in-person learning at least once between Feb. 11 and March 12.
A daily average of 74% of K-5 students expected to attend in-person learning have done so since March 1 when classes resumed. Sixth- through eighth-grade students have a daily average in-person attendance of 69% since they returned to the classroom last week.
On Feb. 11 — the first day of classes after CPS and the CTU reached an agreement — the attendance rate for expected in-person students was 55%. On March 1, when K-5 kids returned, the in-person attendance rate was 67%.
When sixth- through eighth-grade students returned March 8, their in-person attendance rate was approximately 73%.
CPS indicated this week it hopes to resume in-person learning for high school students on April 19, the first day of the fourth quarter of the 2020-21 academic year, though the district has not yet reached an agreement with the CTU to do so.
"Schools offer children a stable learning environment," Jackson said, "and we look forward to welcoming additional students back to the classroom on April 19."
Contact Matt Masterson: @ByMattMasterson | [email protected] | (773) 509-5431
---