Tens of thousands more Chicago Public Schools students returned to their classrooms Monday, many for the first time in nearly a year due to the COVID-19 pandemic, as the district continues its school reopening plan.
"This is exactly what we fought for," Mayor Lori Lightfoot said Monday during a press conference at Hawthorne Elementary School. "This is the moment we knew would be possible and important in the lives of our young people and our students, and that's why giving parents an option to come back in person for their students is so important."
CPS on Monday welcomed back more than 37,000 kindergarten through fifth-grade students to elementary schools, marking the largest group of children to return since the district reached an agreement with the Chicago Teachers Union on reopening schools.
Even as the district's estimate of the number of returning students has fallen in recent weeks — from an initial mark of 77,000 kids now down to about 60,000 — CPS CEO Janice Jackson believes many more parents will change their minds and move to in-person learning ahead of the fourth quarter of the academic year.
"I fully anticipate a huge jump in the number of parents who opt-in (to in-person learning)," she said. "But again, the importance is that there's an option. If people are comfortable, by all means they should continue with remote (learning)."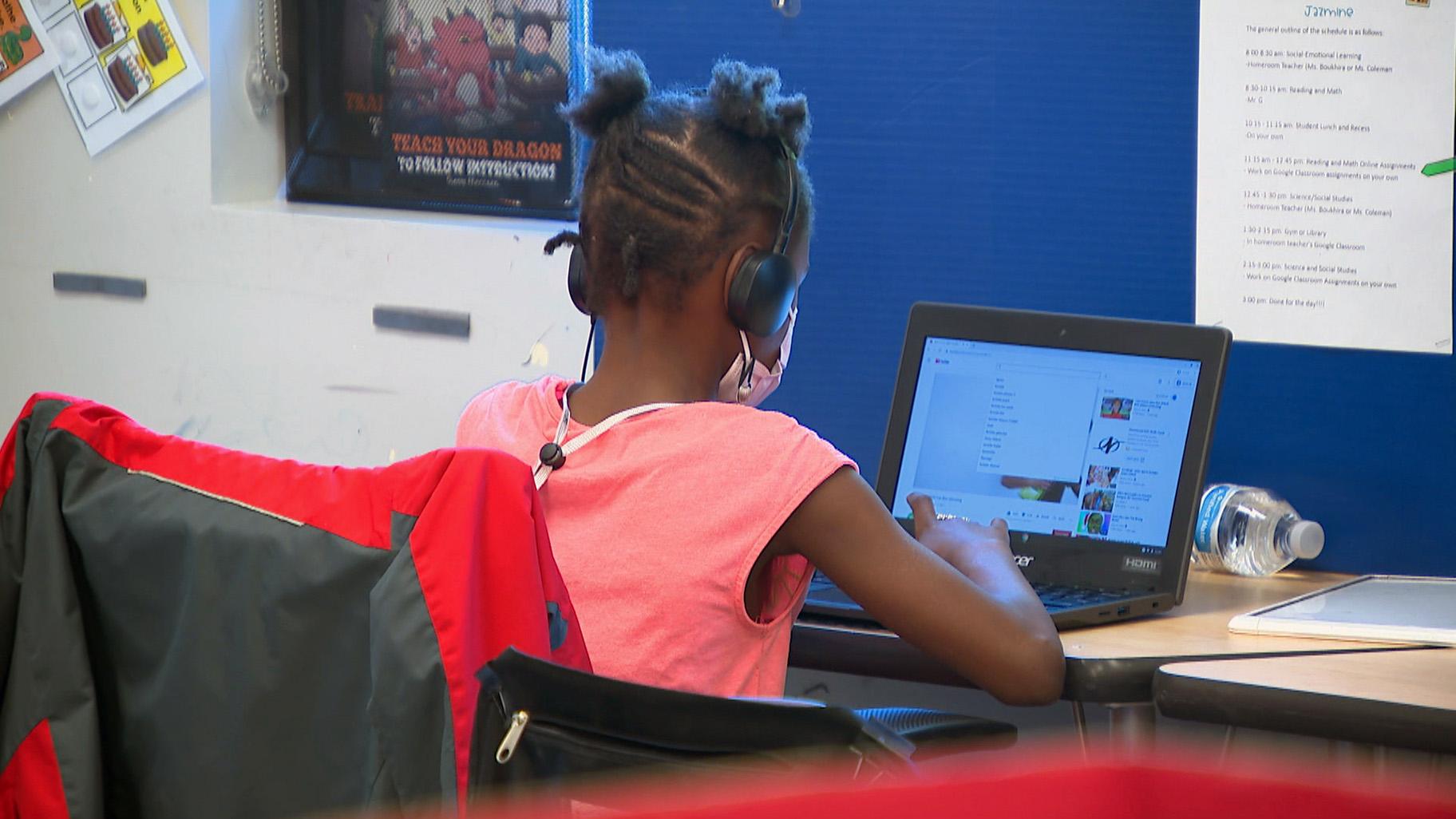 (WTTW News)
According to CPS data, just under 30% of eligible students have so far opted for in-person learning. Jackson noted many parents may want to take a wait-and-see approach this quarter to gauge how in-person learning is working before deciding to send their kids back into schools.
CPS thus far has offered COVID-19 vaccination opportunities to more than 17,000 of its employees — that's more than one-third of all staff, according to Jackson — though the district could not yet say how many of those eligible have actually gotten a shot.
CPS has issued around 6,000 accommodations to teachers, allowing them to continue working remotely for various reasons, such as having a health condition that puts them at a heightened risk from COVID-19 or if they're the primary caregiver for a relative with such a condition.
As more employees get the vaccine, more will be brought back into schools, Jackson said. But some principals have expressed concern that their schools won't have enough staffers to handle the returning students.
CPS has hired some 500 substitutes to try and backfill those vacancies, with a goal of eventually doubling that total. And Jackson said the district has deployed "hundreds" of staffers from its central office to lend a hand to those schools most in need.
But some principals who spoke anonymously to WBEZ over the weekend said the subs who are being brought in have no background in education and will simply be monitoring students as they log into their computers just as they would for remote learning.
"Most principals believe in-person learning could have been done right with a strong collaborative district plan," Troy LaRaviere, head of the Chicago Principals and Administrators Association, said in a tweet Monday. "However, the current plan is leading to an 'in-person' learning experience that is less effective than remote learning and fraught with staffing and safety concerns."
Beyond the children who returned Monday, another 18,000 students in grades six through eight are scheduled to resume in-person learning next Monday. And Jackson has said it's the district's top priority to get high school students back to in-person learning by the end of the academic year.
While she noted some schools are having staffing issues, she said every school that was supposed to open Monday had enough employees to do so.
"We have schools that are experiencing challenges and like I said, we're working through those," she said. "We don't have any schools that can't open due to staffing. I just want to be clear about that."
Contact Matt Masterson: @ByMattMasterson | [email protected] | (773) 509-5431
---