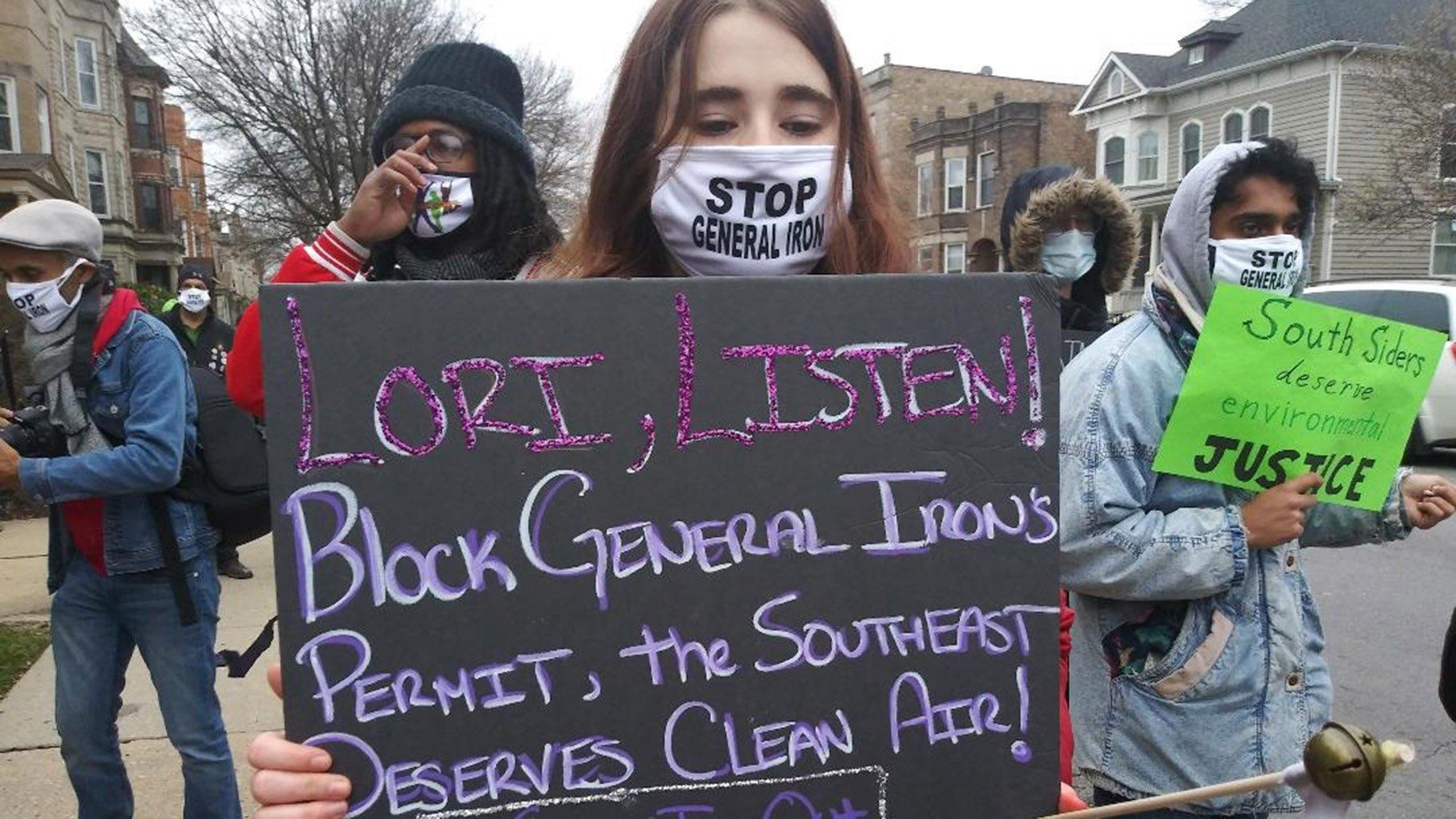 Protests against General Iron's relocation to the Southeast Side have been ongoing for months, including a march on the mayor's house in November 2020. (Annemarie Mannion / WTTW News)
The Chicago Department of Public Health (CDPH) has requested additional information from General Iron's parent company, Reserve Management Group (RMG), regarding the "cumulative impact" of its proposed Southside Recycling facility.
City officials said in a Monday letter that their ongoing review of Southside Recycling's permit application had "identified concerns and questions" about the interaction between the proposed metal shredding operation and existing "adjacent, co-owned, and functionally integrated business entities."
Specifically, CDPH is seeking to "determine the flow, if any, of materials between these other adjacent businesses, and the resulting environmental impact."
CDPH has asked for a Thursday meeting with RMG officials to discuss the additional information it's required. "Until these items are resolved, the applicant is not authorized to operate a class IVB large recycling facility, including any storage of recyclables on said property," the CDPH letter concluded.
In a statement provided to WTTW News, an RMG spokesperson said: "Southside Recycling is building a modern new facility that will operate independently alongside four other RMG companies doing business on its 175-acre campus for over two decades. Regardless of the flow of recyclable material among the operations, modeling for the Illinois EPA demonstrated that the maximum allowable volume of material handled by Southside Recycling will not change its status as a minor source of emissions."
A coalition of community, health and environmental activists have staunchly opposed the relocation of General Iron from Lincoln Park to the Southeast Side. They've continuously urged the city to deny the permit, even engaging in a monthlong hunger strike to draw attention to the issue.
In a shared reaction to CDPH's letter, the coalition expressed relief the city "is not charging forward to issue a draft permit for the proposed relocation of General Iron's operations" but also reiterated its belief that the facility "would endanger the health and safety of Southeast Side residents, including increasing the disparate burdens this community already bears."
Contact Patty Wetli: @pattywetli | (773) 509-5623 |  [email protected]
---