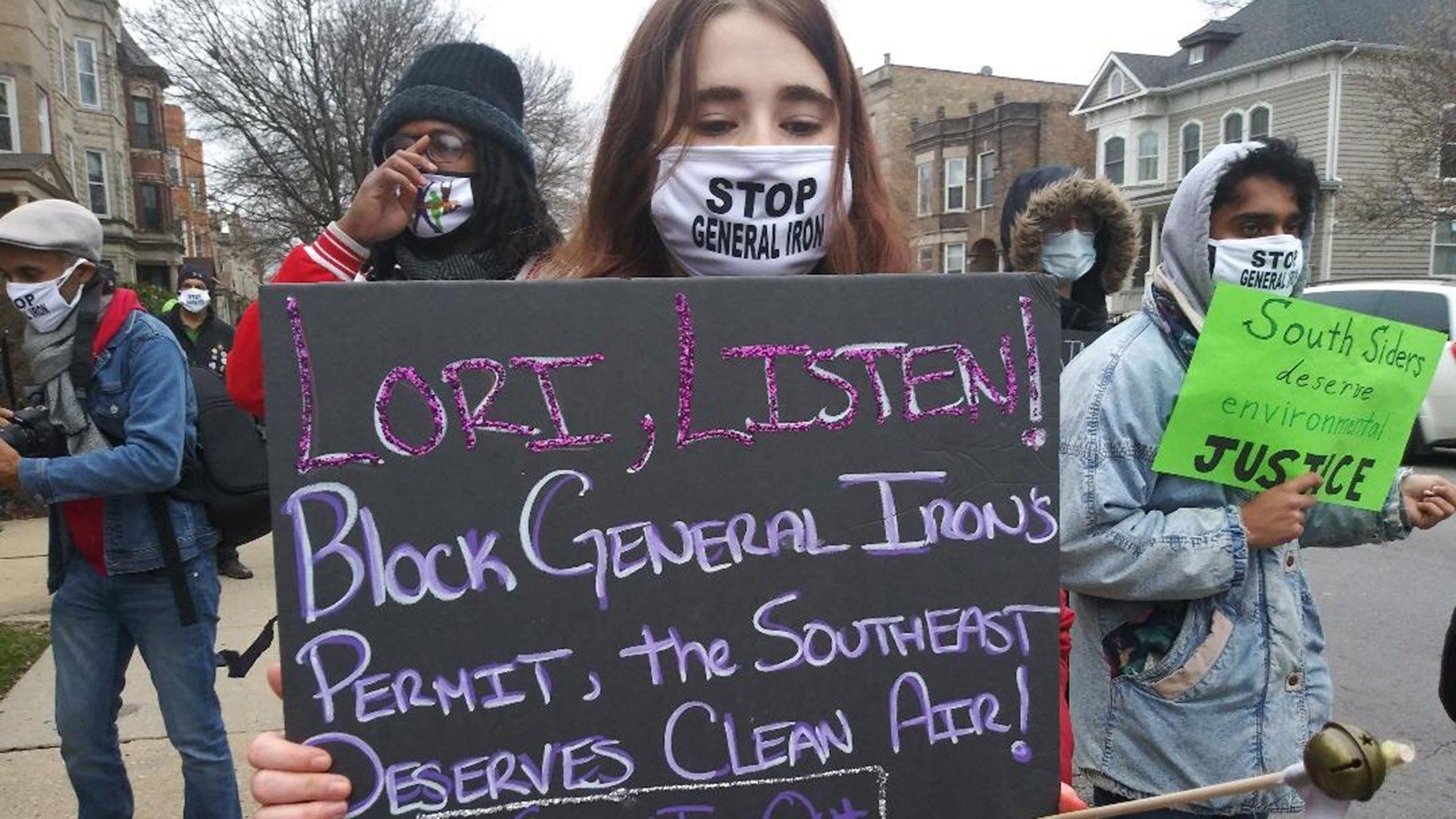 Protests against General Iron's relocation to the Southeast Side have been ongoing for months, including a march on the mayor's house in November 2020. (Annemarie Mannion / WTTW News)
The Chicago Board of Education voted unanimously Wednesday not to fire two George Washington High School teachers who protested city officials' decision to allow a metal shredding and recycling operation to move from the North Side to the Southeast Side.
The board voted 6-0 to reject the recommendation from Chicago Public Schools CEO Pedro Martinez that teachers Lauren Bianchi and Charles "Chuck" Stark be terminated for violating safety rules involving protests and a trip to Cambridge, Massachusetts. Instead, they each got a warning and were directed to undergo training.
Leaders of the Chicago Teachers Union accused Mayor Lori Lightfoot of retaliating against Bianchi and Stark for objecting to her decision to give the parent company of General Iron the green light to move its metal shredding and recycling operation from Lincoln Park to the Southeast Side. The city ultimately blocked the recycling operation from opening after federal officials objected.
Had the board agreed to fire Bianchi and Stark it would have "definitely been a miscarriage of justice," said union President Stacy Davis Gates during a news conference held by the union after the vote.
"This is a win for the community," Bianchi said. "Part of my job description is actually to be an advocate for my students. I know that I did nothing wrong. I'm breathing a deep sigh of relief."
Stark said he was thrilled he will still be a biology teacher at George Washington High School when school starts next month.
The board's vote represented a rare rebuke for Martinez and the mayor, since the board is made up of members appointed by Lightfoot. Martinez was handpicked by Lightfoot to run the district. 
The board's hours-long discussion of whether to fire Bianchi and Stark took place behind closed doors, as allowed by state law, after several George Washington High School students and graduates pleaded for Bianchi and Stark's jobs.
"Students who look like me and talk like me and live like me deserve educators that care for them and advocate for their rights," said Trinity Colon, an alumna headed to Northwestern University on a full scholarship she said Bianchi and Stark helped her earn. "If the board truly cares about Black and brown views, they will not fire teachers who have done nothing more than love and protect them." 
After the vote, Board President Miguel del Valle did not directly address the dispute, but said the board "believes strongly in culturally relevant public education."
"We will continue to be supportive of all our teachers who promote an education that is relevant and sensitive to the environments of our students and the overall status of their communities," del Valle said.
In a statement after the vote, Lightfoot said the "matter was now closed."
"A fundamental responsibility of CPS is to safeguard the children whose families entrust CPS with their precious children," Lightfoot said, calling the allegations against Bianchi and Stark "serious." "CPS must hold everyone in the school community accountable to follow the rules when it comes to student safety."
The U.S. Department of Housing and Urban Development determined July 19 that not only did the city act improperly when they approved Reserve Management Group's plans for the metal shredding and recycling operation in the 10th Ward, but also found that decision "continued a broader policy of shifting polluting activities from White neighborhoods to Black and Hispanic neighborhoods, despite the latter already experiencing a disproportionate burden of environmental harms."
Lightfoot called that determination "preposterous." If the city fails to negotiate an agreement with the federal government to resolve the violations, it could face the loss of hundreds of millions of dollars in federal grants as well as enforcement action by the Department of Justice.
The determination was made after a coalition of community groups filed a complaint with the federal government as part of a multipronged effort to stop the scrapper from opening on the Southeast Side that included a monthlong hunger strike and marches.
Stark participated in that hunger strike, and Bianchi participated in protests near the homes of Lightfoot and Chicago Department of Public Health Commissioner Dr. Allison Arwady.
Contact Heather Cherone: @HeatherCherone | (773) 569-1863 | [email protected]
---